My absolute favorite plant-based protein powder from Costco now comes in chocolate flavor!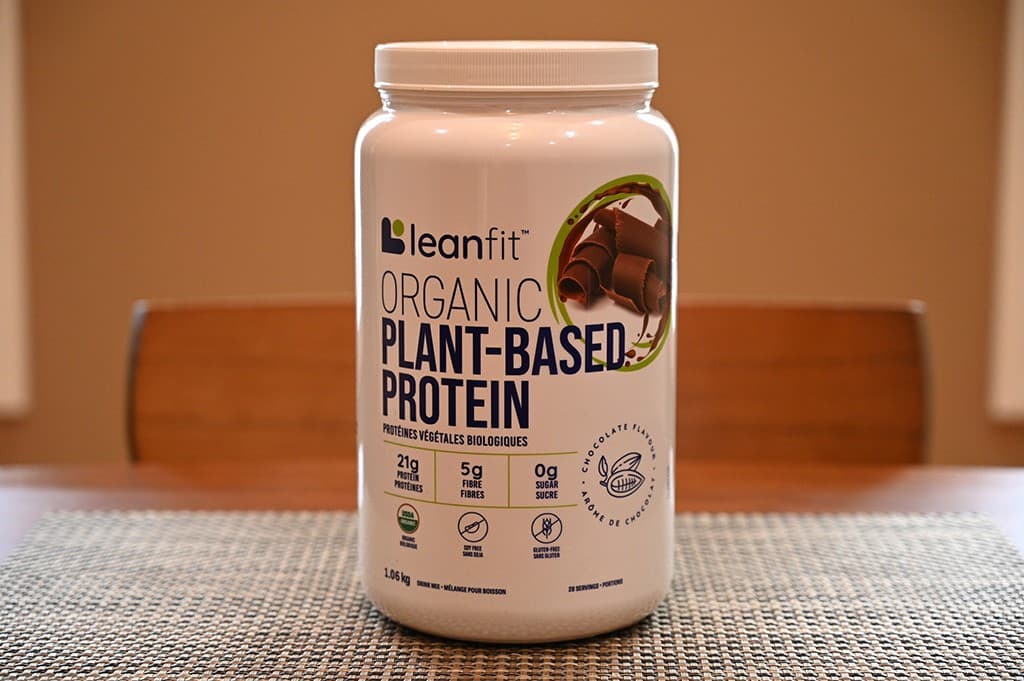 I've been using this Leanfit Organic Plant-Based Vanilla Protein for the last two years but I recently saw on Costco.ca that there was a chocolate flavor available so I asked Leanfit if they'd send me a sample to try which they kindly did!
My favorite way to use this protein powder is to make oatmeal but I also use it to make protein smoothies and mixed in with yogurt.
Currently you can buy the Leanfit Organic Plant-Based Chocolate Protein only on Costco.ca but the vanilla flavor is available in store.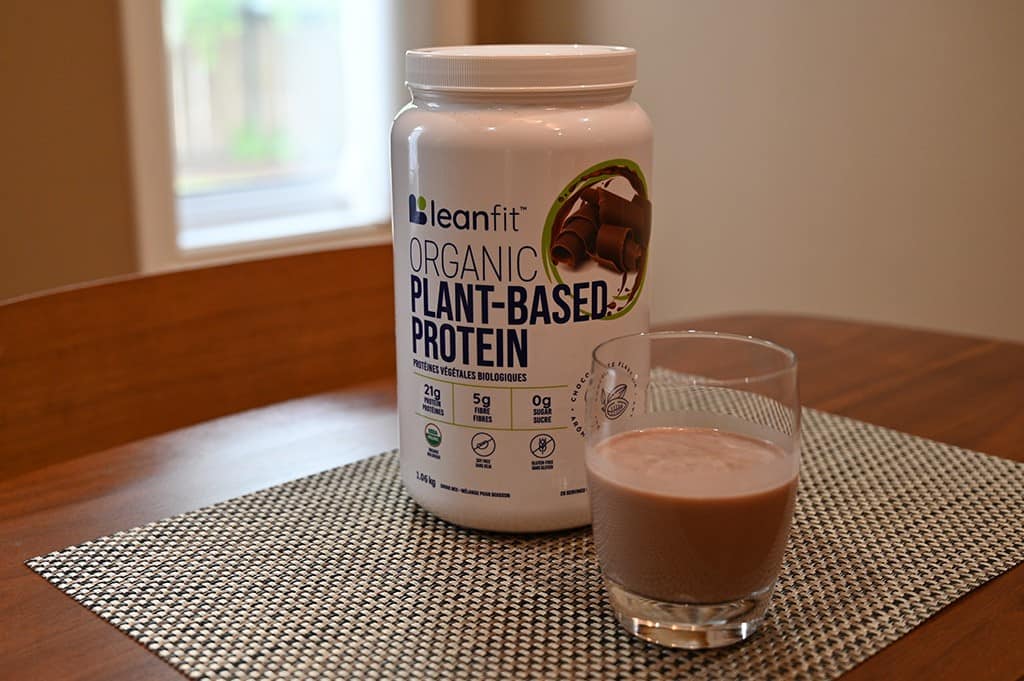 Taste
I used to despise plant-based protein, I thought it was the nastiest tasting thing ever but I've come to really love it! Especially the Leanfit brand. The company did not ask me to write good things about them or pay me for this review, they just provided a free sample but I honestly have been buying the vanilla plant-based protein with my own moola for the last two plus years!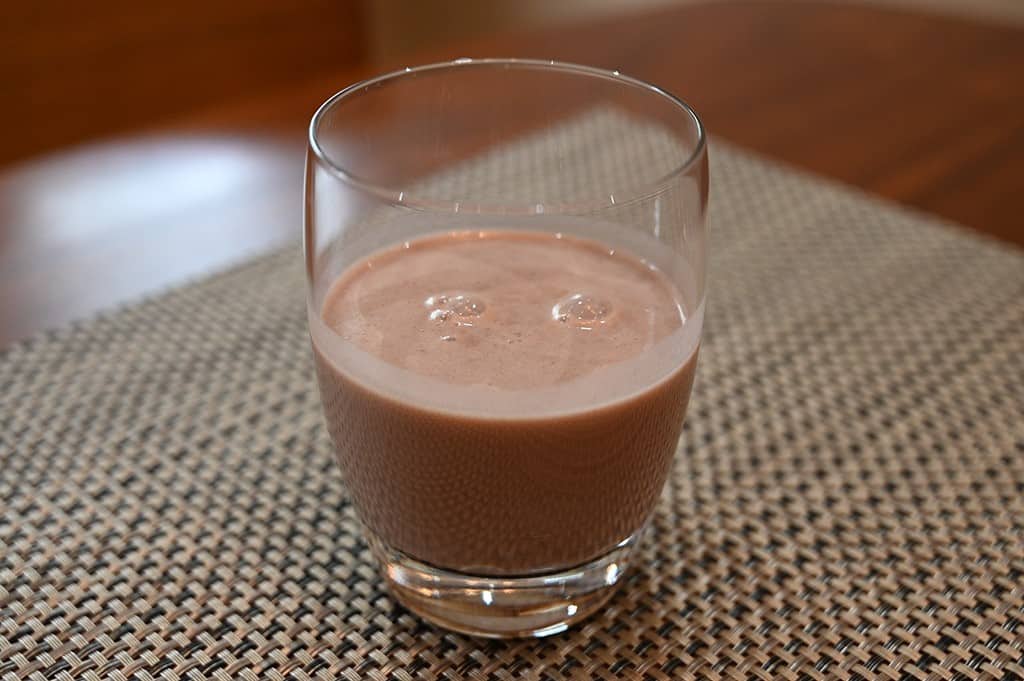 My recommendation for all protein powders is to not mix it with just water or it will taste awful. I love to make smoothies with berries or banana and almond milk, I mix it into my oatmeal in the morning with chia seeds, nut butter and cinnamon or I mix it into plant-based coconut yogurt and serve it with fresh fruit and granola on the weekend.
If you try this alone, yes you will taste some funky earthiness but when it's mixed with other foods and beverages it's delicious and you can't taste the pea flavor at all! The chocolate flavor isn't artificial or strong, it tastes very natural.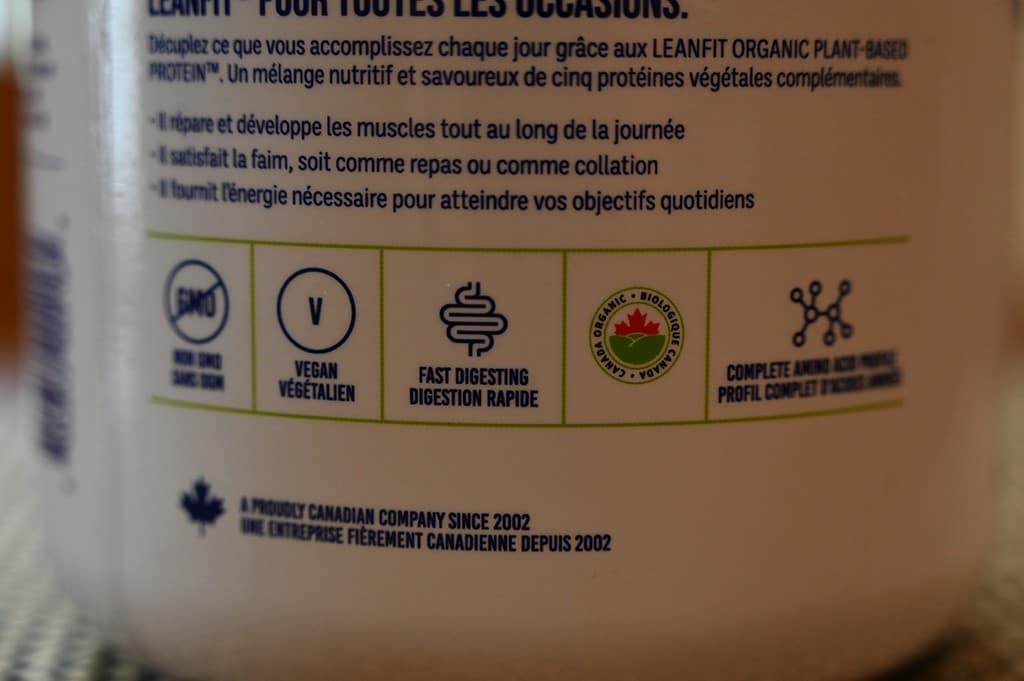 The powder mixes really well and is smooth without a bunch of clumps which I appreciate. The flavor is creamy, slightly chocolaty, a bit sweet while being natural tasting.
Cost
For a 1.06 kg container of protein powder it costs $37.39 Canadian.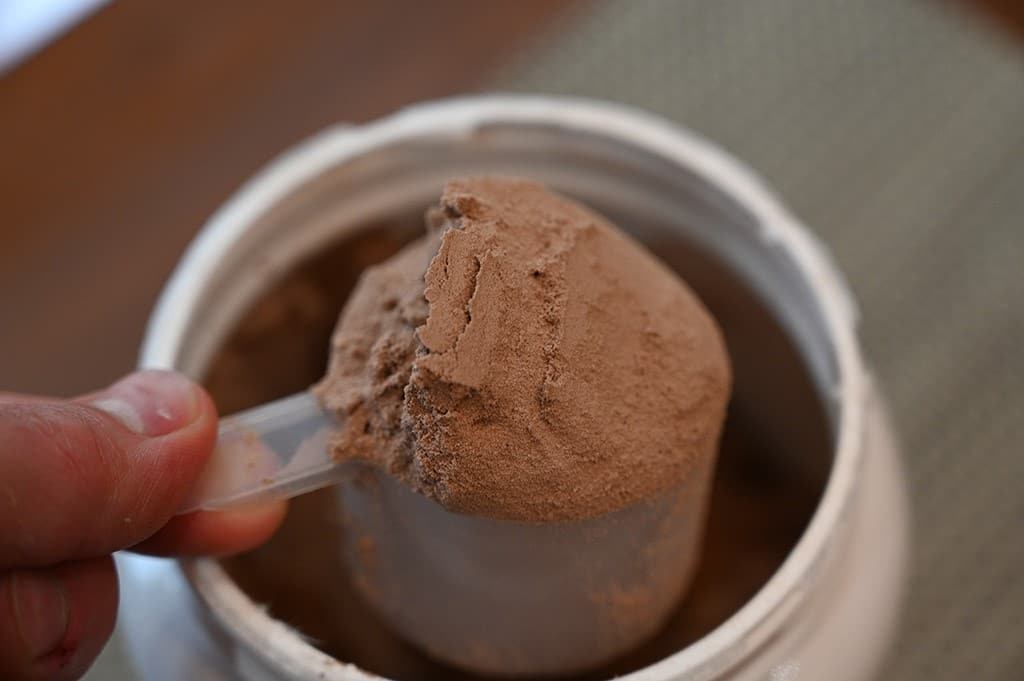 Convenience
The expiry on the container of protein I received is almost two years from when I received it.!
You can use this protein to make smoothies, protein shakes, pro-oats, pancakes, mix it with yogurt or make energy balls! There's a ton of different ways you can use protein powder. The protein comes with a plastic scoop inside the container.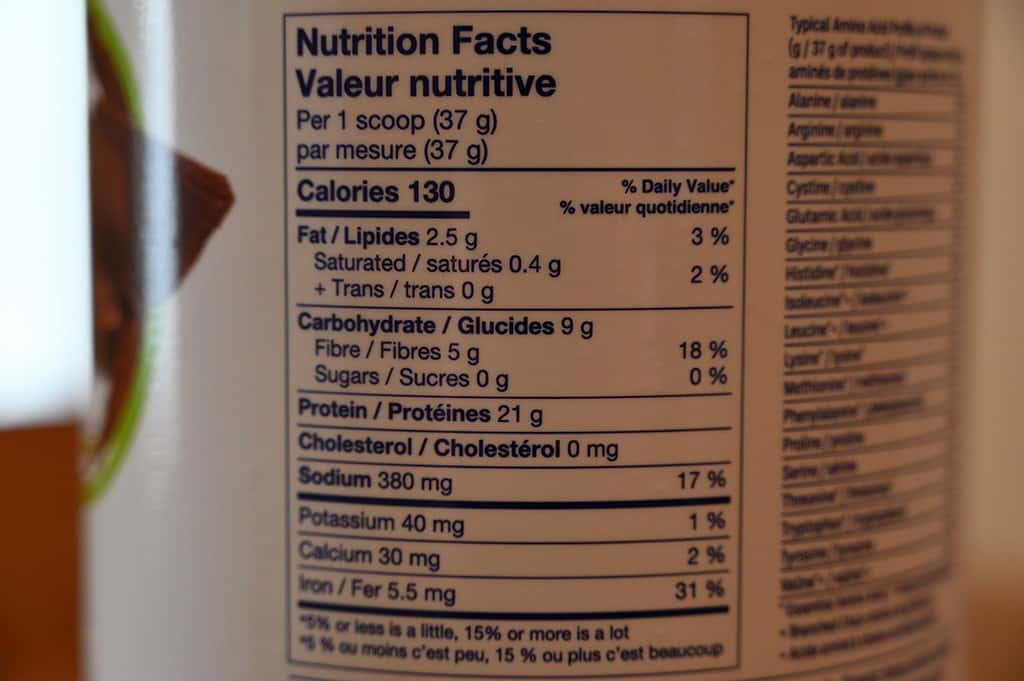 Nutrition
The reason why I love this protein powder so much is because of the health benefits! It has pea protein, hemp protein, rice protein, chia seed protein and flaxseed powder. It uses organic stevia as a sweetener.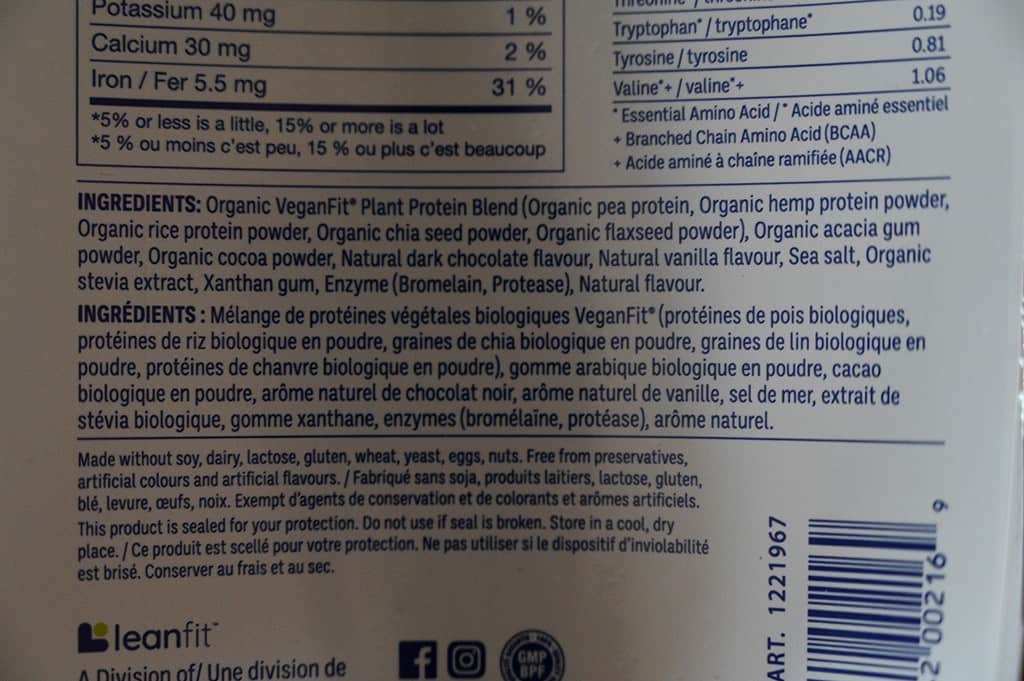 One scoop is 130 calories, two and a half grams of fat, nine grams of carbohydrates, five grams of fibre, zero grams of sugar, 21 grams of protein and 380 mg of sodium.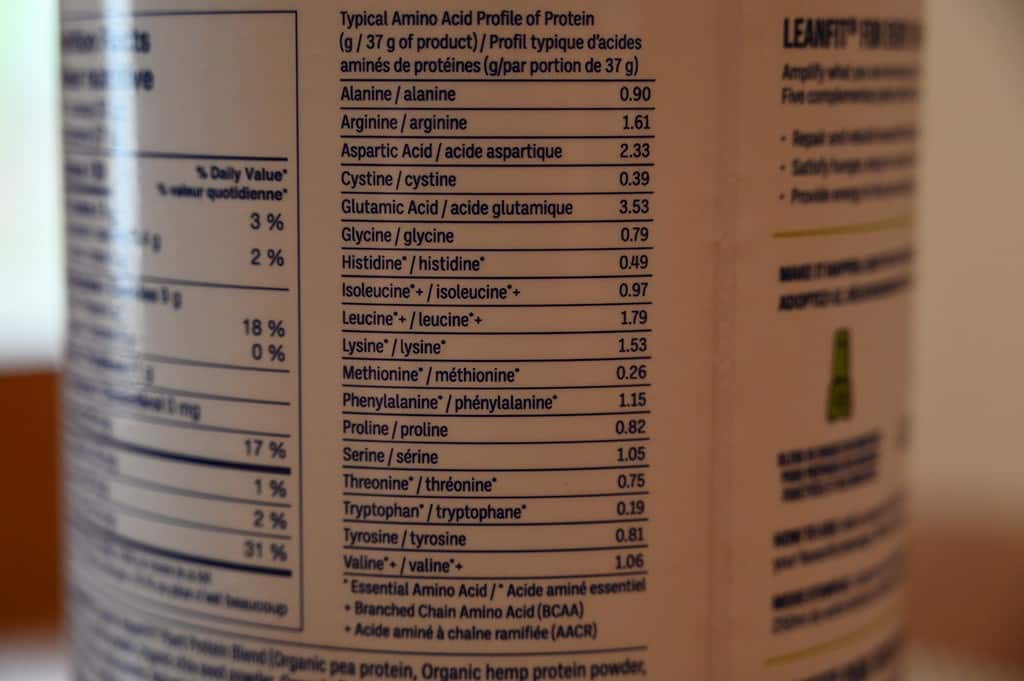 This is soy-free, gluten-free, organic, vegan and non-GMO! Which makes me feel good about putting it in my body every day.
Scoring
Taste: 8/10
Cost: 8/10
Convenience: 10/10
Nutrition: 9/10
Overall
Must buy!
This is a must buy item from Costco if you're looking for a tasty, healthy plant-based protein. If chocolate isn't your thing, try the vanilla.
Have you tried Leanfit protein? What do you think of it?
---
Please note that this review was not paid for or sponsored by any third party. However, I was given a free sample of this product to review. The opinions in this review are strictly those of Costcuisine. Costcuisine is not affiliated with Costco or any of its suppliers. In the event that Costcuisine receives compensation for a post from the manufacturer of a product or some other third party, the arrangement will be clearly disclosed (including where the manufacturer of a product provides Costcuisine with a free sample of the product).