Pastry like cookies!
Please note that this review was not paid for or sponsored by any third party. I purchased this product with my own money and the opinions in this review are strictly my own. I am not affiliated with Costco or any of its suppliers. I am just a fan of the company. I write these reviews to help my fellow shoppers.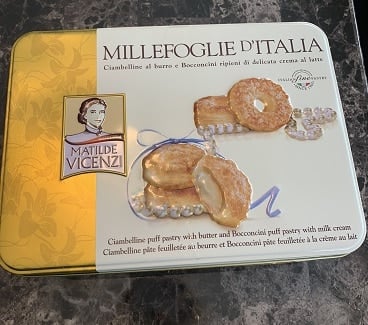 It's the season to pick up random, interesting looking seasonal items from Costco in hopes they blow my mind.
I saw this fancy looking tin of cookies from Italy at Costco recently and at only $6.99 Canadian I decided it was definitely something I needed to try. These cookies have a very authentic Italian look to them. It's hard to tell from the what they actually look like because the tin is sealed shut and you can't see through it. I find it a little exciting when I buy products that I have no idea what they actually are. I think the cost is pretty reasonable, you get 48 small cookies in the tin that. These cookies are imported from Italy which would add to the cost. A positive is that you get the tin, which I for sure will be reusing for something, maybe for when I bring cookies I make to work.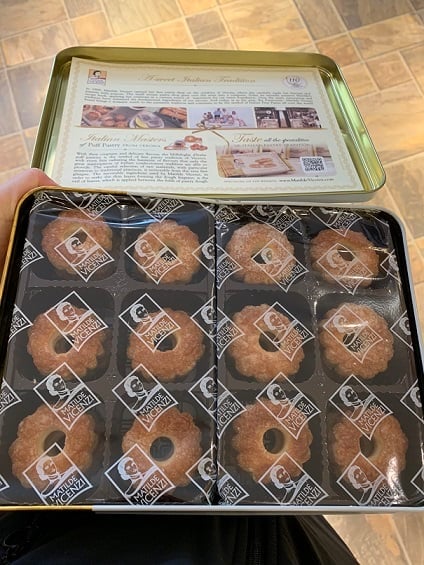 Have you ever had a cookie that was made out of pastry dough like this? These can be best described as little, crispy, light, flaky and buttery cookies. They taste like a hybrid between a shortbread cookie and a bakery bought pastry. Have you ever had a strudel? If you have, the texture and taste of these cookies is like they are made out of flaky strudel pastry without the fruit filling inside. They're quite light and when you chew them you get a taste similar to that of the famous blue tin shortbread cookies. There's two kinds, plain butter cookies and ones with a sweet cream. I preferred the kind with the small amount of cream filling. Both are tasty and there's not a huge difference between the two flavors. The cookies didn't blow my mind but I also couldn't find anything I did not like about them, they are quite tasty. These would be enjoyed by someone who does not appreciate overly heavy, sweet desserts and just wants a light cookie to have with their cup of tea or coffee. They do look quite different than other cookies I have seen so I think they'd look quite visually appealing as an addition to an assorted Christmas cookie tray.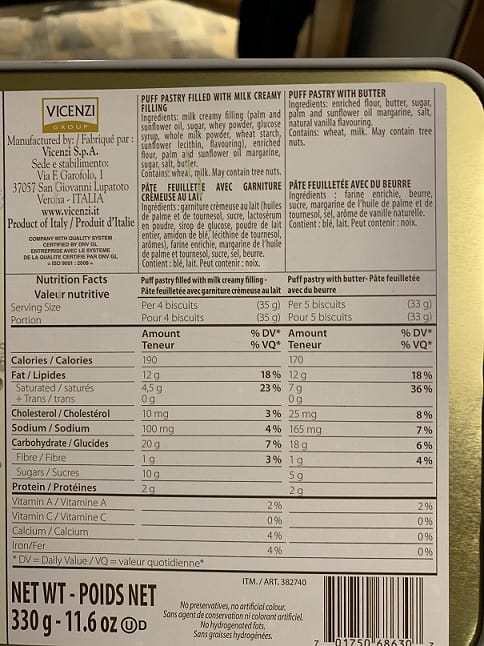 There's nutrition information posted on the back for the plain butter cookies as well as the ones with the cream inside. These are what I call a lighter cookie option. By no means are these a super health food but eating four of these cookies is only going to put you at around 170 to 190 calories, depending on which kind you eat (butter or cream filled). Four cream filled cookies is 12 grams of fat and 10 grams of sugar and only five grams of sugar for the butter cookies. If you only eat one cookie or two with your tea or for dessert or as a snack, that's not bad at all and it's a great way to curb off cravings that later cause you to eat 5 or 6 cookies (who can relate to that? I know I can).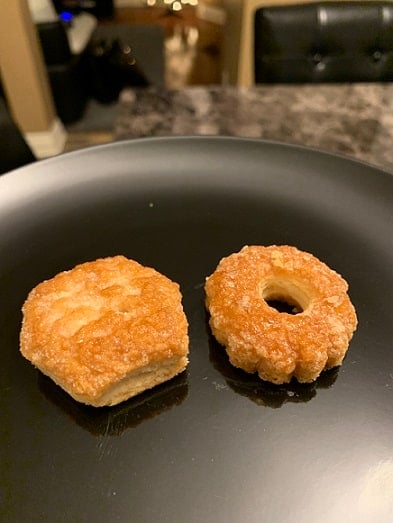 This is a super convenient product. First of all, who knows how to make puff pastry cookies? I don't. I'm guessing that it's not easy and probably takes some time. The tins comes with two different varieties of cookies separately packaged in sleeves of 12 cookies. Therefore you don't have to worry about opening the entire tin and having your cookies go stale because you can't eat them soon enough. Also because they're packaged in the tin the cookies remain intact and are not crushed or broken despite them being so delicate. I definitely recommend keeping the awesome tin for whatever you want. To bring cookies to work, to store your sewing supplies, to put photos in.
Overall I probably won't repurchase these again because my favorite cookies around this time of year are traditional round, soft, chewy cookies like ginger, chocolate chip, oatmeal raisin. This does not mean these aren't tasty though. I gave my parents some of these cookies and as my parents have aged I have found their enthusiasm for super sweet dessert has dwindled, they absolutely loved these cookies and even plan to buy their own. As I previously mentioned if you love puff pastry and would appreciate a flaky, crispy, light, not too sweet cookie. Give these a try and let me know what you think.
Cost: 8/10
Convenience: 10/10
Nutrition: 3/10
Taste: 7.5/10
Have you ever made a puff pastry cookie? Would you buy these? What kinds of filling could you see working in these cookies? I'm thinking a raspberry jam filling would be delicious or even hazelnut spread.