Having kids over around the holiday season? I think they'll love these!
Please note that this review was not paid for or sponsored by any third party. I purchased this product with my own money and the opinions in this review are strictly my own. I am not affiliated with Costco or any of its suppliers. I am just a fan of the company. I write these reviews to help my fellow shoppers.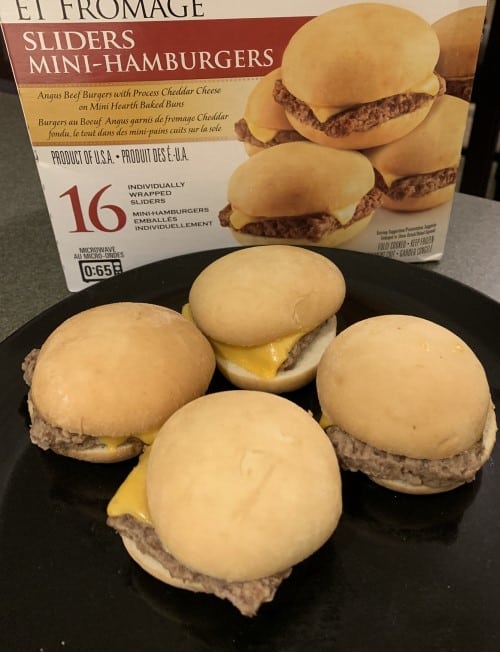 Are you having kids over to visit around the holiday season? If so, I think they'll love these Pierre Signature Angus Beef Burger & Cheese Sliders! If not, I think they'd be a hit with most adults too. I always keep an eye out for different convenient appetizer ideas at Costco and we don't cook burgers at home during the winter with the barbecue out of commission, so I was drawn to these Pierre Signature Angus Beef Burger & Cheese Sliders. I was feeling lazy one weekend so we actually decided to have them for dinner when we tried them, but I think they would make an awesome appetizer.
Taste
What do the Pierre Signature Angus Beef Burger & Cheese Sliders taste like? Honestly, to me they taste pretty similar to a plain McDonald's cheeseburger. They have that soft, spongey, slightly sweet bun. The cheese and meat were tasty, but nothing like a homemade beef patty cooked on the grill. I think you'll like them if you like any kind of fast food burger. I topped mine with tomato, mustard, relish and ketchup, and despite not tasting "real deal", they were yummy. As we ate the sliders, I thought about how kids would be absolutely thrilled to eat these, since they're fun (who doesn't like the idea of mini-hamburgers?) and kids tend to enjoy fast food flavors. From an adult's perspective, the convenience factor is great (although serving a huge group could get expensive). I could also see packing these in a school lunch every once in a while as a special treat or having them for a fun dinner. Recently I've attended a few adult parties, and the most popular thing to bring has been burgers from a nearby drive-thru, so I could definitely see adults enjoying these just as much (especially if you don't tell them they came out of the microwave!).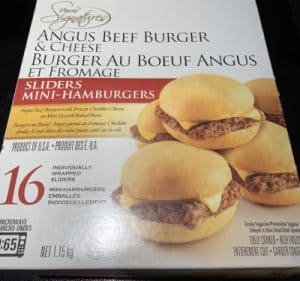 Cost
You get 16 sliders in the box for $14.99 Canadian (full price). That works out to a little less than a dollar per slider, which isn't super cheap but also isn't outrageously expensive. You're definitely paying a little for the convenience factor with these.
Convenience
The Pierre Signature Angus Beef Burger & Cheese Sliders can be found in the freezer section at Costco. They're ridiculously convenient to make, even more so than most of the other convenience items in the freezer section. Each individual mini-burger comes wrapped in plastic. To cook them, you open one side of the wrapper, stick the whole thing in the microwave and cook it. After reading that, I thought the sliders were sure to end up tasting horrible. I immediately pictured melted plastic, soggy buns and dried out beef. I was pleasantly surprised to find that they cooked just fine in the microwave! The beef wasn't dried out and the buns weren't soggy piles of mush. The best part was I basically had no dishes to clean afterward. Still, I do wonder about the health consequences of cooking the sliders right in the plastic packages.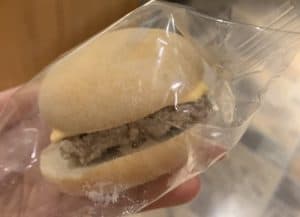 Nutrition
One slider contains 210 calories, 10 grams of fat, 10 grams of protein and 330 milligrams of sodium. If you only eat one or two, that's not the end of the world, but if you eat four or five, you're looking at 800-1100 calories. I had two and felt pretty satisfied. My husband ate five, but keep in mind that was as a meal. Apart from being high in calories and fat, these sliders also contain preservatives and soy, so they're not exactly all-natural. I also have to mention again that I have reservations about eating food that's cooked inside a plastic bag in the microwave. I wouldn't want to eat these sliders too often for that reason.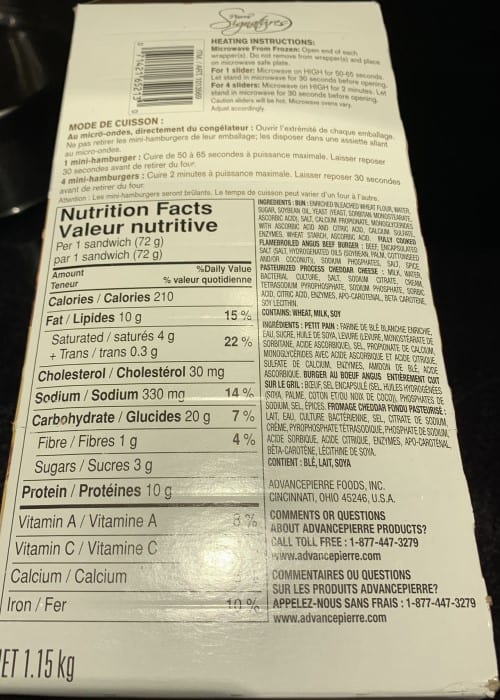 I would purchase these again if I were hosting a party for adults or kids because they're a fun, easy appetizer. If I'm craving a real burger though, I'll take the Kirkland Signature Lean Sirloin Ground Beef Patties grilled on the barbecue without question.
Taste: 7/10
Cost: 6.5/10
Convenience: 9.8/10
Nutrition: 3/10
What do you like to top your burger with? I like lettuce, tomato, pickles, mustard, ketchup and relish!