When they say "deluxe chocolate", they mean it!
Please note that this review was not paid for or sponsored by any third party. I purchased this product with my own money and the opinions in this review are strictly my own. I am not affiliated with Costco or any of its suppliers. I am just a fan of the company. I write these reviews to help my fellow shoppers.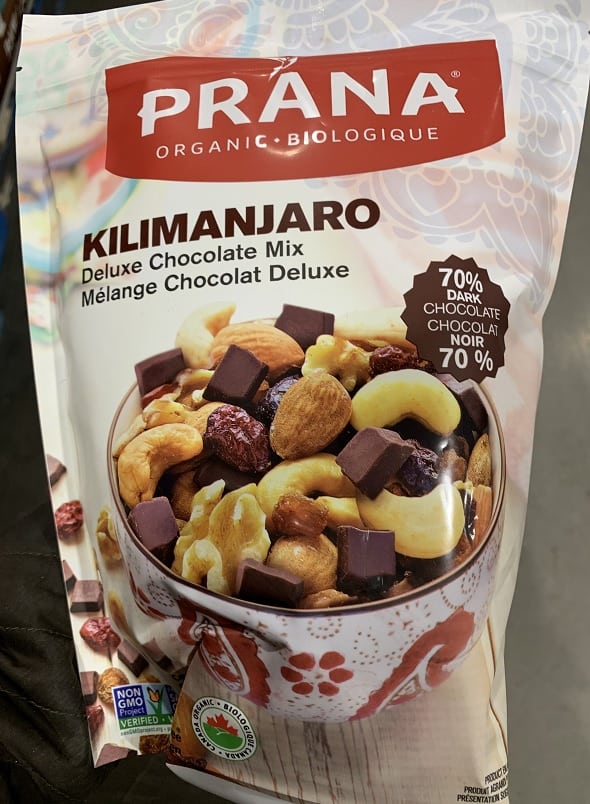 When I bought the Prana Organic Kilimanjaro Deluxe Chocolate Mix, I noticed that it was the only item in the snack food section by the check-out lines that had nearly run out. The rest of the items were fully stocked. I decided that meant it must be delicious and worth trying! Nuts and chocolate are one of my favorite food pairings, so that didn't hurt either.
Taste
I was right. The Prana Organic Kilimanjaro Deluxe Chocolate Mix is pretty tasty and definitely addictive. The mix is made up of dark chocolate pieces, walnuts, raisins, cashews, almonds and dried cranberries. The mix is true to its name; there's definitely a lot of chocolate in it, more so than any of the other ingredients. The chocolate pieces (which are 70% cocoa) are actually quite large too. The nuts are slightly salted and taste very fresh. I love the combination of cashews, walnuts and almonds. The raisins and cranberries are fresh, sweet and plump, not dry. Like I said, this is a chocolate-dominated mix; the nuts, cranberries and raisins are secondary ingredients. Overall, I really enjoy the flavor of the mix, but I had to remind myself that this is pretty much a dessert.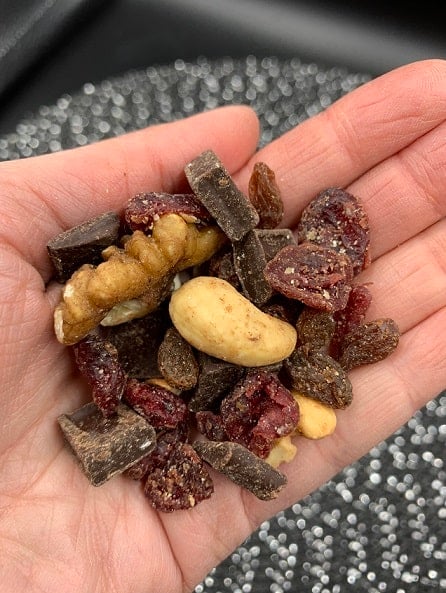 Cost
Costco sells the 681 gram bag of Prana Organic Kilimanjaro Deluxe Chocolate Mix for $12.99 Canadian (regular price). The price is similar to a lot of the other snacks available at Costco. Considering the ingredients are organic and the mix contains plenty of nuts, I think it's a decent value, but not a bargain.
Convenience
This bag of Kilimanjaro Deluxe Chocolate Mix is a super convenient item to bring on a road trip, keep in your desk at work or have in the cupboard at home to grab when you feel like a quick a treat. The bag is resealable, which is great for keeping the mix fresh (but I don't think you'll need to worry about it lasting too long!).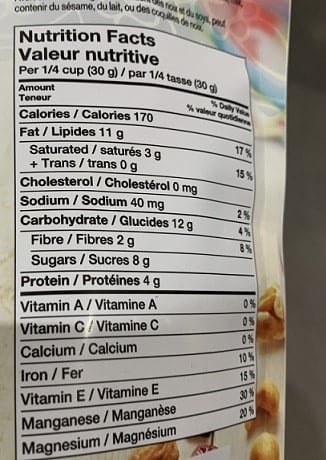 Nutrition
The Prana Organic Kilimanijaro Deluxe Chocolate Mix from Costco is definitely more of a treat than a health food. The main ingredient is smooth, rich chocolate, and the secondary ingredients are high-fat nuts and sugary raisins and cranberries. A quarter cup of this snack mix contains 170 calories, 11 grams of fat, eight grams of sugar and four grams of protein. I'm actually kind of impressed that there are four grams of protein per quarter cup. The problem is that it's not easy to eat just a quarter cup, that's for sure! The ingredients are all organic, but when the first two ingredients are chocolate and cane sugar, I'm not sure how beneficial that is.
This is a tasty snack, but it isn't really cheap or healthy, so there are lots of good competitors out there. If you love trail mix and chocolate, this is for you. I like it a lot, but I think I'd have a tough time choosing it over a chocolate bar, which isn't a whole lot different nutritionally.
Taste: 8.5/10
Cost: 7/10
Convenience: 10/10
Nutrition: 4/10
Have you tried this? What did you think? What are your favorite snack mix ingredients?