Sweet, crunchy, yummy and fresh tasting!
Please note that this review was not paid for or sponsored by any third party. I purchased this product with my own money and the opinions in this review are strictly my own. I am not affiliated with Costco or any of its suppliers. I am just a fan of the company. I write these reviews to help my fellow shoppers.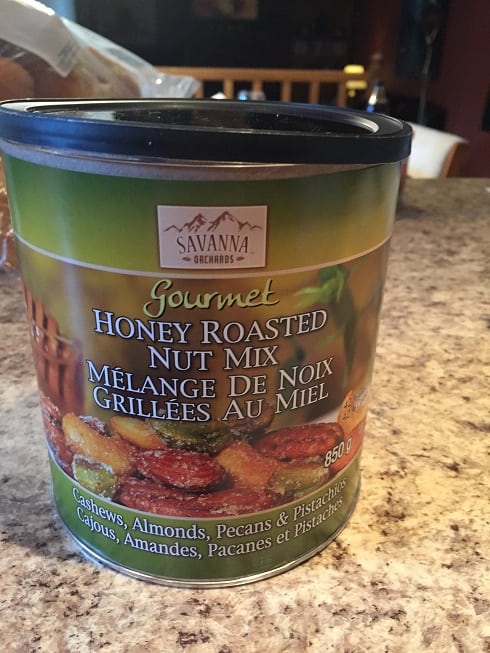 If you haven't already checked it out, I reviewed the Costco Kirkland Signature Premium Mixed Nuts. Nuts are a big thing for my family, especially around the holidays. There's never a shortage of nuts to be found. The most popular are the ones from Costco, probably due to their freshness and the high quality. Anyways I recently saw these while perusing the snack aisles and I love the flavor of honey roasted anything so wanted to give these a try.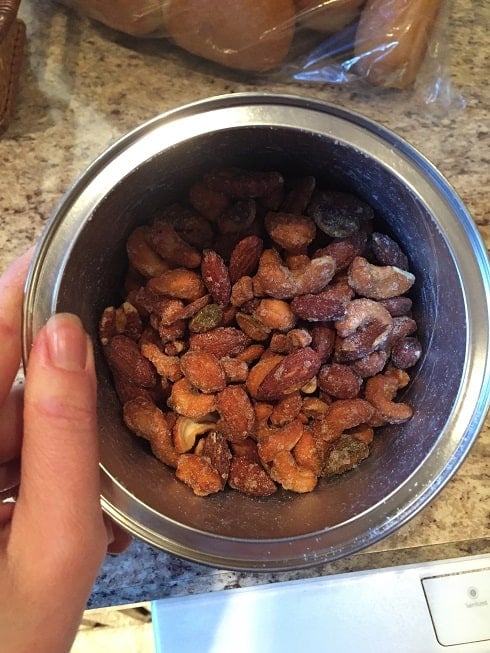 First off, these are no cheap treat. I feel like they're slightly on the expensive side but nuts in general are not cheap. The 850 gram can of nuts is $16.99 Canadian. Whether these are seen as expensive or not is kind of dependent n the individual or family buying them. Will this can last 2 nights or 2 weeks in your household? I'll give you an example, chocolates that come from fancy chocolatier shops are super expensive to me because my husband can eat $50.00 in one sitting.
I have to say, I'm a fan of the salty sweet taste of these. They are delicious and addictive. I did have one nut that tasted a little on the funky side (just being honest) but the rest of them were really good. I could totally see putting these out at Christmas or snacking on them while watching TV. There was a nice mix of different nuts that seemed pretty equally divided. The mix includes cashews, almonds, pistachios and pecans. I think there was a few more almonds and cashews than pistachios and pecans but nothing too noticeable. The glaze was not too heavy and not too sweet and there was a nice amount of saltiness that balanced out the honey flavor.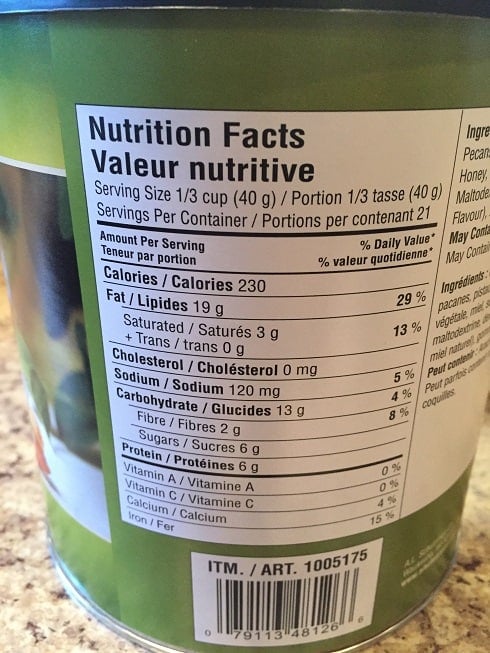 Moderation is key with nuts. 1/3 cup has 230 calories, 19 grams of fat, 6 grams of protein, 6 grams of sugar and 120mg of sodium. I was actually surprised that the sodium was as low as it is and the sugar was not oven ten grams. Nuts are high in fat but that is common knowledge and it's healthy fat. I would say if you stuck to the 1/3 cup this is a pretty healthy snack option. Especially for vegetarians or individuals who cannot eat gluten.
I don't need to say too much about convenience. Other than that if you don't consume nuts on a regular basis and are prone to leaving things in your pantry for months, these have the potential to become stale.
Overall I am totally looking forward to eating more of these around the holidays. I feel the cost is definitely expensive so I recommend nut lovers buy these as a special treat. I will warn you, they are addictive and I could see the potential for individuals to polish these off in 1 or 2 days!
Taste: 8.5/10
Cost: 6/10
Nutrition: 6.5/10
Convenience: 9.5/10