Have you ever had "potstickers" or "gyoza"? They make a wonderful appetizer!
Please note that this review was not paid for or sponsored by any third party. I purchased this product with my own money and the opinions in this review are strictly my own. I am not affiliated with Costco or any of its suppliers. I am just a fan of the company. I write these reviews to help my fellow shoppers.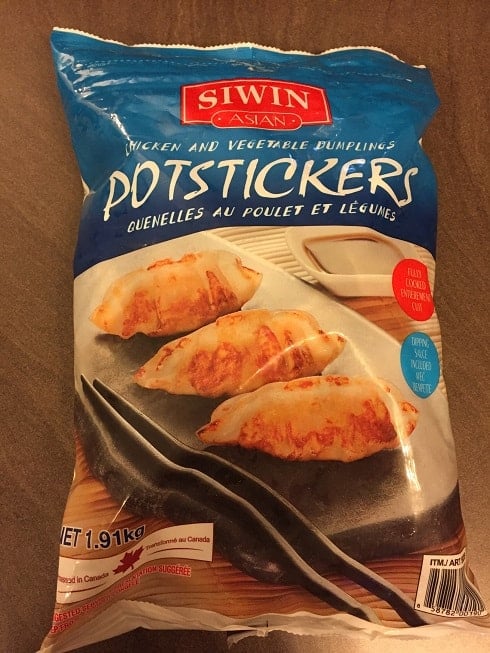 I have always liked egg rolls more than I pot stickers until a few years ago and now I think I may be on team pot sticker. In case you're wondering the difference is between "Potstickers" and "Gyoza". Potstickers are Chinese and Gyoza are Japanese but they're very similar. Gyoza generally are shaped longer and thinner, have less thick dough on the outside and also can have a stronger garlic flavor.
These Costco bought Potstickers are delicious and also are not that bad for you and dare I say it… they are nutritious in their own way.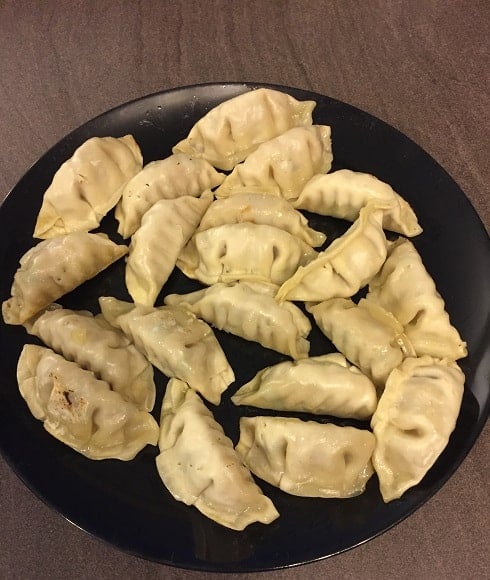 These potstickers are super tasty. They are basically a thick delicious dough wrapper, filled with perfectly seasoned juicy chicken and cabbage. I would almost describe them as the Asian version of a perogi. They don't skimp on the filling, they have a pretty substantial amount of chicken and vegetables packed into these small dumplings. I think the dough is the perfect texture and thickness. If the dough was too thin they would not be able to put as much filling inside the potstickers without them falling apart. If cooked according to the package instructions you end up with a soft, tender dumpling top with a golden brown crunchy bottom. Whenever I serve these everyone seems to really enjoy them and there's never any left. One thing that makes these even tastier is the delicious soy ginger sauce that comes in the bag of potstickers. You get 4 packets of sauce so if you make 20 potstickers at a time you have 1 sauce for each time.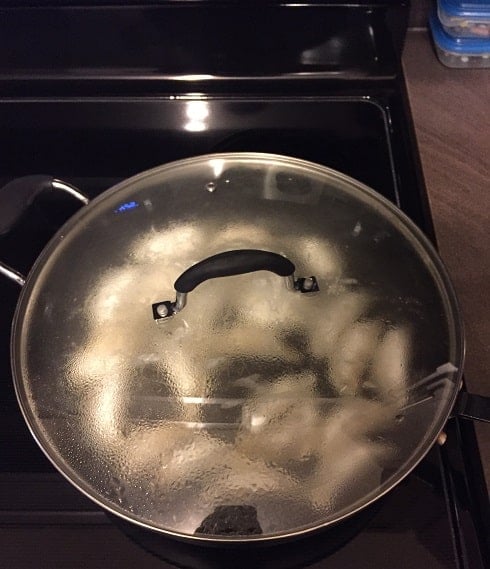 Definitely not the most convenient item Costco sells as you have to cook them and there is a risk if you don't cook them the right way you may end up a slimy textured under done potsticker or they will be hard if over done. However if cooked well these are delicious little pockets of delight. To cook them you place the frozen potstickers in a nonstick pan with 2 tsp of oil. I always heat the oil a little bit and spread it around in the pan. Then you add 1/2 cup cold water to the pan, cover and let them steam for 3 minutes. After 3 minutes you remove the lid and let the rest of the water evaporate and wait until the bottoms of the potstickers become golden brown (about 5-7 minutes). These do get extra points for convenience because the sauce packets are already provided in the bag of potstickers. Also I'll add these keep perfectly fine in the freezer in the re-sealable bag.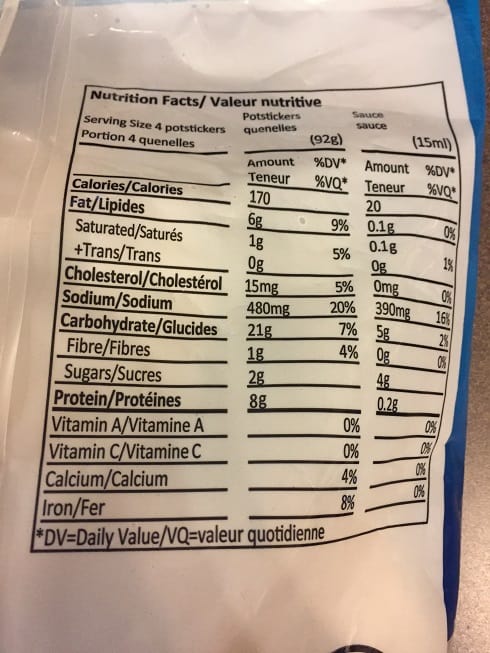 Nutrition wise these are not that bad for you! 4 potstickers is 170 calories, 6 grams of fat and 8 grams of protein, 2 grams of sugar. The sodium is a little high at 480mg which is 20% of your daily recommended total. Obviously if you're watching your sodium levels don't eat 20 of these before dinner like my husband does. 4 potstickers is a nice serving size and for only 170 calories with 8 grams of fat that's pretty good.
Cost wise one bag lasts me 4 separate occasions and that's with me cooking 18-20 at a time. My guess is there is 80 potstickers in each bag. I purchased these for $13.49 but have seen them on sale for as low as $9.99 CAD and think this is a very reasonable cost to have an appetizer for 4 separate meals.
I have bought these multiple times and will continue to purchase them. They actually taste pretty good reheated so I've brought them to work for lunch a few times and have enjoyed them. If you haven't had them I recommend checking them out and I would love to hear your opinion on them!
Taste: 9/10
Cost: 9/10
Convenience: 5/10
Nutrition: 7/10
Have you had these? Do you prefer potstickers or egg rolls?