I think I might have found the best yogurt ever!
Please note that this review was not paid for or sponsored by any third party. I purchased this product with my own money and the opinions in this review are strictly my own. I am not affiliated with Costco or any of its suppliers. I am just a fan of the company. I write these reviews to help my fellow shoppers.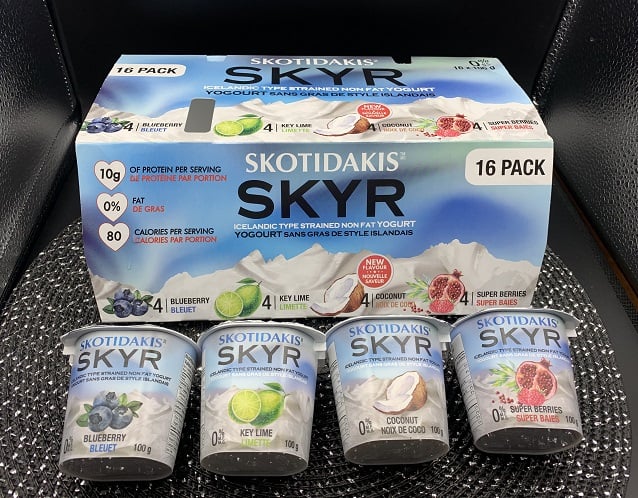 Do you like Greek yogurt? If so, have you ever had skyr? Do you know what it is? I feel like a lot of people have started to love Greek yogurt, but don't know about skyr. Skyr (pronounced "skeer") is a traditional Icelandic yogurt. It's been around for centuries; the Vikings used to eat it! A few years ago, I was a big fan of Greek yogurt, but moved on to skyr once I discovered it and never looked back. Generally speaking, skyr has a tiny bit more protein than Greek yogurt, is a smidge thicker and tastes slightly sweeter. It has a natural sweetness to it, so it doesn't rely as heavily on added sugars as other yogurts often do.
Taste
Skotidakis Skyr Icelandic Type Strained Non Fat Yogurt from Costco is super flavorful, creamy, a little sweet and also very filling. There are four different flavors in the pack: blueberry, super berry, key lime and coconut. I didn't dislike any of these flavors. You know how usually you'll have that flavor that you hope someone else in your house likes because it's not bad but it's just not your favorite? I didn't have that problem with these as I found them all delicious. I'll mention these yogurts are also thinner than other skyr yogurts I've had in the past. If the thickness is something that turns you off of other skyr yogurts, don't let it stop you from trying this pack.
Cost
I paid $8.50 Canadian for the pack of 16 yogurts (on sale). The regular price for the pack is $9.99 Canadian. That's just over 60 cents per yogurt even at full price, which is very reasonable.
Convenience
Yogurt like this is super convenient and easy to transport. It's great for lunches and snacks at school, work or anywhere else. I like single servings of yogurt like these since you know how much you're eating. It's also nice the Skotidakis Skyr Icelandic Type Strained Non Fat Yogurt from Costco multi-pack includes four different flavors as it gives you a variety to choose from! This is especially true since all of the flavors are good ones. These yogurts go well with cereal and granola and are also great in smoothies!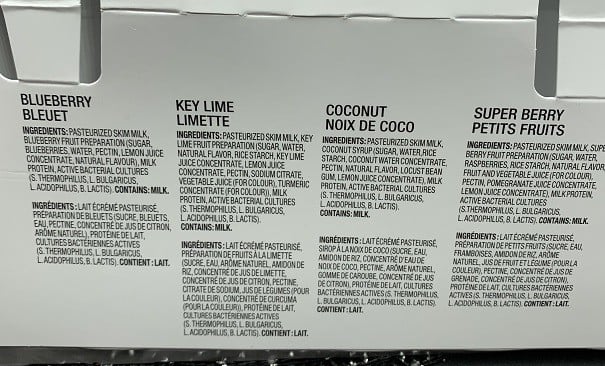 Nutrition
Each yogurt contains 10 grams of protein, zero grams of fat and eight grams of sugar. I know a lot of people are shying away from added sugar these days (myself included). Eight grams of sugar isn't a totally absurd amount, but if you want to reduce the sugar more, I recommend buying a tub of plain 0% skyr yogurt and mixing some of it with your Skotidakis Skyr Iceland Type Strained Non Fat Flavored Yogurt from Costco. Doing that will cut down on the sugar content (and sweetness) and increase the amount of protein (although obviously if you just add extra plain skyr, you still have the same total amount of sugar, so you'd have to reduce the amount of flavored skyr as well). This does take away from the convenience of just opening up an individual container of yogurt and eating it, unfortunately.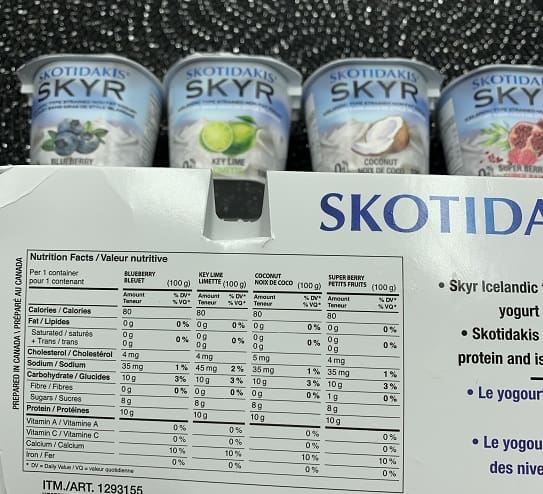 In short, the Skotidakis Skyr Iceland Type Strained Non Fat Yogurt from Costco is delicious and packed full of protein. Extra protein is awesome because protein satisfies hunger and keeps you full longer. This is my new favorite yogurt. I actually look forward to having this every day at work now. I kind of don't want to post this review for my own selfish reasons – I fear I'll walk into Costco to purchase another pack, only to find out there aren't any left on the shelves. I think kids and adults alike would enjoy this yogurt (especially when you tell them it's Viking food!), and it's a great way to get an extra 10 grams of protein into your day.
Taste: 9.5/10
Cost: 9/10
Convenience: 10/10
Nutrition: 7/10
What's your favorite flavor and brand of yogurt? Do you like to eat it with anything, or prefer it by itself?!