Are you a chocolate peppermint fan?
Please note that this review was not paid for or sponsored by any third party. I purchased this product with my own money and the opinions in this review are strictly my own. I am not affiliated with Costco or any of its suppliers. I am just a fan of the company. I write these reviews to help my fellow shoppers.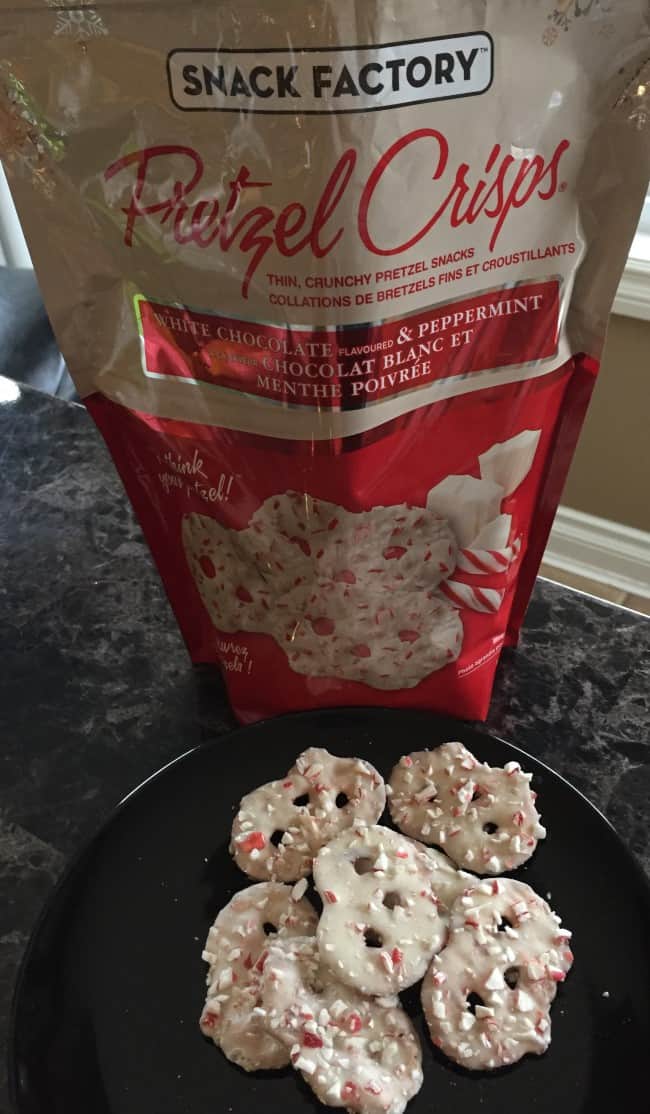 Isn't it kind of weird how your tastes change as you age? I never used to love the combination of chocolate and peppermint. I didn't mind it but I never loved it like I do now. The season of chocolate peppermint is upon us so when I found these Snack Factory White Chocolate Peppermint Pretzel Crisps at Costco I swear they were calling my name. It might have been the bright red festive bag that attracted me to these or simply the fact that I was super hungry at the time.
If you've had the Snack Factory Pretzel Crisps before you'll know that they are a large, thin, flat, round, crispy and delicious pretzel crackers. They have a nice amount of saltiness to them but not too much. The white chocolate peppermint version of the pretzel crisps is the same original pretzel crisp cracker coated in a smooth white chocolate with candy cane pieces on top and a slight peppermint flavor. The peppermint is definitely noticeable but not overpowering. The candy cane pieces add an extra desirable crunchy texture. To me when the white chocolate is combined with the salty pretzel crisps it tastes like it amplifies the creaminess of the white chocolate and accentuates the salty sweet flavor combination. Overall these are very tasty, I only needed two to feel satisfied.
These are definitely more expensive than the regular pretzel crisps. On sale you can get a large bag of the original pretzel crisps for $5.49 Canadian. I paid $9.89 Canadian for this significantly smaller white chocolate peppermint bag. The cost is comparable to the other bags of snacks you find in the section closest to the checkout. Although these are quite a bit more expensive than the regular pretzel crisps they're not comparable in my opinion due to the fact that these are so different in taste and ingredients. I do feel that $9.89 is expensive for these and if the price were any higher I would probably hesitate to purchase these. I think they probably appeal to people due to their novelty and the limited time they are available so people will probably pay more.
These pretzel crisps are super convenient, you open them up and eat them. I've actually tried making chocolate covered pretzels myself before and they are quite simple to make but it definitely takes some skill and time to make them look pretty and dip them completely. These Snack Factory White Chocolate Pretzel Crisps would be perfect in a gift basket or brought to a Christmas party. They would also make a nice add on to a bottle of wine or champagne to bring to a host. I bet if I brought a bag to my work they'd be gone within the hour.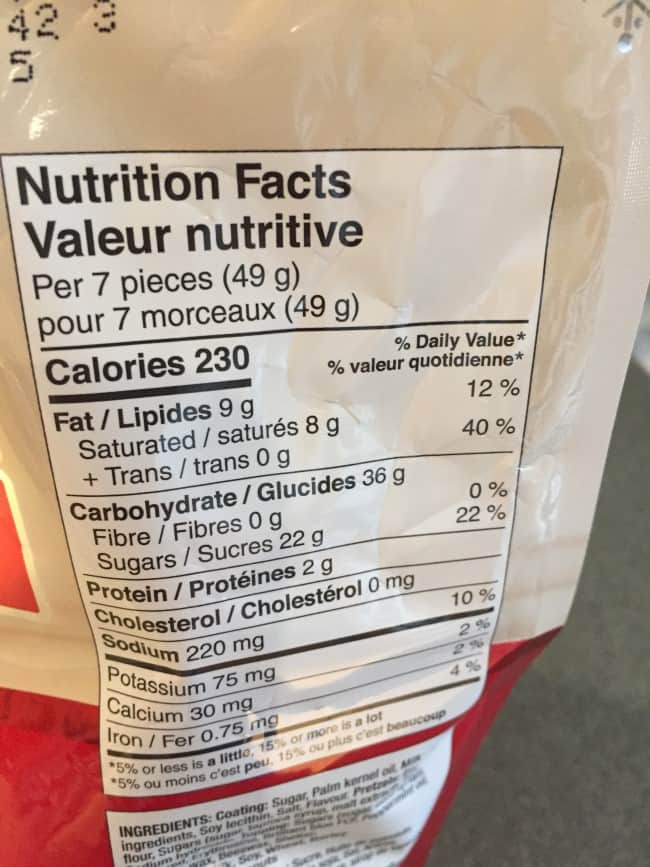 These are NOT healthy. There's not really a single ingredient that sticks out to me as healthy. The Snack Factory White Chocolate Peppermint Pretzel Crisps are also not as bad for you as I thought they would be. Seven white chocolate peppermint crisps is 230 calories, nine grams of fat, 22 grams of sugar and 220mg of sodium. The first ingredient listed is sugar, the second ingredient is palm kernel oil (I know a lot of individuals stay away from these ingredients). These also have additives.
Overall these are a nice, tasty, treat. They're not healthy but a lot of Christmas/Seasonal snacks are not the healthiest. If you really enjoy the flavor combination of white chocolate and peppermint and also enjoy salty/sweet foods I recommend you check these out as a treat.
Taste: 7.5/10
Cost: 5/10
Convenience: 10/10
Nutrition: 0/10