Delicious at home hot chocolate!
Please note that this review was not paid for or sponsored by any third party. I purchased this product with my own money and the opinions in this review are strictly my own. I am not affiliated with Costco or any of its suppliers. I am just a fan of the company. I write these reviews to help my fellow shoppers.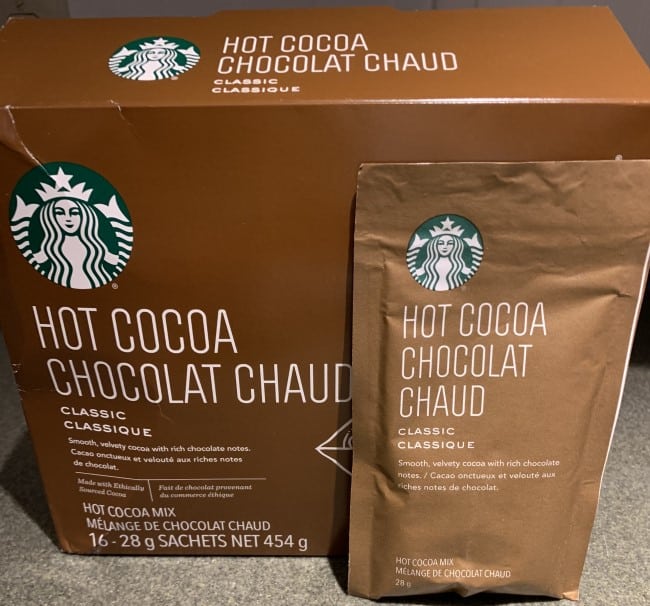 To the American readers, Happy Thanksgiving to you and your families!
So I've been obsessed with hot chocolate since I became engaged. Sean planned a trip to New York to propose in central park right before Christmas and during that trip I tasted the best hot chocolate in the world. If you ever find yourself in New York, Chicago or Boston please go to L.A Burdick and have a hot chocolate. You will never taste hot chocolate quite as good, I'm pretty sure they make it with heavy whipping cream and a ton of chocolate but it was so delicious, I will never forget that hot chocolate.
Costco had the Starbucks Hot Cocoa pack on sale for $7.99 Canadian. For $7.99 you get 16 individual packets of hot chocolate mix. This is definitely not the cheapest hot chocolate mix you can purchase but if you're interested in the hot chocolate packets from Starbucks I think the cheapest price is at Costco. You're looking at about 50 cents per packet of hot chocolate. Considering a hot chocolate from Starbucks or Tim Hortons costs well above that I would say this is not overly expensive. I think you definitely pay a little more for the individual packets.
I appreciate having the packets because of how convenient they are, I can easily bring a packet to work to make an afternoon snack and also offer to a colleague and I can put them in gift baskets for friends. To make the hot chocolate you just dump the contents of the package into a mug and pour hot water or preferably milk into the mug and stir.
This hot chocolate from Starbucks has a deep chocolate taste, you can also taste a touch of vanilla. It's sweet and delicious. I would definitely it is a step above other store bought hot chocolate mixes. The chocolate does not taste as sugary and artificial as other brands.. what I mean is, it actually tastes like chocolate. It's a perfect standard hot chocolate for cold winter nights. There's no fancy flavors added to the hot chocolate so you can add whatever you like to fancy it up. Whether that is marshmallows. Crème de menthe, Baileys (Mom I'm thinking about you), Peppermint extract or coffee.
This is packed full of sugar but isn't super high in calories or fat, 120 calories, 2 grams of fat and a lovely 17 grams of sugar. I don't think anyone considers hot chocolate as a super healthy option but hot chocolate is super tasty and warms the soul. Also if you add this to milk you're getting calcium and protein from the milk so that makes it a little more nutritious snack or dessert.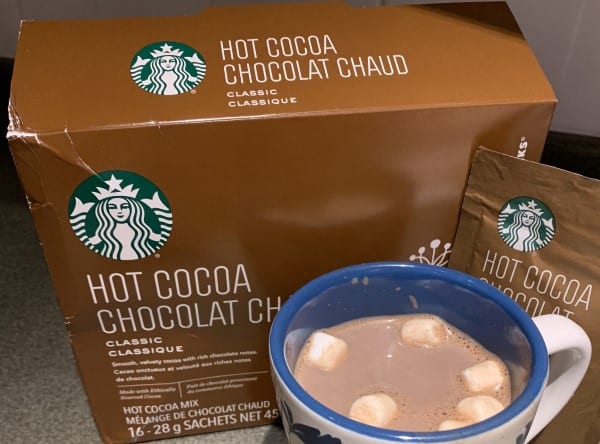 Although there's not much going on with this hot chocolate, it's pretty good. I'm super excited to enjoy the rest of my packets of Costco Starbucks Classic Hot Cocoa throughout the holiday season and Winter. I recommend all my hot cocoa loving friends try this and let me know what they think.
Taste: 8/10
Cost: 7.5/10
Convenience: 9.5/10
Nutrition: 3/10