Watching your weight? Health conscious? Love chicken burgers?
Please note that this review was not paid for or sponsored by any third party. The opinions in this review are strictly my own. I am not affiliated with Costco or any of its suppliers. I am just a fan of the company. I write these honest reviews to help my fellow shoppers.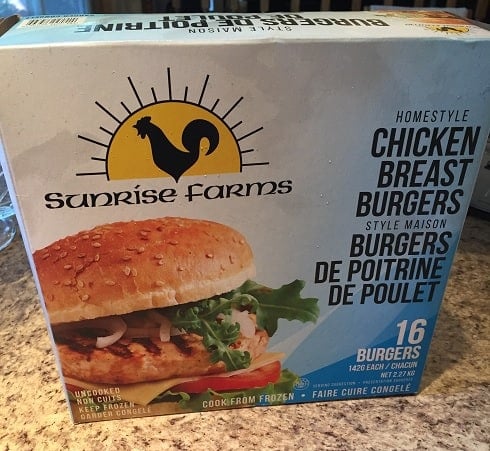 I am a burger girl. There's no denying it. I love anything that comes in a bun and gets topped with ketchup, mustard, relish, pickles, tomatoes and lettuce. Although Sean and I usually consume beef burgers I really wanted to try these Sunrise Farms chicken burgers purchased at Costco on sale. They are a lot less calories and fat than the traditional Kirkland Sirloin Beef patties we usually buy. It is always nice to mix it up and have different kinds of burgers. Veggie burgers I think will be next!
These chicken burgers come frozen, pre-seasoned and can be cooked in multiple ways which makes them easy to have in both Summer and Winter. We barbecued these to try and they did not flame up on the barbecue at all which is usually a sign of the meat being lean.
Flavor wise these aren't very flavorful, they're not overly salty and need extra seasoning or barbecue sauce. The burgers have white, lean chicken breast meat and I didn't find any fatty pieces or have any bites I was unsure of. T
aste wise these didn't really appeal to me, they lack flavor. If you generally like chicken burgers you might want to skip these.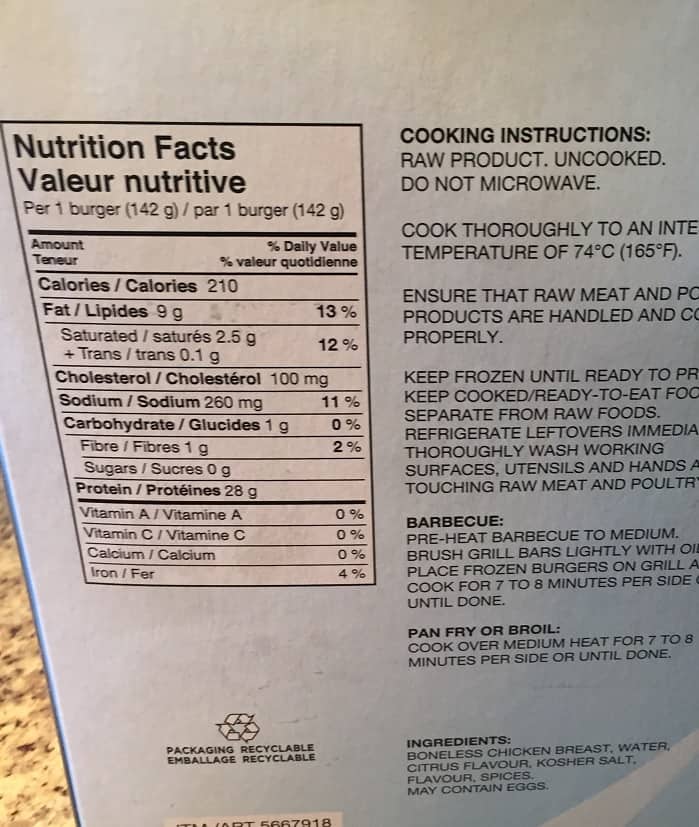 Let's take a look at nutrition, 210 calories, 9 grams of fat, 28 grams of protein, 260mg of sodium, 0 grams of sugar. I would say these look pretty good to me health wise, the sodium is way less than I thought it would be and the protein is higher. In my opinion, you could consume one of these as a healthy dinner or lunch. Which is awesome because these taste like a treat to me but they're not.
Cost wise we purchased 16 burgers for $10.99 on sale, regular price was $14.99. For $10.99 I think that's a steal of a deal I would have no problem even paying the regular price of $14.99. That is less than a dollar per burger.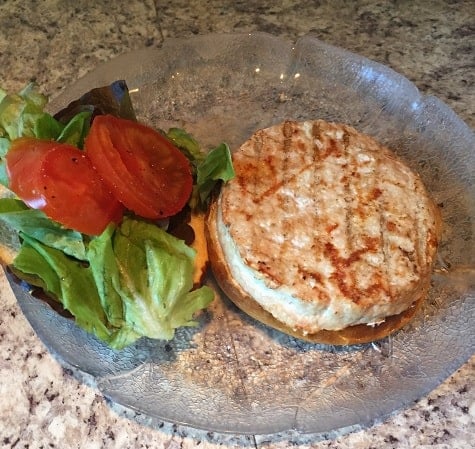 I will not probably purchase these again and don't recommend them. I had them with my mom and dad and we garnished our burgers with dill pickles, mustard, lettuce and tomato. You could throw some cheese, ranch dressing or red onion on too to enhance the flavor. I think some bacon and guacamole or smoked gouda would help add some flavor and deliciousness to these! I think it's always nice to have a box of chicken burgers in the freezer to offer guests who maybe do not like beef burgers or are health conscious.
Nutrition: 8.5/10
Taste: 5/10
Convenience: 7/10 (they are not precooked so you do have to cook them and make sure they are done but there are different methods so even if you don't have a barbecue you can cook them)
Cost: 9/10
Would you rather have beef, chicken or a veggie burger? What would you put on these as your condiments and toppings?