These office chocolates you see everywhere are from Costco!
Please note that this review was not paid for or sponsored by any third party. I purchased this product with my own money and the opinions in this review are strictly my own. I am not affiliated with Costco or any of its suppliers. I am just a fan of the company. I write these reviews to help my fellow shoppers.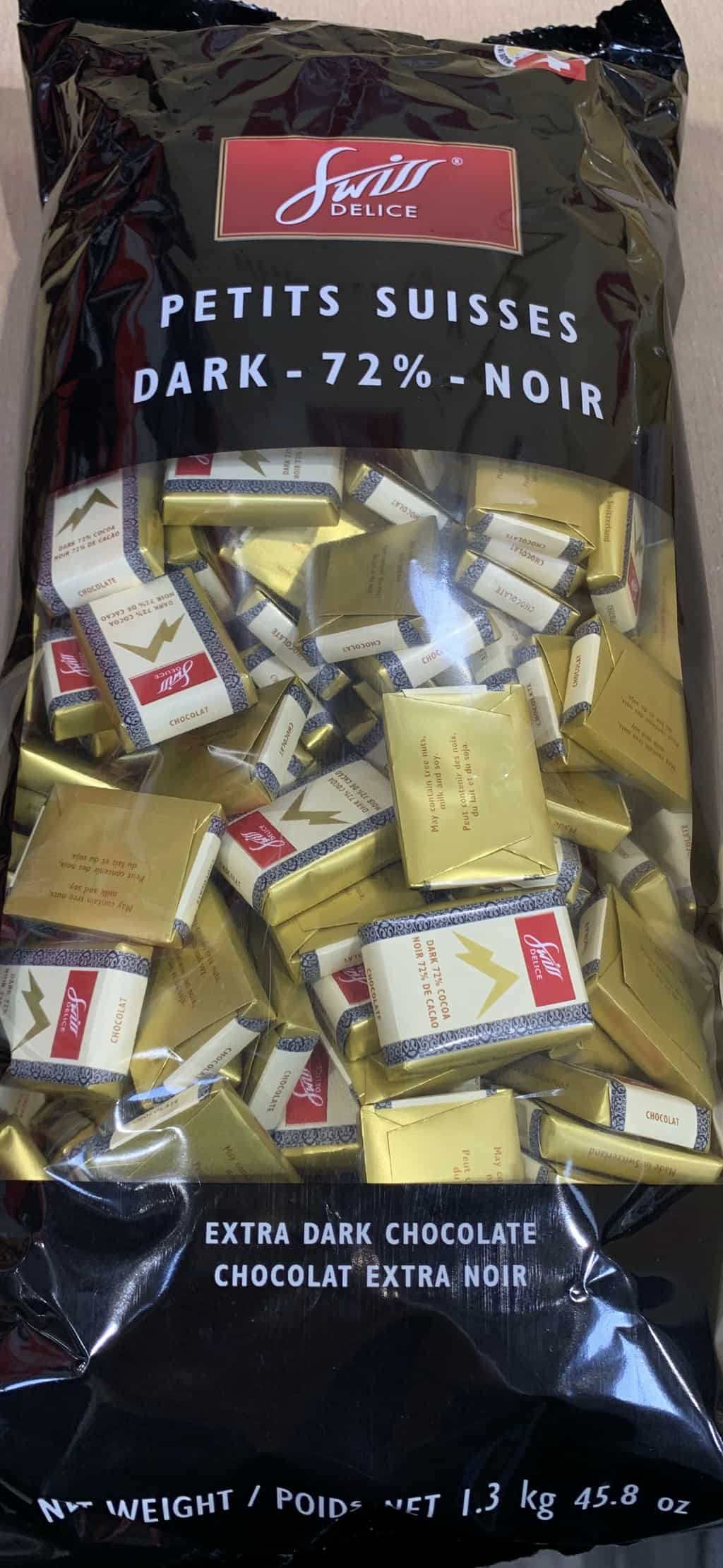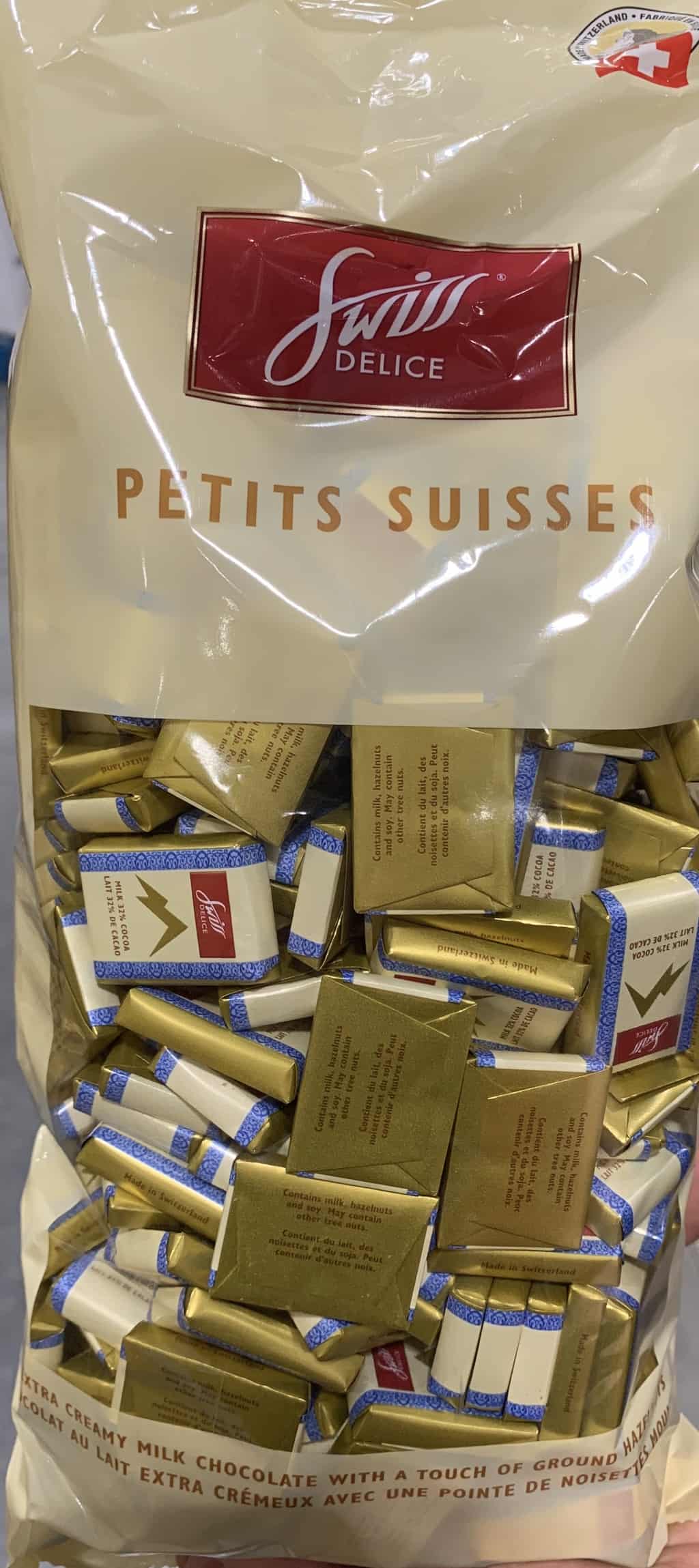 I don't know about you, but I see these little individually wrapped rectangular chocolates everywhere – at car dealerships, doctor's offices, banks, etc. They can be purchased at Costco, and today I'm reviewing them – the Swiss Delice Petits Suisses Extra Creamy Milk Chocolate with a touch of ground hazelnuts and Extra Dark Chocolate.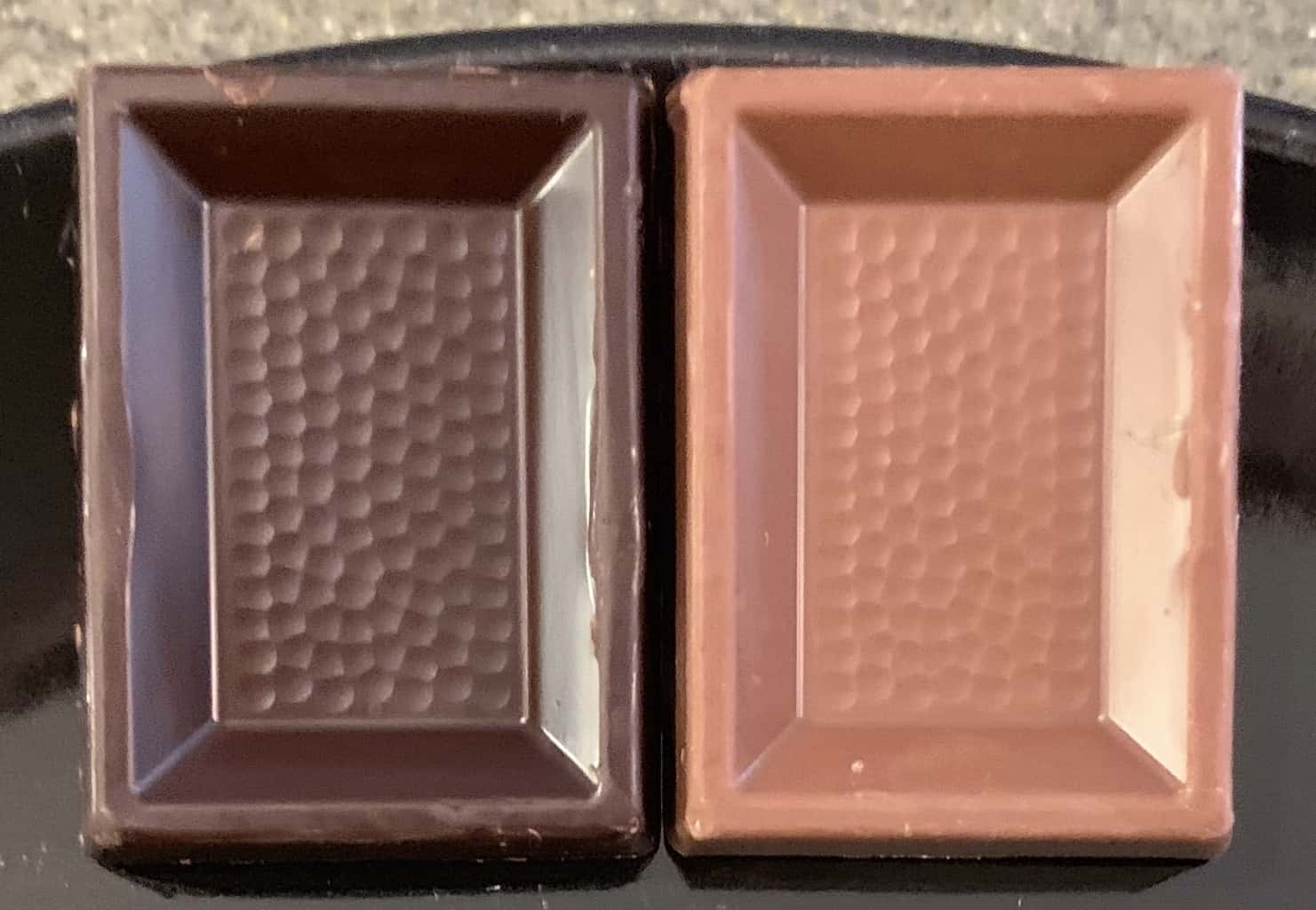 Taste
If you appreciate simple and delicious milk and dark chocolate, you'll love these. These aren't fancy chocolates. They're simple plain milk or dark chocolate squares that melt in your mouth. The milk chocolate is the sweeter counterpart to the dark chocolate and has a high-quality, sweet, smooth chocolaty-milky taste. I noticed a slight hint of hazelnut flavor added to the milk chocolate. I've had milk chocolate that tasted waxy before due to it being of poorer quality. These don't taste waxy at all. They melt evenly in your mouth. The dark chocolate has a more distinct cocoa taste and a bit more complexity. It's not as milky, smooth or creamy, and the texture is slightly drier. The dark chocolate also has the slightly bitter flavor that many dark chocolate fanatics crave and enjoy. These are as basic as a chocolate can get, but they still taste wonderful.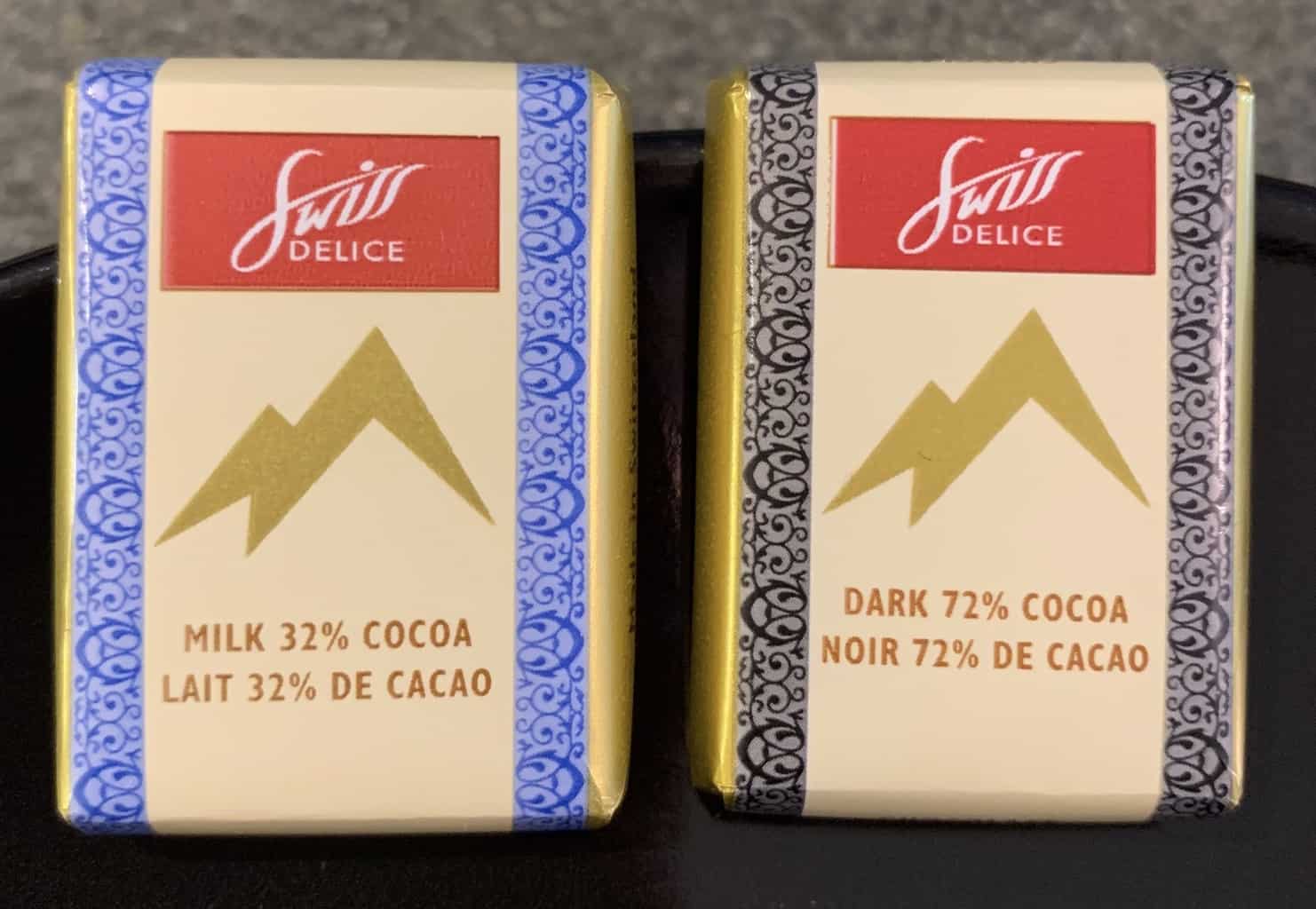 Cost
You get a massive 1.3 kilogram bag of either the milk chocolate or extra dark chocolate for $14.49 Canadian (regular price). In my opinion, the price is reasonable given the high quality of chocolate as well as the large quantity of chocolate that you get.
Convenience
These make a perfect treat to have in your office, at home or even to carry in your purse when you're craving chocolate. This is a BIG bag of chocolates, so a single person might feel that it's too much. I highly recommend sharing these chocolates! They also last a long time, so don't worry if you can't eat the whole bag in a week or two.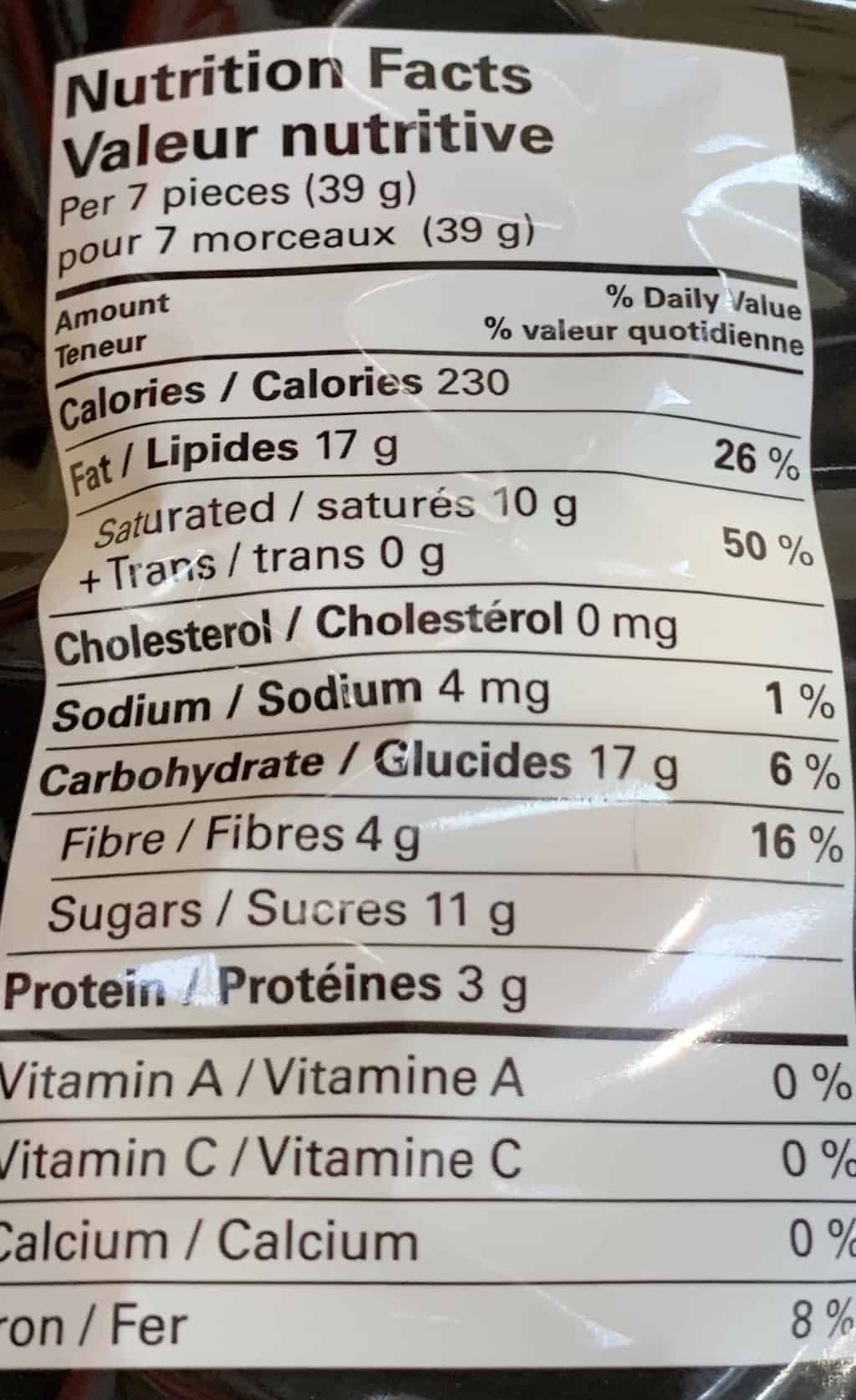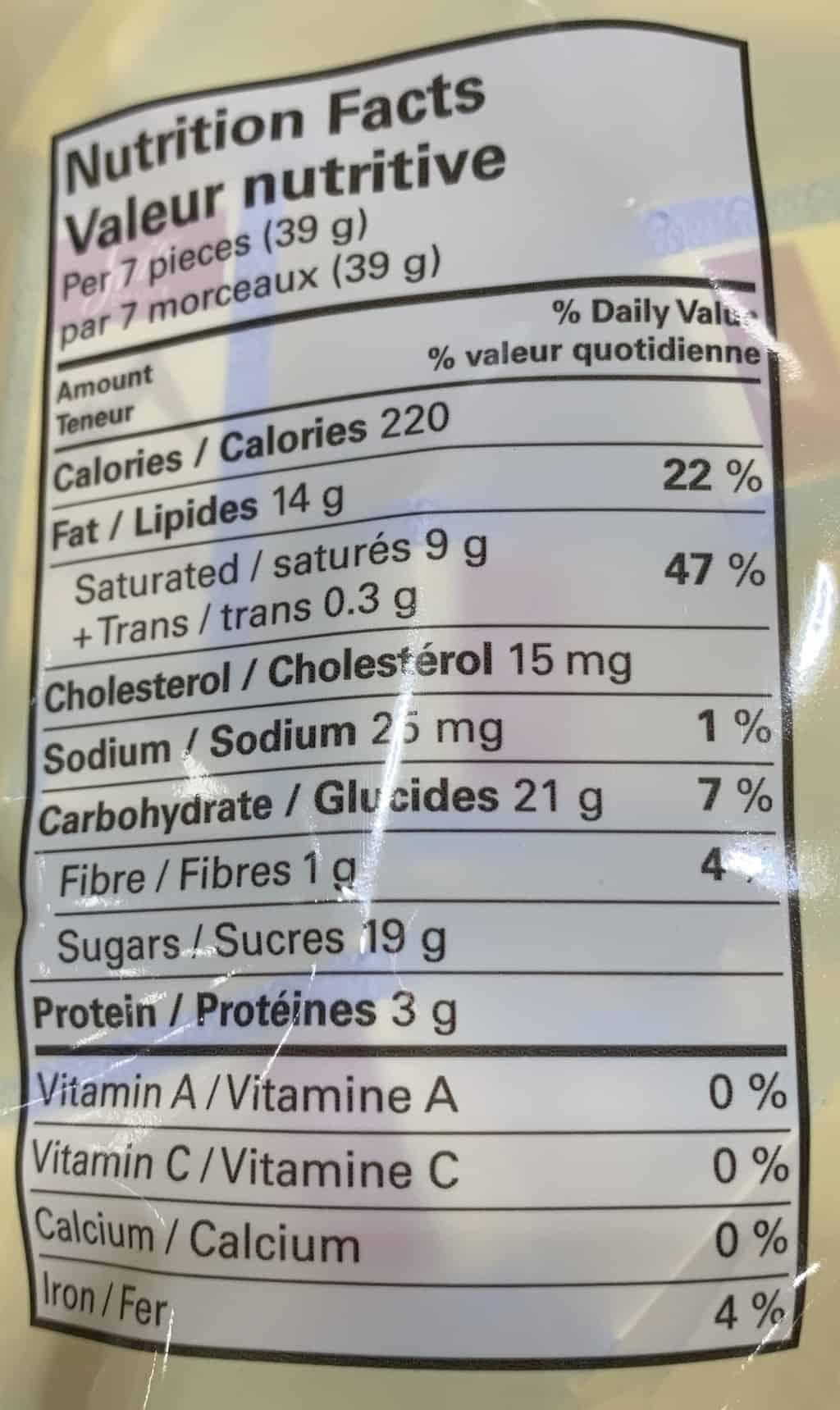 Nutrition
The ingredients list is short for both the Costco Swiss Delice Petits Suisses extra creamy milk chocolate with a touch of ground hazelnuts and the extra dark chocolates. For seven pieces of the milk chocolate you're looking at 220 calories, 14 grams of fat, 19 grams of sugar and three grams of protein. For seven pieces of the the extra dark chocolate it's 230 calories, 17 grams of fat. 11 grams of sugar and three grams of protein. The extra dark chocolate has far less sugar, but otherwise the two nutritional labels are comparable.


These are great if you need a ton of high quality simple chocolates for a reasonable price. I probably won't be needing to repurchase these anytime soon but if I needed a lot of chocolates for an event or my office I wouldn't hesitate to buy these!
Taste: 8.5/10
Cost: 8.5/10
Convenience: 10/10
Nutrition: 5/10
Have you had these? What did you think? Do you prefer milk or dark chocolate?