Anyone else notice a few funky tasting pieces in this salad?
Please note that this review was not paid for or sponsored by any third party. The opinions in this review are strictly my own. I am not affiliated with Costco or any of its suppliers. I am just a fan of the company. I write these honest reviews to help my fellow shoppers.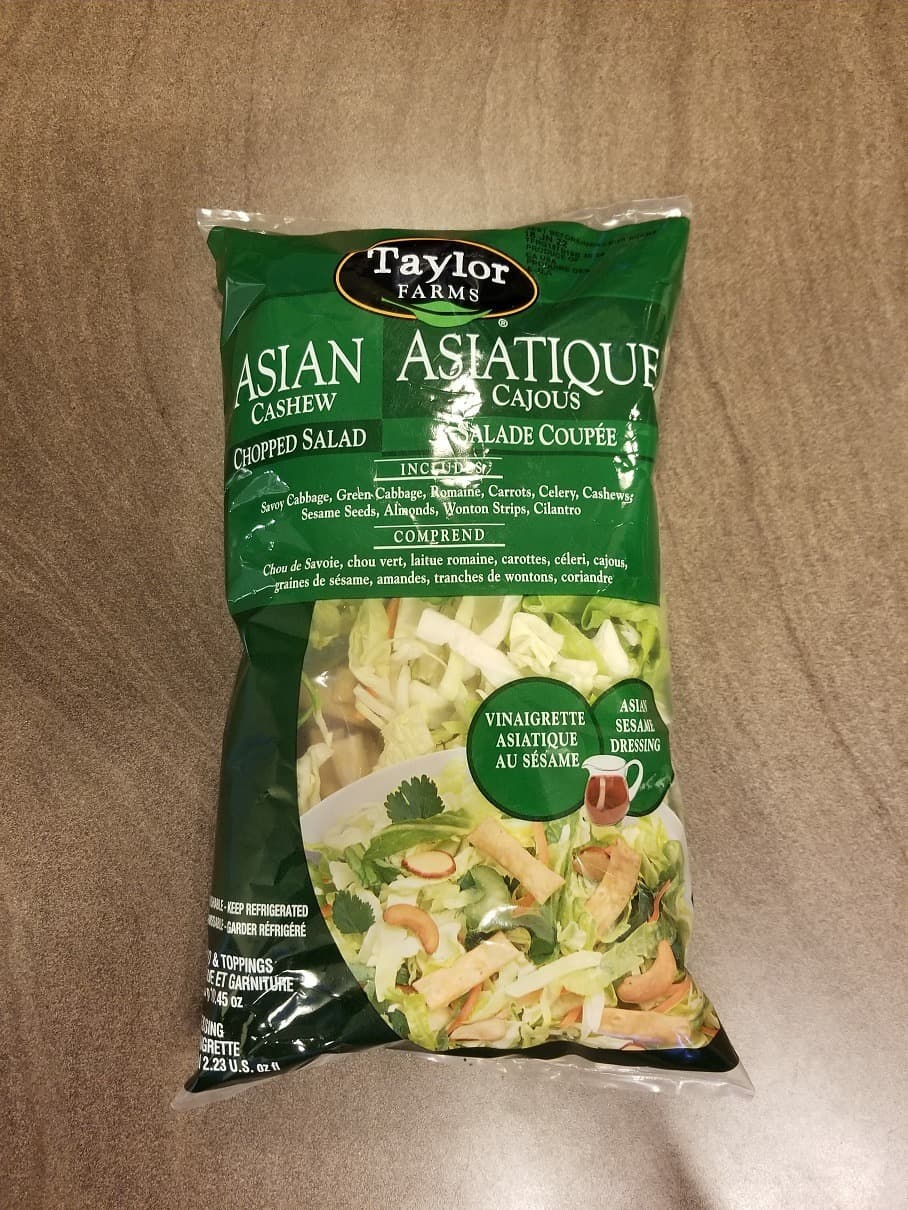 I am going to be honest, Asian Salad kits are my least favorite salad kit. I much prefer something with ranch, balsamic, poppy seed, BBQ sauce or chipotle. However I BUY and TRY a ton of salad kits. They're quick and convenient for weeknights, all you do is add some chicken and maybe a few extra vegetables and you're good to go. Any other Asian Chopped Salad Kit I wouldn't purchase, so that speaks highly of this one. The Asian Cashew Chopped Salad Kit by Taylor Farms is pretty good and it's relatively cheap. Cheap compared to other salad kits at grocery stores that have less ingredients and less "good stuff". Most kits like this are $4.49 or $4.99. I bought this salad kit for $3.49 at #Costco. I'm the type of girl that wants to save a dollar when she can. Side note: Yes I go back if I see I was charged even a few cents more than the sticker price, good thing my husband is so patient!
This salad kit comes with one pouch of Asian Sesame dressing and the vegetables are "Savoy Cabbage, Green-Cabbage, Romaine, Carrots, Celery, Cashews, Sesame Seeds, Almonds Wonton Strips and Cilantro". CILANTRO! Yes I said cilantro, so if you hate cilantro like a lot of people I know this is probably a deal breaker. I think they could definitely leave out the sesame seeds and cilantro, I don't taste the sesame seeds and a lot of people probably do not buy this because of the cilantro. The thing that makes this salad delicious are the cashews and the won ton strips. When I make this I definitely serve myself first and sift through for a few extra won ton strips. There is not much romaine at all in this kit and the cabbage in this salad is a little tough so if you're turned off by chewing on raw coniferous vegetables this #salad kit may not satisfy your taste buds. Also I have to say the last two times I bought this I got a few "funky" mouthfuls. You know those bites of fresh fruit/vegetable where you cannot decide if it just tastes weird or it is actually moldy?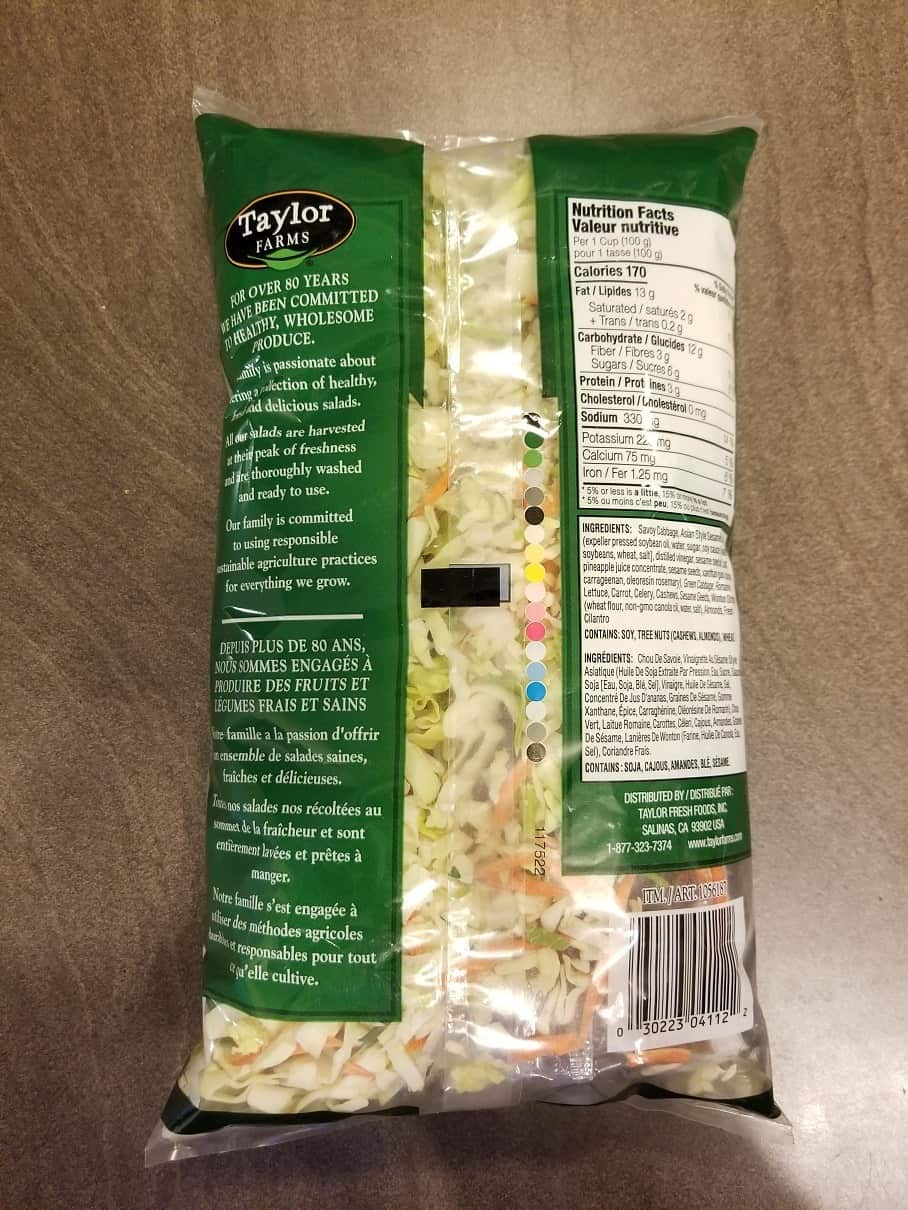 Calories in 1 cup are 170 with 13 grams of fat, 6 grams of sugar. This #nutritional information is based on the whole kit so that's if you use the entire dressing packet, I typically do not like a ton of dressing on my salad. The higher fat content is also from cashews, almonds and won ton strips. Basically this is not the #healthiest salad kit option but everyone needs fat in their diet. It's lacking in protein so I definitely recommend having it with chicken, pork, salmon or even beef. I'm going to post the recipe for how I turn this salad kit into a full size meal. Something you could serve to your family for dinner, bring to a potluck or to a BBQ.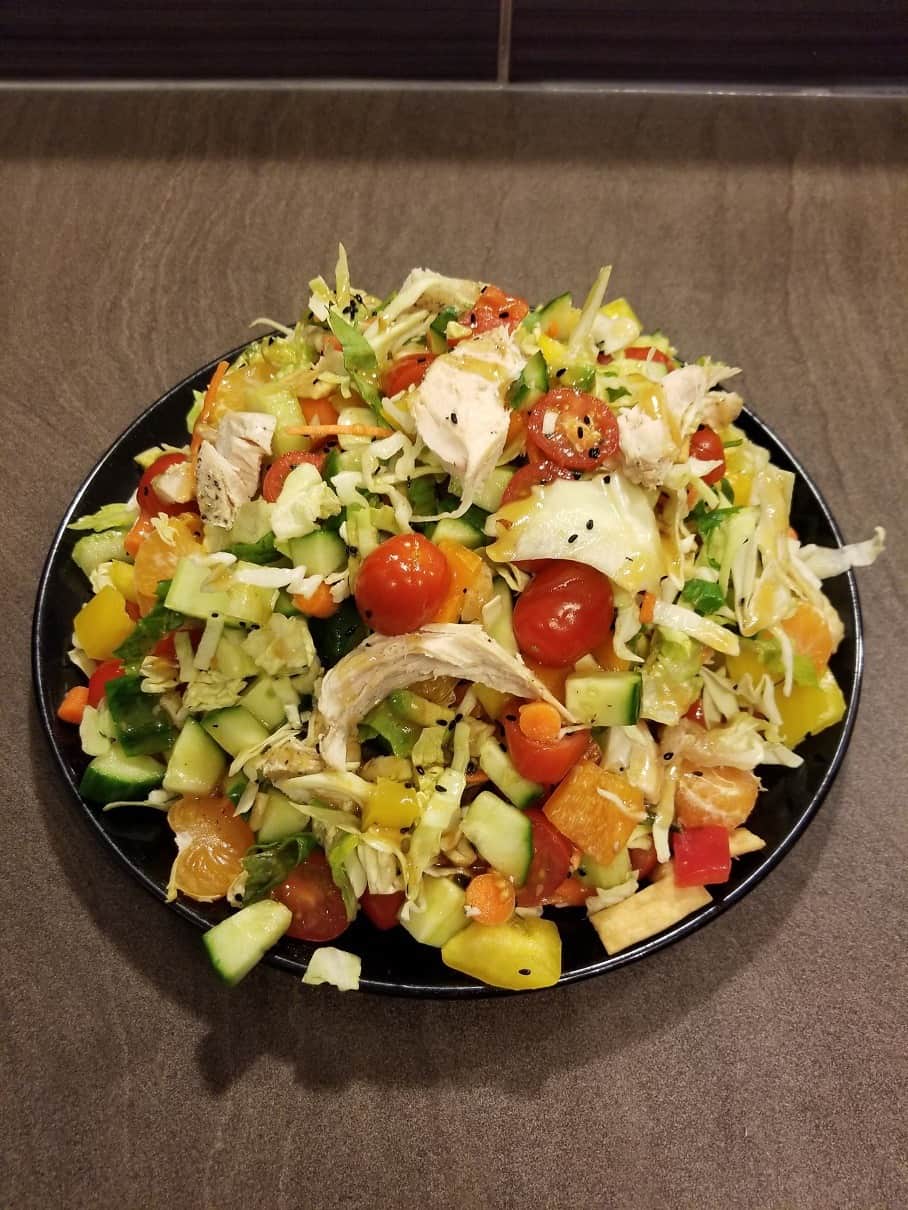 Overall this is not my favorite salad kit but I do enjoy it enough to have repurchased it a few times. If you typically love Asian Sesame dressing salad kits and Cilantro you will probably love this. It's not something I could eat every week but every once in a while I like to mix things up. Please if you've tried it, let me know what you think!
Taste: 6.5/10
Cost: 9.5/10 (cheaper than any other salad kits similar in size at any competitor grocery stores).
Convenience: 9/10 (I recommend adding a protein at least)
Nutrition: 5.5/10 (for a salad kit, honestly it's not that great)
Do you like Asian Sesame salad kits? Have you had this kit before? If you have had it do you like it? What would you add to this kit? What's your favorite salad dressing flavor?