Tons of flavor, but you have to like blue cheese!
Please note that this review was not paid for or sponsored by any third party. I purchased this product with my own money and the opinions in this review are strictly my own. I am not affiliated with Costco or any of its suppliers. I am just a fan of the company. I write these reviews to help my fellow shoppers.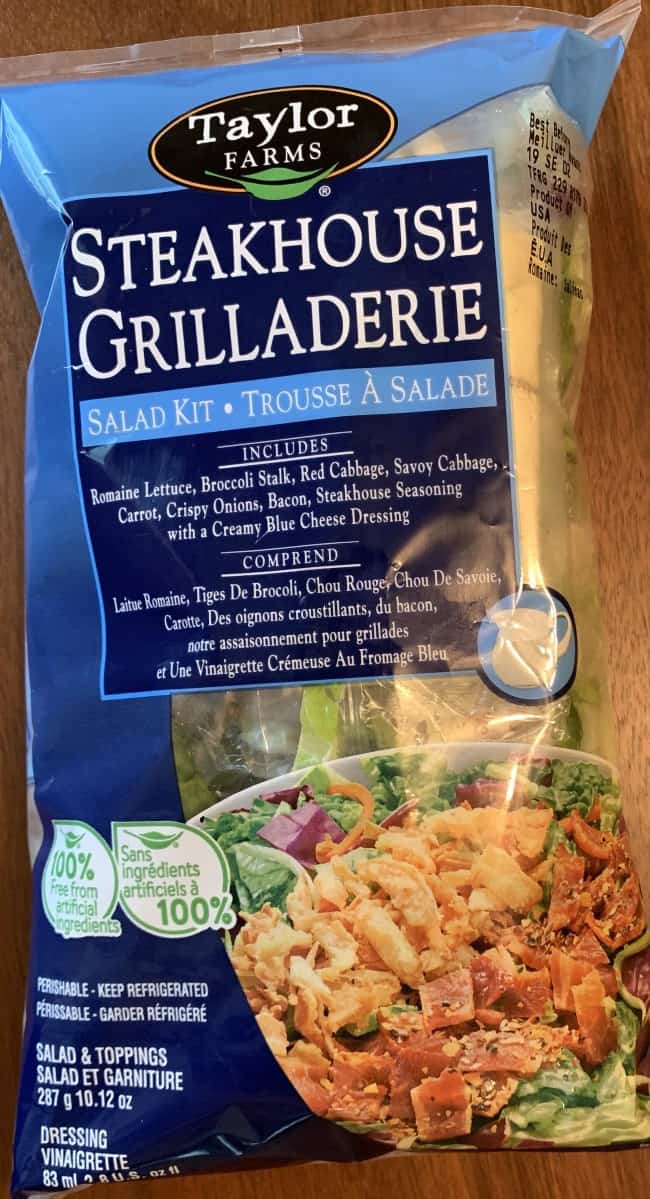 I'm always on the lookout for new salad kits at Costco, so when I noticed the new Taylor Farms Steakhouse Salad Kit, I was excited to try it out – at least until I read that it contained blue cheese dressing. Blue cheese definitely isn't something I'm fond of, but I decided to try this salad anyway. Part of being a good food reviewer means being willing to try things you don't like sometimes! At least that's what I told myself…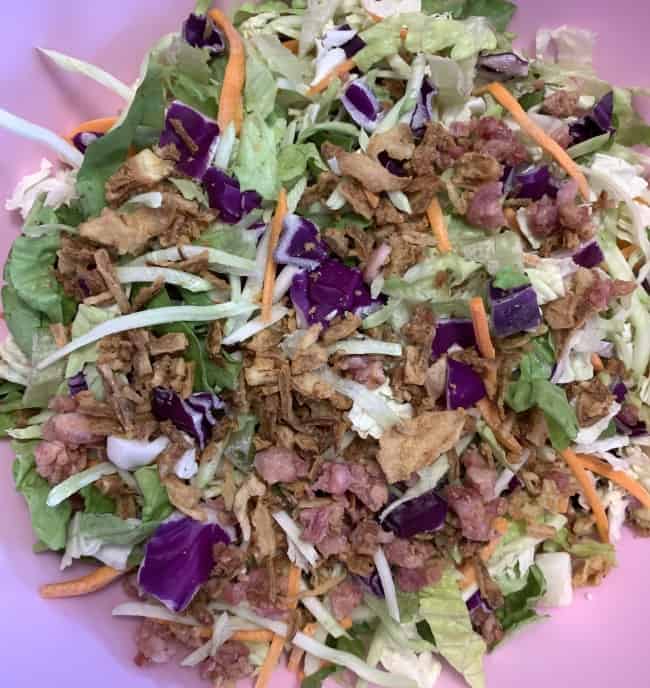 Taste
This salad kit comes with romaine lettuce, broccoli stalk, red cabbage, savoy cabbage, carrots, crispy onions, bacon, steakhouse seasoning and a "creamy blue cheese dressing". I absolutely loved everything in the bag except for the dressing, which isn't a huge deal. The vegetables were fresh and crisp, and with the addition of the steakhouse seasoning packet, they were also very flavorful. The bacon and crispy onions add a ton of extra deliciousness to this salad as well as a little bit of crunchy texture! If you're not a fan of bacon or crispy onions you could just leave them out and still enjoy the salad. I did taste the dressing, and to me it tasted almost like plastic. When I got my husband to taste it, he initially refused, then eventually relented and said, "yeah, it tastes like blue cheese". He's given blue cheese several tries over the years, but he isn't a fan either. If you love blue cheese you're in luck with this kit – at least we think so; neither of us are blue cheese connoisseurs. When I served the salad, I chose to skip the dressing and just use some ranch I had in the fridge. With that substitution, I thoroughly enjoyed the Taylor Farms Steakhouse Salad Kit.
Cost
The regular price for the Taylor Farms Steakhouse Salad Kit at Costco is $3,49 Canadian. That's pretty reasonable compared to similar salad kits at my local grocery store – they usually cost around $4.99 or $5.99, and they're often smaller and use lower-quality ingredients.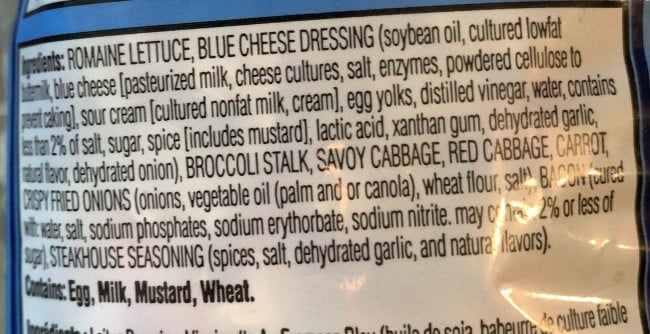 Convenience
I buy salad kits mainly because they're so convenient. Sometimes I add a few extra vegetables (like cucumber, celery and cherry tomatoes in this case), but they still make my life so much easier! I serve salads with the majority of our meals thanks to salad kits like this. I don't think it would happen as often if I had to put them together from scratch all the time. My Taylor Farms Steakhouse Salad Kit had a best-before date about six days after the date I purchased it at Costco.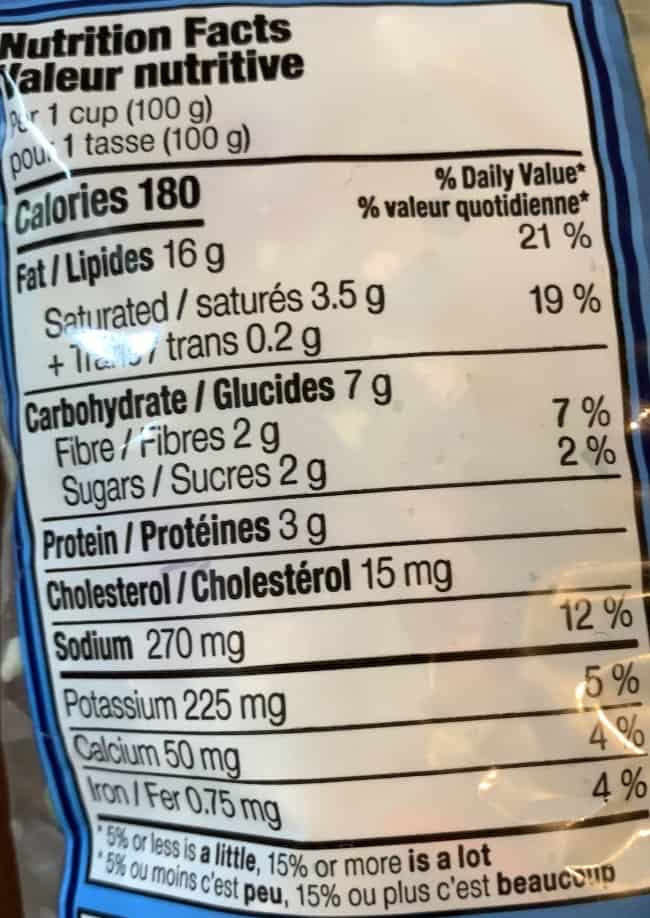 Nutrition
This isn't the healthiest salad kit if you add all the mix-ins that come in the bag and use all of the dressing. One cup contains 180 calories, 16 grams of fat (wow!), seven grams of carbohydrates, two grams of fibre, two grams of sugar, three grams of protein and 270 milligrams of sodium. The first ingredient listed for the dressing is soybean oil, which I know some people try to avoid.
Overall, the Taylor Farms Steakhouse Salad Kit was definitely tasty with all the added ingredients, but I really wish the dressing was something more appealing than blue cheese! I feel like there aren't too many people out there who truly enjoy it, but maybe I'm wrong. I'll probably stick to buying other salad kits where I don't need to sub out the dressing, like the Taylor Farms Baja Chopped Salad Kit.
Taste: 7/10 (points lost for the dressing, but blue cheese fans may love it)
Cost: 8.5/10
Convenience: 10/10
Nutrition: 3/10
What's your favorite salad kit to purchase from Costco? What do you add to it if anything extra?