If you like a little heat in your salad, you might like this!
Please note that this review was not paid for or sponsored by any third party. I purchased this product with my own money and the opinions in this review are strictly my own. I am not affiliated with Costco or any of its suppliers. I am just a fan of the company. I write these reviews to help my fellow shoppers.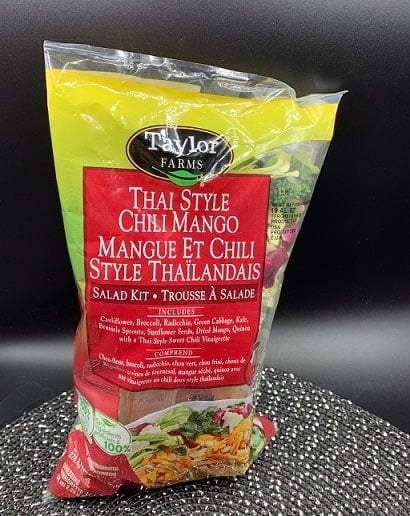 I found a new salad kit at Costco the last time that I was there – the Taylor Farms Thai Style Chili Mango Salad Kit. That's what I'm reviewing today!
Taste
The first thing that I noticed about this salad was the nice variety of vegetables included. I love all of the ingredients used in this salad kit: cauliflower, broccoli, radicchio, green cabbage, kale, brussels sprouts, sunflower seeds, dried mango and quinoa. I've reviewed a few Taylor Farms salads from Costco now, and they haven't had fresh leafy greens like this one does with the kale and brussels sprouts, so that was a pleasant surprise. All of the vegetables tasted fresh. I didn't get any moldy or off-tasting bites of salad. The different textures of all the various vegetables combined with the dried mango, quinoa and sunflower seeds makes this salad quite appetizing. There isn't much dried mango in the packet; just a few small pieces. The sunflower seeds provide a nice bit of crunch, but aren't very flavorful. The quinoa seems a little unnecessary. I didn't really notice the taste or the texture of the quinoa. It just kind of disappeared into the rest of the salad. The dressing is a Thai style sweet chili vinaigrette, which brings me to the most important part about this salad that I want to share with you – the dressing is SPICY! Not over-the-top-burn-your-mouth-off-hot, but there's definitely a lot of heat. I was kind of caught off guard by this as I wasn't expecting that kind of heat from a salad dressing. In terms of flavor, the Thai style sweet chili vinaigrette dressing underwhelmed me. It's basically a thinner version of the sweet chili sauce that you would get in a restaurant with egg rolls or chicken satay.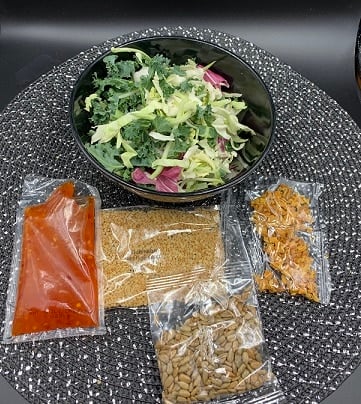 Cost
The regular price for the Costco Taylor Farms Thai Style Chili Mango Salad Kit is $3.49 Canadian. I find that Costco's salad kits are always cheaper than the salad kits I find at my local grocery stores, so I can't really complain about their prices. You definitely pay a little bit of a premium for the convenience of a salad kit, but as someone who makes a lot of salads, I'm quite happy to pay for that convenience factor. Salad kits are still a lot cheaper than buying a salad at a restaurant or even a healthy quick-serve restaurant!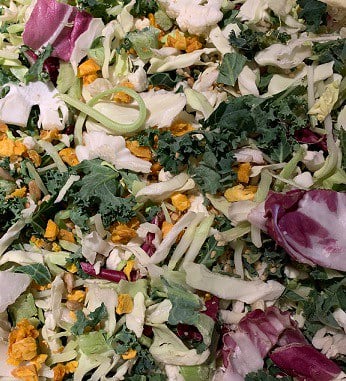 Convenience
Salad kits are made for convenience! They make a super easy weeknight dinner that doesn't take much extra effort to put together. With the Taylor Farms Thai Style Chili Mango Salad Kit, I added chicken, avocado and tomatoes to turn it into a meal. I also threw in some fresh mango because I love mango and didn't think there was quite enough of the dried stuff. A lot of my colleagues bring salad kits like this for an easy, fast lunch; all you'd need with this one to turn it into a healthy, balanced lunch is the protein of your choice.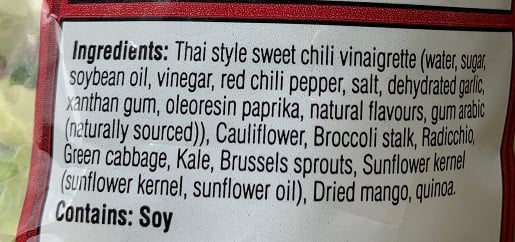 Nutrition
One cup of prepared salad contains 140 calories, 7 grams of fat, 9 grams of sugar, three grams of protein and 230 milligrams of sodium. Salads can be a bit deceiving – the amounts of calories, fat and sugar in this one aren't ideal. I'm not saying it's an unhealthy choice, but if you're watching your sugar or fat intake closely, you may want to cut back on the dressing or use your own dressing. Cutting back on the mix-ins might also be an option (although they are one of the best parts).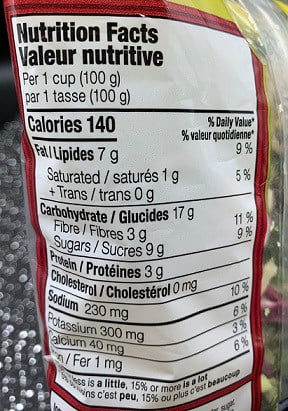 Overall, I probably won't be buying this salad kit again. I like the vegetable mix, but I found the dressing too spicy – it overpowered the other flavors in the salad. I do like the price point of the salad kits at Costco and you can't beat the convenience, so I hope to see more new salad kits like this at Costco!
Taste: 6/10
Cost: 9/10
Convenience: 10/10
Nutrition: 7/10
Have you tried this salad? What did you think? Do you like spicy salad dressings?