Roasted sea salt chick pea snack!
Please note that this review was not paid for or sponsored by any third party. I purchased this product with my own money and the opinions in this review are strictly my own. I am not affiliated with Costco or any of its suppliers. I am just a fan of the company. I write these reviews to help my fellow shoppers.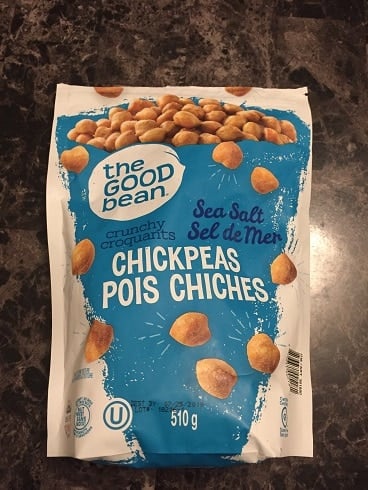 So during my last visit to the Costco snack section I saw these Sea Salt Roasted Chickpeas by The Good Bean.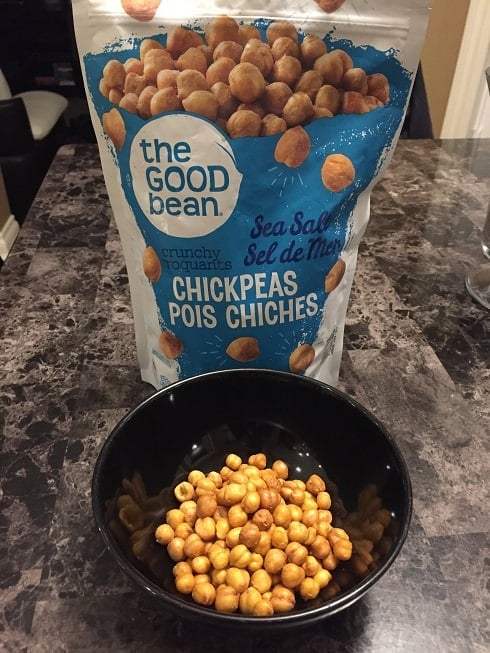 I bought this bag of roasted chickpeas for $6.79 which seemed reasonable as it's a pretty big bag. It also depends how you look at it. If you compare it to the other snacks in the snack section like the trail mix and nuts it seems a lot cheaper. If you compare it to the massive bags of chips for cheaper or the same price these the GOOD bean Sea Salt Chickpeas might seem a little expensive. I felt like at $6.79 I was willing to take a gamble to determine if these were tasty or not.
These are super convenient, no cooking or preparing is involved you just open and consume. They are easy to seal again once opened and are very easy to bring to work in a plastic container or ziplock bag to snack on.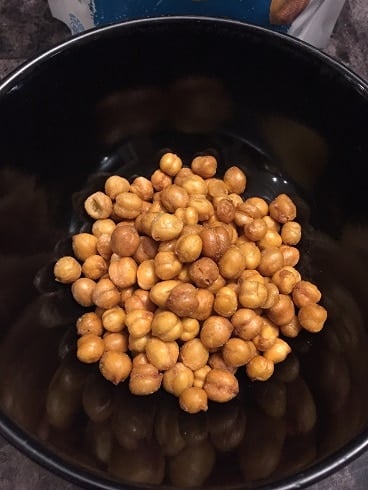 Both my husband and I felt the taste of these got better as we ate more. Definitely unique. I've never had a roasted chickpea before but I do enjoy regular chickpeas from the can. I feel like even if you do not love chickpeas you will probably enjoy these. To describe the taste, they're nice and crunchy and salty and you don't taste a strong chickpea flavor, kind of similar to a corn nut. They're a little dry and quite small so I found to get the actual taste of the chickpeas I needed 5 or 6 in my mouth at once. When I had 5 or 6 in my mouth, they tasted similar to a saltine cracker to me. I could definitely eat too many of these. I think I'd fall in love more with the taste if they were flavored, like salt and vinegar or spicy.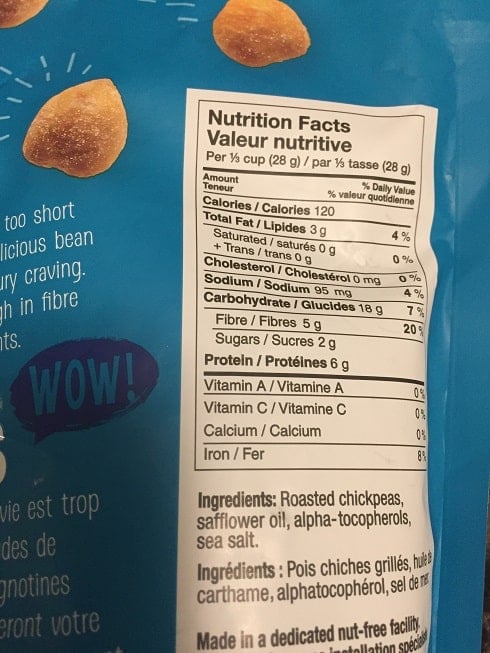 The nutrition label is what prompted me to purchase these, 1/3 cup is 120 calories, 6 grams of protein, 5 grams of fibre, 2 grams of sugar and 95 mg of sodium. That's a ton of protein in a snack like this for not that many calories. Also the fibre is awesome and despite the fact these taste nice and salty, the amount of sodium per serving is low. The key to keeping these healthy is not consuming the whole bag in one sitting. The only thing negative about the nutrition information is that 1/3 cup is not that much for a lot of people. A lot of people would probably easily consume 1 cup so portion control is a big thing. I recommend portioning out your serving and putting the bag away.
I'm glad I tried these but probably will not repurchase them. I felt they were tasty but not so good that I feel I need a stockpile. I would recommend these for someone who enjoys chickpeas and is wanting a crunchy, healthier snack that has a good amount of protein and less salt than things like chips and pretzels. I also think these would be amazing in salads to add that extra crunch. I think I'll add these to the Costco Kirkland Signature Quinoa Salad.
Cost: 7/10
Nutrition: 8/10
Convenience: 10/10
Taste: 7.5/10