I love convenient garlic toast that tastes great!
Please note that this review was not paid for or sponsored by any third party. I purchased this product with my own money and the opinions in this review are strictly my own. I am not affiliated with Costco or any of its suppliers. I am just a fan of the company. I write these reviews to help my fellow shoppers.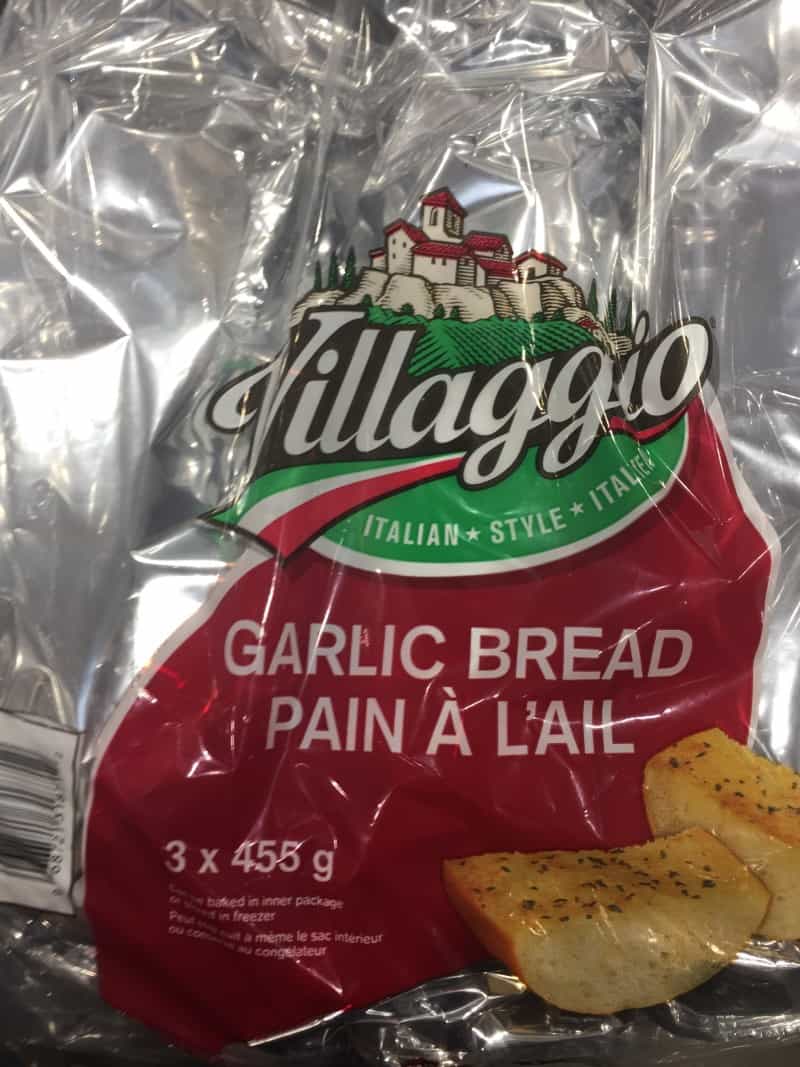 I never used to like garlic toast all that much until I met my husband. He loves garlic toast with pasta and it's grown on me over the past few years. I used to buy the garlic toast that the local grocery would make in their bakery and package themselves or I would buy bags of frozen single pieces of garlic toast. Through all my purchases I've discovered this Costco Villaggio garlic toast is my favorite for taste, convenience and cost.

The garlic toast comes packaged in one big bag with 3 separate loaves each in a aluminum foil bag. i love this garlic toast for the convenience factor. Each loaf is already cut and has the garlic butter in it so it's just ready to bake. It is so easy to bake, there are two baking methods. One method suggests you just bake the bread in the bag it comes in and this will give you a softer garlic toast. I like my garlic toast with a crunchy exterior and soft a fluffy interior so I use the second baking method which involves taking it out of the bag and cooking it open on a baking sheet. This freezes perfectly so I always keep some in my freezer and take out a loaf a few hours before I'm ready to make dinner.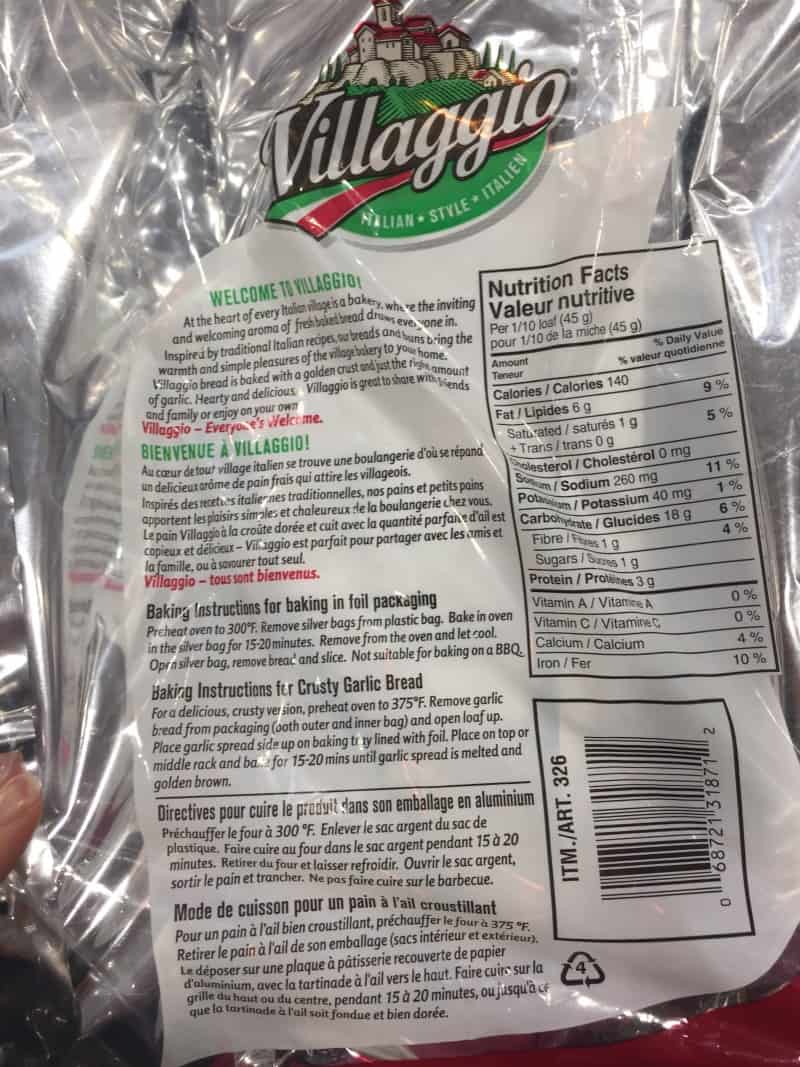 Nutritionally I think we can assume garlic toast is the not the "cleanest" or healthiest option out there but when I look at this nutrition information it's actually not that bad. One serving size is 140 calories, 6 grams of fat, and 260 mg of sodium. It's definitely lacking in any protein or fibre. It might be nice if they offered a whole grain or whole wheat version of garlic toast, I would definitely try that. If you're enjoying one serving of garlic toast with your dinner, this is not going to break your nutrition/diet bank. If you're eating the entire loaf…well not the greatest but hey if you enjoy it then do you!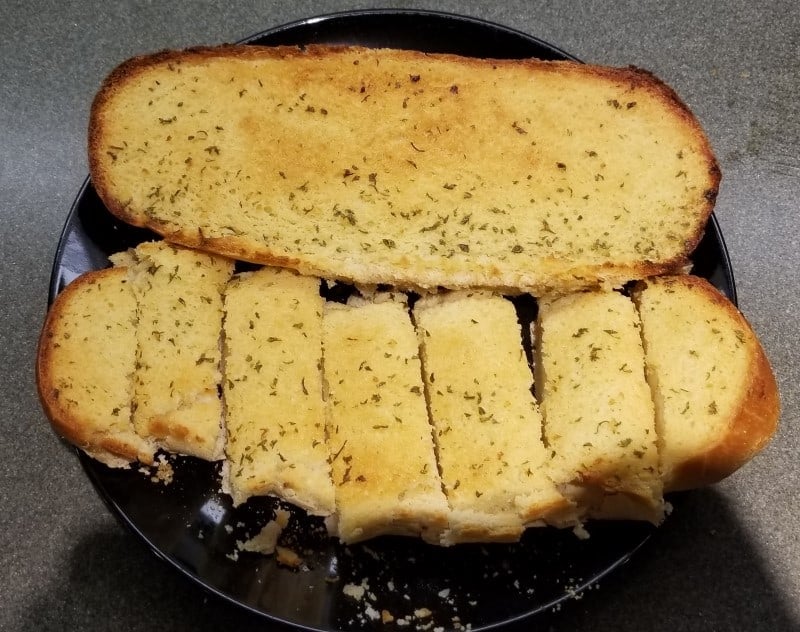 I love this garlic toast over others because I find it is not super strong garlic toast and also is not overly buttery. Actually when you bake it it just turns into a nice crispy bread with a nice subtle garlic butter flavor. Other garlic toasts I have tried come out of the oven WET and SATURATED in garlic butter, which totally is not my thing. Also if I wake up the next morning with garlic taste in my mouth, it's not happening again. One suggestion/hack I have is to cook it open faced and use a knife to spread the garlic butter all around before you put it in the oven so it's evenly distributed. This will ensure you have a nice crispy, evenly buttered bread.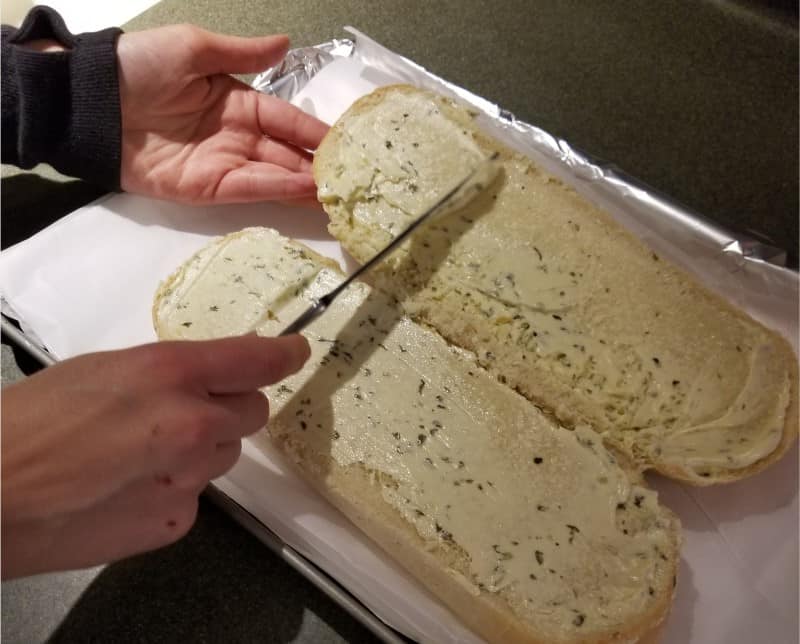 You get 3 loaves for $8.99 Canadian, so about 3 dollars per loaf, this is super reasonably priced. I used to buy one garlic toast at a local grocery store for $4.50 or more and it definitely did not taste as good as this one. The loaves are not super small and can easily feed 4 people.
To summarize, I've bought various prepared/packages garlic toasts and this one is my favorite for various reasons and I will continue to repurchase it.
Nutrition: 5/10
Taste: 10/10 (love it!)
Convenience: 9/10
Cost: 9.5/10 (may be cheaper to make your own)
Garlic toast lover or hater? Do you make your own? Have you ever found a whole grain packaged garlic toast?