I think these are fancy appetizer status worthy!
Please note that this review was not paid for or sponsored by any third party. I purchased this product with my own money and the opinions in this review are strictly my own. I am not affiliated with Costco or any of its suppliers. I am just a fan of the company. I write these reviews to help my fellow shoppers.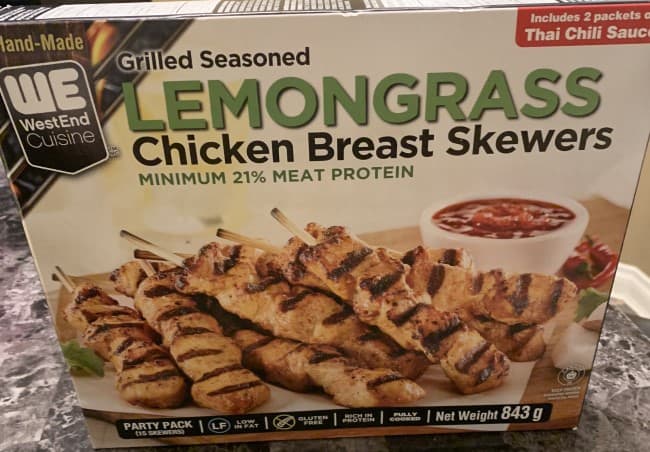 Getting enough protein is important to my husband and we eat a ton of chicken in our house. I get kind of tired of just the usual, salt and pepper seasoned, boneless, skinless chicken breasts so when I saw these lemongrass chicken skewers at Costco I thought they'd be a perfect new item to try!
The lemongrass chicken skewers can be found in the frozen section at Costco. They come in a cardboard box and in the box there is two bags of chicken skewers that have already been pre-cooked/grilled. Each bag has about 7 or 8 skewers in it. I bought the bag of chicken skewers for $13.99 Canadian (not on sale). Although these are on the pricier side, these are pretty tasty and also you get quite a bit of meat on each skewe and it's not gross, processed tasting meat. Big white chunks of chicken breast. You also are definitely paying for convenience, these are already pre-grilled so all you're doing is heating them up.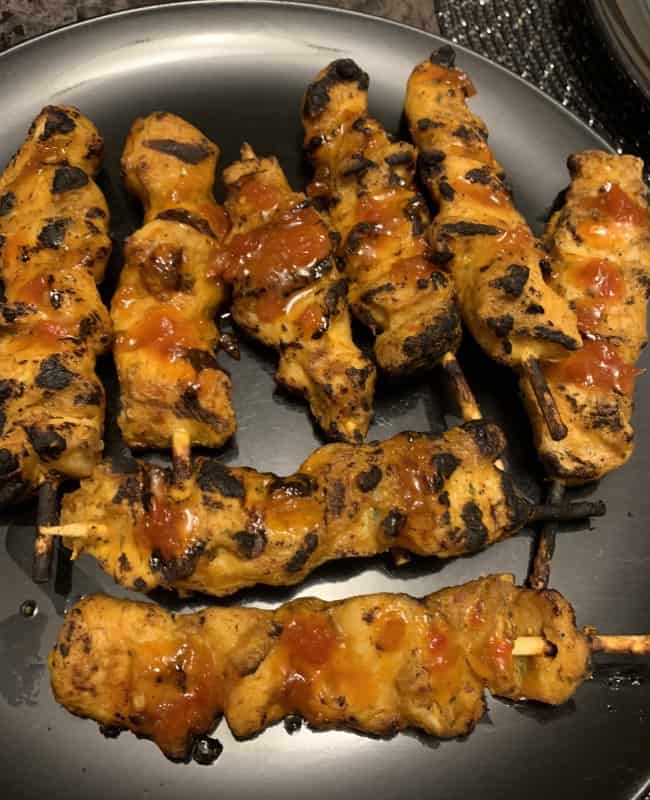 As I mentioned, the WestEnd Cuisine Lemongrass Chicken Skewers are so convenient. They come pre-seasoned and grilled. All I had to do was place them on some parchment paper on a cookie sheet and heat them in the oven. The box comes with sauce packets for the skewers which is always more convenient because then you don't have to go out and buy your own.
I love the nutritional info for these except for the amount of sodium. Two skewers is 120 calories, one and a half grams of fat, three grams of sugar, 470mg of sodium and 19 grams of protein! That's a nice amount of protein. If you had these for lunch with a little salad that would make such a healthy lunch. Also a super healthy dinner would be to make with some rice and vegetables for dinner!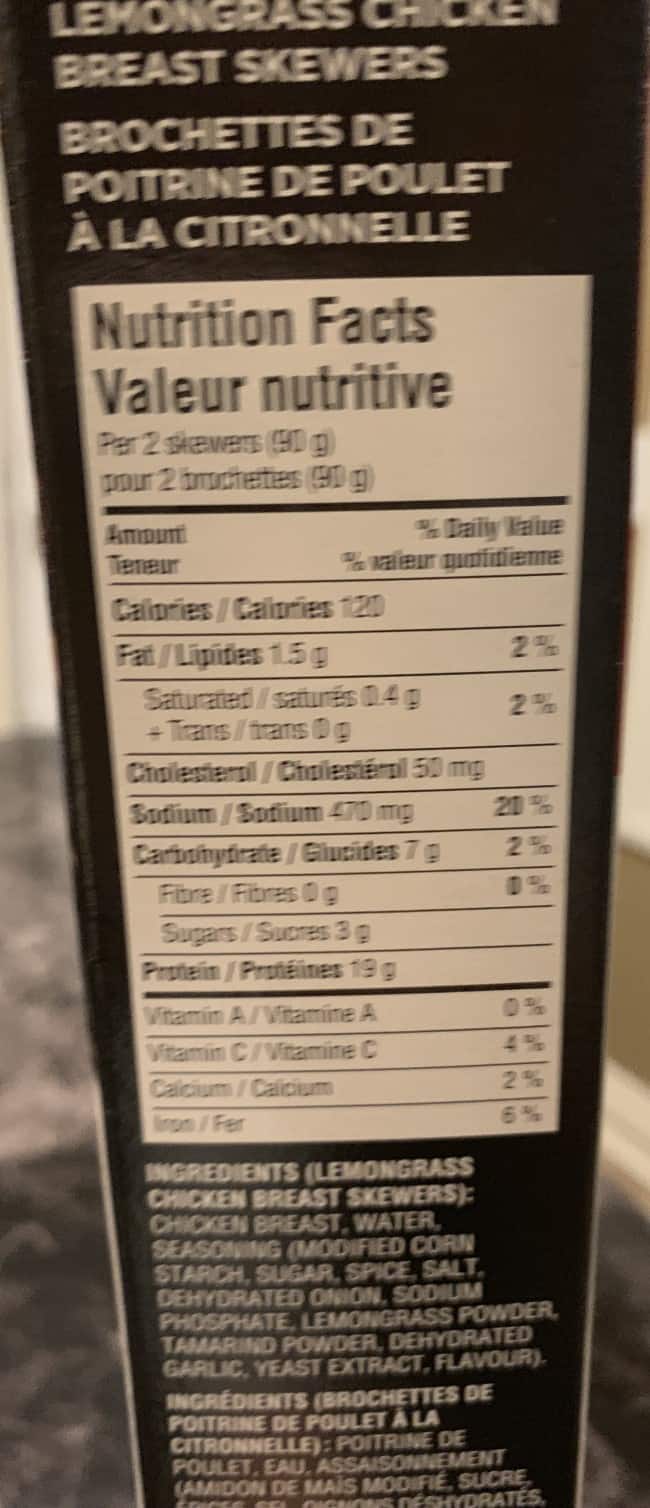 Both my husband and I enjoyed the taste. They are nicely seasoned, perfectly grilled skewers. The meat on the skewer is moist, white, chicken breast meat. The lemongrass flavor is delicious but not overly strong or pungent. The Thai chili sauce that comes in the box pairs perfectly with the skewers and is slightly spicy so if you like heat, definitely use the sauce. I think these would pair great with rice, a salad or with some stir fried vegetables. The skewers are already grilled and then frozen which is nice because the chicken actually tastes grilled, has grill marks on it and even some of the skewers are blackened from the grill.
I would definitely repurchase these again, especially if I were hosting an appetizer only party or a party where I wanted to serve some hot, fancier appetizers. These are palate pleasing and I think a lot of people in general would enjoy these. They're also a healthier option and are filling which I think guests appreciate when attending holiday parties. Although they're on the pricier side, these taste and look like a higher quality appetizer and are incredibly convenient.
Taste: 9/10
Cost: 7/10
Convenience: 9.5/10
Nutrition: 8.5/10