Zinetti can't compete with Kirkland Signature when it comes to lasagna!
Please note that this review was not paid for or sponsored by any third party. I purchased this product with my own money and the opinions in this review are strictly my own. I am not affiliated with Costco or any of its suppliers. I am just a fan of the company. I write these reviews to help my fellow shoppers.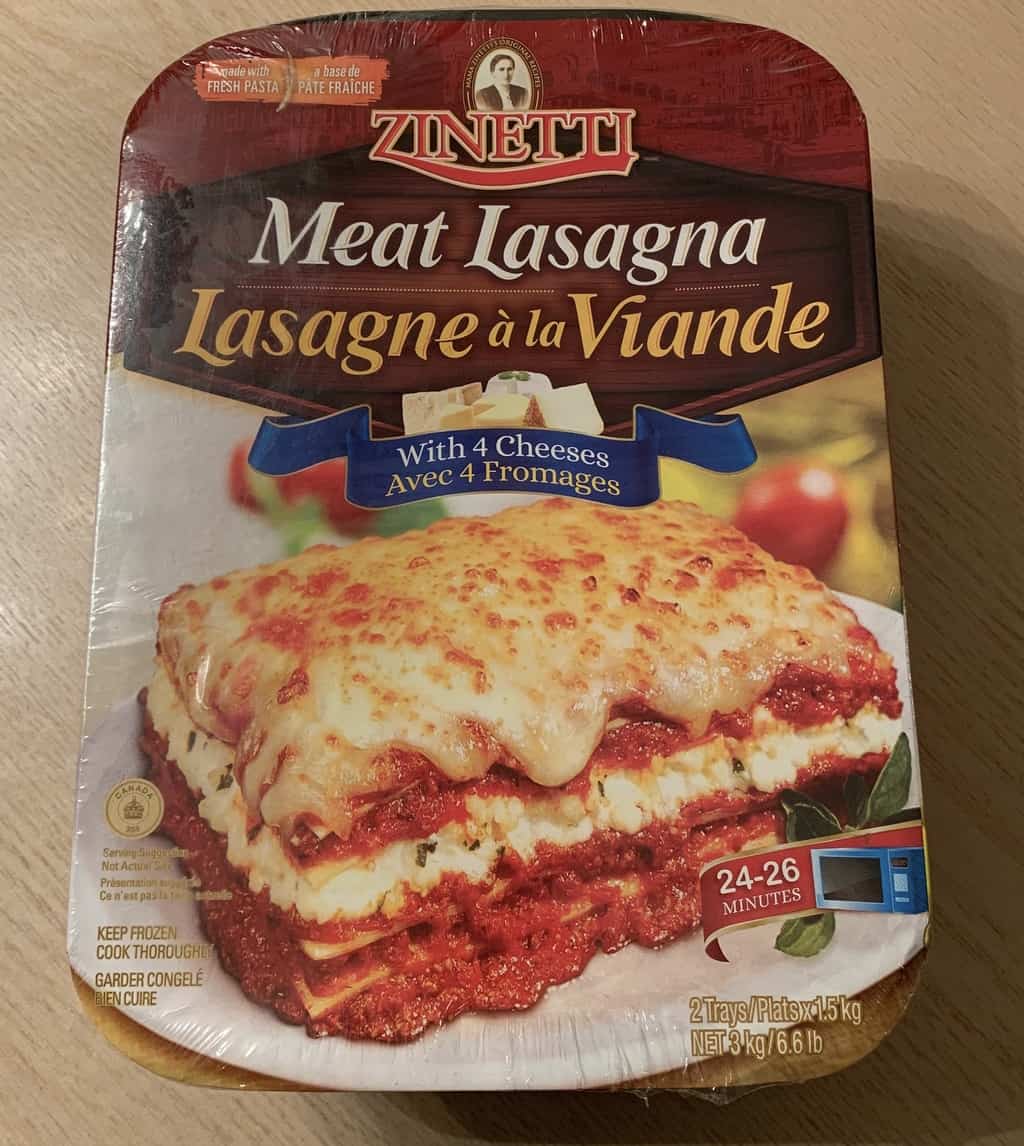 Lasagna is one of our favorite winter comfort foods! I picked up a two-pack of the Zinetti Meat Lasagna the last time that I was at Costco, and this past snowy Saturday was the perfect day to pop it in the oven to try.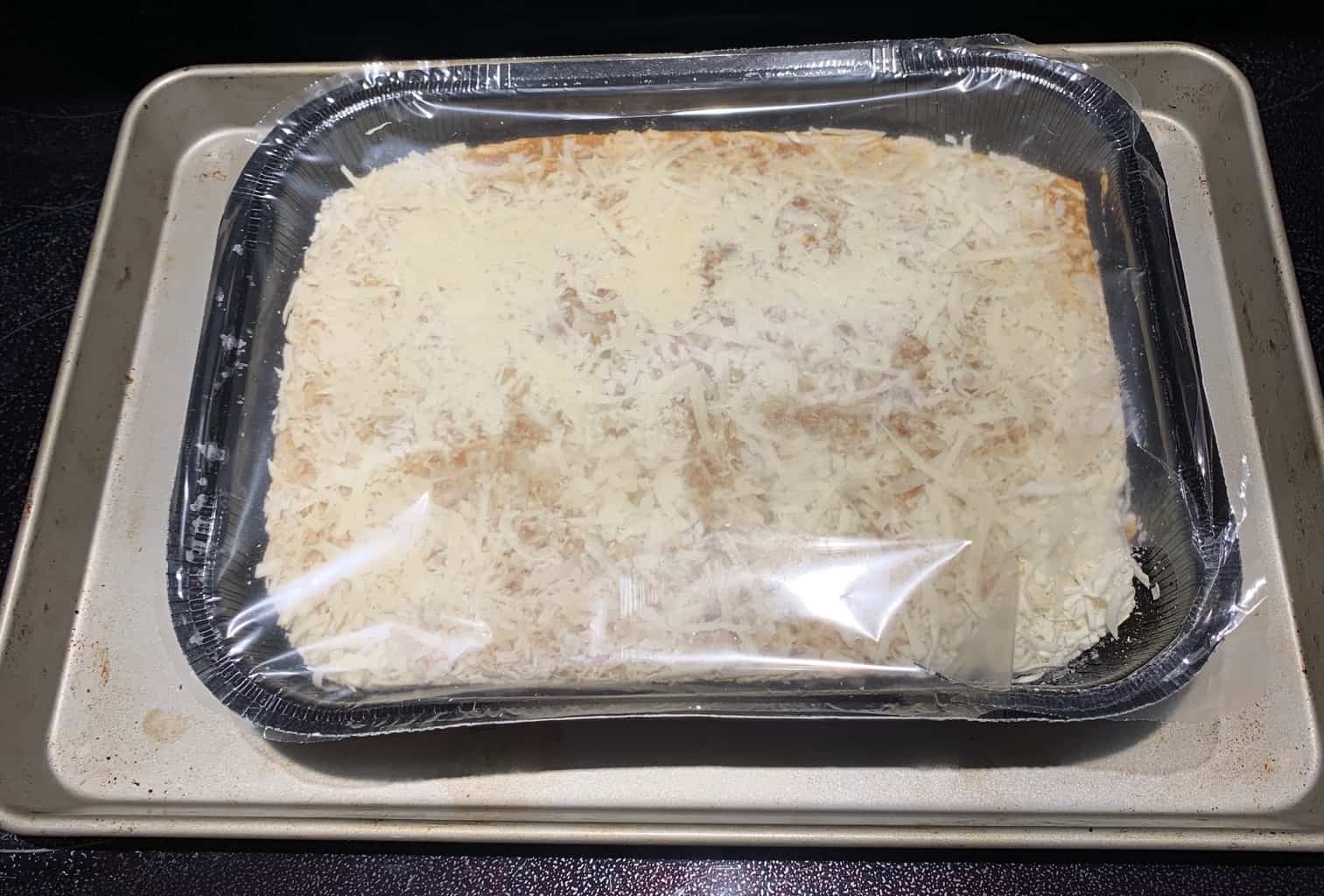 Taste
The lasagna was pretty tasty, but I have to say that I definitely prefer the Costco Kirkland Signature Lasagna – I knew that from the moment I had my first bite. The Zinetti Meat Lasagna is very reasonably priced, and its taste reflects its price point. I say reasonably priced rather than cheap because I think cheap has a negative connotation and there's nothing wrong with this lasagna. As you might expect, there isn't a whole lot of meat in it; most of what's there is mixed into the sauce. Unfortunately I found a few hard, uneatable pieces of meat in my portion, though my husband didn't have the same issue with his pieces. The sauce was flavorful, and there was a good amount of cheese on top that I broiled until it was crispy/slightly burned (the way I like it). The noodles were not too hard or too soft (al dente). There was a decent amount of ricotta between the noodles. The two cheese flavors I noticed most were mozarella and ricotta; the parmesan and Romano were less noticeable. Overall, the Zinetti Meat Lasagna wasn't the best lasagna I've ever had, or even the best lasagna I've bought at Costco, but it tasted fine for the price.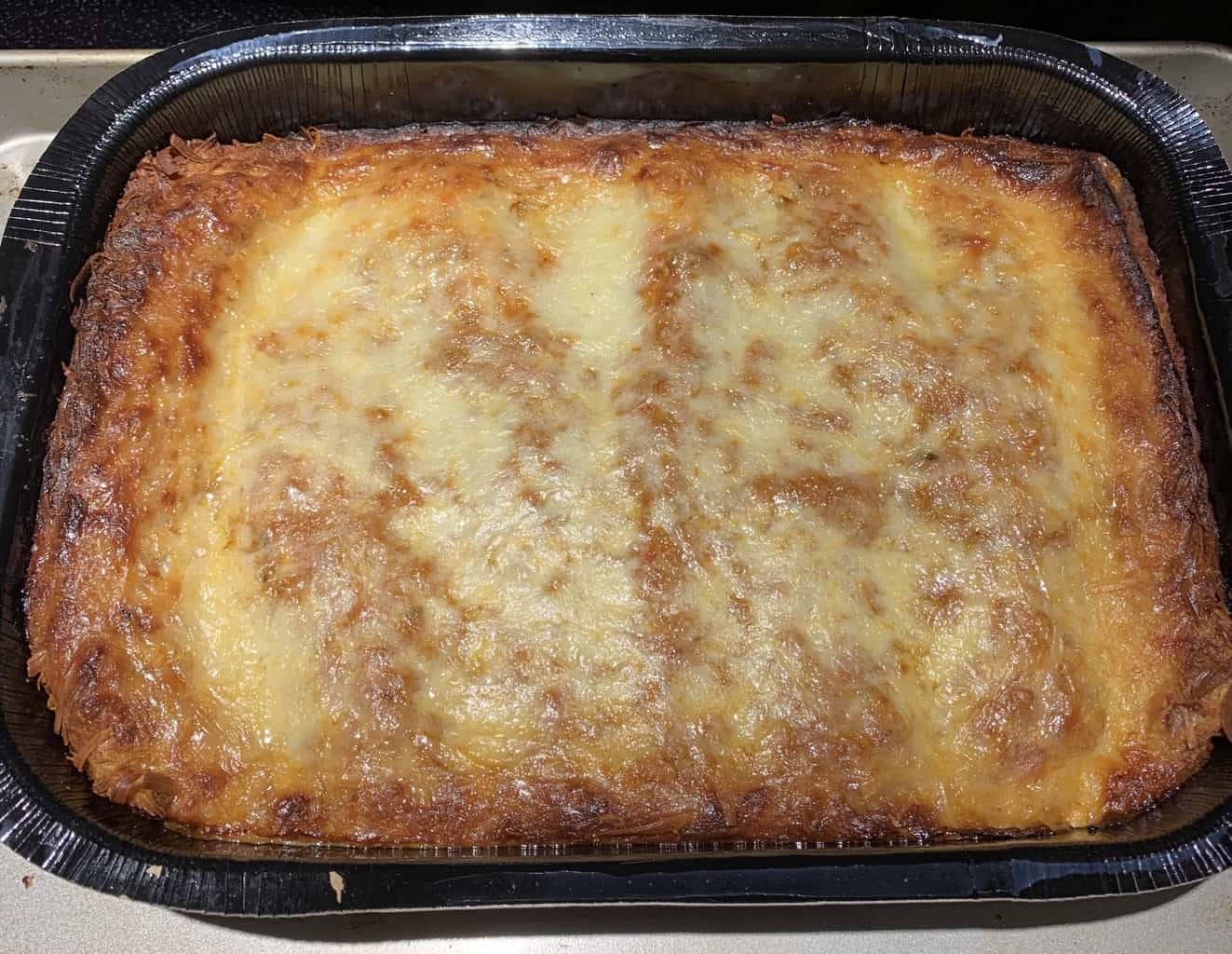 Cost
A two-pack of the Zinetti Meat Lasagna is $14.79 Canadian (regular price). Each lasagna weighs 1.5 kilograms. Essentially you're getting two of these lasagnas for the price of a single Kirkland Signature Meat Lasagna (though the size of the Kirkland Signature Lasagna varies a bit from package to package).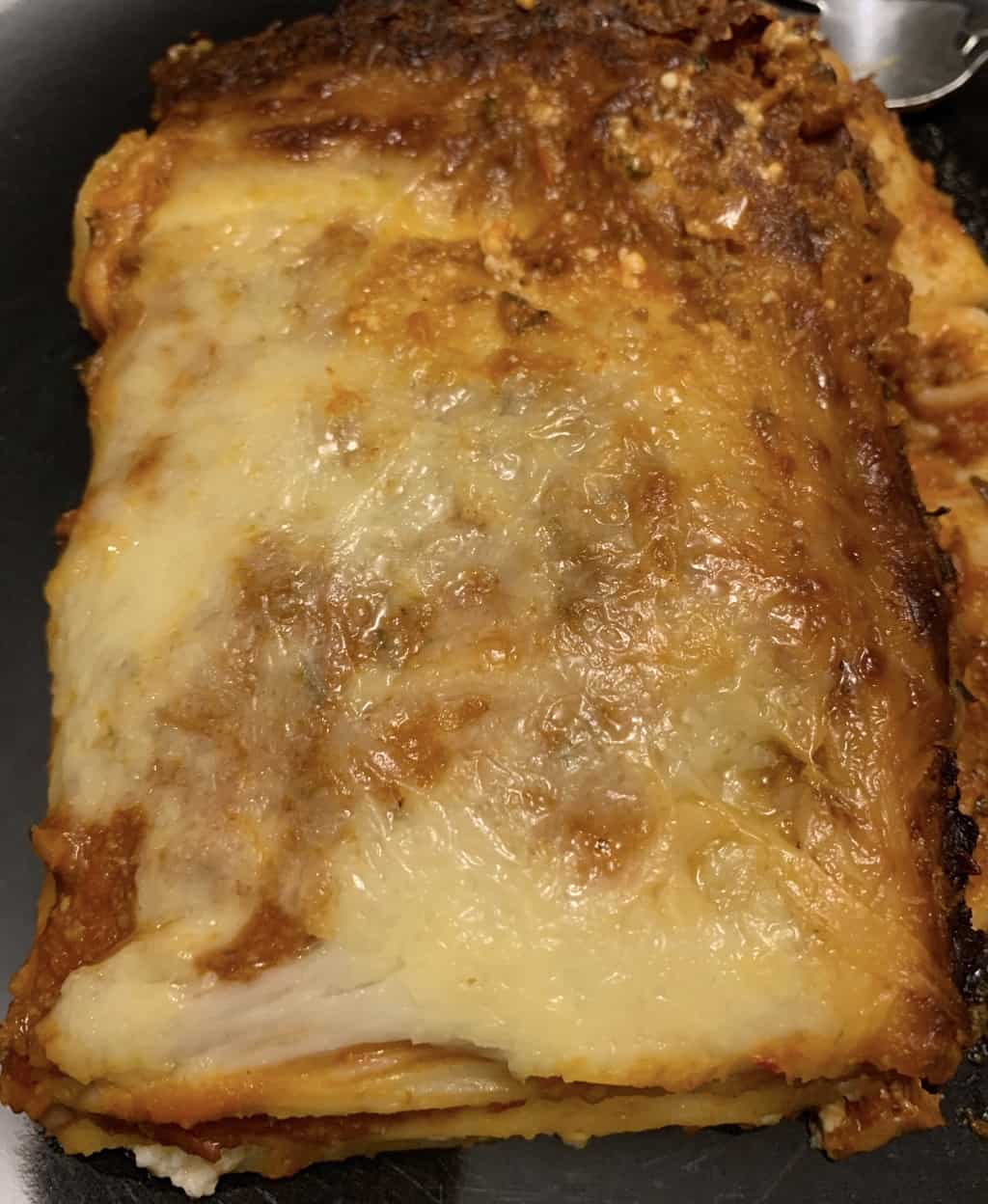 Convenience
This lasagna was very easy to heat up! You bake it frozen (straight out of the freezer) at 380 degrees Fahrenheit for about 80 minutes. The lasagna comes in a tray that you place on baking sheet. There's a plastic film on the top of the tray and you lift one corner to let steam escape before popping it in the oven. You remove the plastic film completely for the final 15 minutes of bake time. I like the cheese on top of lasagna crispy, so I finished my lasagna by broiling it for about a minute at the end. I liked the fact that I didn't have to defrost the lasagna before putting it in to bake. That makes it perfect for nights when you didn't plan dinner ahead. One lasagna easily fed me and my husband, and we had leftovers. I think it could comfortably feed a family of four (two adults and two kids), but might not be quite enough for four adults (especially if they're hungry!).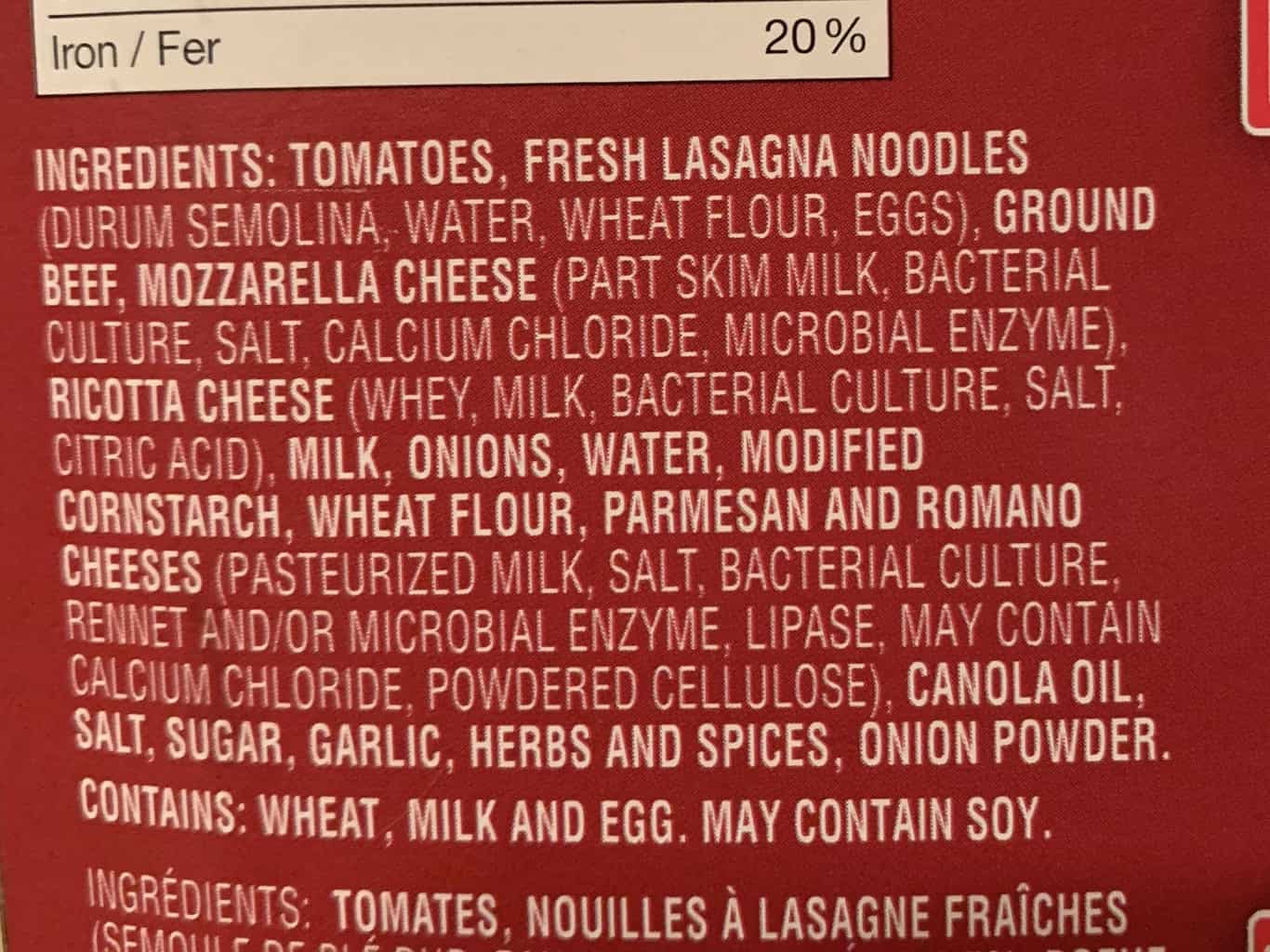 Nutrition
A serving of around 215 grams of lasagna contains 330 calories, 32 grams of carbohydrates, 11 grams of fat, 21 grams of protein, 620 milligrams of sodium, three grams of fibre and six grams of sugar. On the plus side, that's a good amount of protein. Unfortunately the sodium content is fairly high and this is a carb-heavy dish (it is lasagna!), but it's not the worst thing you could eat. All of the ingredients are ones that I would expect to find in a lasagna, and the list wasn't too long.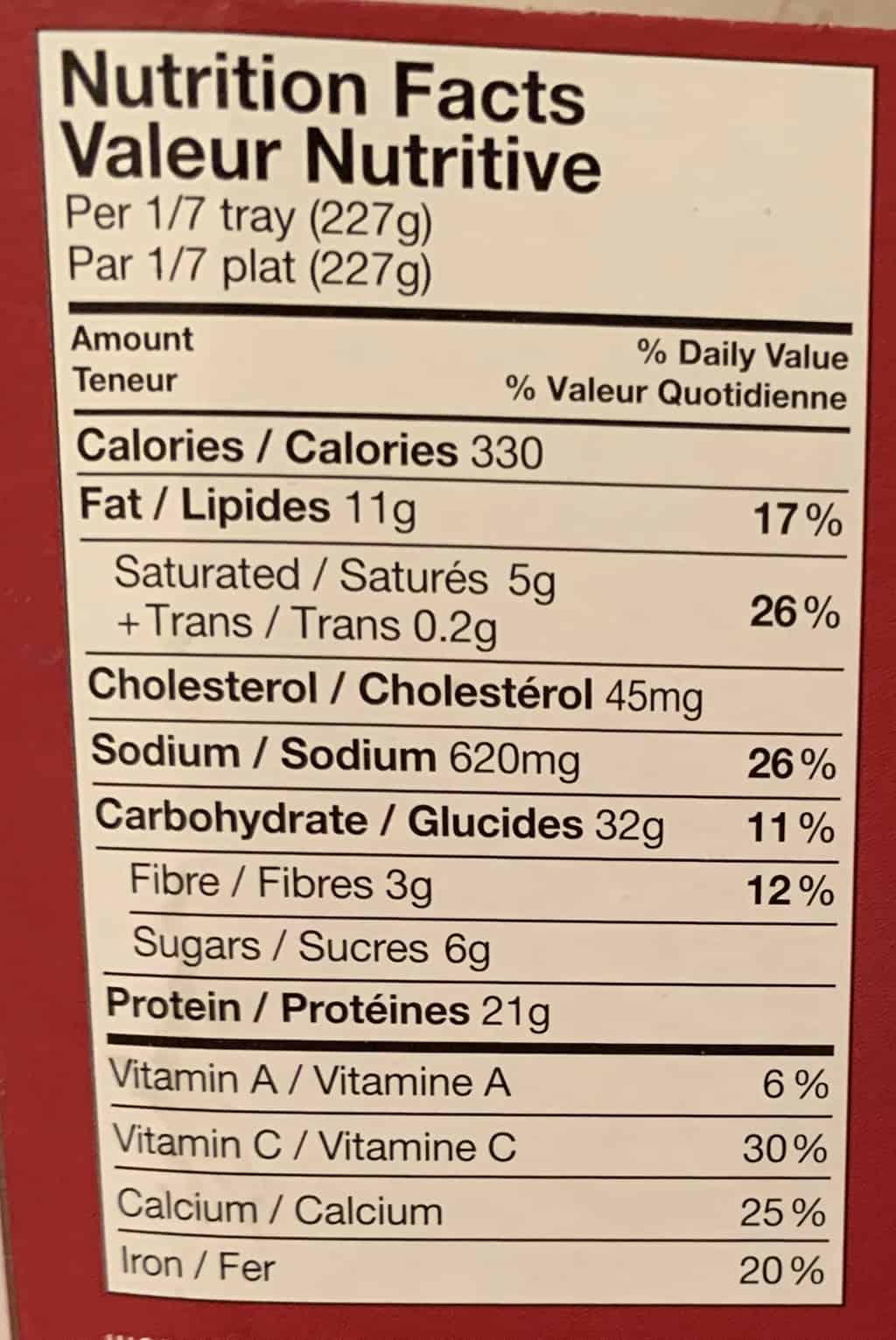 We'll definitely eat the other Zinnetti Meat Lasagna sitting in our freezer. It's a cheap and easy dinner that actually tastes pretty good. I'm looking forward to having it on a night where I don't feel like actually cooking. I don't think we'll be buying another two-pack though!
Taste: 6/10
Cost: 9/10
Convenience: 9.5/10
Nutrition: 5/10
Which brand of Costco lasagna is your favorite? Does anyone else miss the chicken lasagna with white sauce that Costco used to sell?