Crostini Recipe Using Costco Kirkland Extra Virgin Olive Oil, Balsamic Vinegar and Costco Cappola Prosciutto
Please note that this review was not paid for or sponsored by any third party. The opinions in this review are strictly my own. I am not affiliated with Costco or any of its suppliers. I am just a fan of the company. I write these honest reviews to help my fellow shoppers.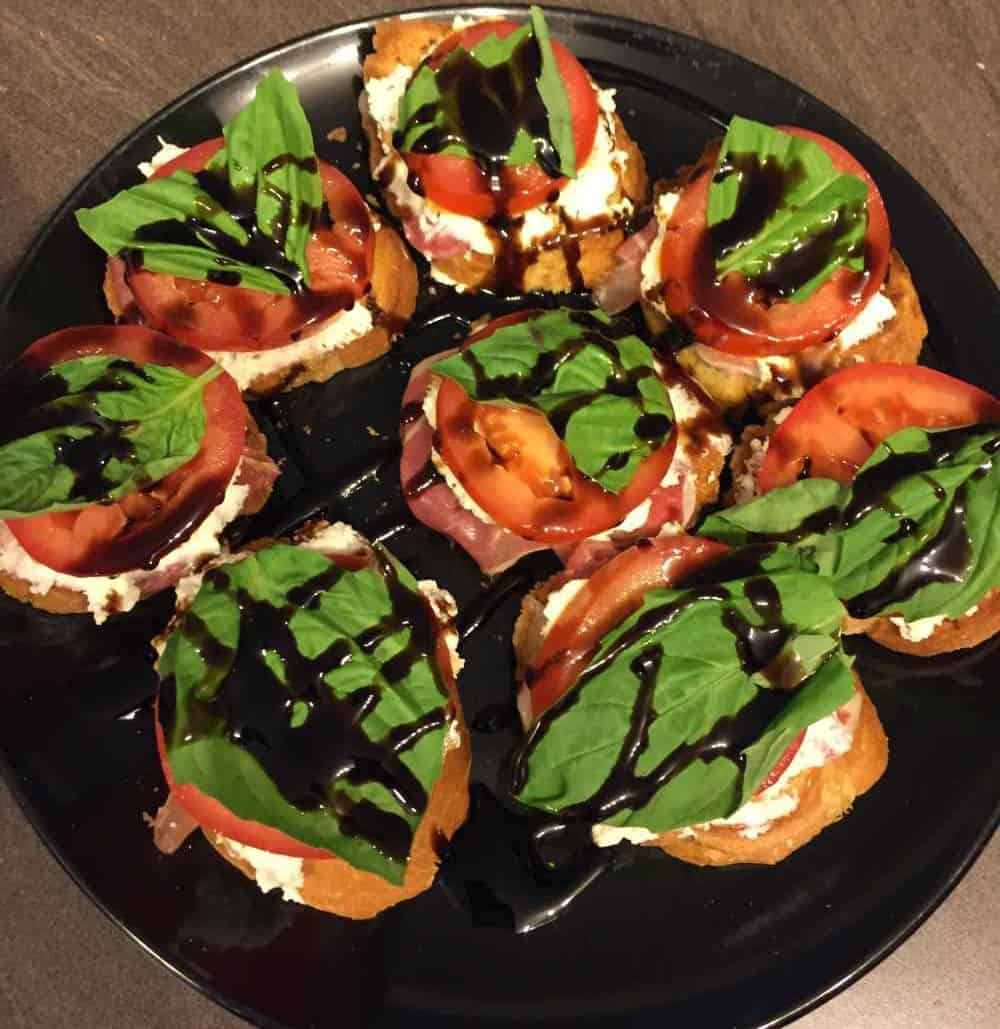 First off, let me say this recipe is amazing. Everyone loves these that we have ever served them too and I look forward to them as a special treat on special occasions. If you want to impress people with a delicious appetizer, use this recipe! We had these this past week to celebrate my birthday. I cannot take ownership of this recipe, this recipe is brought to you by my husband's master chef friend Dion, thanks Dion for letting me share this!
Ingredients:
1/2 tsp minced garlic
1/4 cup Costco Kirkland extra virgin olive oil
Half of a baguette thinly sliced, either from Costco or your favourite bakery
2 Roma tomatoes thinly sliced
Fresh basil for topping
Balsamic glaze (you can buy this, or make it using Costco Kirkland balsamic vinegar, notes on how to make at bottom)
1/2 pack of Costco purchased Capola brand prosciutto
For the cheese mixture:
3/4 cup ricotta cheese (skim or full fat, Costco sells ricotta or you can buy at any grocery store)
1/2 tsp italian seasoning
1/3 cup shredded asiago cheese
1/2 tsp salt
1/4 tsp ground black pepper
1 pinch of sugar (it enhances the flavour)
2 tbsp toasted pine nuts (25 grams)
Combine olive oil and minced garlic in a small bowl, thinly slice baguette, put pine nuts in a small pan on oven top and toast pine nuts until slightly brown on low-medium heat, slice tomatoes, wash and pull apart basil leaves.
Make cheese mixture in a medium sized bowl by combining ingredients and stirring with spoon (super easy no fancy equipment required), add toasted pine nuts to prepared cheese mixture. You can add more salt, pepper, italian seasoning and sugar as desired to your taste.
Brush the top of sliced baguettes with oil and minced garlic combination (if you don't have a little brush you can just use the back of a spoon), preheat oven broiler and toast baguette slices till they are slightly brown and crispy.
On slightly toasted baguette place 1/4 to 1/2 slice of prosciutto (depending if you like them to be meaty or not).
On top of prosciutto put roughly a tablespoon of cheese mixture, flatten cheese mixture sitting on the sliced baguette with the back of a spoon.
Layer one tomato slice per crostini on top of the flattened cheese.
Place basil leaves on top of the tomato slices, layer each with 1/2 a basil leave or a full basil leaf depending on your taste. Drizzle balsamic glaze over each baguette slice.
Serve and enjoy!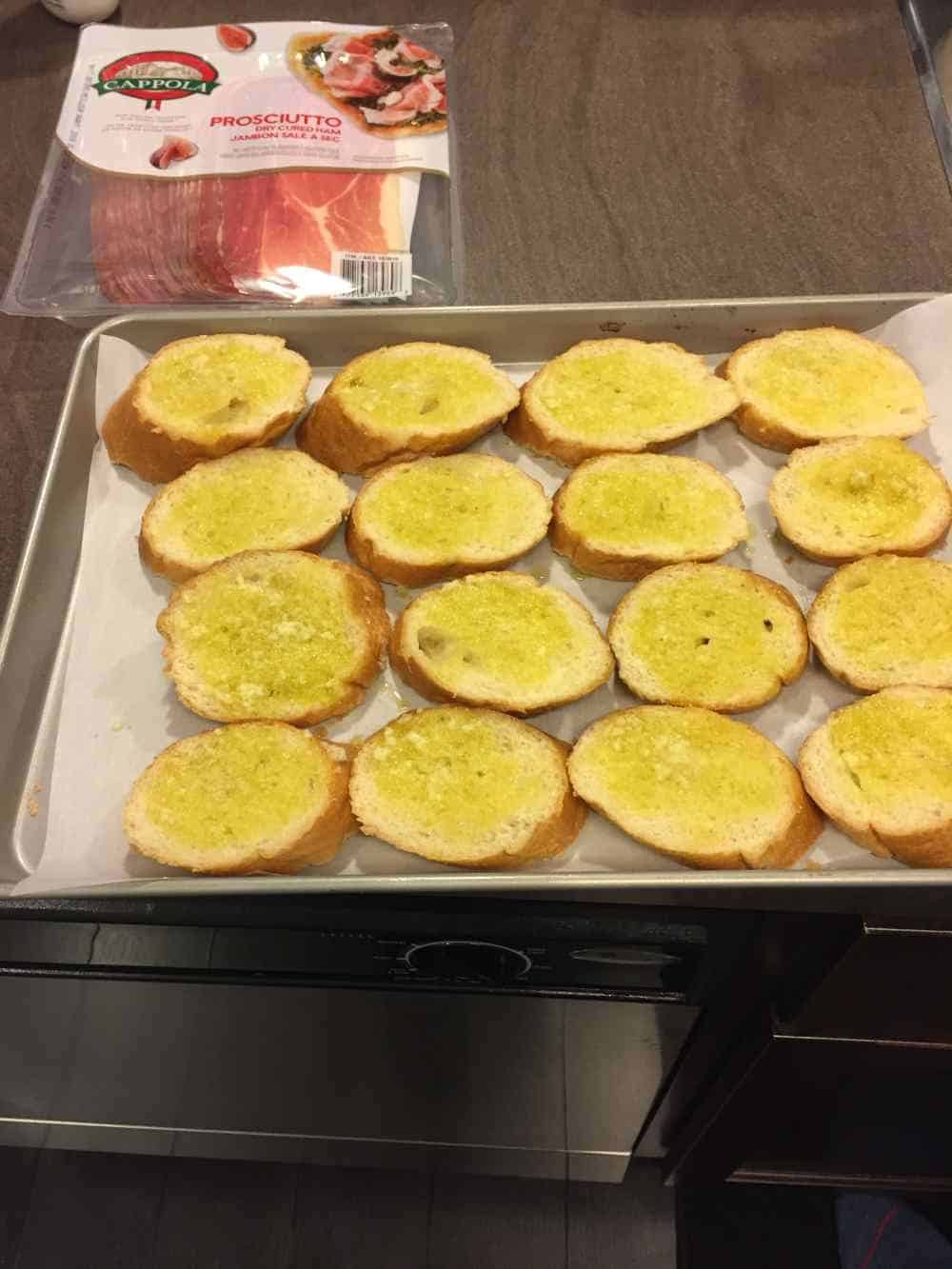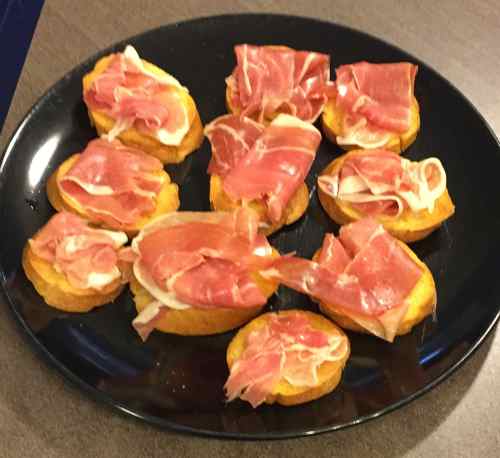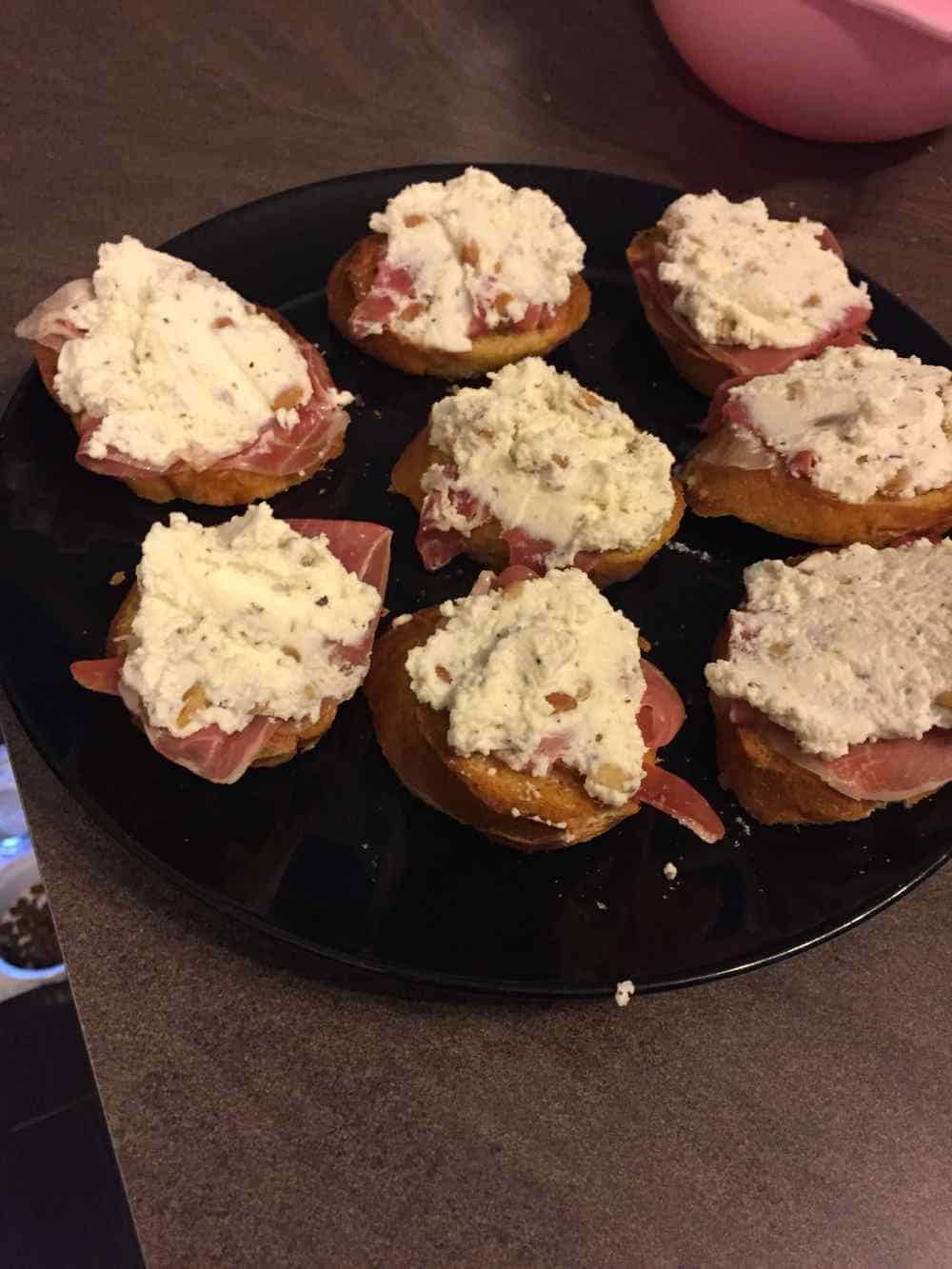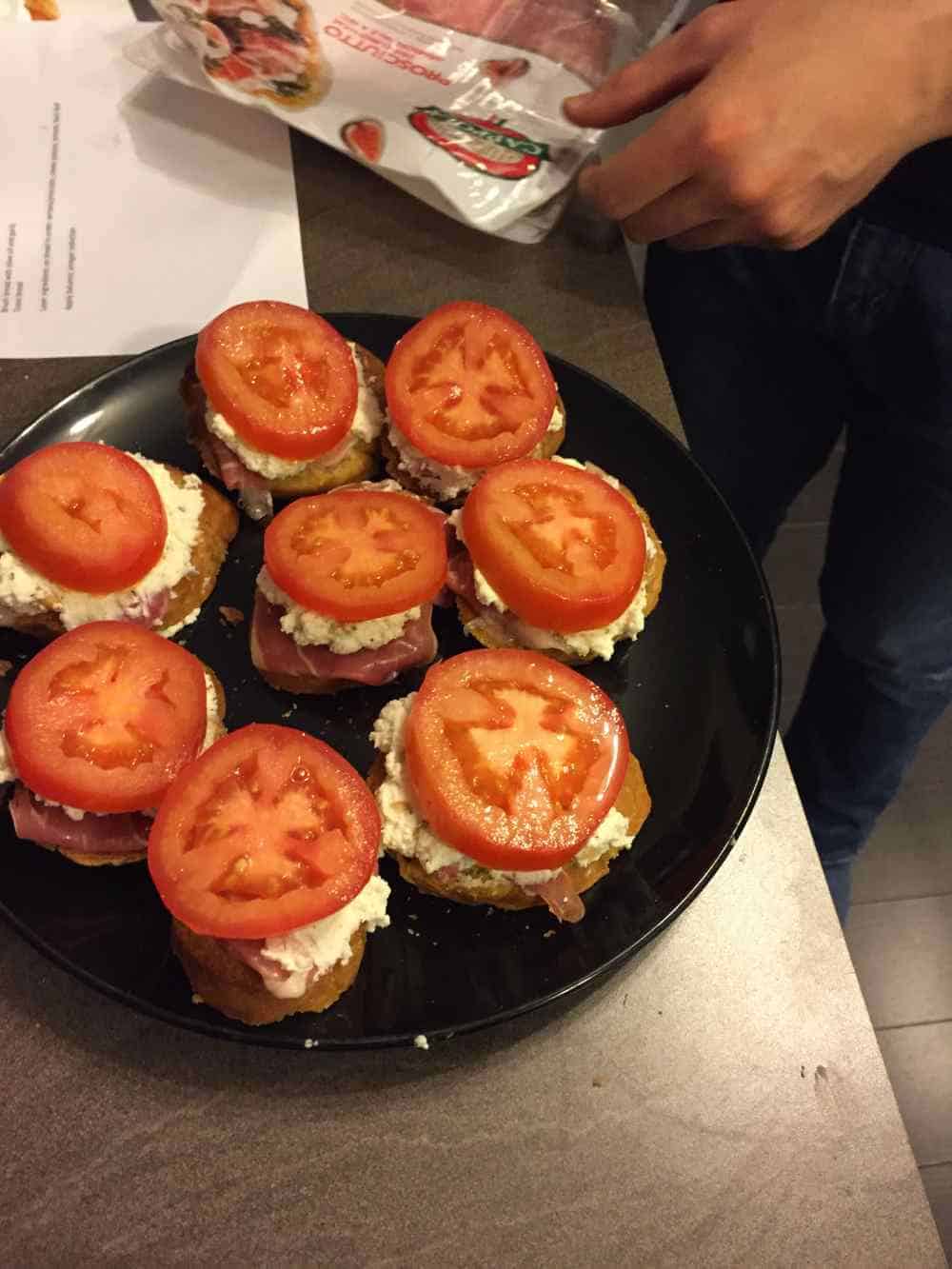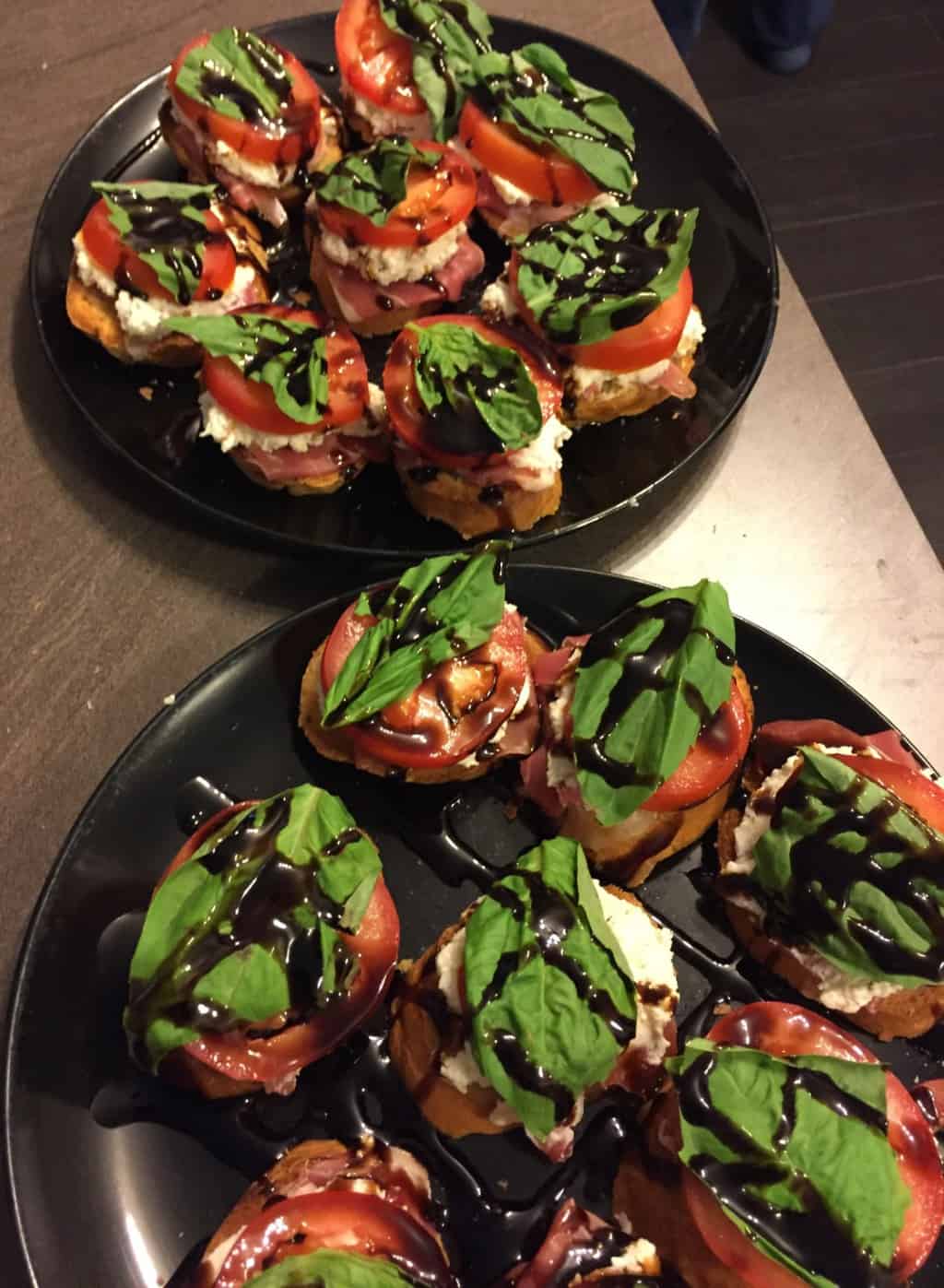 * To make a balsamic glaze using Costco Kirkland balsamic vinegar all you do is add 1 cup of balsamic vinegar to a small sauce pan with 1 tablespoon of honey and bring it to a boil, then reduce the heat and simmer for 10-20 minutes until it's reduced by half, is thick and sticks to the back of a spoon. Let it cool.
Let me know if you have any questions or feedback!