Are spicy green beans your kind of thing?
Please note that this review was not paid for or sponsored by any third party. I purchased this product with my own money and the opinions in this review are strictly my own. I am not affiliated with Costco or any of its suppliers. I am just a fan of the company. I write these reviews to help my fellow shoppers.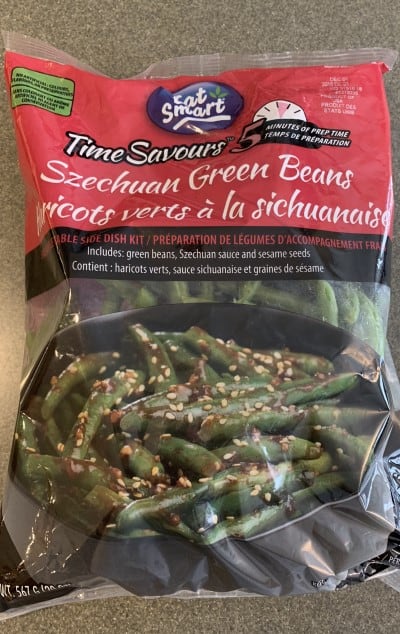 You probably wouldn't guess this, but I love veggies. In my opinion, a meal isn't complete without cooked veggies or a salad. Usually it's both in our house! When I saw Costco carrying these intriguing Eat Smart Time Savours Szechuan Green Beans, I decided to try them.
Taste
The kit includes fresh green beans, Szechuan sauce and sesame seeds. If you're not a fan of plain vegetables, you might enjoy these. The beans were fresh and crisp, which I appreciated. There's definitely a lot of flavor going on here – and some spiciness. I found that when you add the Schezuan sauce, the beans actually become quite spicy and a little overly salty. To be honest, I didn't love the flavor of the sauce. My husband and I didn't end up finishing these, and I would much prefer regular beans with a bit of butter.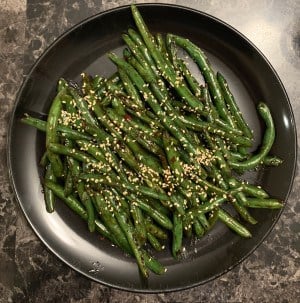 Cost
These beans aren't totally overpriced in my opinion. Obviously you pay more for having everything neatly packaged into a bag, but they weren't that much more than regular green beans. I paid $4.99 Canadian for the bag (regular price).
Convenience
The Costco Eat Smart Time Savours Szechuan Green Beans are convenient – they have everything that you need to prepare them in the kit. However, you do still have to spend time cooking them and keep an eye on them during the process. You'll also have a pan to wash when you're finished making them. The beans come pre-washed and cut, so that also contributes to the convenience factor.
Nutrition
By eating green beans, you get a doses of vitamin C, vitamin A, and iron. That's great, but I feel like adding a bunch of sauce to the beans subtracts a few points from the nutritional value. In a ¾ cup serving, there's 100 calories, 1.5 grams of fat, five grams of sugar, 300 milligrams of sodium and two grams of protein. I'm not a fan of the added sugar or sodium, though if the Eat Smart Time Savours Szechuan Green Beans tasted amazing, I'd be more inclined to ignore that extra sugar and sodium.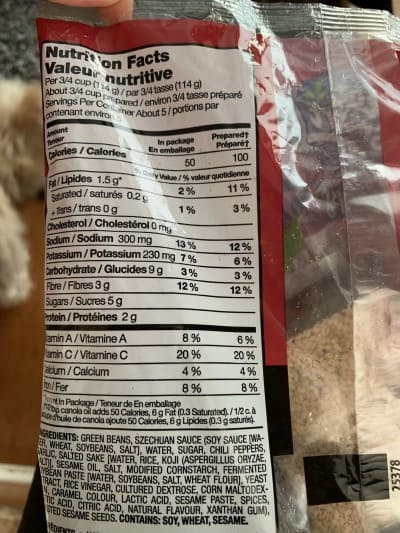 I won't be repurchasing these beans again. The strong Szechuan flavor limits what you can serve the beans with, and I found them too salty and spicy for my liking. The sauce overpowers the natural deliciousness of green beans.
Taste: 4/10
Cost: 6/10
Convenience: 8/10
Nutrition: 5/10
Do you have a favorite green bean recipe? Share it if you do!