Looking for a healthier hot dog?
Please note that this review was not paid for or sponsored by any third party. The opinions in this review are strictly my own. I am not affiliated with Costco or any of its suppliers. I am just a fan of the company. I write these honest reviews to help my fellow shoppers.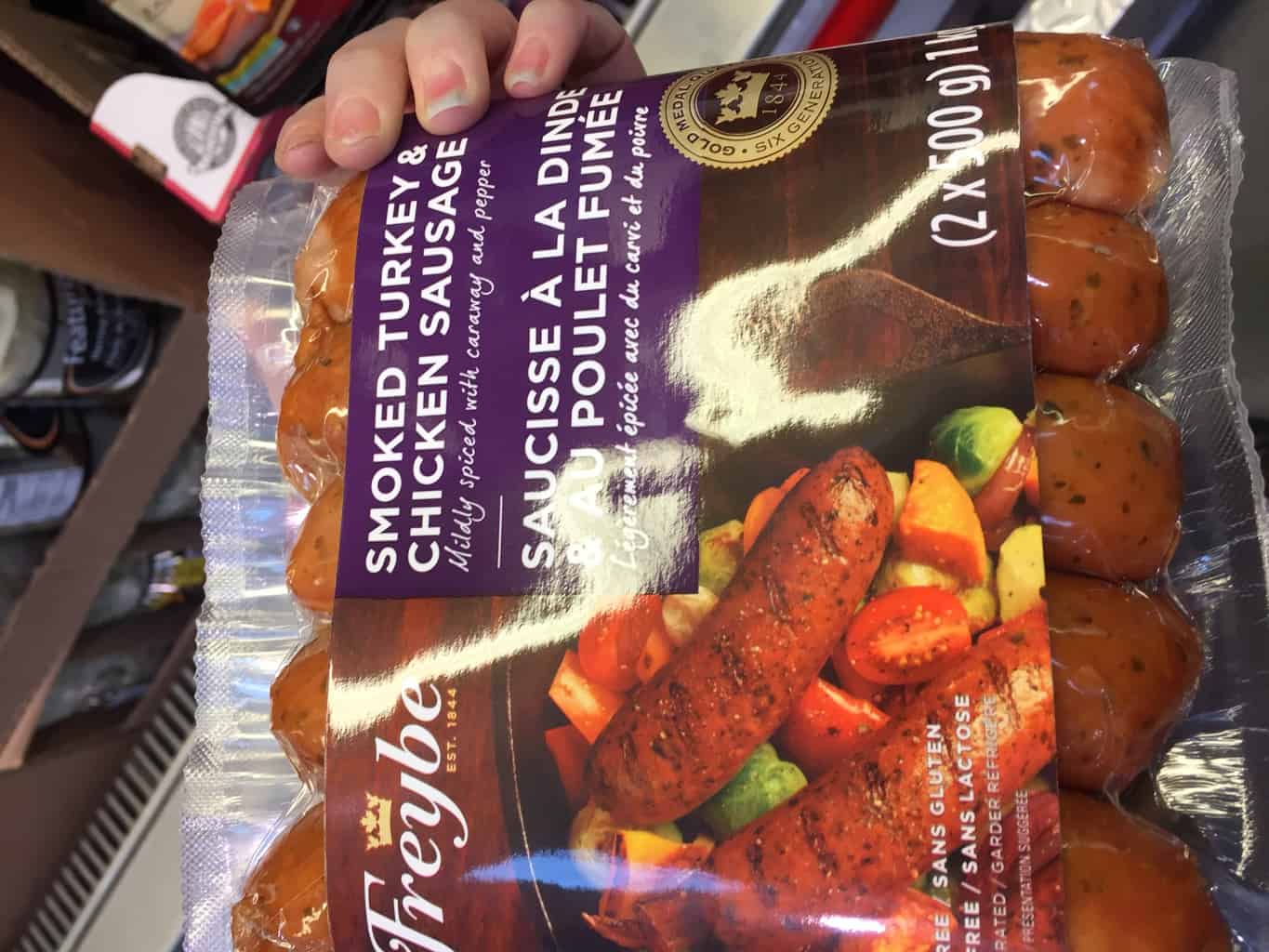 Every Sunday in the Summer Sean and I have BBQ food, usually hot dogs or hamburgers. I look forward to BBQ Sunday every week. Sunday is also the day I go on my longest run for the week so I am usually HUNGRY! After reading the nutrition label for the Kirkland Beef Hot Dogs that Sean eats (review to come) I went on a mission to find the healthiest hot dog substitute I could for myself. Sean enjoys 3 (yes I said 3 AND all 3 in a bun) Kirkland Beef Hot Dogs when it is Hot Dog night and I will usually have 1 or 1.5 of these Freybe Smoked Chicken and Turkey Sausages. The nutritional value and taste combination of these sausages/smokies makes them a WINNER! You can enjoy these and actually not feel guilty or gross.
Each sausage is 120 calories, 6 grams of fat and 15 grams of protein. I scoured countless nutrition labels to find myself and you the "healthiest" hot dog I could. The sodium content is high in these as it is in any hot dog. If you are looking for a classic, all beef, stadium style hot dog, this is not it. However if you're looking for something that tastes really good in a bun with relish, mustard and ketchup and is better for you and leaves you feeling full and satisfied this what you should buy. The spices are really nice in these sausages and give the sausage a bit of heat. A little bit of BBQ sauce slathered on the sausage while it's cooking also makes it extra tasty. I continue to purchase these again and again. They freeze well and are super easy to cook inside or outside on the grill. Please consider giving these a shot if you're looking to enjoy BBQ food while trying to stay as healthy as possible.
Nutrition: 8/10 (as good as it gets for a hot dog substitute I would say)
Taste: 7.5/10 (like I said, not your ball park stadium dog but I think they are delicious)
Convenience: 9.5/10 (just have to cook them up)
Cost: 8/10 (I purchased these for 11.99 on sale and there are 10 in a package)
What do you put on your hot dog? Do you prefer all beef, chicken, turkey or veggie sausages? What is your favorite side to serve with hot dogs? Mine is corn on the cob!