Gluten free rice ramen from Costco!
Please note that this review was not paid for or sponsored by any third party. I purchased this product with my own money and the opinions in this review are strictly my own. I am not affiliated with Costco or any of its suppliers. I am just a fan of the company. I write these reviews to help my fellow shoppers.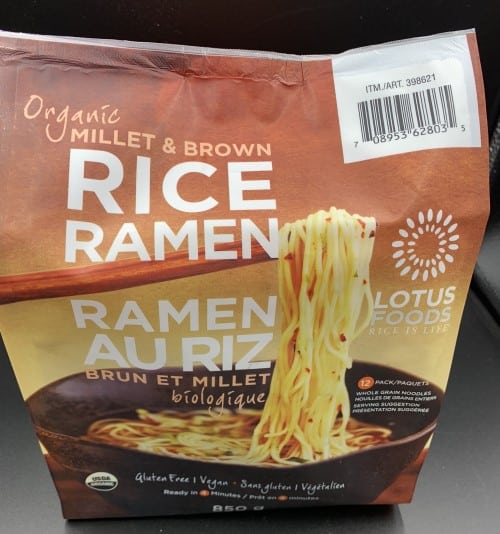 Okay, so did anyone else bring the ramen packages to school when they were a kid and put the seasoning on the ramen, then eat it dry? That was a huge thing back when I was going to school. There were two kinds of kids, the ones who brought their own dry ramen with seasoning, and the ones who weren't lucky enough to have ramen packages of their own, but would ask for some of the other kids' ramen. Anyway, aside from those fond childhood memories of ramen, I love most Asian-style food (especially soups and stir-fries). When I saw the Lotus Foods Organic Millet & Brown Rice Ramen at Costco, I immediately had a few ideas for different ways I could use it (none of which included eating it dry) and wanted to try it.
Taste
The rice ramen tastes great. The noodles are hearty and filling, but I think the best part about them is the texture. They're not overly soft, gummy or mushy. I prefer the texture of these noodles to any other instant noodles I've tried. I can't really say much about the flavor because there isn't much flavor from the noodles themselves; they take on whatever flavor you add to them (through sauce, broth, etc.).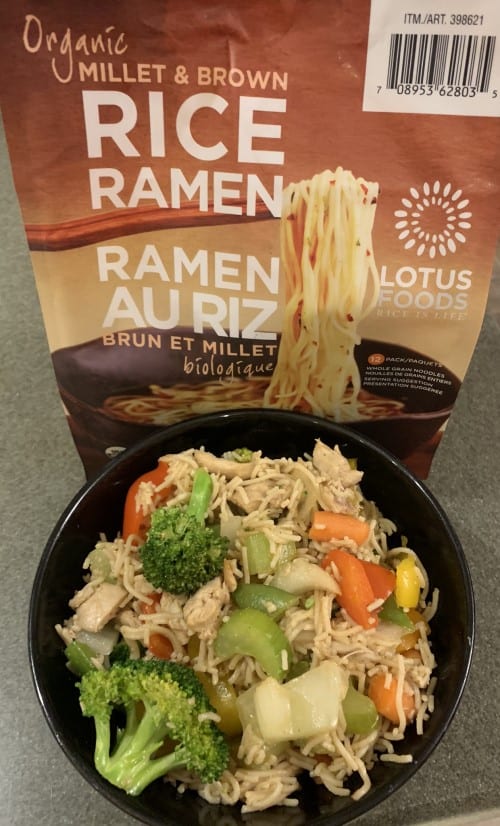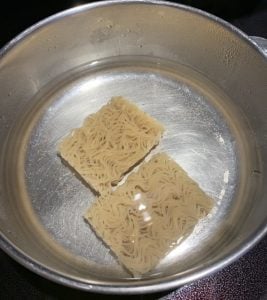 Cost
The whole bag cost $12.89 Canadian (full price), which means just over a dollar per cake of ramen. That doesn't seem overly expensive for a whole grain, healthy vegan, gluten-free option.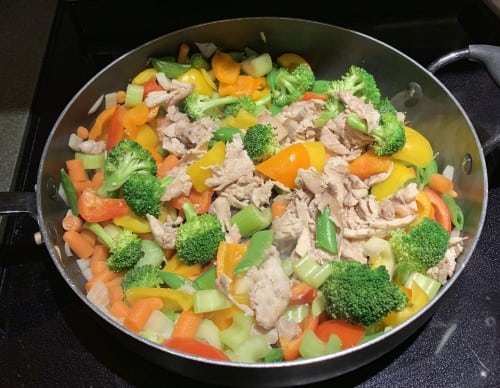 Convenience
The rice ramen comes packaged in a sturdy bag, and you get 12 rice ramen noodle cakes in the bag, they aren't individually packaged. I was pleasantly surprised to find all of the cakes in my package fully intact and not broken. Still, I don't love the packaging because once the bag is opened, you can't reseal it. You could use either a clothes pin or a ziplock bag, but it would be nice if the package itself could be resealed. I guess rice ramen noodles aren't something that will go stale easily though, so it's not the end of the world. I was a little bit worried that the ramen rice cakes would be difficult to cook and might turn out gummy or sticky, but that wasn't the case. I followed the package directions, and my noodles turned out well, I think it's important to rinse the noodles after cooking them to remove some of the excess starch and prevent them from clumping together. With all of that being said, this is a cook-from-scratch item and not a convenience item. These are plain rice ramen noodles and they don't come with any seasoning. On the bright side, this allows for creativity and makes the rice ramen noodles super versatile! You can pair them with any broth, sauce, vegetables or meat you like.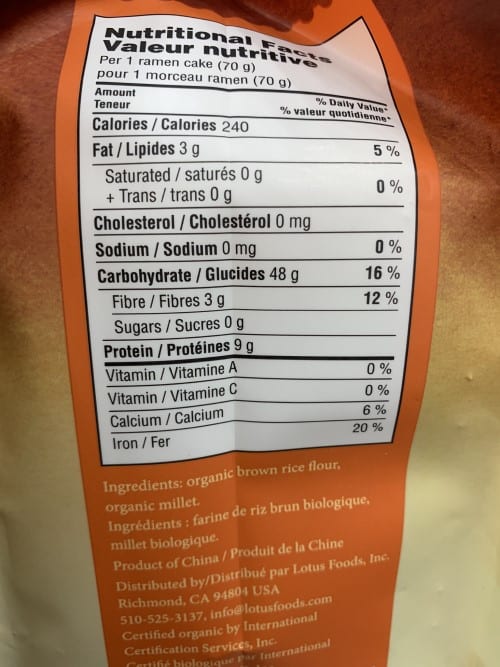 Nutrition
I love the nutritional information on this package! Seriously, two ingredients? How often do you see that? The ingredients are organic brown rice flour and organic millet. These are perfect for people who are gluten intolerant! One of the noodle cakes from the box of Lotus Foods Organic Millet & Brown Rice Ramen contains nine grams of protein, three grams of fat, three grams of fibre and 240 calories (as well as zero grams of sugar, which is another positive in the nutrition category). I always search for products that are high in protein because I find they tend to keep me full for longer, and in my opinion nine grams of protein is pretty good for a 240 calorie serving of noodles. One rice ramen noodle cake is also a good-sized serving; I only use two to make a large stir-fry for me and my husband and we find that to be plenty of noodles (although I add plenty of other ingredients too).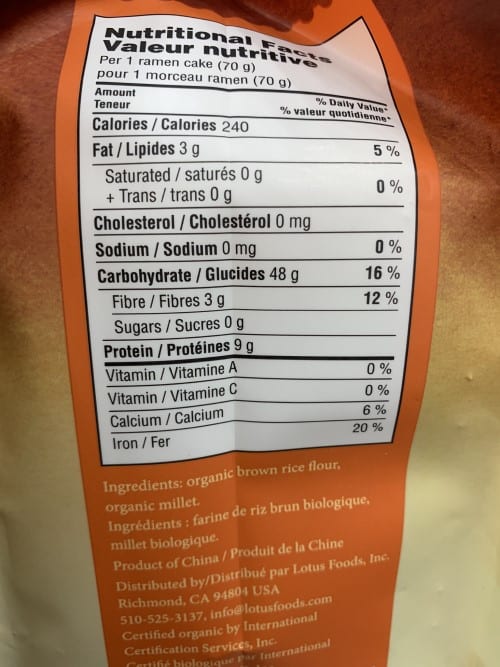 I probably won't be buying the Lotus Foods Organic Millet & Brown Rice Ramen again anytime soon as I have a bunch left to use up still! Since you need to do some planning and shopping for extra ingredients to turn them into a meal, it might take me a while to use those up. I've enjoyed making a few different kinds of stir-fry with these noodles as the base and find them very versatile. The texture is palate-pleasing, which is the most important thing for a basic noodle. I'm thinking I'll be adventurous and try making a soup with them next. I'll let you know how it goes!
Taste: 8.5/10
Cost: 8/10
Convenience: 5/10
Nutrition: 9/10
I'm curious to know if you've tried this and if you have any recipes to share?!