Easy cast iron skillet tenderloin recipe!
Please note that this review was not paid for or sponsored by any third party. The opinions in this review are strictly my own. I am not affiliated with Costco or any of its suppliers. I am just a fan of the company. I write these honest reviews to help my fellow shoppers.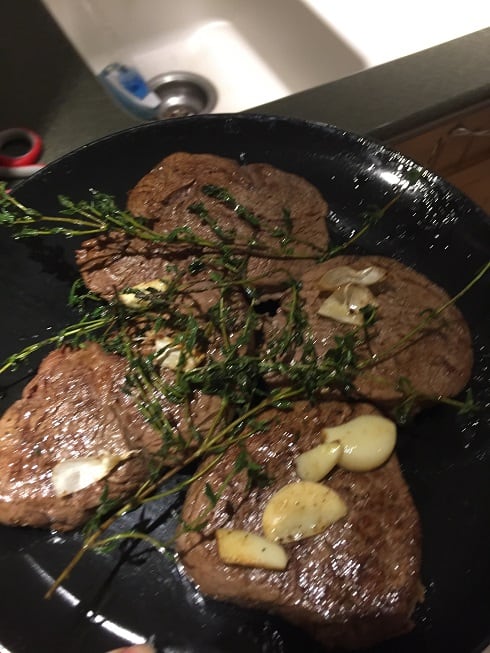 Once the snow falls the barbecue remains off. We enjoy steak every once in awhile as a treat and we received a cast iron skillet for a wedding present I haven't used as much as I would like to so I decided to try cooking steak in the skillet so we can enjoy steak during the winter months.
First of all a quick review. If you like steak I honestly think the best place to buy it from is Costco. Their beef always seem superior to me than other grocery store beef options. It appears to be fresher, leaner and never disappoints when it comes to taste. Sometimes the steak/beef you buy from Costco is less expensive than the local grocery store and sometimes it turns out to be more expensive but the quality of the meat never fluctuates, it's always great. Now that I've totally talked up the meat from Costco. Let's get on to how to cook a steak in a cast iron skillet.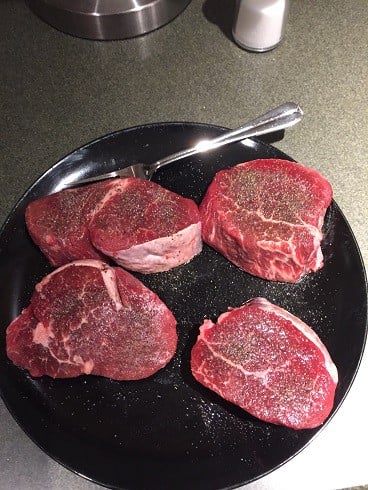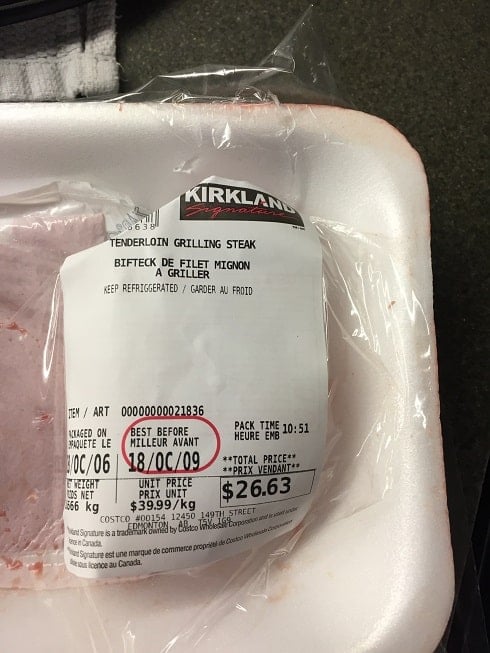 Ingredients:
Butter
Costco Kirkland Signature Extra Virgin Olive Oil
Costco Kirkland Signature Tenderloin Grilling Steak
Fresh Thyme
Garlic Clove (does not have to be chopped or minced).
Directions:
Preheat oven to 450. Take your steak out of the fridge about 20-25 minutes prior to cooking it. Season with salt and pepper on both sides.
Turn your cast iron skillet on medium/high heat, add about 2 tbsp of olive oil. When your pan gets hot add your steaks, place them in the skillet by placing them away from you.
Cook steaks about 3 minutes per side, I use big kitchen tongs to cook the steak and I find this makes it so much easier.
Add your butter, garlic and thyme to the pan and baste the steaks with butter. You can pick up the garlic with your tons and lightly rub the steaks, just let the thyme flavor the butter, I put the whole thyme pieces in.
Using an oven mitt, transfer pan to oven and cook for an additional 4-5 minutes or until 145 degrees Fahrenheit in the middle for a medium done steak.
Remove pan from oven, remove steaks from pan and let steaks rest for 10 minutes prior to cutting or serving.
Any questions?! Let me know