The easiest and most delicious carrot cake recipe ever!
Please note that this review/recipe was not paid for or sponsored by any third party. I purchased this product with my own money and the opinions in this review are strictly my own. I am not affiliated with Costco or any of its suppliers. I am just a fan of the company. I write these reviews to help my fellow shoppers.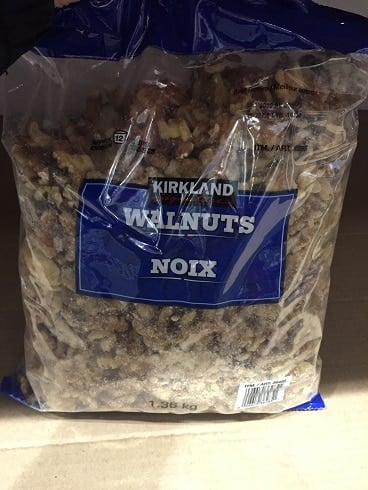 I wanted to quickly post about the Costco Kirkland Signature nuts, this includes the Walnuts, Pecans and Almonds. My mom and I buy these nuts and share the bags with each other. For example I may buy almonds and she might buy walnuts and then we swap. The price of these nuts changes frequently so you have to kind of keep an eye on the price to know whether you're getting them at a good price or not. Almonds can range for 14.99 to 19.99. Last time I was at Costco, Walnuts were 19.99 for a bag. These are big bags though and they last quite a long time if kept in the fridge after opening. You can also do what my mom does and freeze nuts and take out what you need for your baking. I've never had a rotten or stale nut from my Costco nuts despite keeping them open in the fridge for about 6 months. I use them often in salads and baking. Nuts are nutritious and a great source of healthy fat!
Now onto my favorite carrot cake recipe using Costco Kirkland Signature Walnuts.
Ingredients:
Dry:
2 Tsp ground cinnamon
1/8 Tsp nutmeg
1/8 Tsp all spice
1/8 tsp cloves
1 ½ cup granulated white sugar
¼ tsp salt
2 cups all-purpose flour, spooned into measuring cup and leveled.
2 tsp baking soda
Wet:
2 Tsp vanilla
3 eggs, lightly beaten
¾ buttermilk *you can use reduced fat buttermilk or make your own*
¾ cup canola oil
The good stuff:
1 cup raisins
1 cup flaked or shredded coconut
2 cups shredded fresh carrots
1 cup chopped Costco Kirkland Signature Chopped Walnuts
1 cup canned crushed pineapple with juice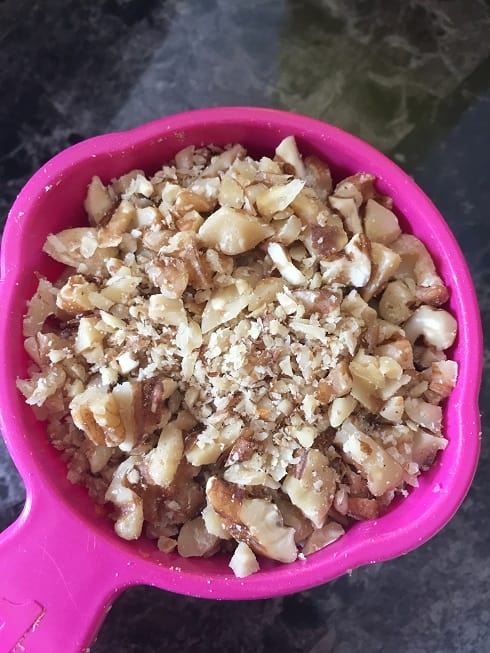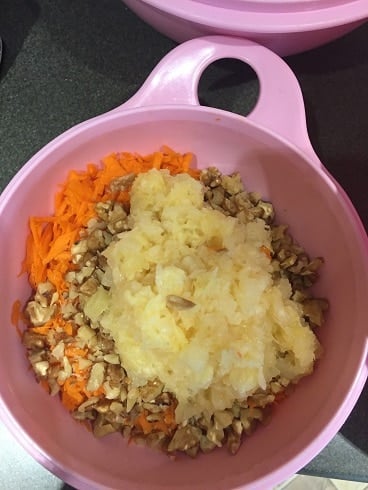 Directions
Preheat oven to 350, grease a 9×13 inch glass Pyrex dish or cake pan. You can also use two 9 inch cake pans but you'll have to keep an eye on bake time.
Combine all the "good stuff" ingredients into a bowl, stir gently.
Sift all your dry ingredients into a medium sized bowl except for the sugar.
Combine eggs, buttermilk, oil, sugar and vanilla in a large baking bowl, mix well
Add flour mixture to egg and buttermilk mixture, stir until well combined.
Fold in "the good stuff". I like to use a large whisk to combine everything rather than a spatula.
Pour mix into prepared baking pan, jiggle pan a bit until it looks even, use a spatula to get any batter left out of the bowl (can't be wasting)
Bake in oven for 40-50 minutes, check at 40 minutes with a toothpick.
Let cool and ice with cream cheese icing of your choice. If you'd like me to share my icing recipe I use comment below and I for sure will.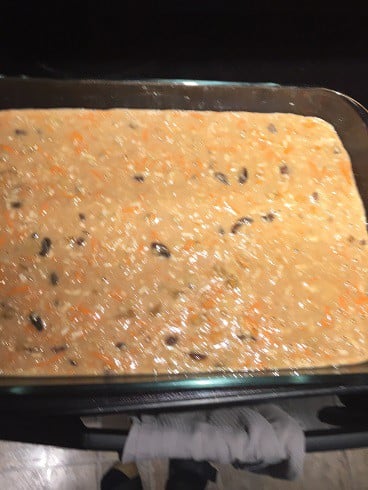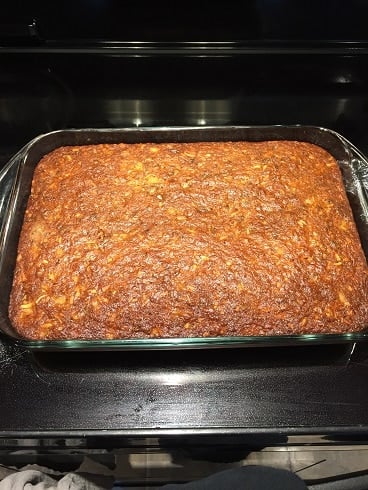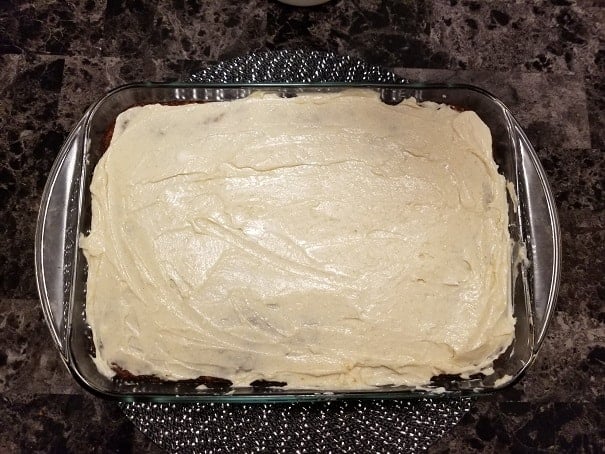 Any questions? Let me know!