This isn't exactly a salad, but it's still tasty!
Please note that this review was not paid for or sponsored by any third party. I purchased this product with my own money and the opinions in this review are strictly my own. I am not affiliated with Costco or any of its suppliers. I am just a fan of the company. I write these reviews to help my fellow shoppers.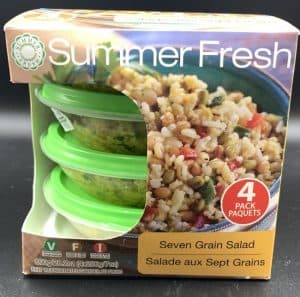 Today I'm reviewing the Summer Fresh Seven Grain Salad from Costco. I've seen this item a few times and have always wanted to try it. I figured it would make an easy meal on a hot summer day, so I picked it up on my last Costco run. Unfortunately the weather this summer hasn't been very cooperative, so I wasn't able to test the "hot summer day" part of my theory!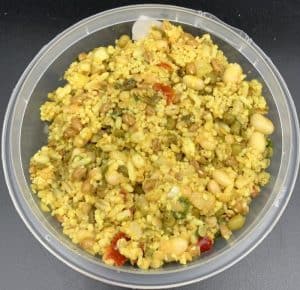 Taste
Although this is pretty far from what I consider a salad (it's more like a cold rice dish), it's flavorful and delicious. Even though it's not a true salad, the Summer Fresh Seven Grain Salad is full of healthy ingredients that are quite filling! The main ingredients are red lentils, wheatberry rice, couscous, moong beans and pearled barley; there are also a few navy beans and some small pieces of onion and red pepper mixed in. The main thing I want to point out is how flavorful this mixture is! You can taste the sweetness of the honey and the saltiness of the soy sauce, plus a bit of tang from the vinegar. The powerful, pleasant flavors were great, because I was able to add a heap of veggies and some chicken and the seven grain salad flavored the whole mixture with no additional dressing, seasonings or sauce needed. One very minor negative was that the more I ate of this, the more I noticed I found it tasted a little too sweet for my liking which was surprising considering its low sugar content.
Cost
I bought the four-pack of Summer Fresh Seven Grain Salad on sale for $6.99 Canadian. The regular price for it is $8.99 Canadian. Each bowl contains 200 grams of salad, so that's a total of 800 grams of Seven Grain Salad. On sale, this is a really solid price. Even at $8.99 Canadian, it's not bad. Even at full price, it makes for a pretty cheap lunch option for work!
Convenience
The Summer Fresh Seven Grain Salad does well in the convenience category. The salads come in convenient individual plastic containers, and all you have to do is open and eat! The best-before date was almost a month after the date of purchase. I used several containers to make a very convenient dinner where all I did was add some chicken and fresh vegetables to make a complete, balanced delicious meal. I recommend reusing the plastic bowls the salads come in! They make great pet water dishes or lunch containers.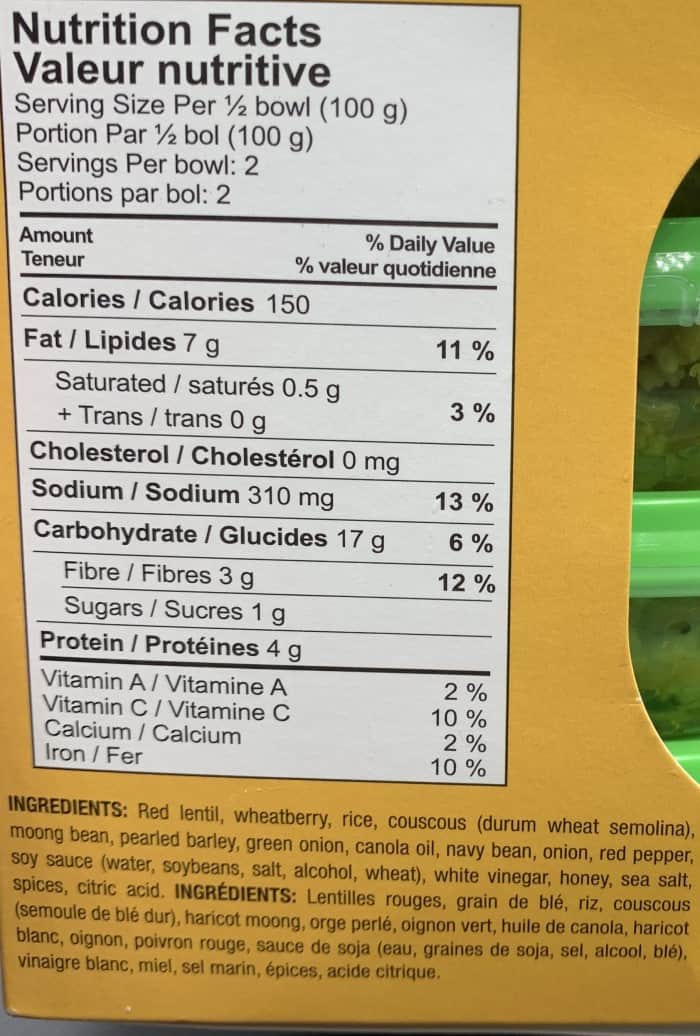 Nutrition
Don't you just love when they give the nutrition information for half of whatever you're eating? One half of a container of Summer Fresh Seven Grain Salad contains 150 calories, seven grams of fat, 310 milligrams of sodium, 17 grams of carbohydrates, four grams of protein, one gram of sugar and three grams of fibre. Even though they're not very big, a bowl is very filling! The ingredient list is mostly healthy stuff, but I will point out that they use canola oil in the "salad".
I'm glad I tried the Summer Fresh Seven Grain Salad! Although I found it more flavorful than the Costco Kirkland Signature Quinoa Salad, I prefer the quinoa salad because I like the mild flavor it has. Still, if you're looking for a convenient, hearty and filling lunch option, you might want to try these.
Taste: 7/10
Cost: 8/10
Convenience: 10/10
Nutrition: 7/10
Location in Costco: In the deli section by the dips.
Do you make your own grain salads? If so what do you put in them?