I actually found a Costco cake that I don't love!
Please note that this review was not paid for or sponsored by any third party. I purchased this product with my own money and the opinions in this review are strictly my own. I am not affiliated with Costco or any of its suppliers. I am just a fan of the company. I write these reviews to help my fellow shoppers.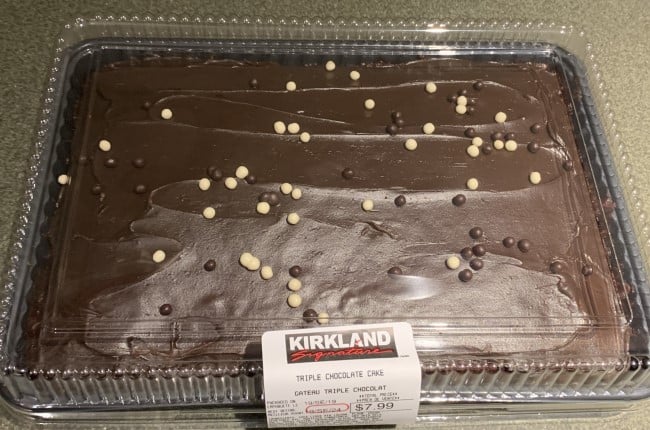 Last Friday at Costco, I noticed a new cake in the bakery section – the Costco Kirkland Signature Triple Chocolate Cake. I was intrigued by the cake's lower price point as well as the fact that it wasn't refrigerated like most of the other cakes at Costco (it was sitting with the pies and cookies). At first glance, it reminded me of a McCain Deep'n Delicious cake; I used to like those as a kid!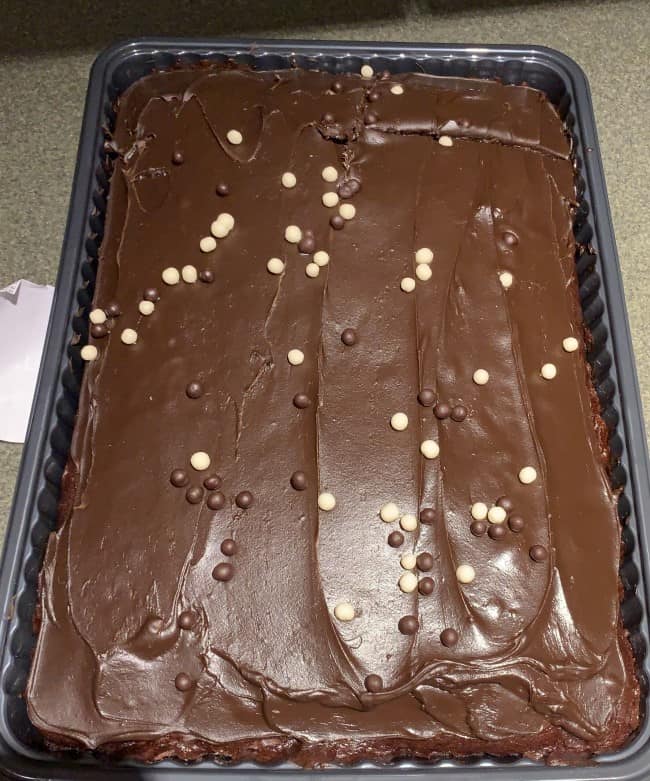 Taste
After taking a couple of bites of the Costco Kirkland Signature Triple Chocolate Cake, I decided that the cake part tastes almost identical to the Costco Kirkland Signature Chocolate Muffins. My cake wasn't very moist and tasted a little dry. The icing is thick, fudgy and very rich, but it's also soooo so sweet and a little artificial-tasting. In my opinion, the best-tasting part of the cake was the crunchy chocolate balls scattered on top (I think they're the same ones found on the Costco Kirkland Signature Tuxedo Cake).
Cost
The main reason why I decided to give this cake a shot is because it's $10 cheaper than the refrigerated rectangular cakes at only $7.99 Canadian (regular price). After trying it though, I'd rather pay the extra money for a Costco Kirkland Signature Tuxedo Cake the next time I'm in the mood for a good chocolate cake.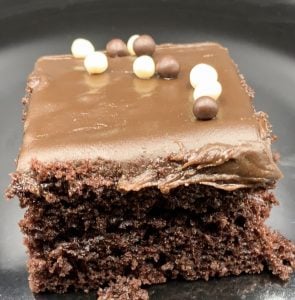 Convenience
The Costco Kirkland Signature Triple Chocolate Cake is easy to cut and freezes reasonably well. The best-before date is five days from the packaged-on date. One thing both my husband and I noticed was that the lid on the container wasn't very easy to get off. I know that's kind of an odd thing to notice, but you'll see what I mean if you buy one! On the plus side, the container is re-sealable and seems to do a decent job of keeping the cake fresh (we left ours out on the counter for a couple of days before freezing the leftovers). If you're looking for a cheaper cake to bring to an event, you might want to consider buying one of these and slicing it into brownie-sized pieces.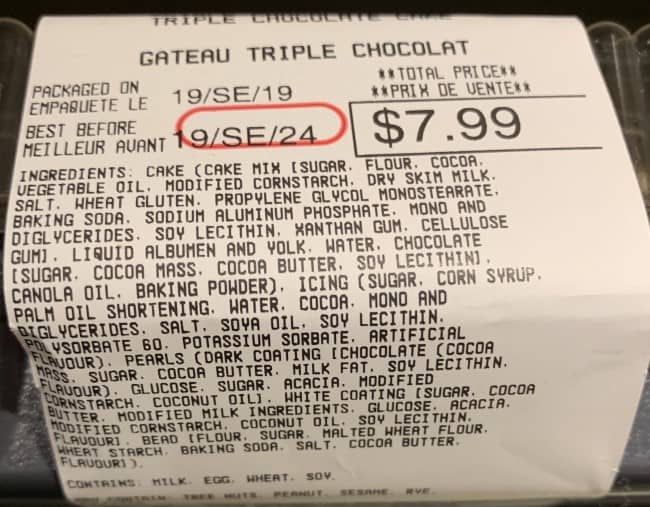 Nutrition
The ingredients list is very long and full of non-nutritious, artificial ingredients. This is definitely not a health food and is obviously full of sugar, fat and calories.
Usually, I'm happy to indulge in Costco Kirkland Signature cakes like the tuxedo cake, tiramisu, strawberry shortcake or the oh-so-good chocolate truffle cake. This cake just wasn't worth it to me! It tasted fine, just not THAT good.
Taste: 5/10
Cost: 9/10
Convenience: 10/10
Nutrition: 0/10
Location in Costco: Bakery
What's your favorite Costco Kirkland Signature Cake? Do you prefer their pies or cakes?