Sweet & spicy!
Please note that this review was not paid for or sponsored by any third party. I purchased this product with my own money and the opinions in this review are strictly my own. I am not affiliated with Costco or any of its suppliers. I am just a fan of the company. I write these reviews to help my fellow shoppers.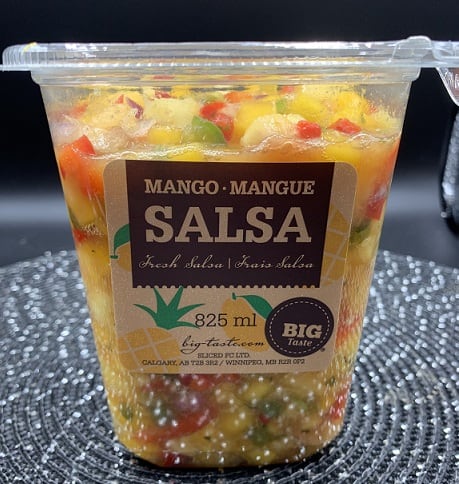 During my last trip to the produce room at Costco, I saw something I hadn't seen before – BIG Taste Sliced FC LTD Mango Salsa! I'm a big fan of the Costco Garden Fresh Gourmet Peach Mango Habanero Salsa, so I was excited to try this fresher-looking alternative and didn't hesitate to throw a container in my cart!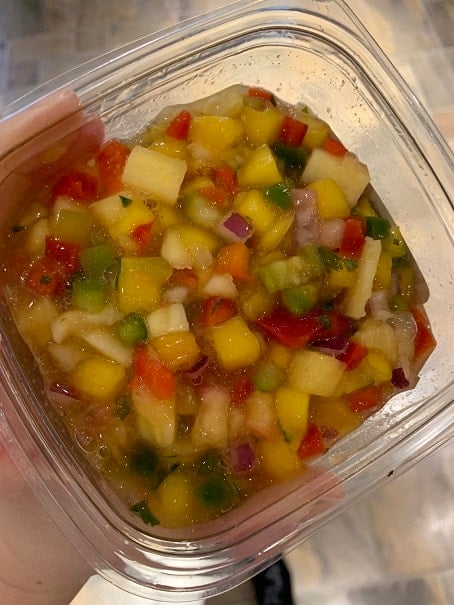 Taste
The biggest surprise about this salsa was how hot it was! I was expecting a super mild, sweet salsa, but there's definitely heat in this mango salsa! Even though I was surprised at how spicy the salsa was, it was still quite sweet and fruit-heavy. I found this combination of spicy and sweet to be a bit confusing; you can't quite decide what you're tasting. Based on the ingredients, I think the main source of the heat is the jalapeno peppers while mango and pineapple deliver the sweetness. You can also taste a lot of red onion, but I found that the bell pepper and cilantro weren't very noticeable. Those somewhat milder ingredients had trouble competing with the spiciness and sweetness. Overall, this was a very unusual salsa. I can't really criticize any specific aspect of the taste, but the mix just seemed a little bit off to me. It seems like all of those super fresh, flavorful ingredients should have come together better than they do here. We found when we ate the salsa with plain tortilla chips, you couldn't really taste the chips. To some people that might be a good thing, but personally, I kind of enjoy the mixture of salsa and chip flavor I get when I eat most other salsas. It made me wonder if this salsa might work better as part of a meal, possibly with things like rice, quinoa or chicken. I was thinking it might go well with the Costco Kirkland Signature Chicken Tacos.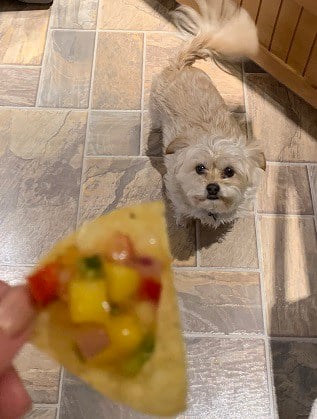 Cost
The regular price for the 825 milliliter container of BIG Taste Sliced FC LTD Mango Salsa is $8.99 Canadian. That makes it slightly more expensive than some of the other salsas available at Costco, but I think it's justifiable given that this is a premium salsa made out of fresh fruits and vegetables.
Convenience
The thing that I dislike most about this salsa is the fact it doesn't last long! The expiry date is only about a week from the purchase date. If you have a large family or you're hosting a party and will demolish the large container quickly, that's probably not a major concern, but I think most families will struggle to finish such a large container of salsa within a week!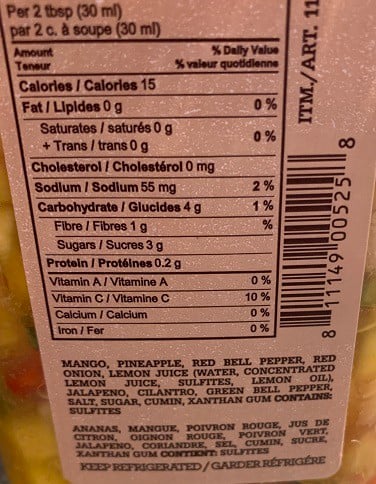 Nutrition
Two tablespoons of salsa contains 15 calories, 0 grams of fat, three grams of sugar and 55 milligrams of sodium. I found you only need a small bit of salsa due to it being so flavorful! I also appreciate how the salsa is full of natural, fresh, healthy ingredients!
The BIG Taste Sliced FC LTD Mango Salsa was a little too sweet and had a bit too much heat for me! I probably wouldn't purchase it again because Costco sells my all-time favorite salsa – Garden Fresh Gourmet Mango Peach Habanero Salsa. Still, I enjoyed how flavorful and fresh it tasted and would recommend it for those who like a spicier sweet salsa!
Taste: 6/10
Cost: 6/10
Convenience: 9/10
Nutrition: 8.5/10
What's your favorite salsa that Costco carries? Would you try this? Why or why not?