Sweet & salty lovers looking for a new snack may want to try this!
Please note that this review was not paid for or sponsored by any third party. I purchased this product with my own money and the opinions in this review are strictly my own. I am not affiliated with Costco or any of its suppliers. I am just a fan of the company. I write these reviews to help my fellow shoppers.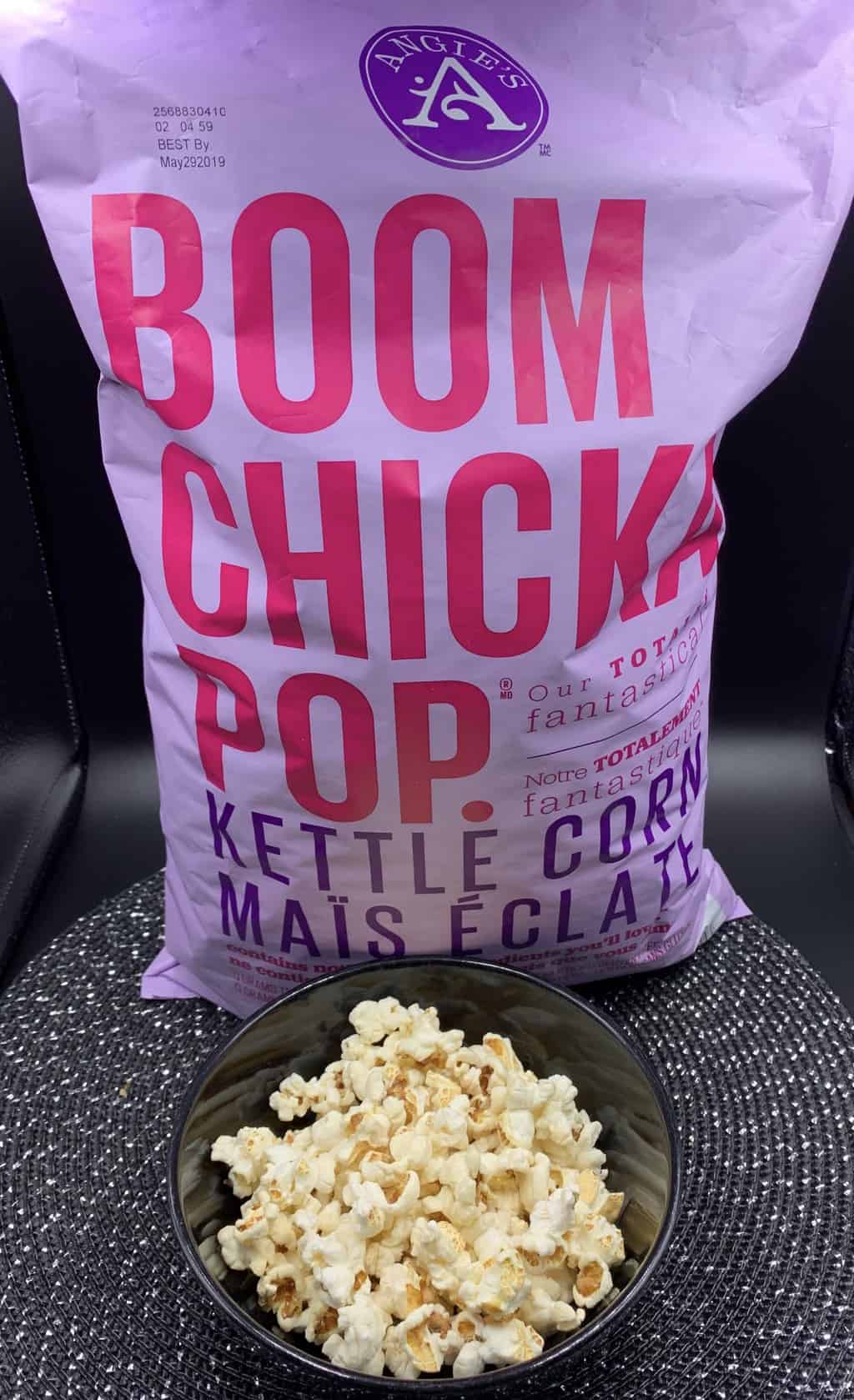 I've already reviewed my Mom's all-time favorite Costco snack item on the blog, the Angie's BOOM CHICKA POP Sea salted Popcorn. There hasn't been a time in the last year where I've gone over to my parent's house and haven't found a bag of it on their counter. As much as I like the Sea Salt BOOM CHICKA POP, I definitely prefer the Sweet & Salty Kettle Corn BOOM CHICKA POP by Angie's. This is the one that comes in the pretty purple bag.
Taste
If you've had kettle corn in the past and enjoyed it, you'll love this popcorn. If you've never had kettle corn before, basically it tastes like a mixture of original, boring salty popcorn with crunchier, sweet, sugary popcorn. Like sugar glazed popcorn! When you eat it together you get this wild, delicious salty sweet euphoria going on in your mouth. It's a satisfying flavor duo that people either seem to really love or not like at all. I have to warn you though, it's addictive. Luckily for me ,my husband has decided he doesn't like "cold popcorn" so that means I get this bag all to myself. This popcorn is crunchy, salty, slightly sweet and super scrumptious. You have to be a fan of the salty, sweet combination to enjoy this though. There isn't any unique or interesting flavors added to this but it's a solid, salty & sweet, crunchy, satisfying snack option. I recommend eating it by also combining the crunchier, sugar glazed popcorn paces with a softer, regular sea salt popcorn piece in your mouth.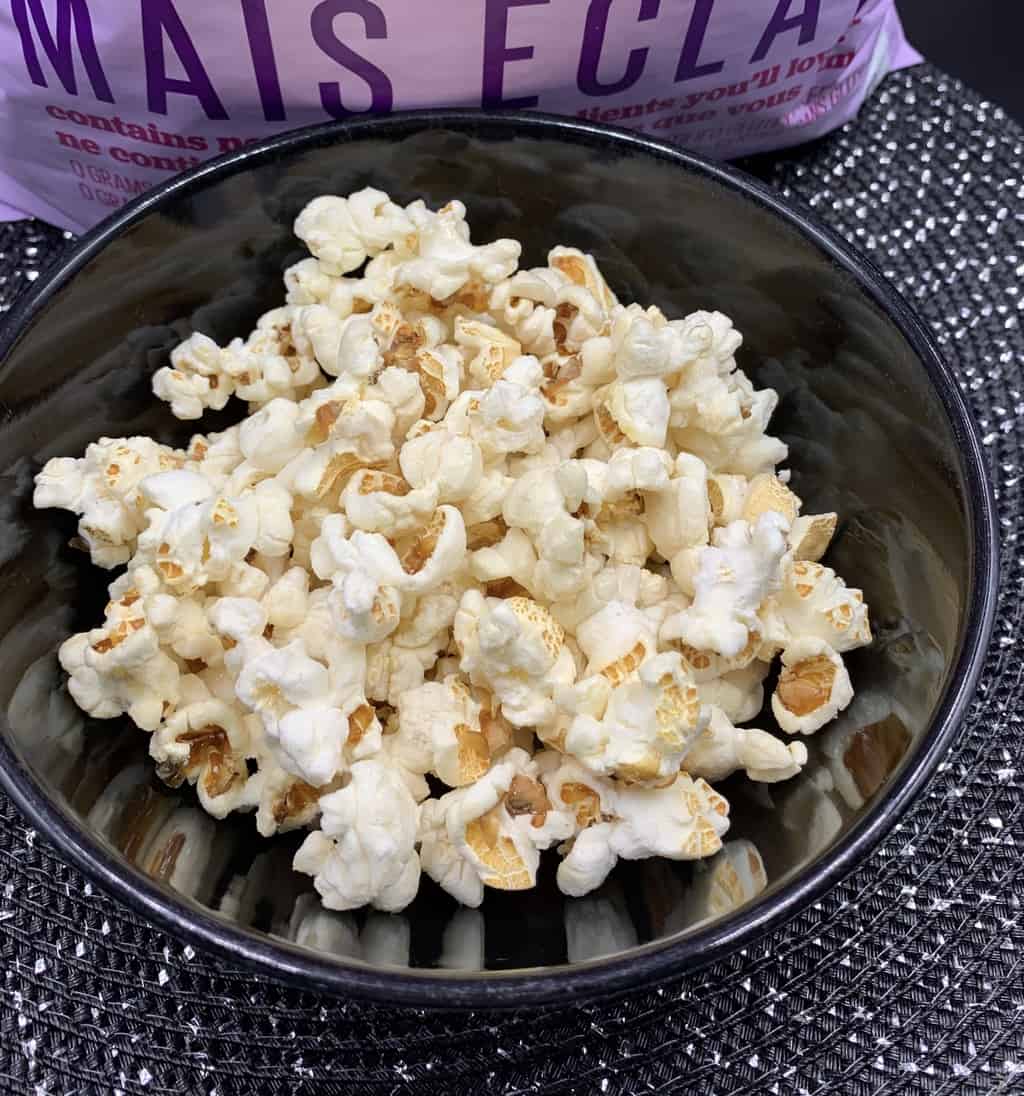 Cost
When you can get this on sale the cost is really reasonable, on sale I paid $4.79 Canadian and the regular price is $6.79 Canadian. A lot of individuals may argue that it's way cheaper to pop your own popcorn, which is true but it's the convenience factor you're paying for when you buy this. Are you really going to sugar glaze your popped popcorn? Kettle corn from a farmer's market usually is about $7 or $8 dollars Canadian for a similar sized bag so this is a bit cheaper. The bag of popcorn is about the same price point at Costco as the other potato and tortilla chips they sell.
Convenience
Although this bag is huge and I originally thought I'd never be able to eat enough before it went stale the bag actually is resealable which seems to lock in the freshness. This is a super convenient snack to have in the house. It's great for parties, movie nights, kids lunches and snacks for work when you get that afternoon slump!
Nutrition
It's all about portion control with this popcorn. Three and a half cups is 250 calories, 15 grams of fat, 200mg of sodium, 32 grams of carbohydrates, four grams of fibre, 14 grams of sugar and three grams of protein. It's not the worst snack option but also not the healthiest. The sugar, fat, calories and sodium aren't very high if you stick to like a one or two cup serving. If you eat 4-6 cups you'll have quite a few more calories, grams of fat and grams of sugar. The popcorn is NON-GMO, gluten free and also uses whole grains. I love how the ingredient list is super short and there's nothing on the ingredient list I need to go to google to figure out what it actually is and how bad for me it is.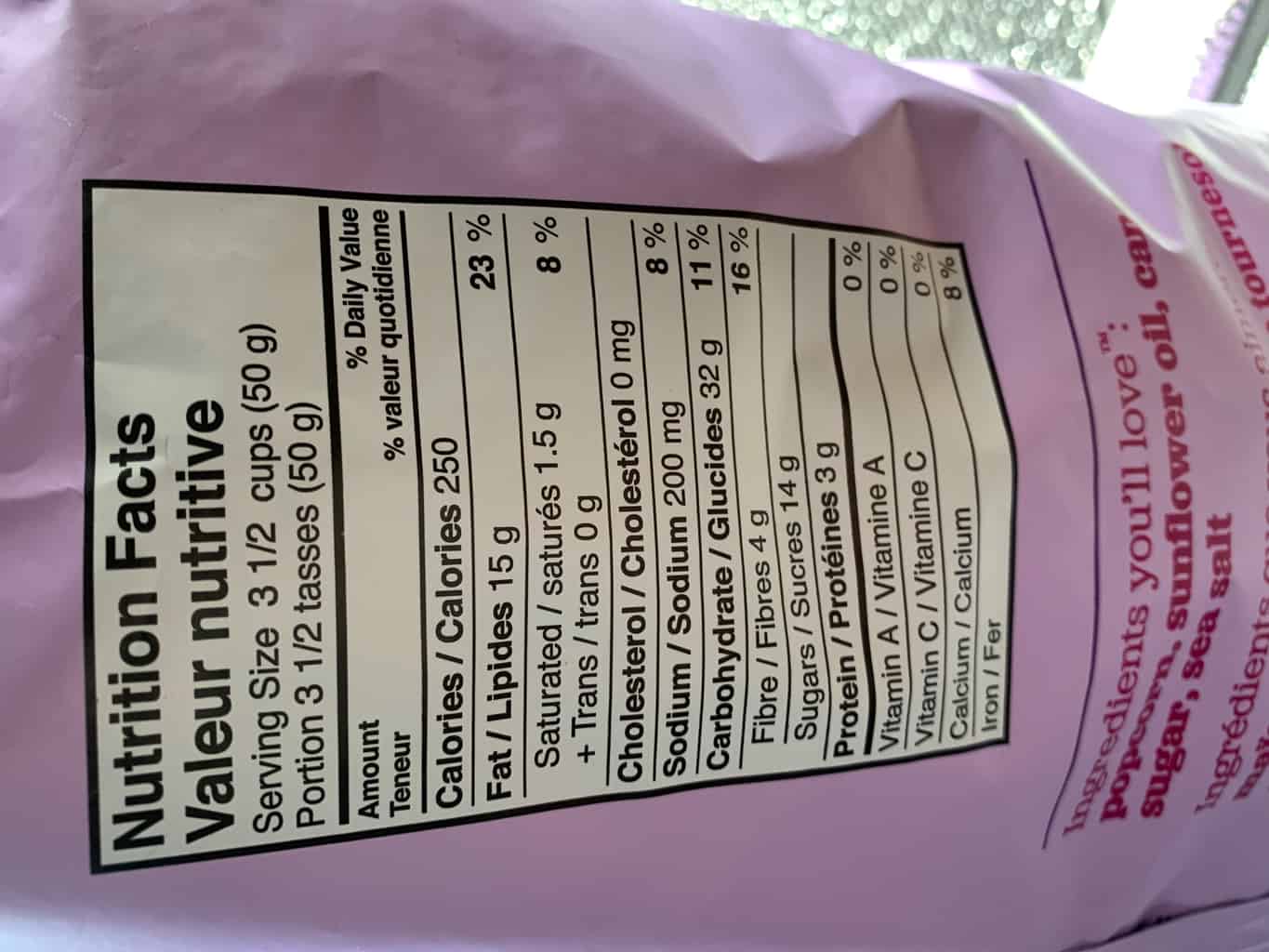 It takes me awhile to get through one bag of this however I never stop enjoying Angie's BOOM CHICKA POP Kettle Corn or get sick of it and would repurchase this in the future, especially when I have a salty, sweet craving. If you like salty & sweet foods and are looking for a new snack to try, I recommend you try this!
Taste: 8.5/10
Cost: 8.5/10
Convenience: 10/10
Nutrition: 6/10
What's your favorite sweet & salty snack? Do you like or dislike sweet & salty together?