These may just be my new favorite Asian-style appetizer!
Please note that this review was not paid for or sponsored by any third party. I purchased this product with my own money and the opinions in this review are strictly my own. I am not affiliated with Costco or any of its suppliers. I am just a fan of the company. I write these reviews to help my fellow shoppers.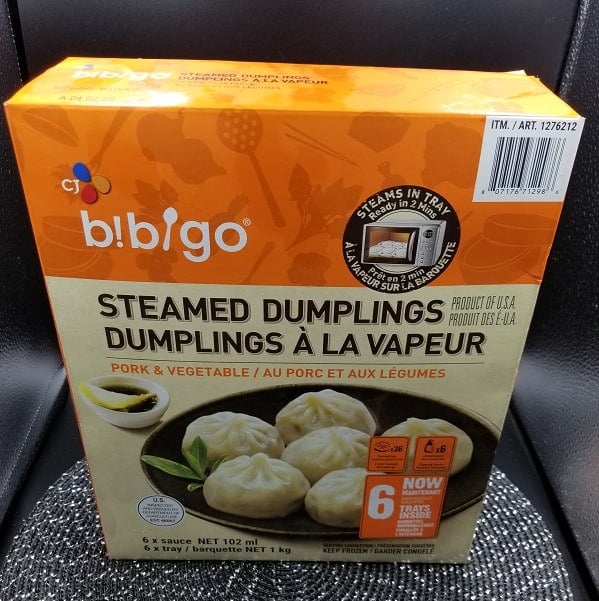 I love checking out all the Asian-style appetizers in the freezer section at Costco. I'm slowly but surely making my way through all the different items and a lot of them don't seem to disappoint. These Bibigo Pork & Vegetable steamed dumplings just may be my new top pick for Asian-style appetizers.
Taste
These taste super delicious. The dumplings are pillowy soft and stuffed full of seasoned pork, tofu and vegetables. Don't tell Sean there's tofu listed on the ingredients. The vegetables in the dumplings include onion, cabbage, jalapeno and red pepper. You definitely don't really taste the red pepper or jalapeno just the onion and cabbage. The pork and vegetables are seasoned with garlic, ginger and soy. I honestly wouldn't have ever known there was tofu in these dumplings had I not looked. Do these dumplings taste all that different than potstickers? Not really but I found them to have more filling inside. These also seem to have thicker dough than other potstickers which is probably why they are able to handle more filling. The sauce that comes with these is amazing, it's not just soy sauce, it's got an extra tang and a bit of a vinegar taste. It definitely adds to the deliciousness of the dumplings and think the sauce stands out as being extra scrumptious.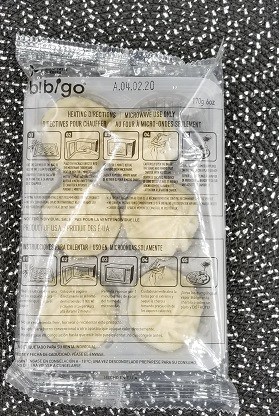 Cost
You can find these in the freezer aisle at Costco near the other Asian-style food like ramen, wonton soup and egg rolls. The package contains six microwaveable trays of dumplings, in each tray you get six dumplings and one sauce packet. That's 36 dumplings in total. The cost of the entire box of dumplings was $14.99 Canadian, not on sale. Although these are definitely one of the pricier Asian-style appetizers. I think the price is due to how convenient and delicious these are, if I find these on sale I'll definitely be stocking up. Just a note about cost, you definitely get less dumplings in the Bibigo Pork & Vegetable dumpling trays compared to the big bags of potstickers however the dumplings are larger and more convenient.
Convenience
These are by far the easiest dumplings I have ever consumed or made. I'm a dumpling/potsticker fanatic and am used to steaming and frying my dumplings. The Siwin Chicken and Vegetable Potstickers require steaming and pan frying. These Bibigo Pork & Vegetable Steamed Dumplings come out perfect after just two minutes in the microwave. My husband said he wanted to make these one night and usually I'll kind of keep an eye on the kitchen when he's making food but I was in a different room and two minutes later came back to find these perfectly cooked delicious looking little dumplings, Bibigo has it down to a science when it comes to creating microwaveable dumplings. The tray the dumplings come in is also perfect because you can pour the sauce packet over the dumplings and they soak in a little bath of delicious soy sauce and you don't even need an extra bowl for the sauce.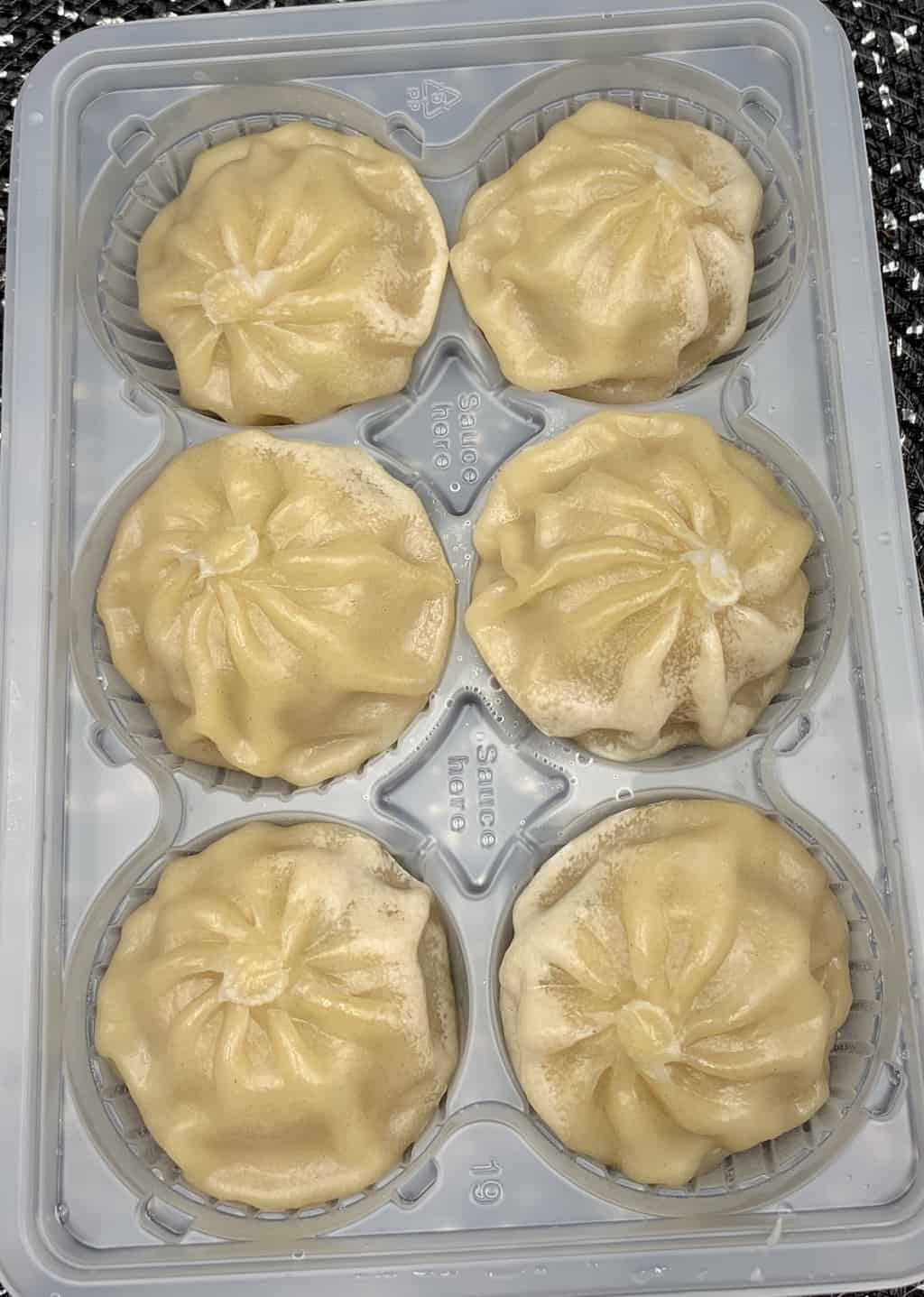 Nutrition
If you eat an entire tray yourself which is six dumplings you're looking at 370 calories, 19 grams of fat, 620 mg of sodium, three grams of sugar, two grams of fibre and 14 grams of protein. Definitely a little high in fat and sodium, I'm not complaining about the 14 grams of protein though, that's pretty good. Compared to the Siwin Chicken and Vegetable potstickers I reviewed, these definitely have more fat and calories but the Siwin Pork and Vegetable potstickers are aren't as filling and are smaller.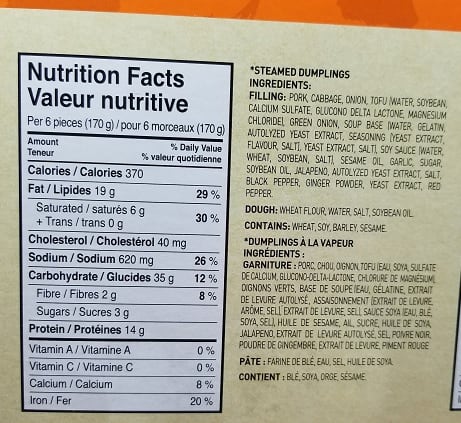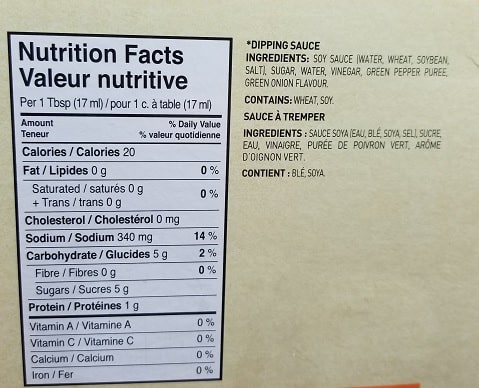 Next time I need a super convenient, delicious, filling Asian style appetizer fix I will definitely purchase these again. Especially if these are on sale. I can't really think of anything I would change other than wishing they were less calories, fat and sodium.
Taste: 9.5/10
Cost: 7/10
Convenience: 9.5/10
Nutrition: 6/10
Do you prefer chicken or pork or beef dumplings? What's your favorite Costco appetizer?