Creamy and flavorful, great for spinach lovers!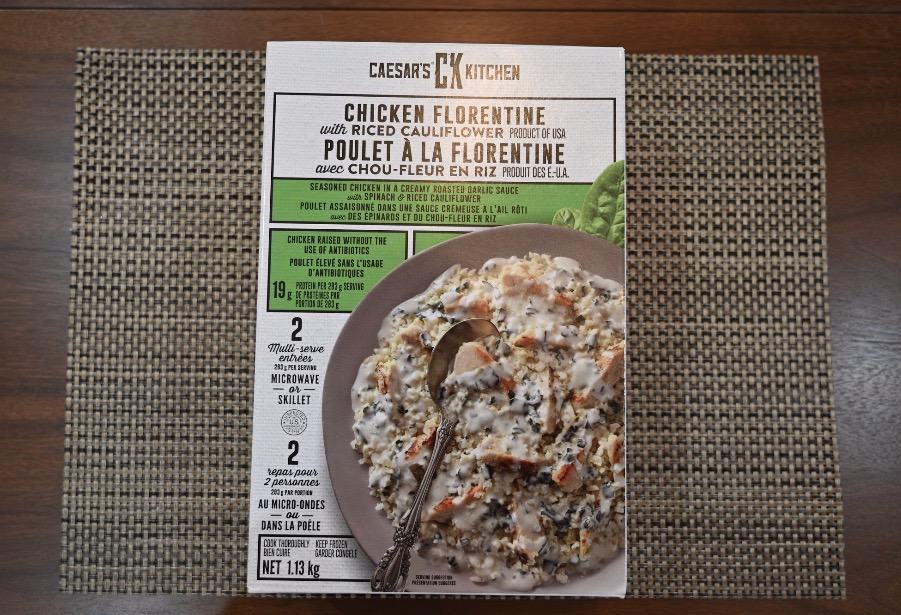 Remember when I reviewed the Costco Caesar's Kitchen Lemon Chicken Piccata this summer? I wasn't a fan of it so when I saw this new Caesar's Kitchen Chicken Florentine with Riced Cauliflower at Costco last week I was hesitant to buy it and try it. I did buy it though and I'm reviewing it today! This can be found in the freezer section and the item number is 1466026.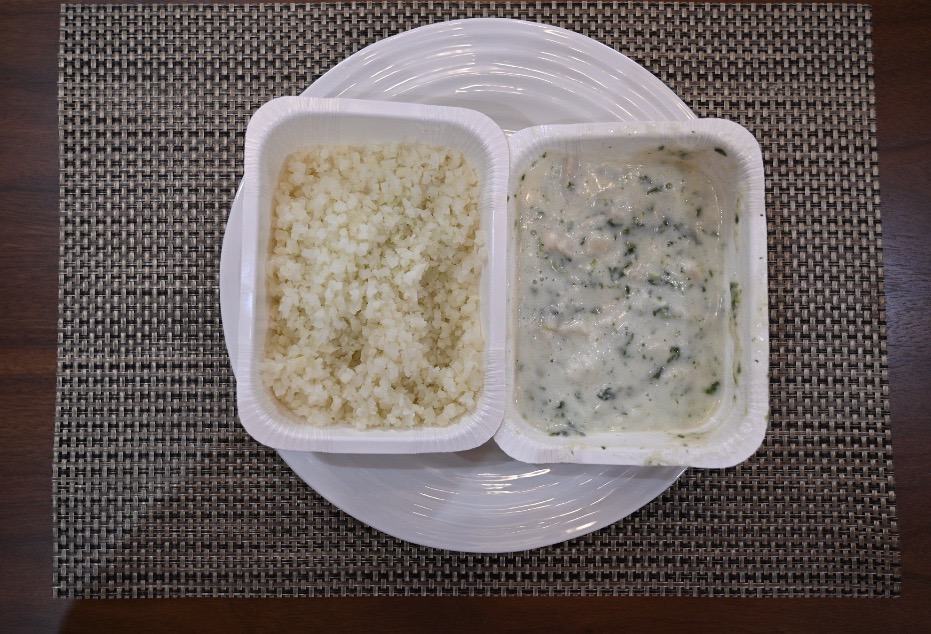 Taste
I actually didn't mind this at all! It was reasonably tasty, not amazing or over the top great but definitely edible. It's extremely creamy so you have to like creamy meals or sauces to enjoy this. The chicken and sauce is salty and seasoned well and the spinach adds some additional nice flavor and color to the dish. The riced cauliflower is firm and not super soft or mushy, it doesn't taste at all like white rice when you're eating it so try to remember it's riced cauliflower instead of white rice. My one complaint is that there's not very much chicken and the chicken that is in the dish is just small pieces. There's a ton more sauce than chicken.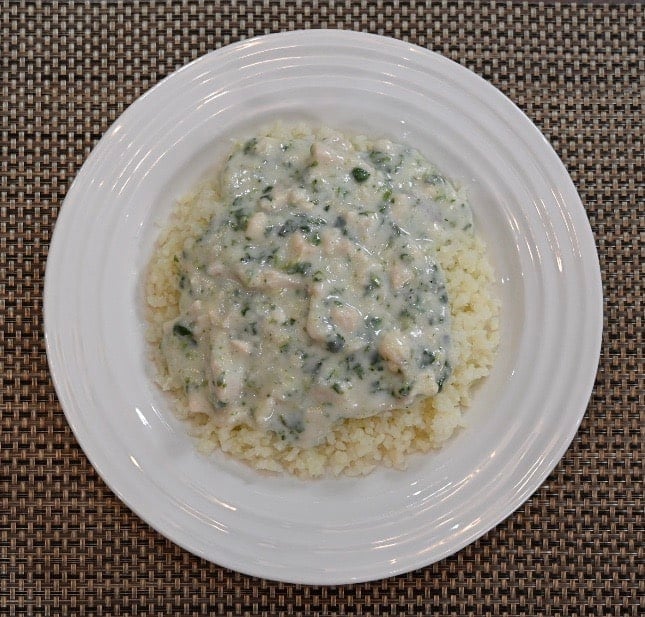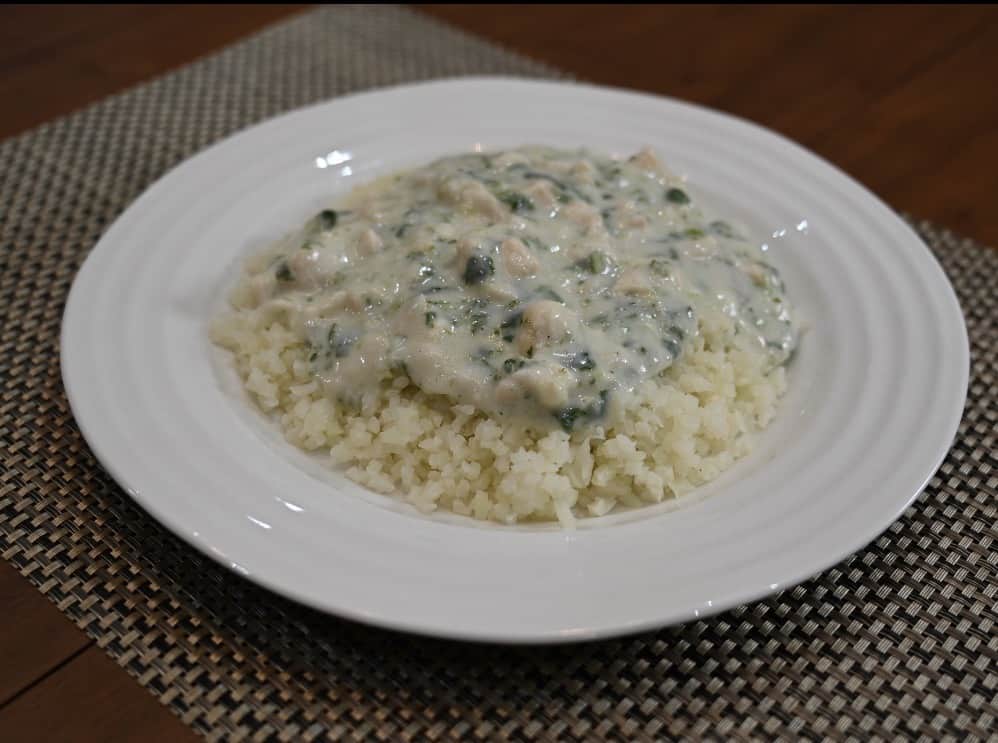 Cost
I paid $14.79 Canadian for the Costco Caesar's Kitchen Chicken Florentine and Riced Cauliflower. This includes two trays of riced cauliflower and two trays of chicken and sauce. I don't think there's enough food to feed a family of four but there's definitely enough for two adults. The photo above is one tray of riced cauliflower and one tray of chicken and sauce on the plate.
Convenience
You can choose to heat this in the microwave or on the stovetop in a skillet. I chose the microwave method and it turned out just great. These would be easy to bring to work for lunch to heat up and also makes a super convenient dinner at home. The best before date is a little less than a year from the date I purchased this product.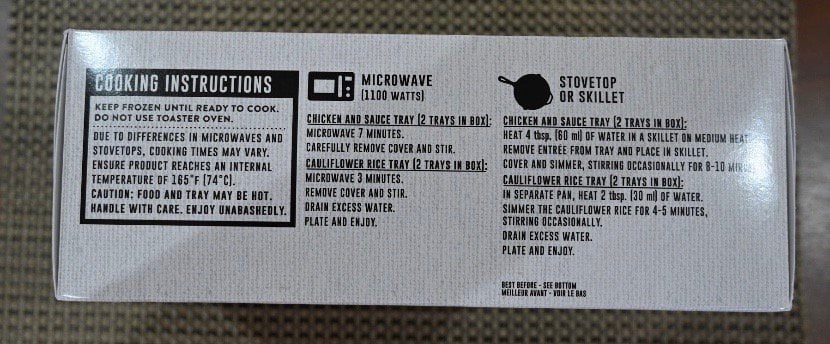 Nutrition
1/4 of the package is 180 calories, six grams of fat, 560 mg of sodium, 13 grams of carbohydrates, three grams of fibre, four grams of sugar and 19 grams of protein. That's a decent amount of protein for low calories! This is definitely a low carb meal and I love that the ingredients list is short and sweet. I could easily eat 1/2 the package for dinner, no problem! Sadly this is not dairy free, lots of milk products in it.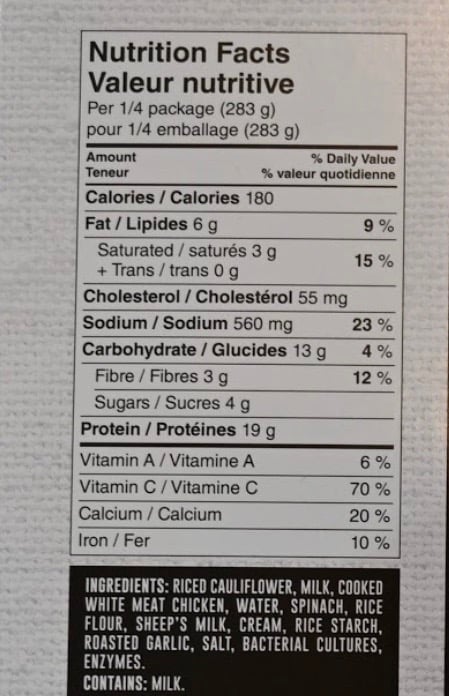 I like this so much more than the Costco Caesar's Kitchen Lemon Chicken Piccata. I don't think I'd crave it all the time or necessarily buy it again but I have no problem finishing my box and wouldn't mind eating it again!
Scoring
Taste: 7/10
Cost: 6/10
Convenience: 9/10
Nutrition: 9/10
Overall
Give it a try.
Do you like creamy sauces? Would you give this a try?
Please note that this review was not paid for or sponsored by any third party. This product was purchased by Costcuisine for the purpose of producing this review. The opinions in this review are strictly those of Costcuisine. Costcuisine is not affiliated with Costco or any of its suppliers. In the event that Costcuisine receives compensation for a post from the manufacturer of a product or some other third party, the arrangement will be clearly disclosed (including where the manufacturer of a product provides Costcuisine with a free sample of the product).