Creamy green tomatillo avocado salsa!
Please note that this review was not paid for or sponsored by any third party. I purchased this product with my own money and the opinions in this review are strictly my own. I am not affiliated with Costco or any of its suppliers. I am just a fan of the company. I write these reviews to help my fellow shoppers.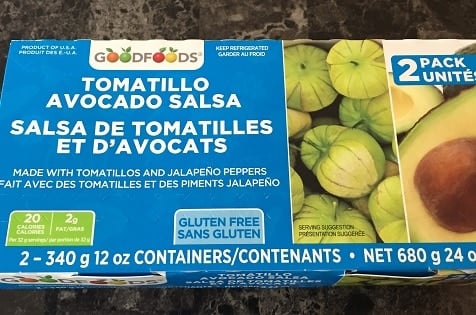 I definitely love salsa and hope to try all the different available Costco salsa one day.
This salsa looked intriguing to me because of how green it is. Also both my husband and I absolutely love guacamole so that was huge.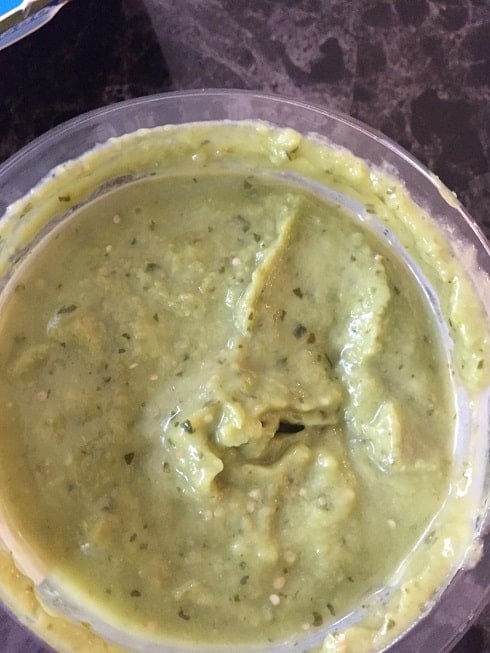 The salsa tasted as interesting as it looks. If you're expecting this to taste exactly like guacamole you probably will be a bit disappointed. The best way to describe the taste would be to say it tastes like a pureed, creamy salsa with a moderate hint of avocado/guacamole. If you're a chunky salsa fan like myself this may not be your thing, there are no chunks of anything to be found in this. Just a very smooth, creamy, salsa. The spicy factor and heat of this salsa is probably about a medium heat salsa. Definitely not overly spicy. If you appreciate a creamier, not too hot salsa I would recommend this. I will add that I found this salsa tasted quite salty which was interesting considering the sodium is not as high as other salsa I have had. Overall I enjoyed the taste and will definitely finish it up but it's not my favorite, this salsa would go great with chips or on fajitas/tacos.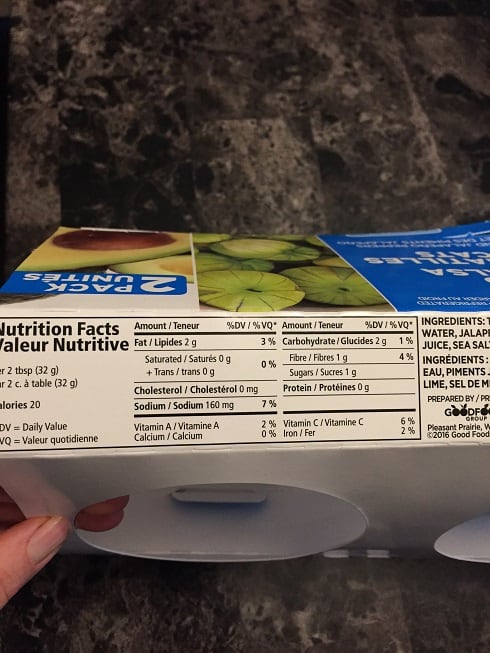 I thought the nutrition information was reasonable. First of all the ingredients are simple and easy to read, there aren't any peculiar ingredients that I have to google to find out what they are. Two tablespoons is 20 calories, 2 grams of fat, 160mg of sodium and 1 gram of sugar. I don't see anything to nitpick about other than possibly the sodium but all salsas have sodium and comparatively speaking this amount of sodium is less than others I've come across. I will say that other salsas usually are about 25 calories for 1/4 cup, so this is a slightly higher calorie salsa.
I bought this 2 pack of salsa for $8.99 in the cheese/meat refrigerated section of Costco. Each container of salsa is 340 grams. Definitely not the cheapest salsa out there but also not so outrageously priced where you're completely turned off.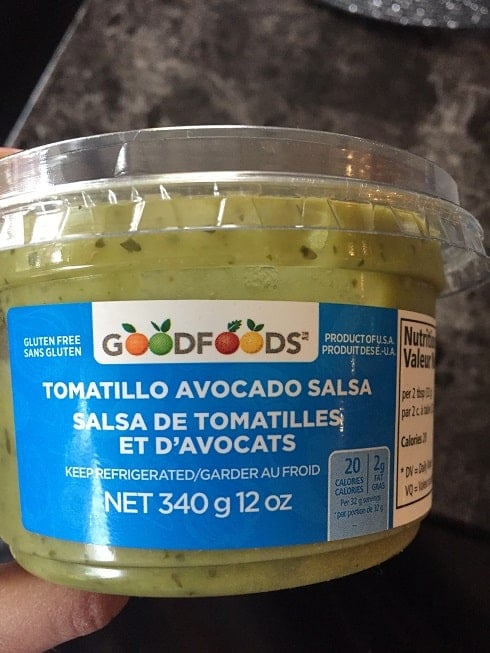 I like that they included two separate 340g containers rather than one large container of salsa because I feel it will stay fresh longer that way. These are pretty convenient, you just open them up and stick a spoon in. The expiry date on these was not very long compared to other salsas but there also does not seem to be added preservatives in the ingredients. So if you purchase this you better eat it up quick!
Overall I probably will not purchase this salsa again. My husband I think was hoping for a traditional guacamole with a bit of spice and this definitely tastes more like a salsa than a guacamole. I still love my mango peach salsa and am looking forward to finishing this up so I can go buy more of that. It does taste fine, just not my favorite. I'm not sure I like creamy, smooth salsa. I prefer more chunks of vegetables/fruit and a little more heat. Also the mango peach salsa is 2 dollars cheaper.
Taste: 7.5/10
Cost: 7/10
Convenience: 9/10
Nutrition: 8/10
Do you like your salsa chunky or smooth? Fruity or just vegetables?