Crunchy and sweet organic treat!
Please note that this review was not paid for or sponsored by any third party. I purchased this product with my own money and the opinions in this review are strictly my own. I am not affiliated with Costco or any of its suppliers. I am just a fan of the company. I write these reviews to help my fellow shoppers.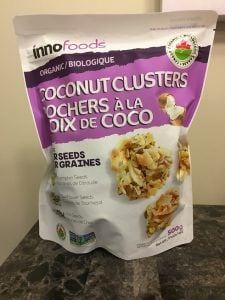 Today I'm reviewing the innofoods Coconut Clusters from Costco. These can be found in the snack section at Costco near the front of the store.
I purchased the 500 gram bag of innofoods Coconut Clusters from Costco on sale for $7.89. Regular price is $9.89.
The innfoods Coconut Clusters are crunchy, sweet and delicious clusters of coconutty goodness. If you don't enjoy coconut you may not like the taste. I love the ever so slight flavor the pumpkin and sunflower seeds add to the clusters. These remind me of a dry, crunchy, flourless cookie.
The list of ingredients is short which is always a good thing, organic toasted coconut, healthy organic chia, pumpkin and sunflower seeds along with brown rice syrup and cane sugar to sweeten them up. If you eat organic, you're in luck with these as each ingredient is organic.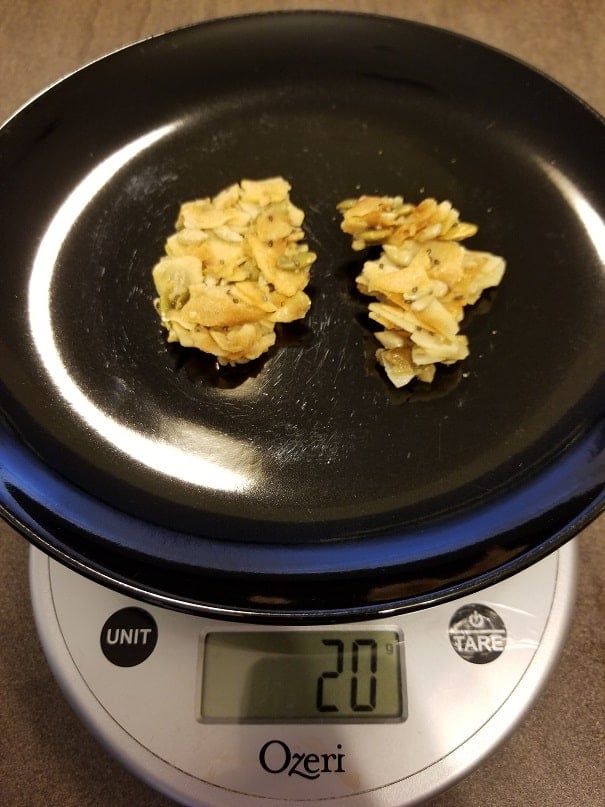 Each 20 gram serving is 110 calories and contains 9 grams of fat. To give you an idea of what one serving looks like, I measured out 20 grams on my scale at home and honestly, Each serving contains only 4 grams of sugar, which is way less than other treats I have had from Costco such as the Dark Chocolate Covered Mangoes.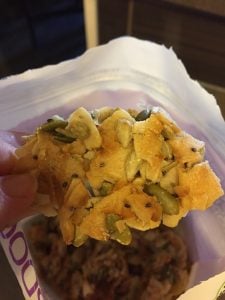 The clusters could be sprinkled on yogurt or ice cream and would make a perfect snack while road tripping, watching a movie, camping or shared at a potluck or barbecue. Due to the fact that these contain organic seeds, they easily are marketed as healthy but I think moderation is key in enjoying these. But believe me, if you like coconut, you WILL love them. I would definitely repurchase these.
Nutrition: 4/10 (for sure they have healthy organic ingredients, but I would approach these as more of an indulgence)
Taste: 10/10 (these really are delicious)
Convenience: 10/10 (just open the bag and find yourself in coconut bliss)
Cost: 7/10 (reasonable when purchased on sale, might be considered slightly expensive when not on sale)
What's your favorite crunchy snack? When it comes to coconut, yay or nay? Have you tried these, if so did you like them?