Costco dark chocolate covered mango is delicious.
Please note that this review was not paid for or sponsored by any third party. The opinions in this review are strictly my own. I am not affiliated with Costco or any of its suppliers. I am just a fan of the company. I write these honest reviews to help my fellow shoppers.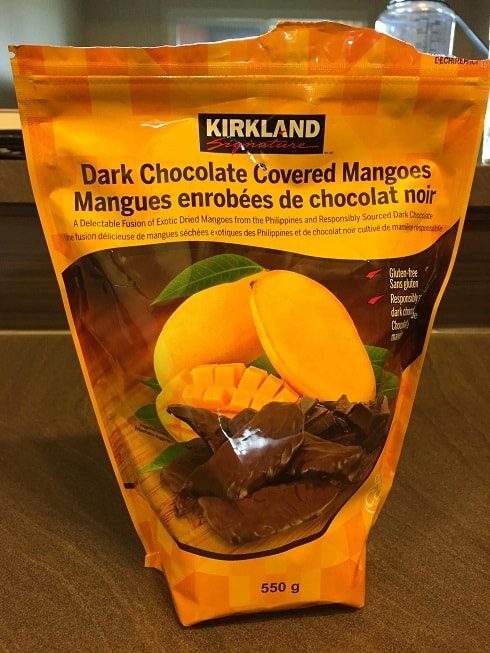 I was drawn to this sweet treat due to the fact I love mango! Mango fruit, ice cream, cake, shave ice, candy, if it contains mango, I love it. I actually buy huge cases of mangoes all the time. I was a little unsure as I generally prefer milk chocolate to dark chocolate and usually do not seek out dark chocolate when I am craving something chocolaty.
I purchased this product for $11.99 CAD so they are not the cheapest, however the chocolate is definitely high quality chocolate. Basically it is thin rough pieces of dried mango covered in dark chocolate on both sides. The pieces are not thick and they are in all different shapes and sizes (similar to something like peanut brittle). The star of this product is definitely the dark chocolate. Both Sean and I agreed the dark chocolate used is really good and we had a hard time stopping eating these. I think the dark chocolate actually cuts the sweetness of the dried fruit and if it were milk chocolate it would be way too sweet. The mango flavour is not distinct so if you're really craving something with a strong mango taste than this might not be what you're looking for. Basically it tastes like a non distinct dried fruit coated in a delicious, dark chocolate. I have to say even if you do not like dark chocolate, I really think you will like these.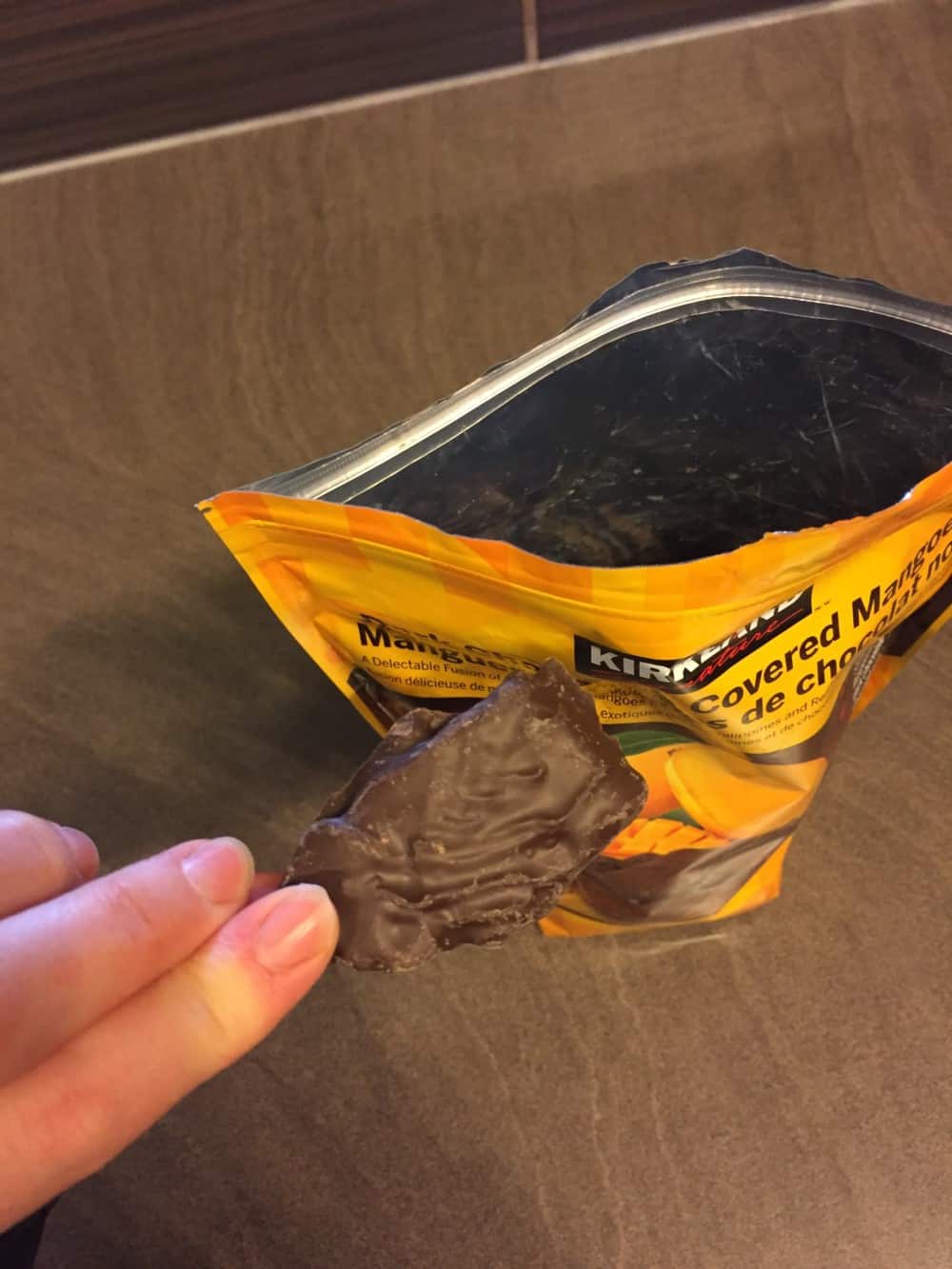 On the back of the bag it says Costco uses sustainable, fair trade cocoa which is an added perk that can leave you feeling better about the price. Basically this means they will pay the cocoa bean farmers a fair price for their cocoa and also try to improve the community by improving living conditions and providing education.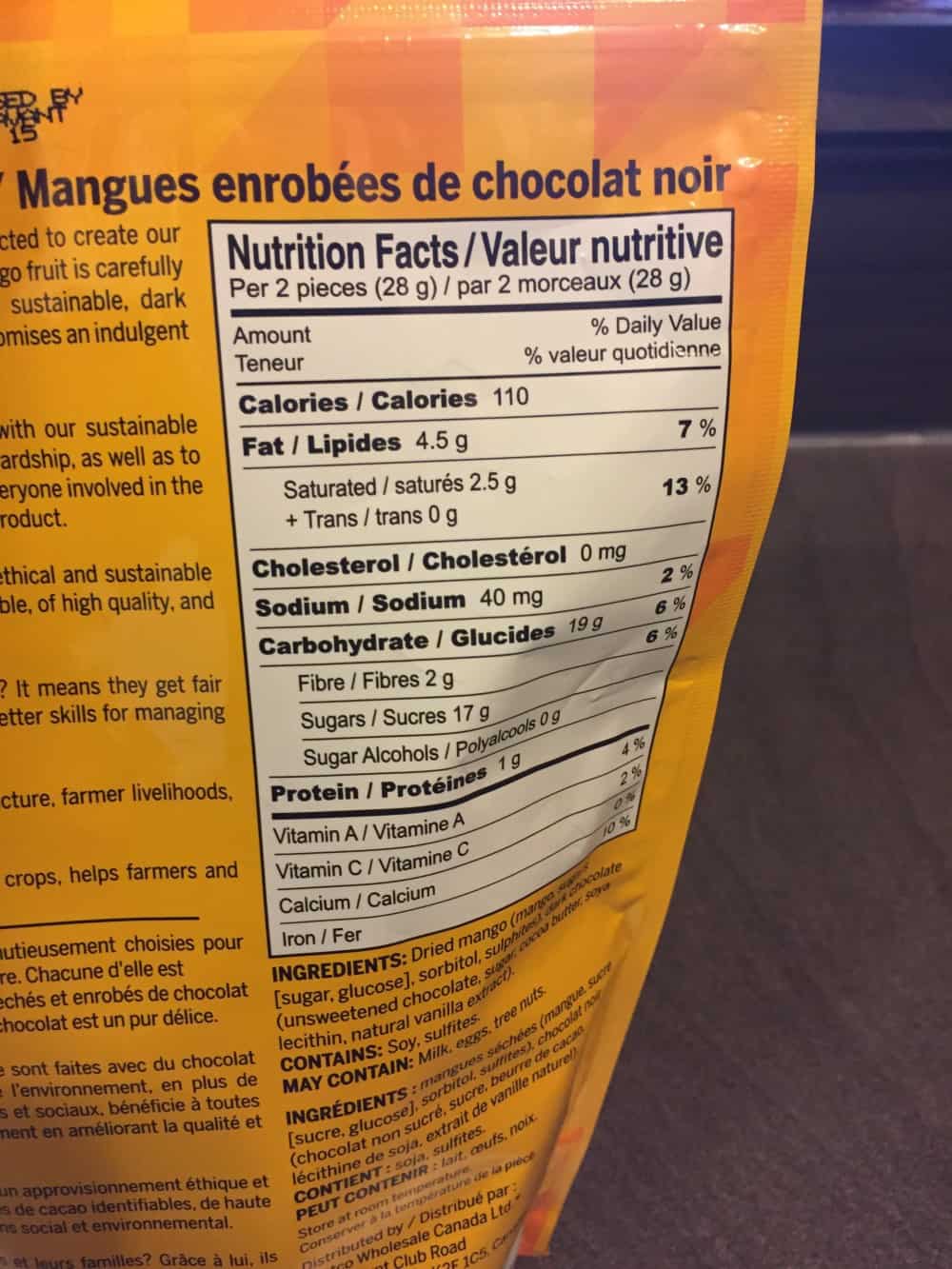 Nutrition wise, these are not the healthiest, two pieces are 110 calories, 4.5 grams of fat and a whopping 17 grams of sugar. I think we already know these are not the healthiest, actually most dried fruit is quite high in sugar so that is probably where most of the sugar is coming from! These would make a good after dinner treat if you are able to stop at just one or two! I could also see bringing these to share with others or serving them as a decoration on a bowl of nice fruity sorbet, gelato or ice cream (just to fancy it up).
Nutrition: 3/10 (everything in moderation, they are definitely not a healthy fruit substitute but should be consumed as a delicious treat which is good for your soul!)
Taste: 8.5/10 (the chocolate is SO delicious, however the mango flavour is not very distinct)
Cost: 7/10 (these are slightly expensive but due to the quality of the chocolate and Costco using sustainable cocoa that increases the price)
Convenience: 10/10
Milk, dark or white chocolate? Favorite dried fruit? I like mango and apricot!