My all-time favorite Costco product!
Please note that this review was not paid for or sponsored by any third party. I purchased this product with my own money and the opinions in this review are strictly my own. I am not affiliated with Costco or any of its suppliers. I am just a fan of the company. I write these reviews to help my fellow shoppers. If you like my blog and want to show your appreciation, please follow me on Instagram or Facebook, or tell your friends to check out my blog!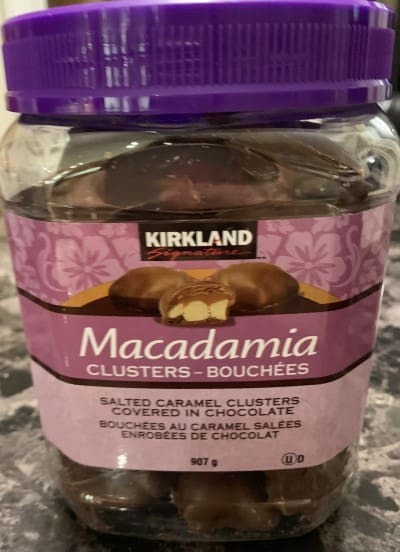 I need to share my thoughts on the Kirkland Signature Macadamia Clusters with everyone, because they're my absolute favorite! I was first introduced to these clusters a few years ago on Christmas Eve while visiting my in-laws. We were watching a movie and there was a container of them sitting on the coffee table. I wasn't particularly drawn to the plastic tub full of clusters with its non-festive purple plastic lid and label. Tasting them completely changed my opinion – after I had eaten a couple, I was hooked for life. Every holiday season, I look forward to finding this particular product on the shelves. I look for those tubs with the purple lids as soon as I spot the first Christmas stuff at Costco. This year I looked forward to getting them even more because I really wanted to review them for the blog.
Taste
The Kirkland Signature Macadamia Clusters taste similar to Turtles, except far, far, far better. Each cluster is big and thick, with a super decadent milk chocolate coating surrounding a mixture of delicious chewy caramel and perfectly-salty macadamia nuts. The chocolate is smooth and rich. Basically they're like Turtles made from superior quality ingredients, which is why they taste like a better version. Plus the ratio of chocolate to caramel to macadamia nuts is perfect; these clusters are more rich and smooth than sweet; they're certainly not overly sweet. Anyway, these clusters are addictive and it's very hard to eat just one. Every time I buy a tub, the chocolates taste fresh, and they also seem to stay fresh.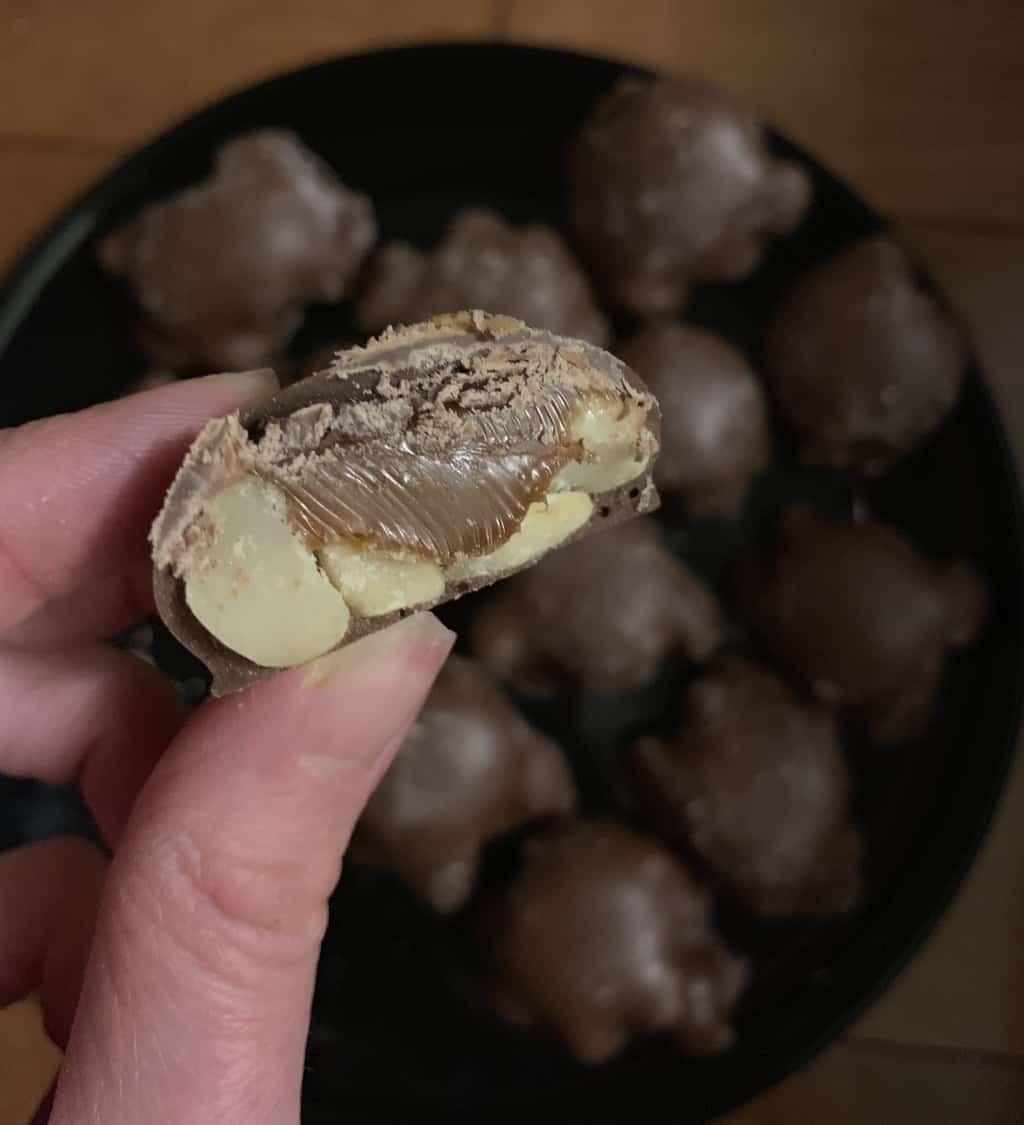 Cost
The Costco Kirkland Signature Macadamia Nut Clusters definitely aren't cheap. I purchased my container for $17.99 Canadian. This makes sense, since macadamia nuts are pricey, plus the chocolate also seems to be very good quality. Unfortunately these chocolates will seem even more expensive when you put them out during the holiday season, walk away for half an hour and come back to find the container empty. With that being said, they're well worth the cost. I've had plenty of higher-end chocolates (at least in terms of price) that don't taste nearly as good as these do. My advice is that if you plan to put these out for your guests, make sure you put some aside for yourself first to guarantee that you'll get to enjoy them as much as everyone else!
Convenience
The resealable plastic tub is very convenient as it ensures that the clusters stay fresh and are protected from being broken or squished. Once you're finished all of the clusters, it also makes an awesome containers for other food items or just random odds and ends around the house. Beyond that, these clusters are fairly versatile – on top of the obvious use as delicious Christmas chocolates, they would make a wonderful gift to bring for the host of a party or a great contribution to a potluck.
Nutrition
Nutritionally… let's not even go there! Macadamia nuts do have a lot of health benefits, so if you like to take the glass half-full perspective like I do, focus on the fact these clusters are loaded with healthy macadamia nuts. Forget about the chocolate and caramel!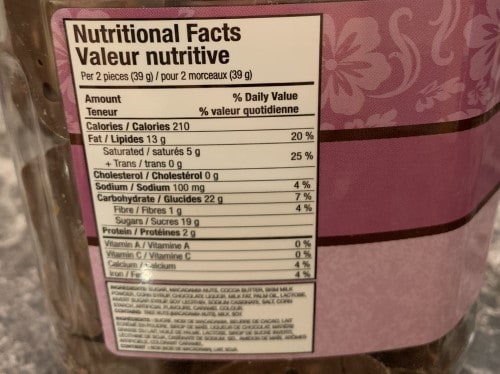 I only ever find the Kirkland Signature Macadamia Nut Clusters at my local Costco for a few weeks around Christmas, and they seem to disappear very quickly. I'm already looking forward to buying them again next year and every year after that! I hope they're one of the famous staple items that Costco keeps bringing back year after year.
Taste: 10/10 (I wish I could go higher than this!)
Cost: 8/10
Convenience: 10/10
Nutrition: Tis the season!
What's your favorite kind of chocolate during the holidays? What about your favorite kind of nut in chocolates? I'll go with hazelnut as I also like hedgehogs!