The Costco Kirkland Signature Macadaia Clusters are my all-time favorite Costco product and only come out during the holiday season!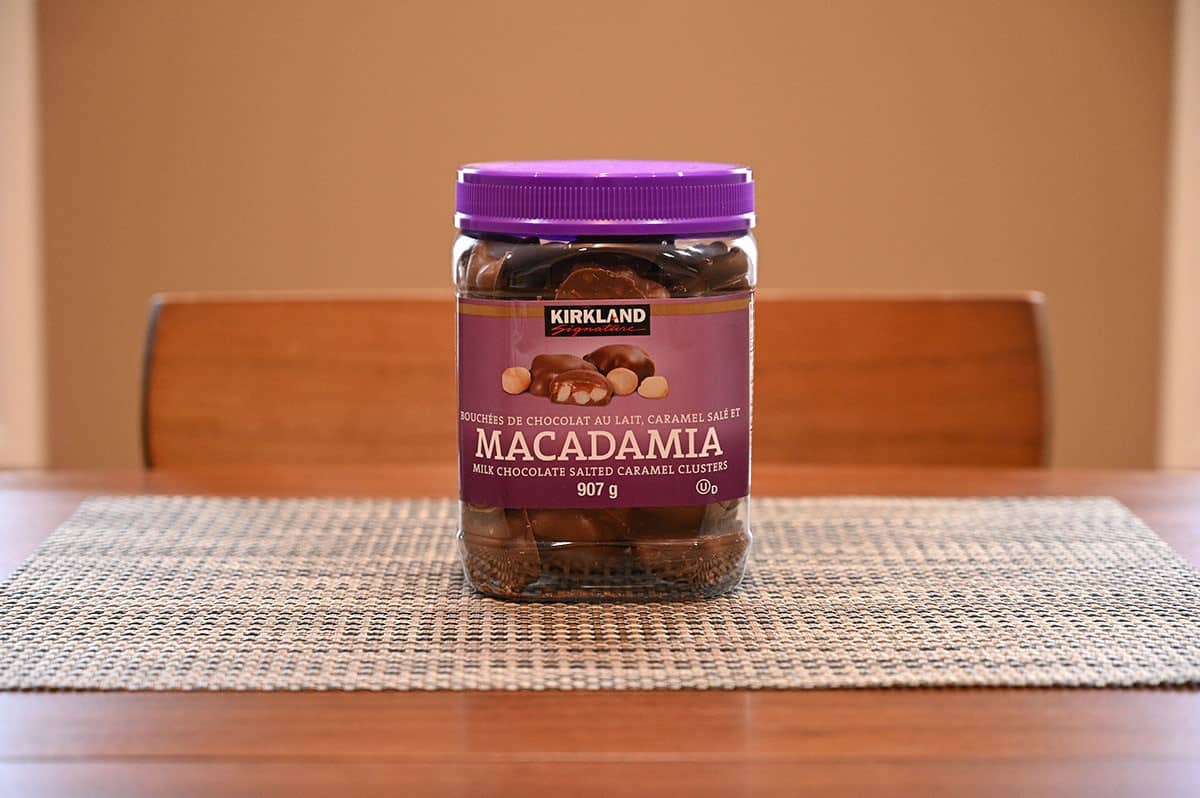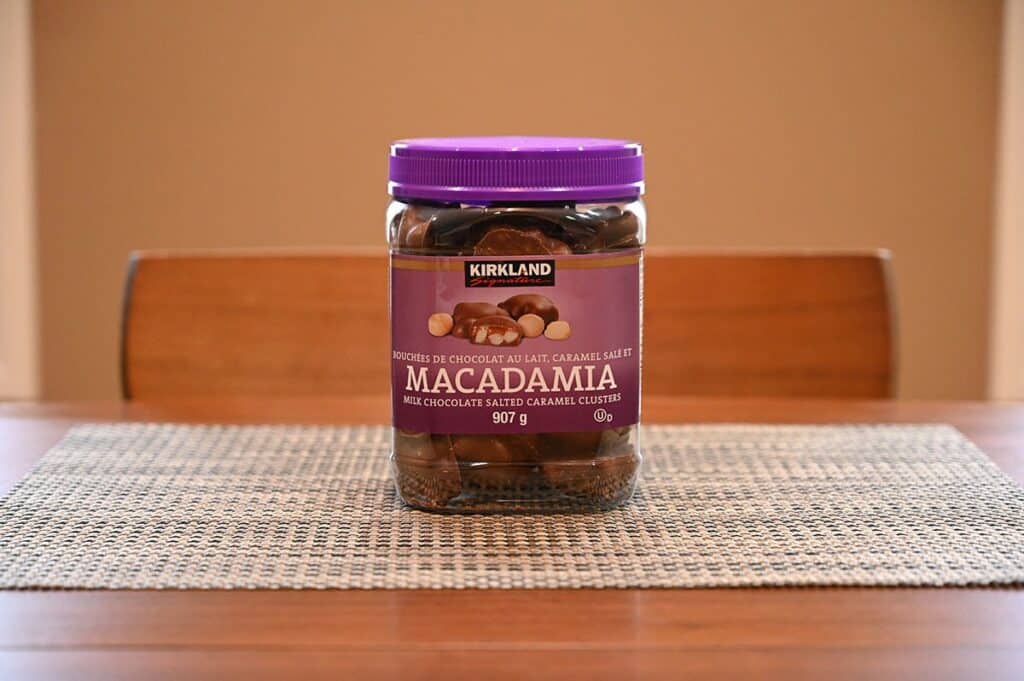 Today I'm reviewing the Costco Kirkland Signature Macadamia Clusters! I was feeling a bit worried this year because it was November and I hadn't seen them in store yet and they're usually available during the holiday season.
I was first introduced to these clusters a few years ago on Christmas Eve while visiting my in-laws. We were watching a movie and there was a container of them sitting on the coffee table. I wasn't particularly drawn to the plastic tub full of clusters with its non-festive purple plastic lid and label. Tasting them completely changed my opinion – after I had eaten a couple, I was hooked for life.
Every holiday season, I look forward to finding this particular product on the shelves. I look for those tubs with the purple lids as soon as I spot the first Christmas stuff at Costco.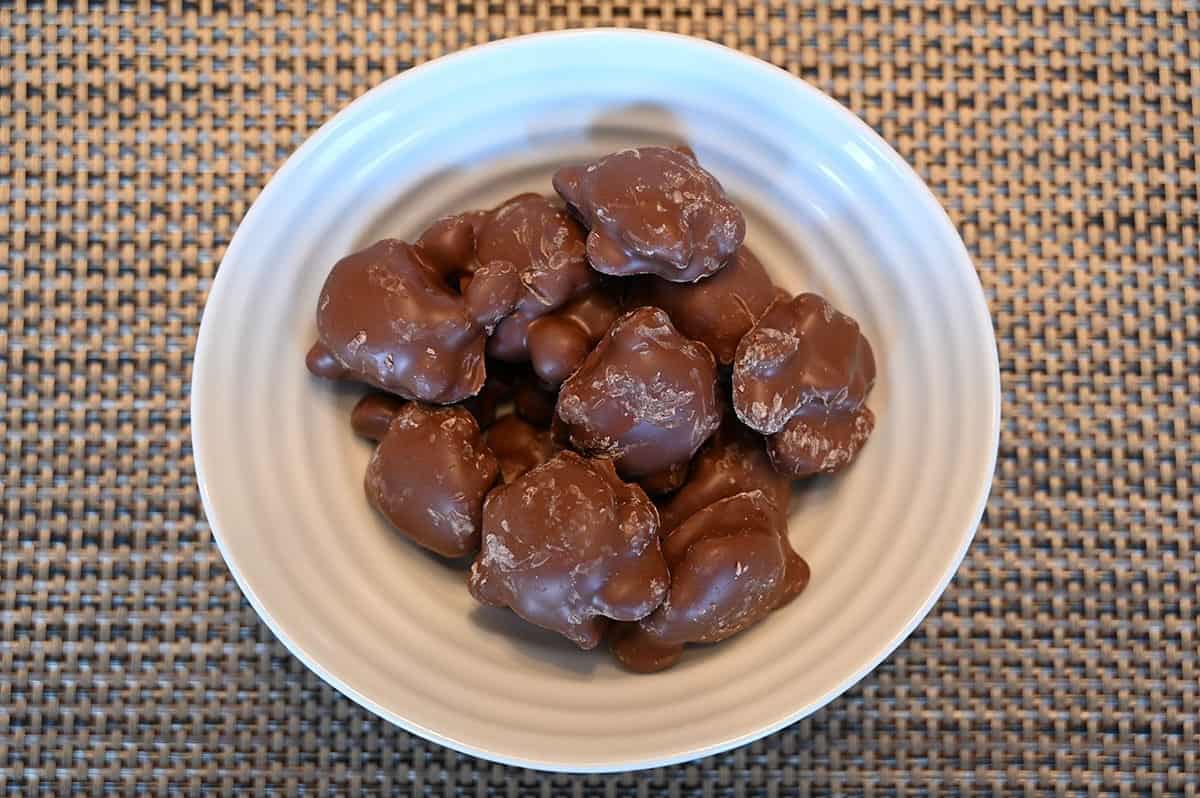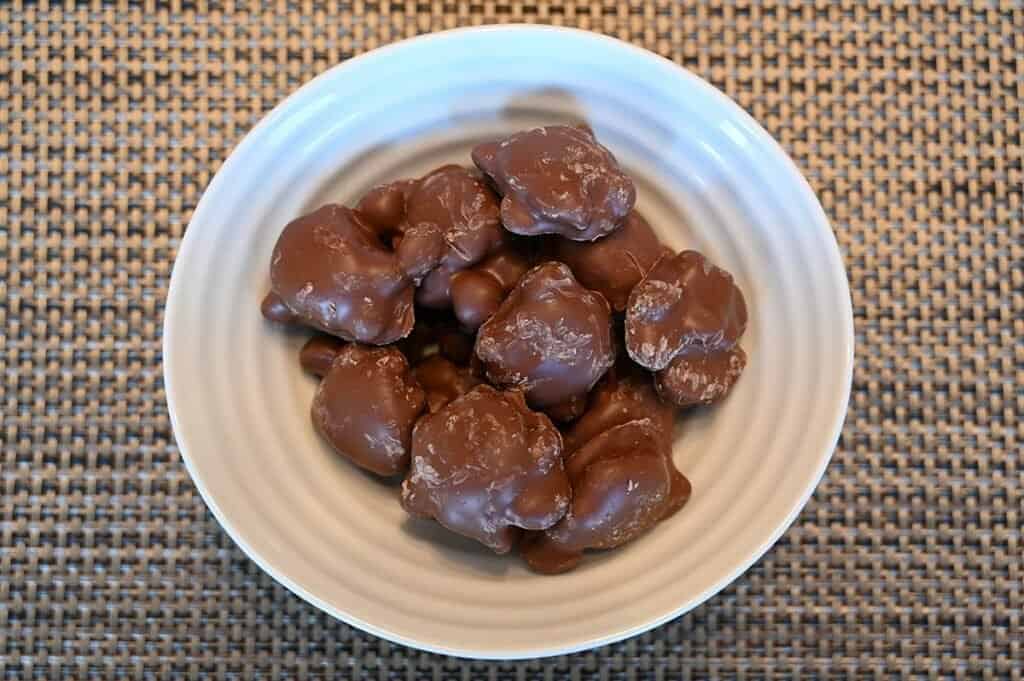 Other chocolates I love from Costco during the Christmas season are the Costco Lindt Lindor Assorted Chocolates, Costco Toblerone Bar, Costco Merci European Chocolates, Costco Anthon Berg Liquor Filled Dark Chocolates and the Costco Gudrun Fine Belgian Chocolates.
Taste
The Kirkland Signature Macadamia Clusters taste similar to Turtles, except so much better. Each cluster is big and thick, with a super decadent milk chocolate coating surrounding a mixture of delicious chewy caramel and perfectly-salty macadamia nuts.
The chocolate is smooth and rich. Basically they're like Turtles made from superior quality ingredients, which is why they taste like a better version. Plus the ratio of chocolate to caramel to macadamia nuts is perfect; these clusters are more rich and smooth than sweet; they're certainly not overly sweet. They are quite salty tasting but in a good way!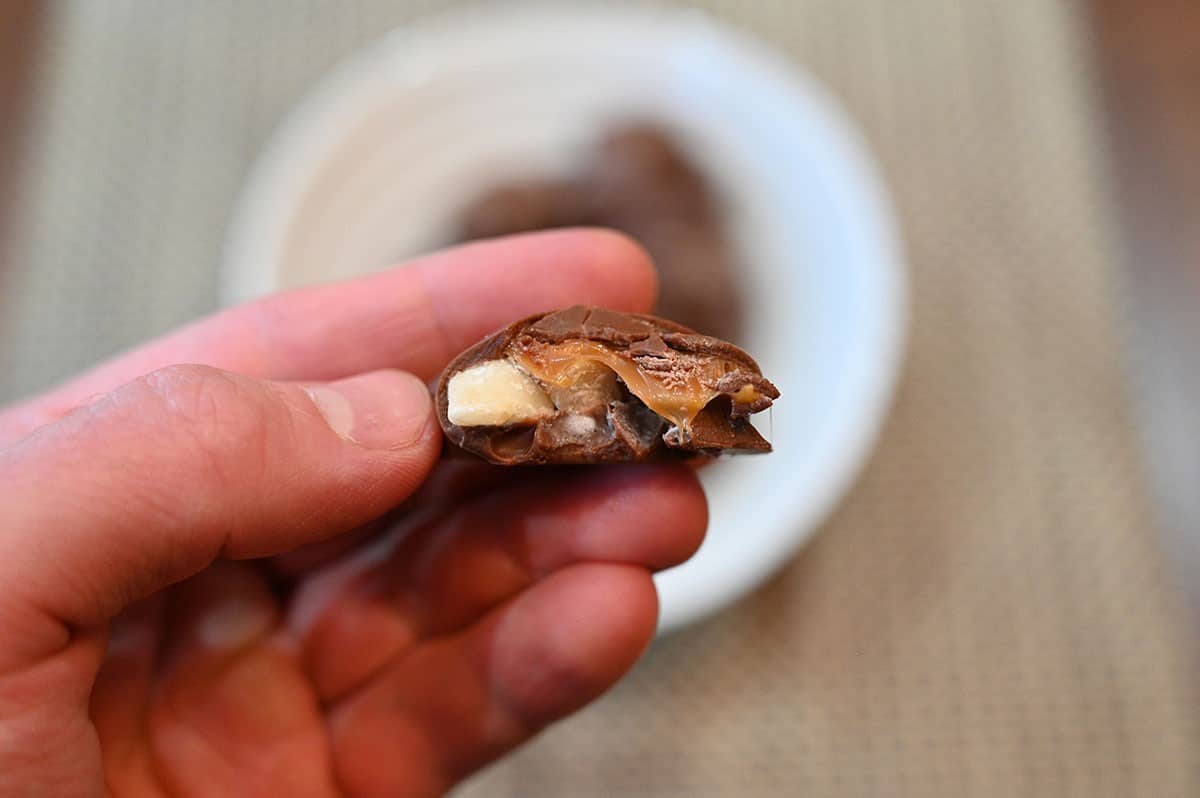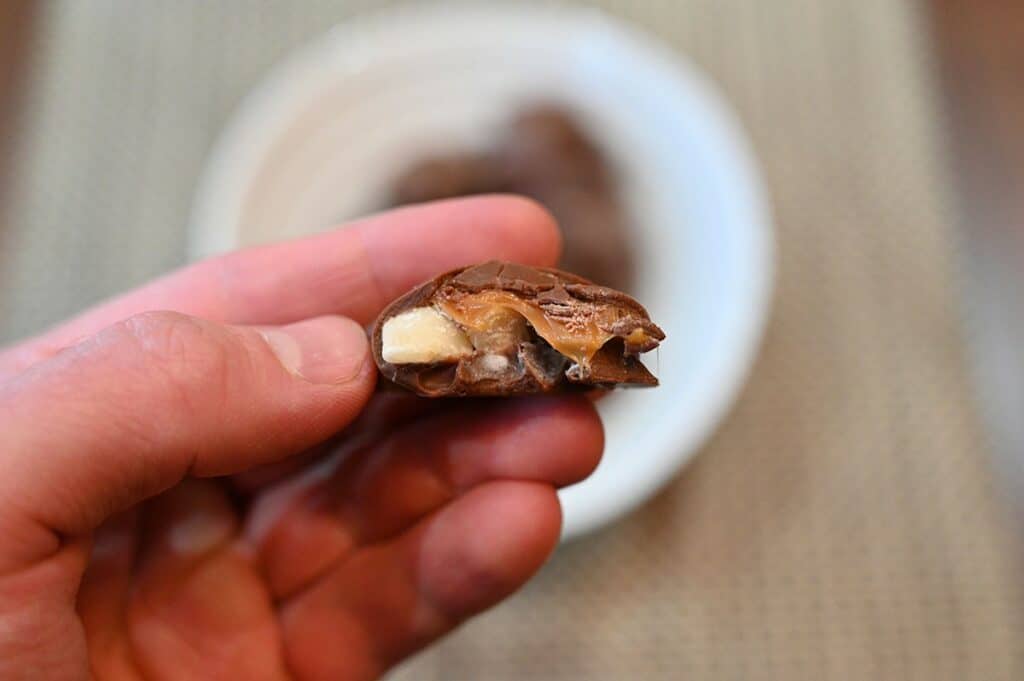 I think these are really addictive and it's very hard to eat just one. Every time I buy a tub, the chocolates taste fresh, and they also seem to stay fresh.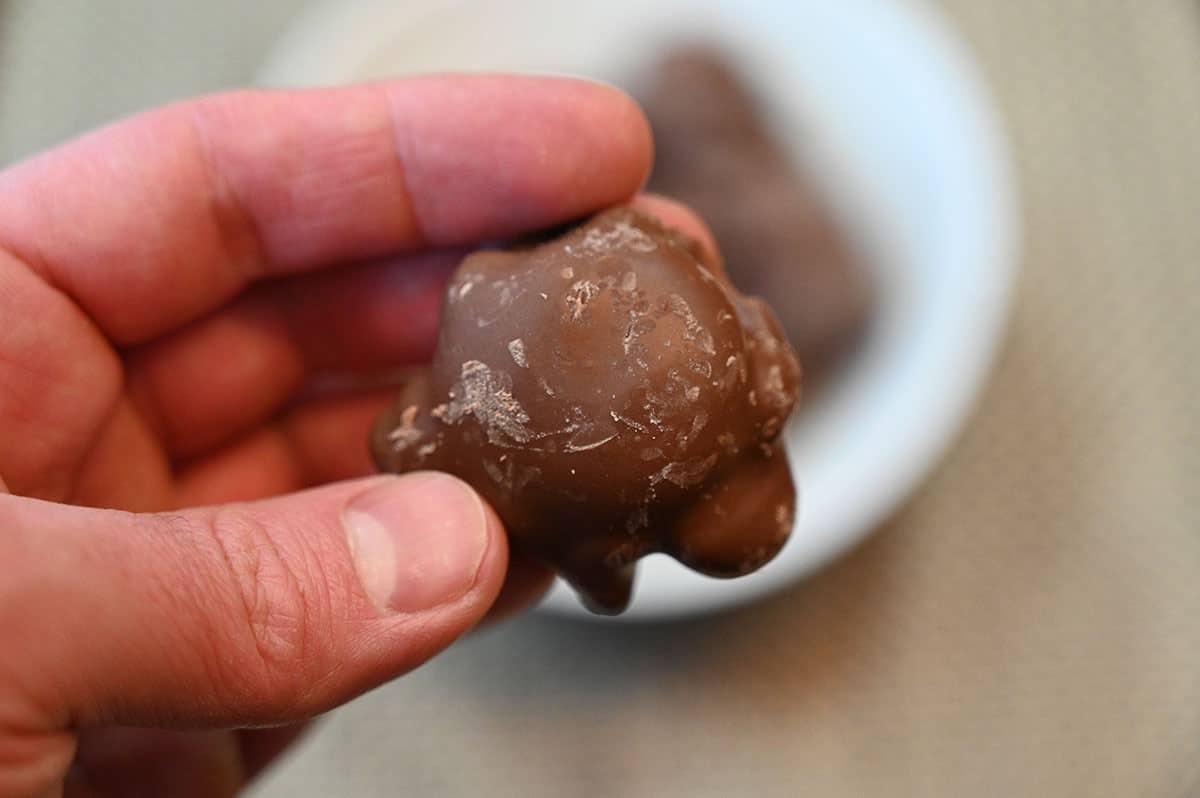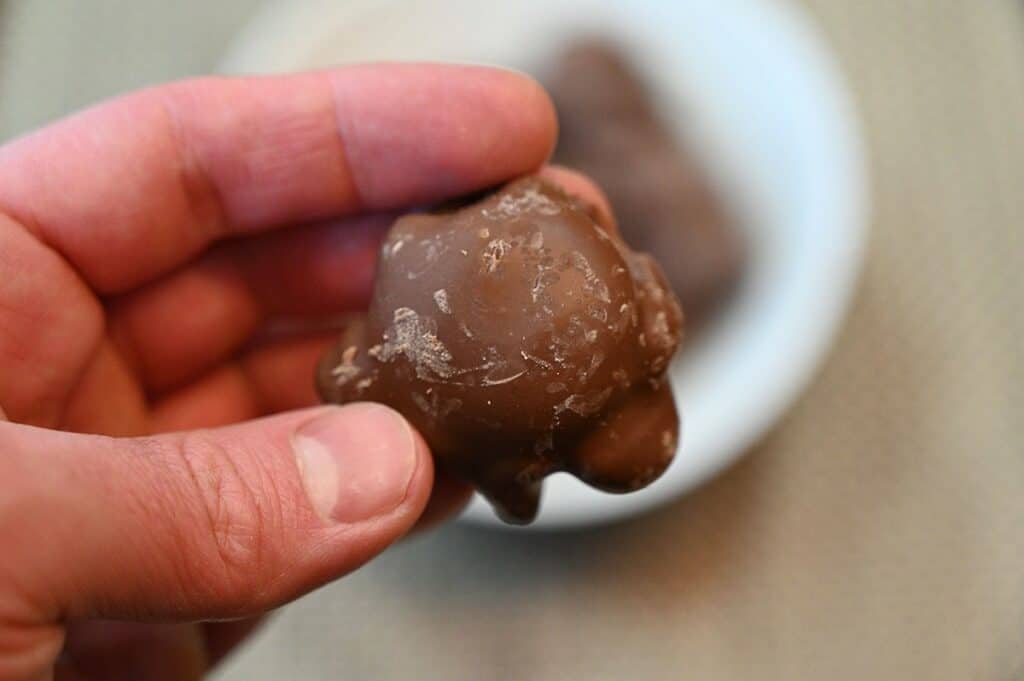 Cost
The 907 gram container costs $18.99 Canadian at Costco. Which isn't cheap. This makes sense, since macadamia nuts are pricey, plus the chocolate also seems to be very good quality. I've had plenty of higher-end chocolates (at least in terms of price) that don't taste nearly as good as these do.
My advice is that if you plan to put these out for your guests, make sure you put some aside for yourself first to guarantee that you'll get to enjoy them as much as everyone else!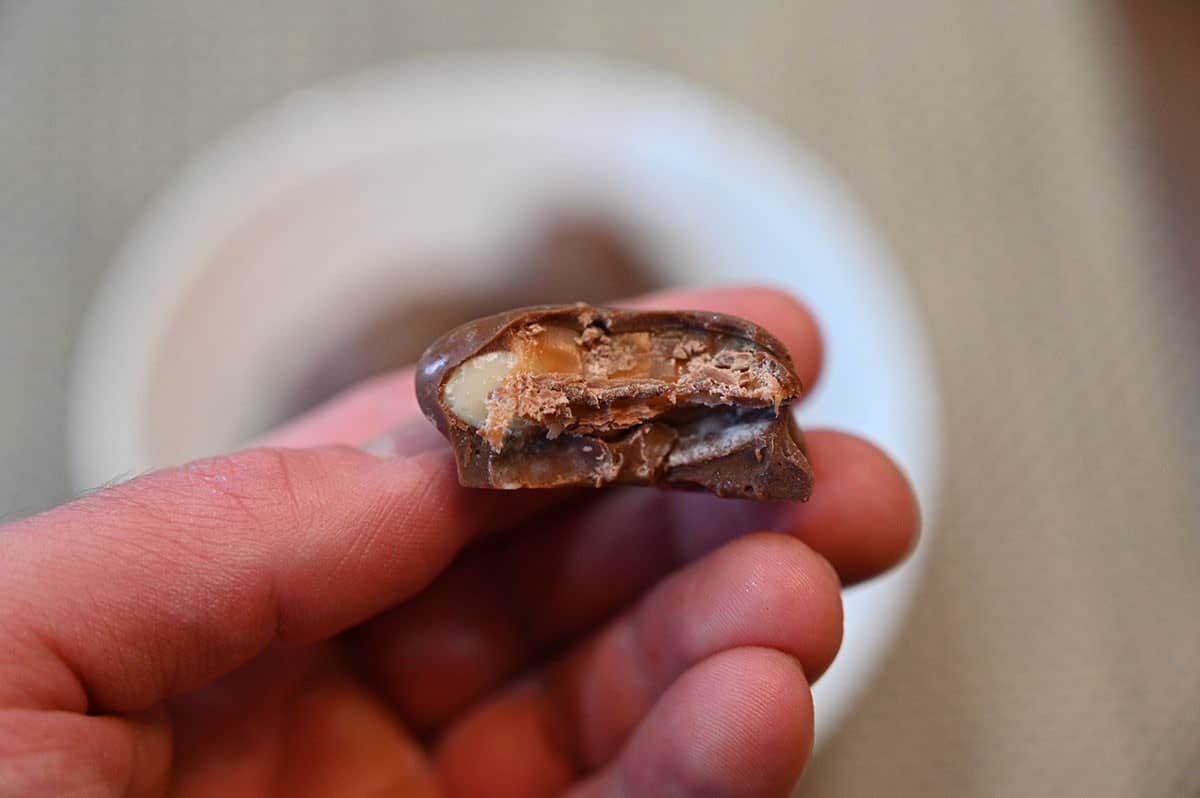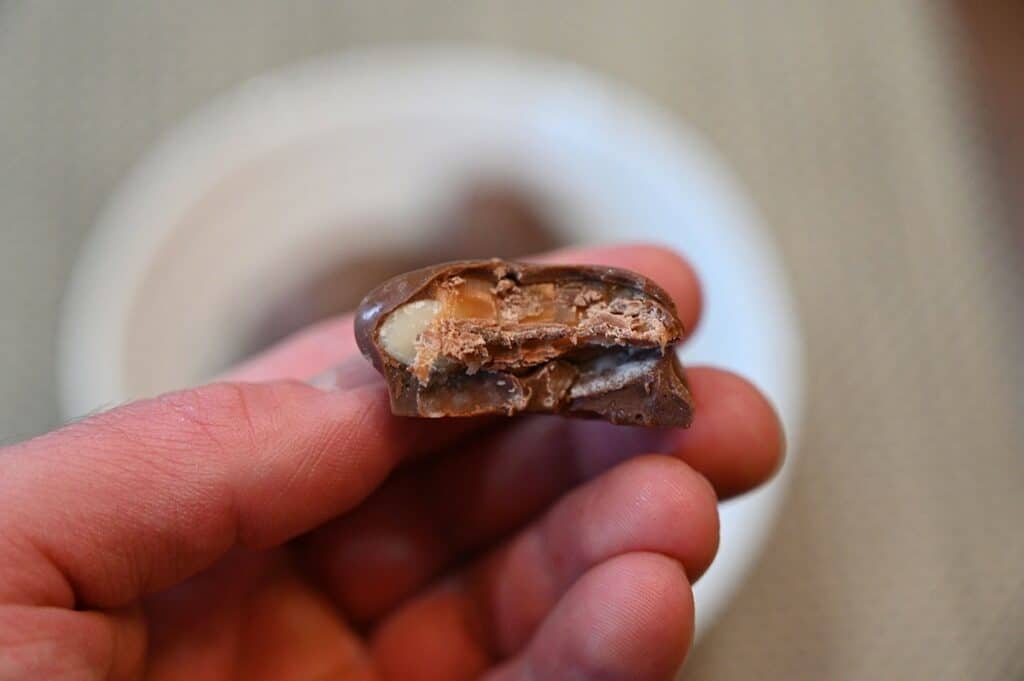 Convenience
The resealable plastic tub is very convenient as it ensures that the clusters stay fresh and are safe from being broken or squished. Once you're finished all of the clusters, it also makes an awesome containers for other food items or just random odds and ends around the house.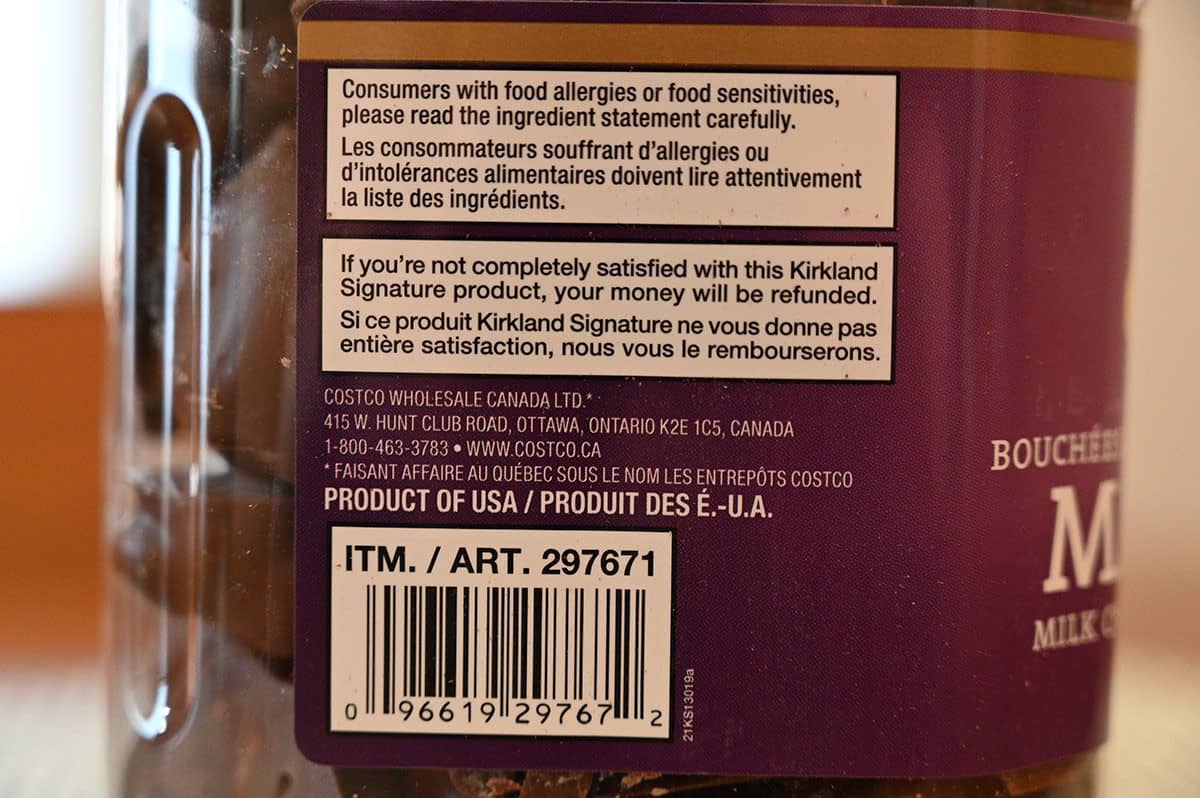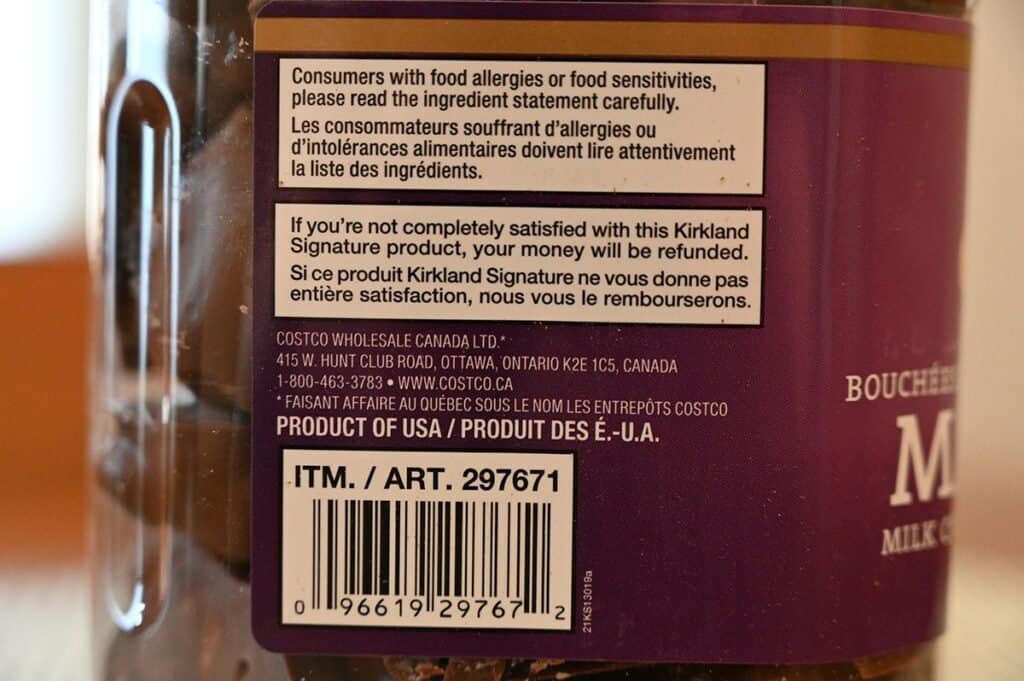 The best before date on my container of clusters is five months from the date I purchased the clusters.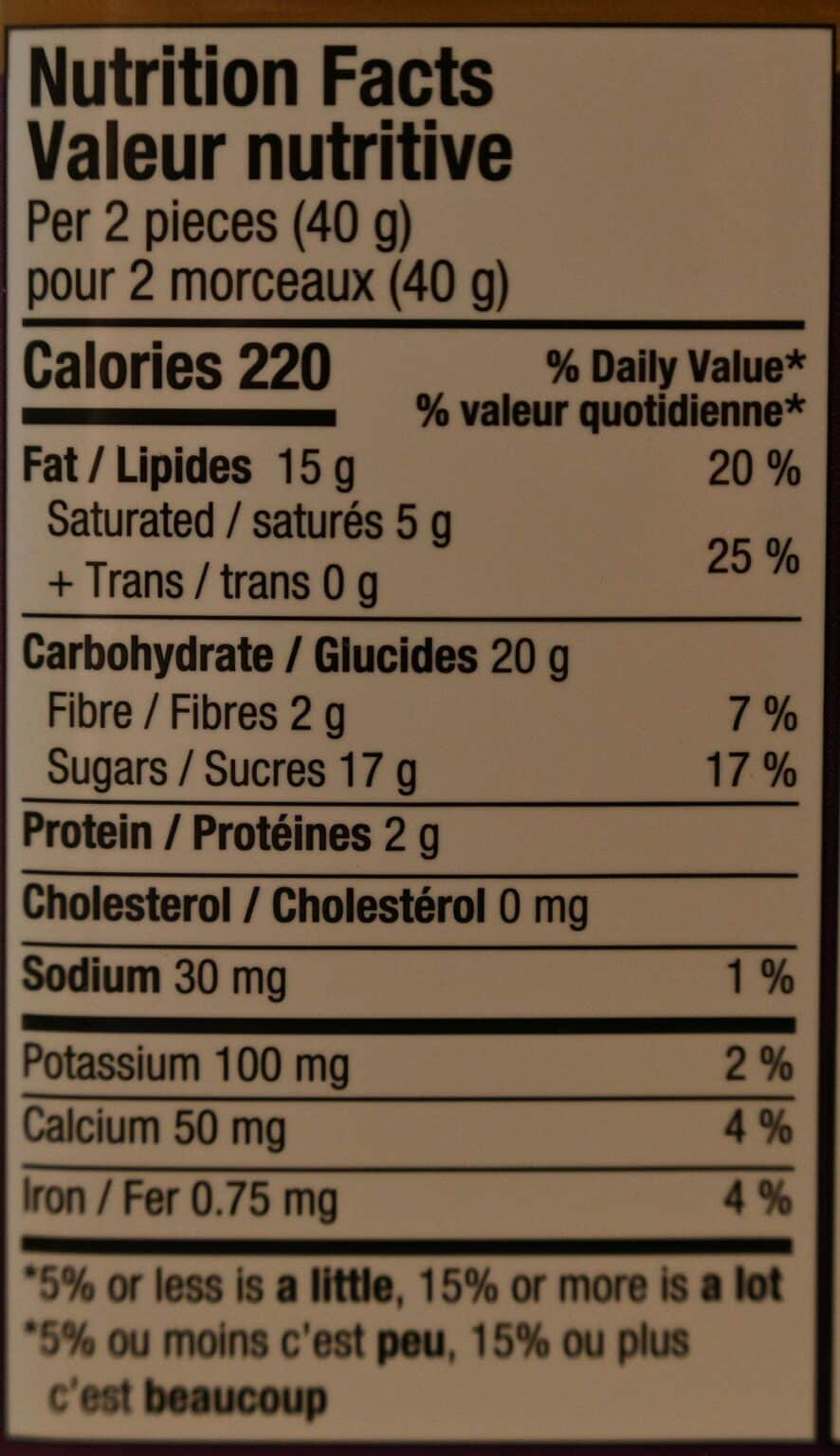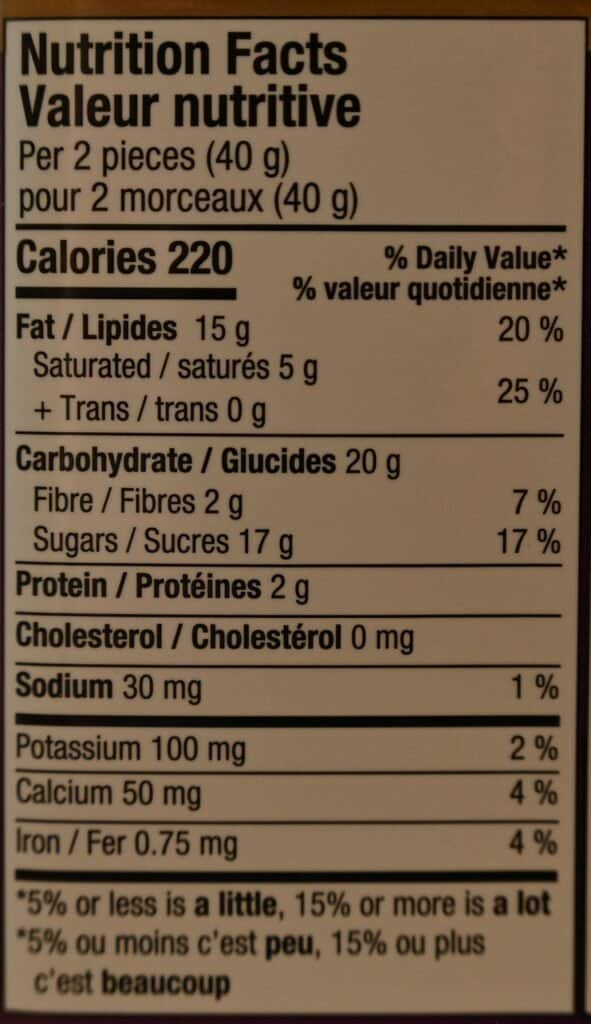 Nutrition
Calories
Two clusters is 220 calories, 15 grams of fat, 20 grams of carbohydrates, two grams of fibre, 17 grams of sugar, two grams of protein and 30 mg of sodium. The clusters are pretty big so two is plenty for me.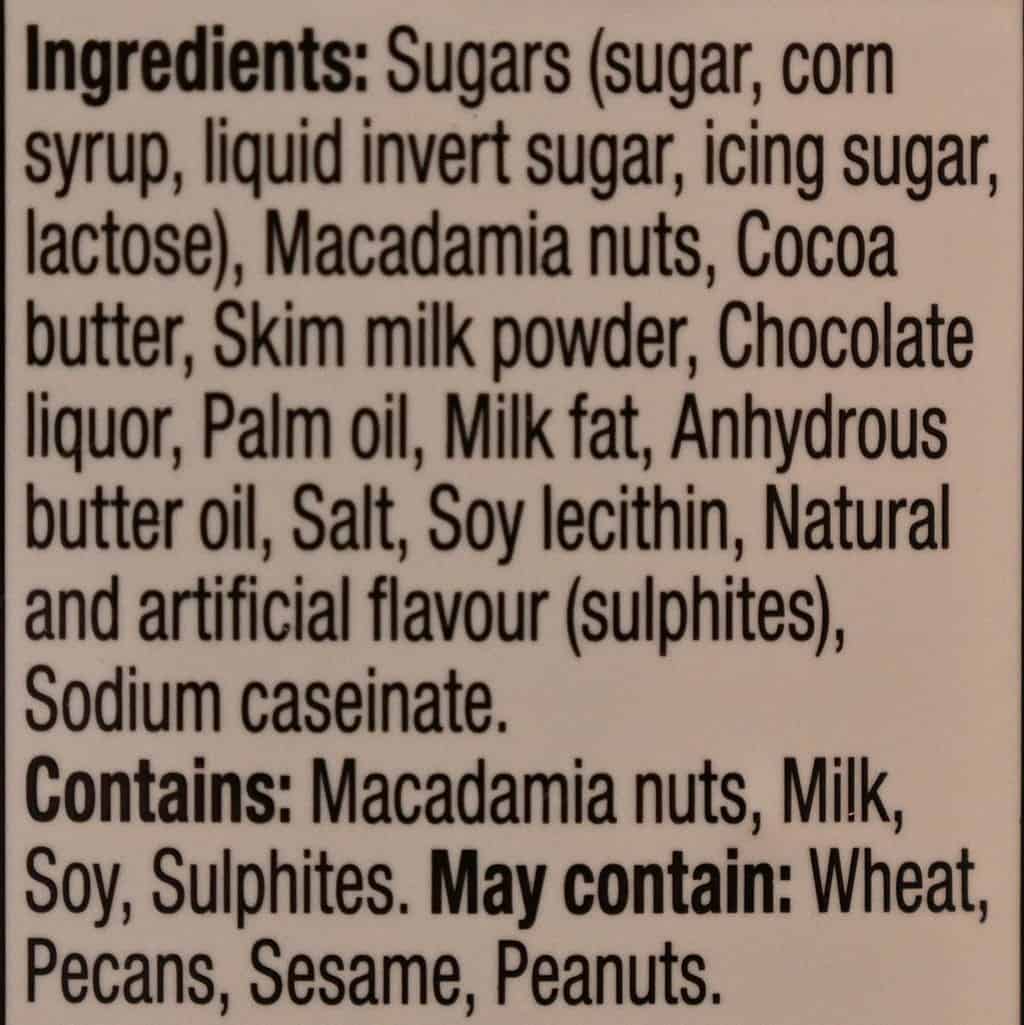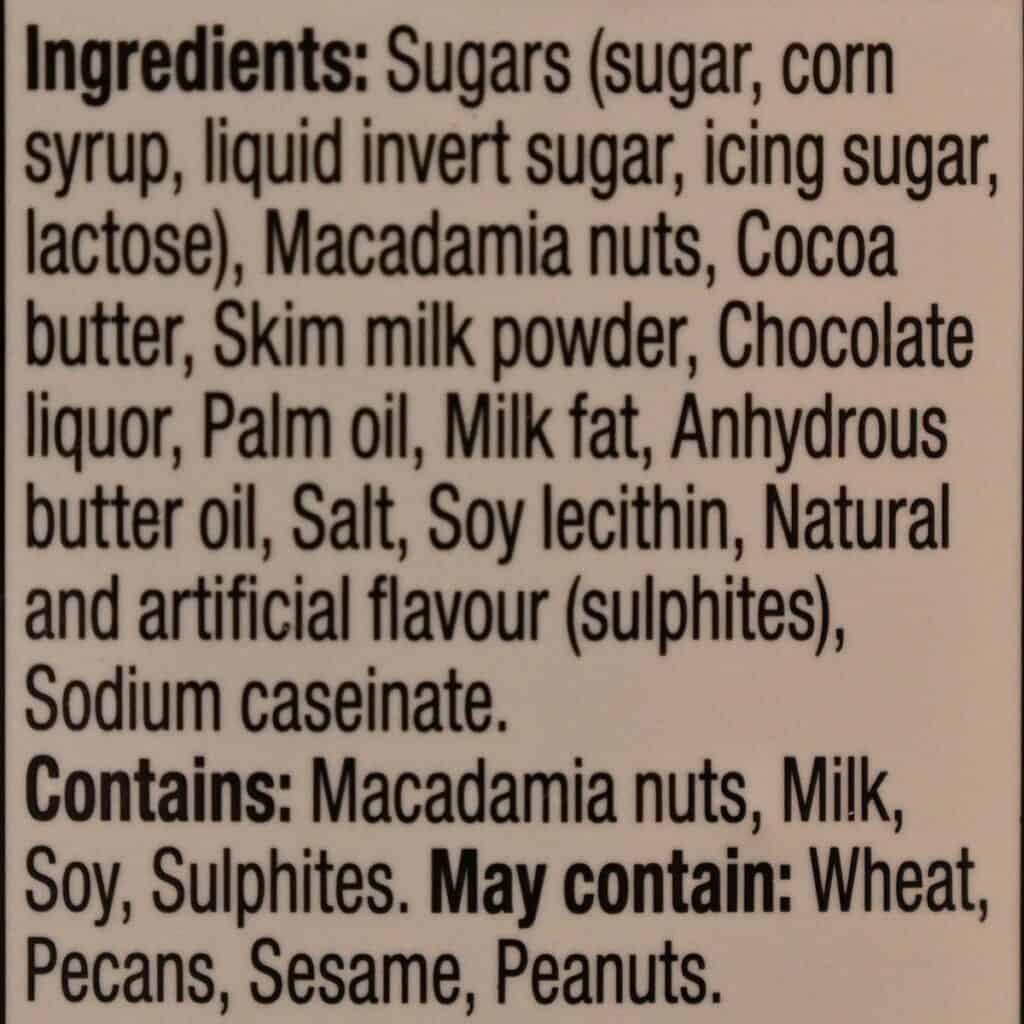 Ingredients
These aren't healthy but they are delicious! They're worth every unhealthy ingredient in my opinion.
Scoring
Taste: 10/10
Cost: 8/10
Convenience: 10/10
Nutrition: 0/10
Overall
Must buy!
I think these are one of the best things Costco sells.
Have you tried these? What did you think of them?
---
Please note that this review was not paid for or sponsored by any third party. This product was purchased by Costcuisine for the purpose of producing this review. The opinions in this review are strictly those of Costcuisine. Costcuisine is not affiliated with Costco or any of its suppliers. In the event that Costcuisine receives compensation for a post from the manufacturer of a product or some other third party, the arrangement will be clearly disclosed (including where the manufacturer of a product provides Costcuisine with a free sample of the product).