Nicely wrapped Christmas chocolates from Costco that make a perfect gift!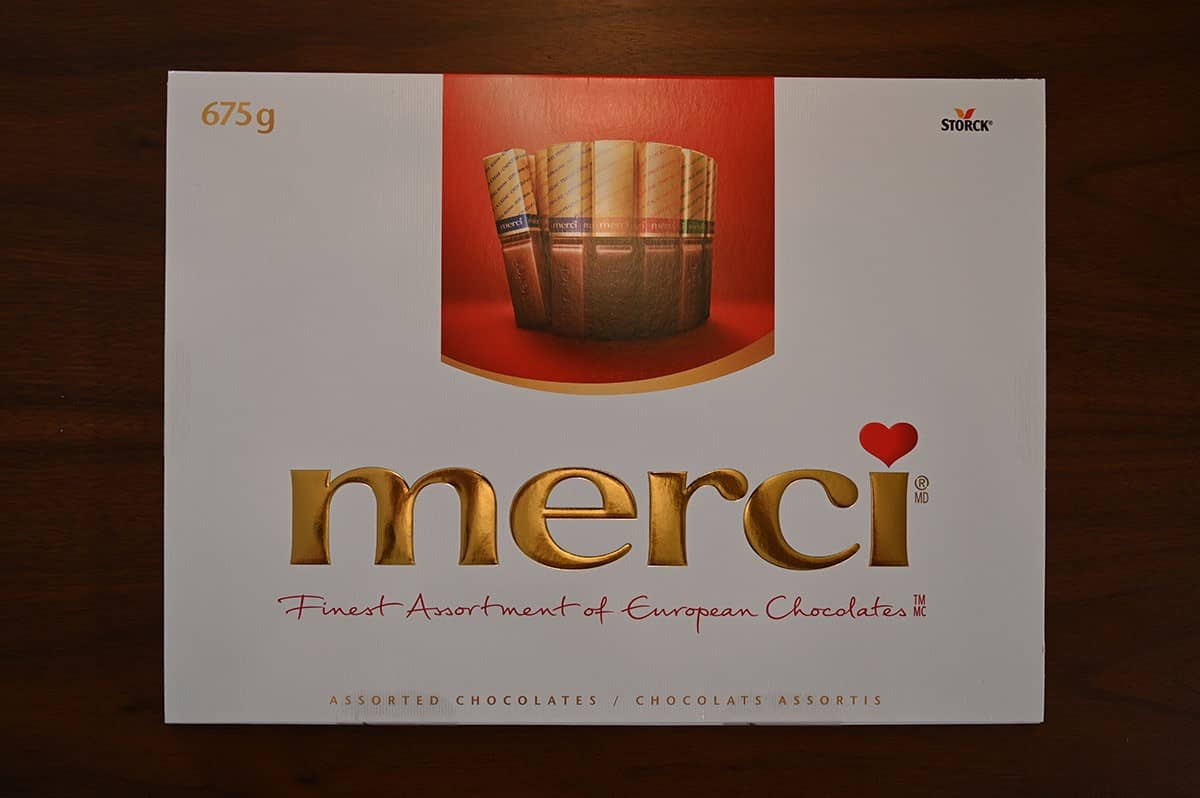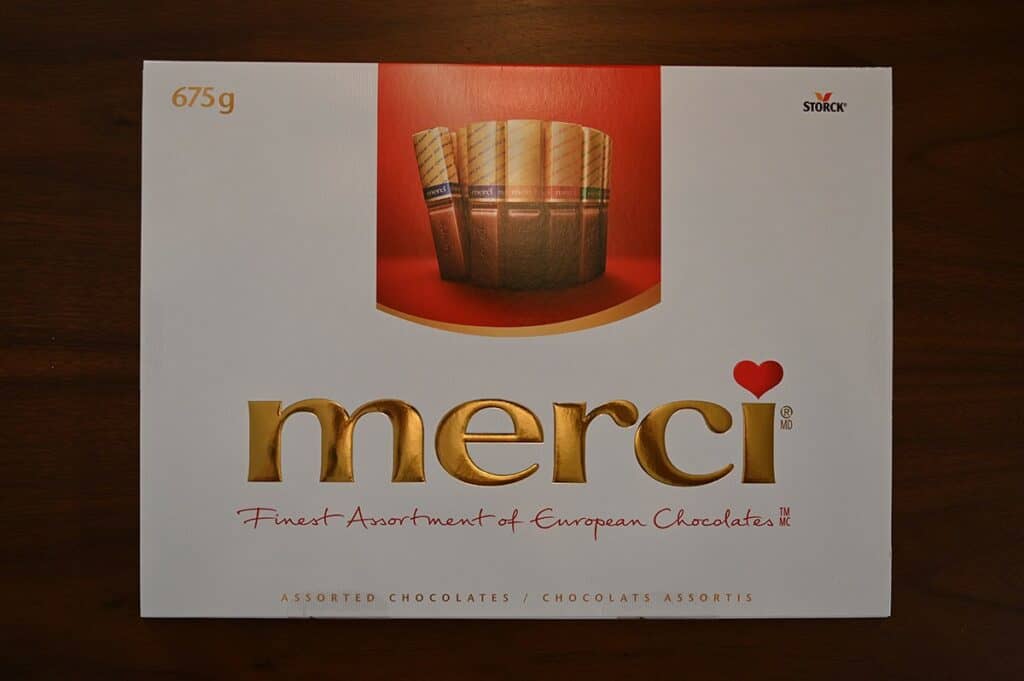 It's time for another Costco Christmas chocolate review! Today I'm reviewing the Merci European Chocolates. I've seen Merci chocolates around for a long time (years) but have actually never tried them until now! I picked up a box for us to enjoy at home over the holiday season.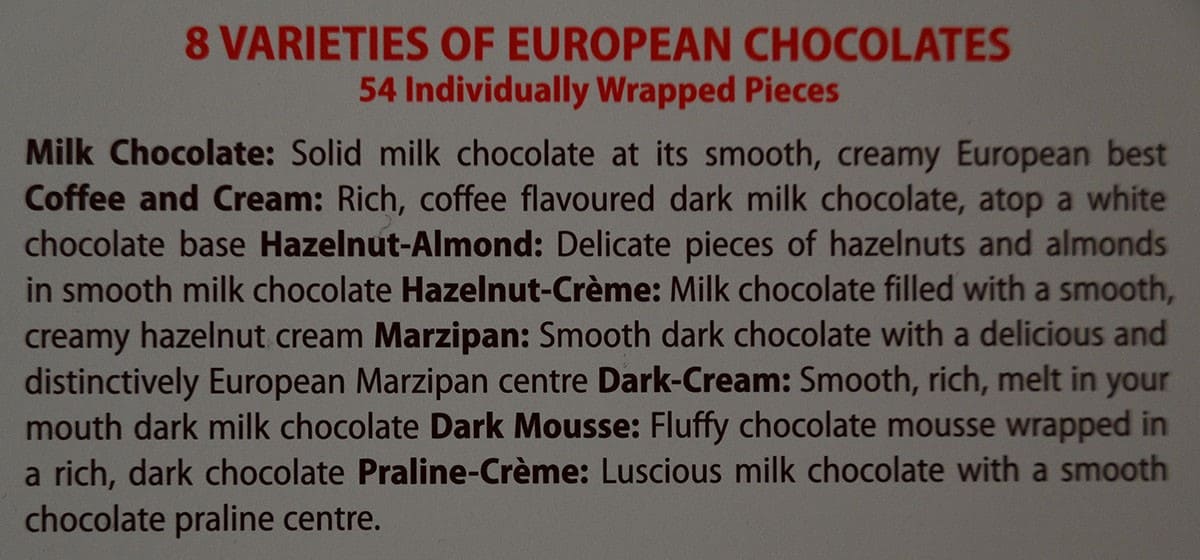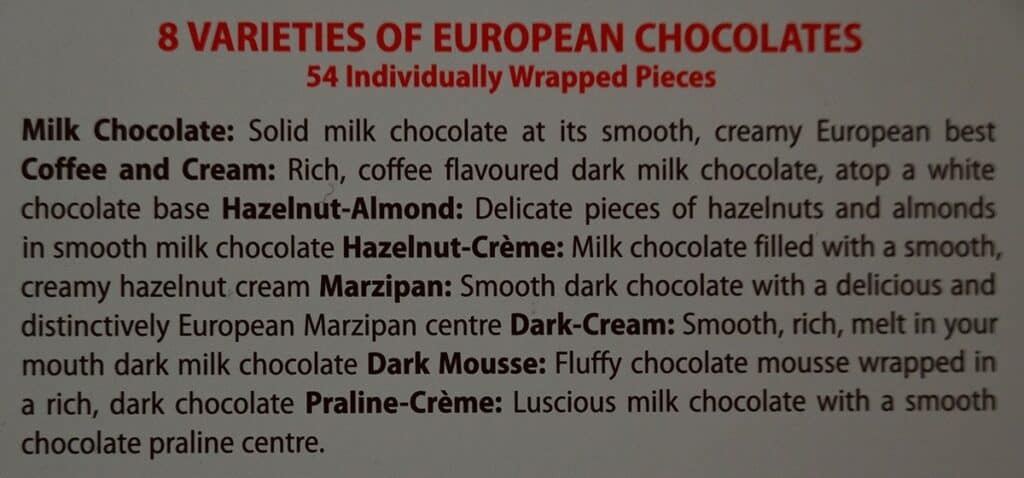 Other Costco Christmas chocolates I recommend are the Costco Kirkland Signature Macadamia Clusters, Costco Gudrun Fine Belgian Chocolates, Costco Lindt Lindor Chocolates, Costco Truffettes De France Chocolate Truffles and the Costco Truffettes De France Peppermint White Chocolate Bites.
You can find the Merci Chocolates in the seasonal treat aisle at Costco. Near all the other Christmas chocolates, the item number is 318527.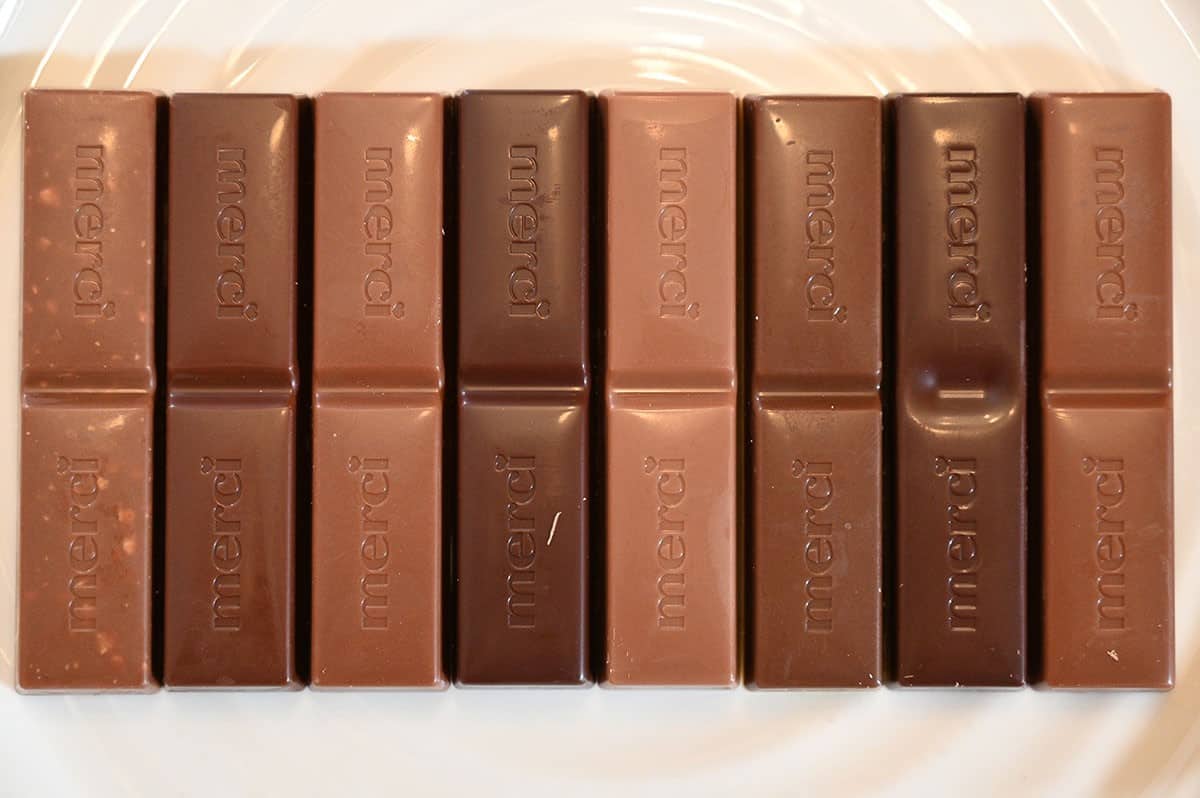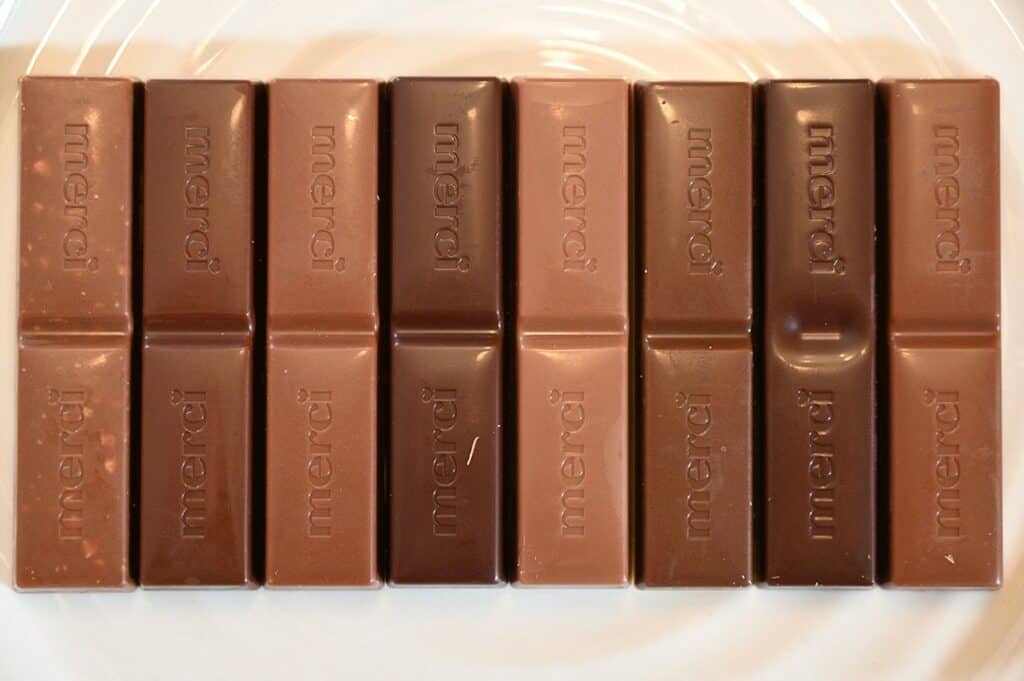 Taste
There are eight different kinds of chocolates in the box. I tried each kind separately and kept notes on how each one tasted.


Hazelnut-almond – There are small pieces of the nuts that add crunch and texture. It tastes like a cross between a chocolate-covered almond and a hedgehog chocolate. It was a bit on the dry side.
Dark-Cream – A plain but tasty chocolate. It tastes like a dark milk chocolate or a cross between milk chocolate and dark chocolate. I found it rich and delicious.
Praline-Creme – The filling in this one has a different color and texture than the shell; it's not a solid chocolate. It's one of the sweeter chocolates. There's a slight hazelnut flavor, but it's not overly noticeable.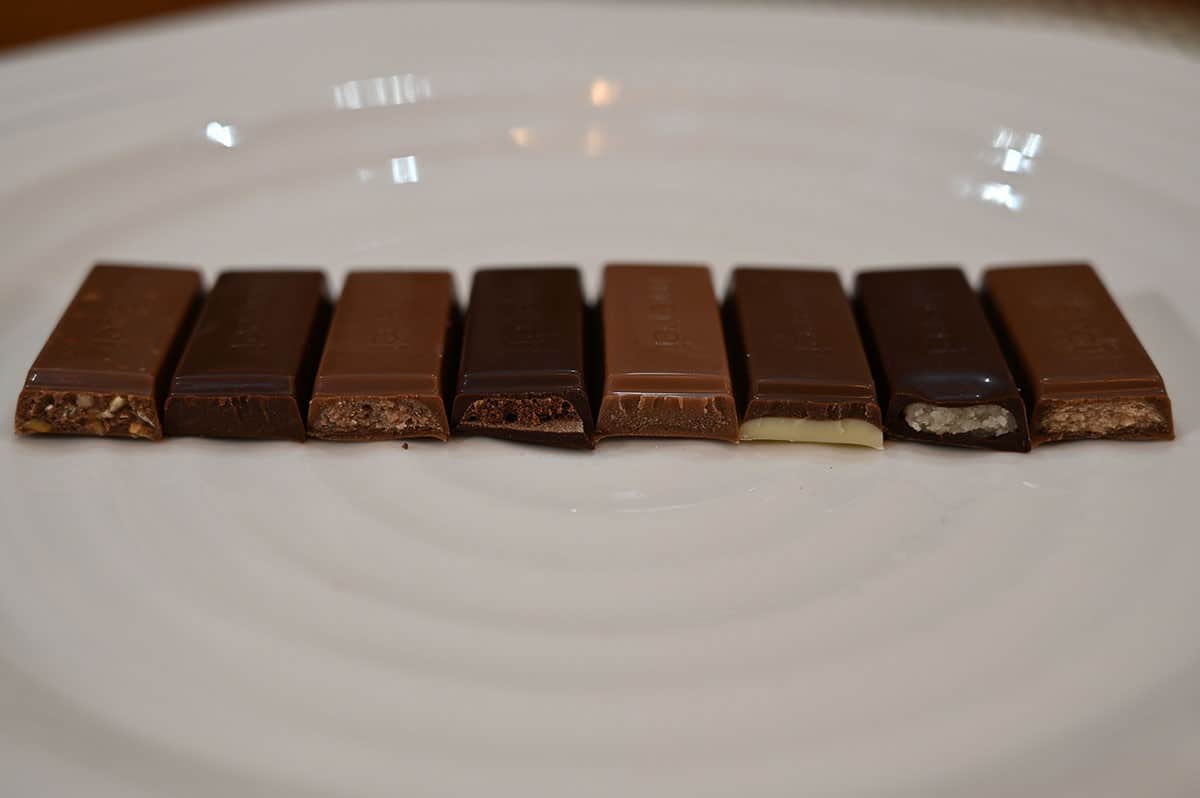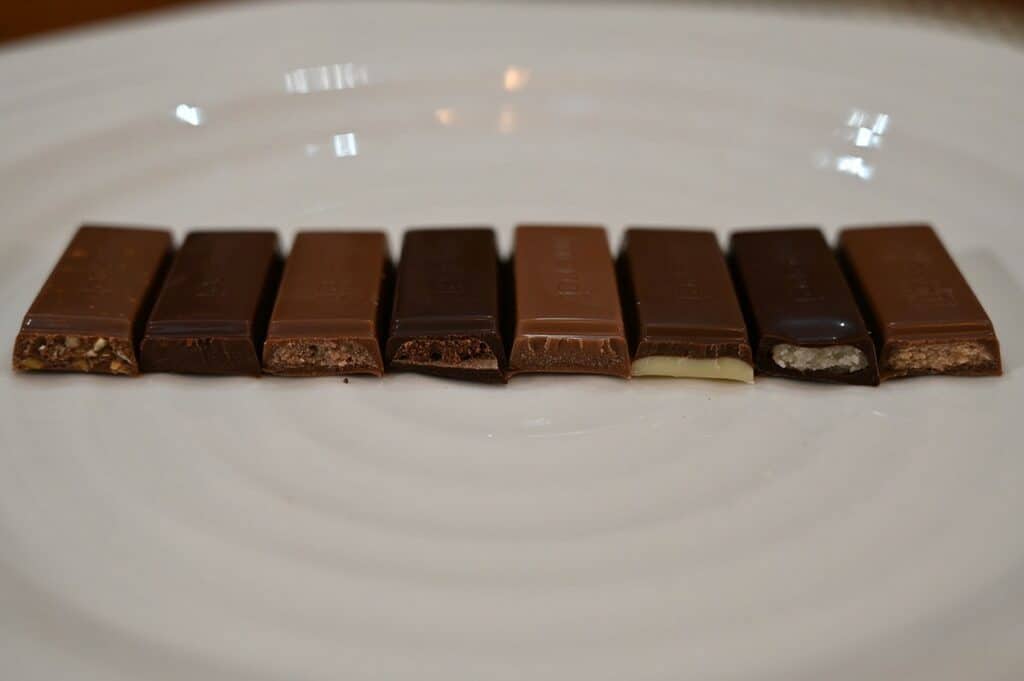 Dark Mousse – This chocolate also has a filling. It has a sweeter taste vs. the Dark-Cream chocolate, but almost tastes like a regular milk chocolate to me.
Milk Chocolate – This is a plain, sweet solid milk chocolate. As a chocolate lover, I really enjoyed this one.
Coffee and Cream – There are two layers. You can definitely taste the coffee! It also has a bit of a creamy flavor, so it delivers on the name.
Marzipan – The soft marzipan filling is very sweet. I like marzipan, but I found it a bit too sweet. It's still tasty, but not my favorite.
Hazelnut-Creme – The hazelnut filling is slightly soft and tastes similar to Nutella. It's a little less chocolatey than the filling in hedgehogs chocolates.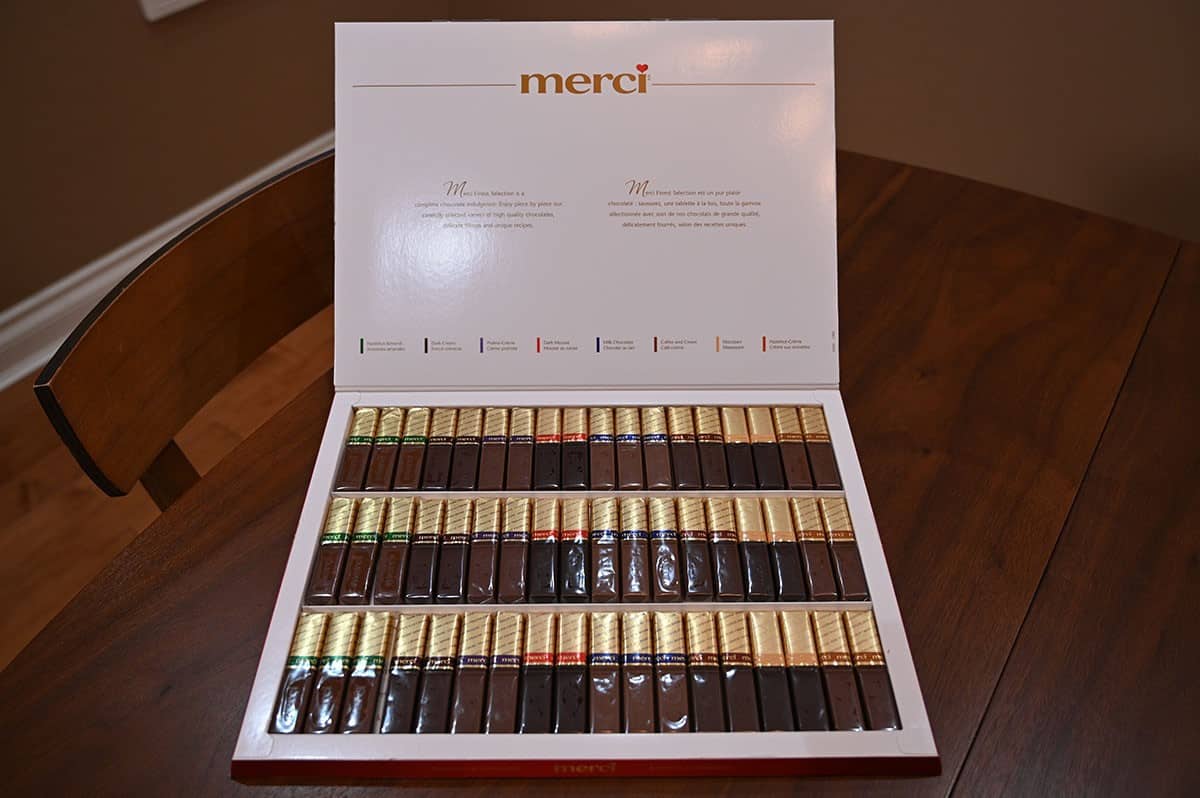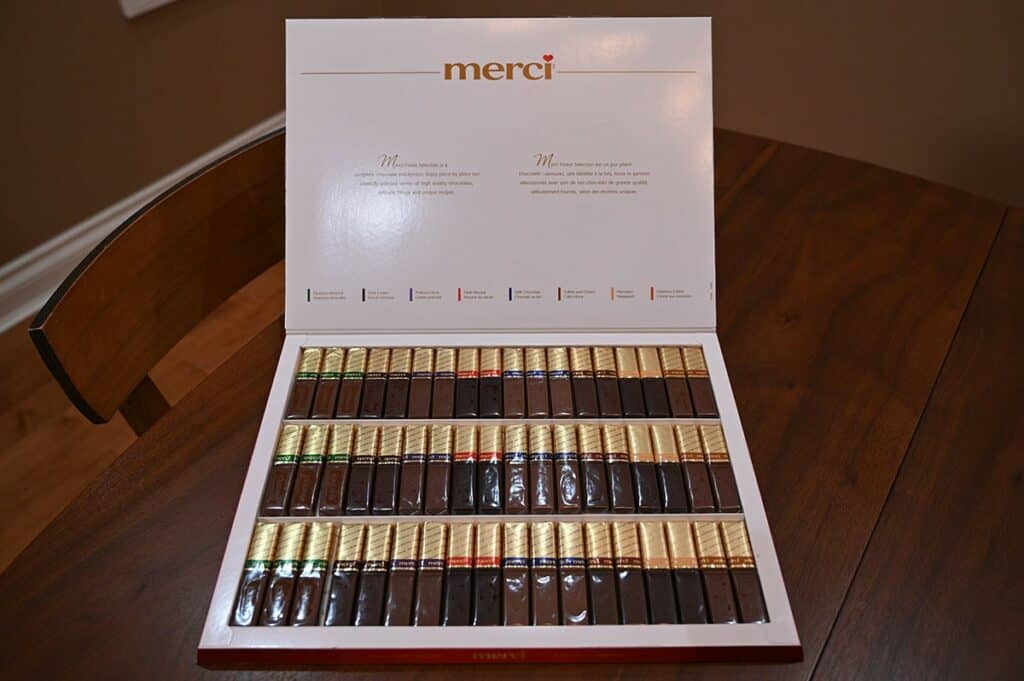 Cost
The box comes with 54 individually wrapped chocolates. I paid $13.39 Canadian for the box. This isn't bad at all considering there are so many chocolates in the box!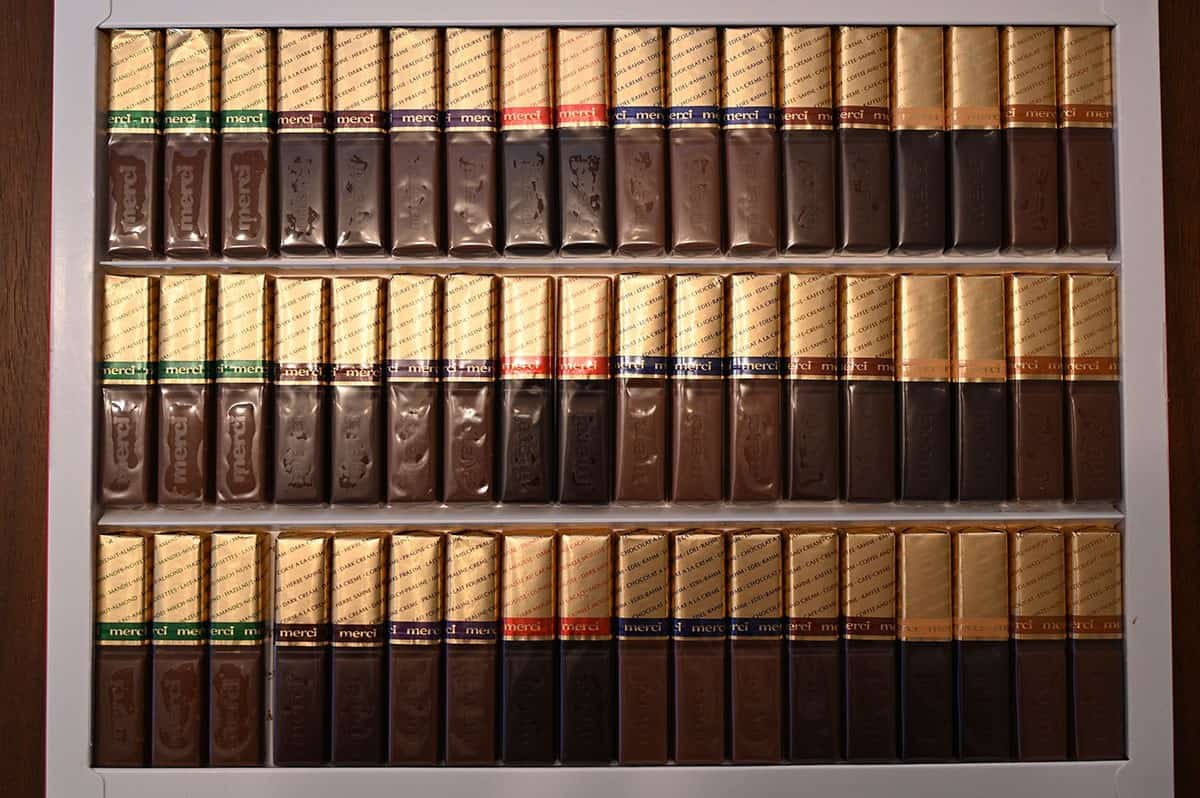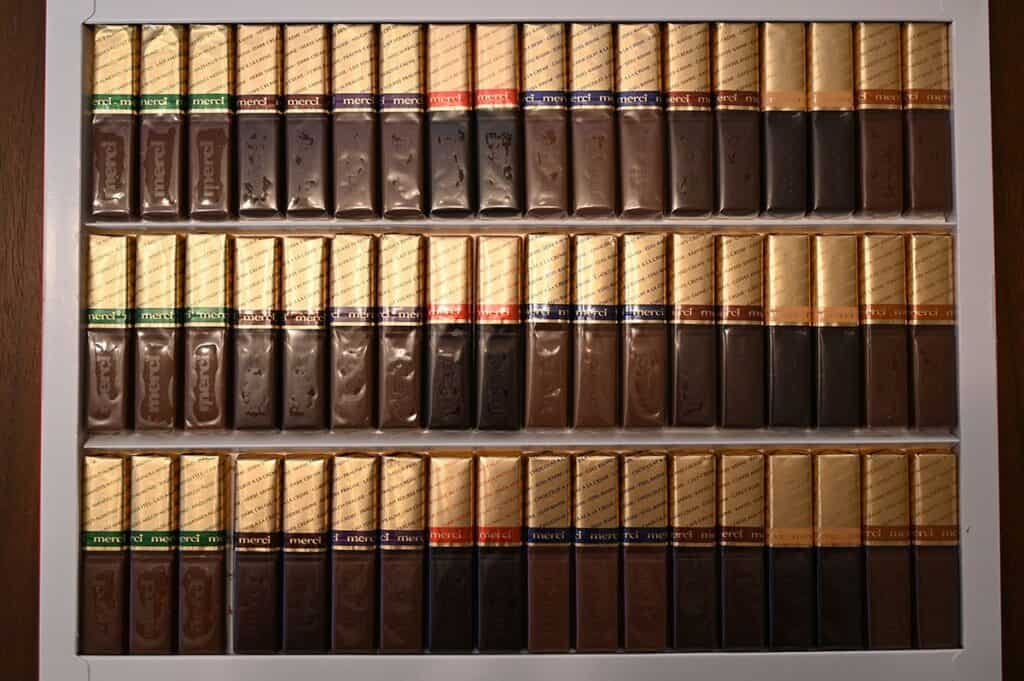 Convenience
I love that each chocolate is individually sealed because it makes them easy to share and offer to guests. There are also eight different kinds to choose from which I like, someone is sure to find at least one they want to try. Merci chocolates are a nice gift idea as well.
The best before date is about six months from the date I purchased them. The box recommends storing the chocolates in a cool, dry place.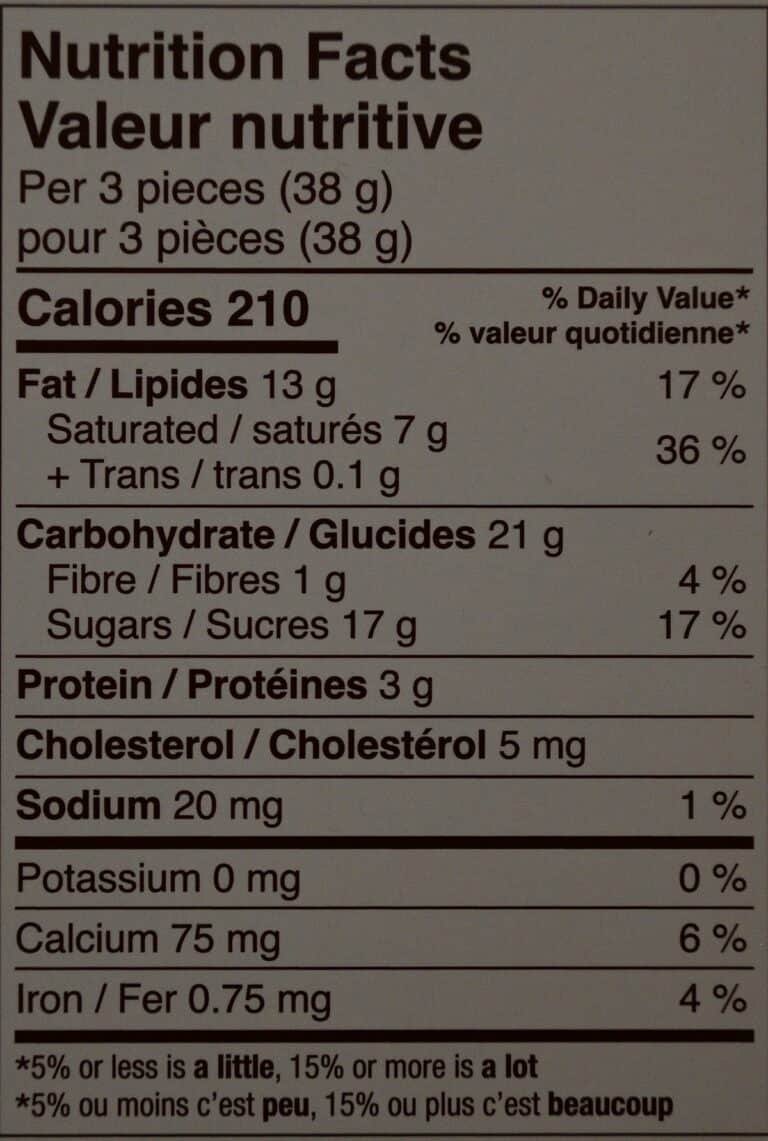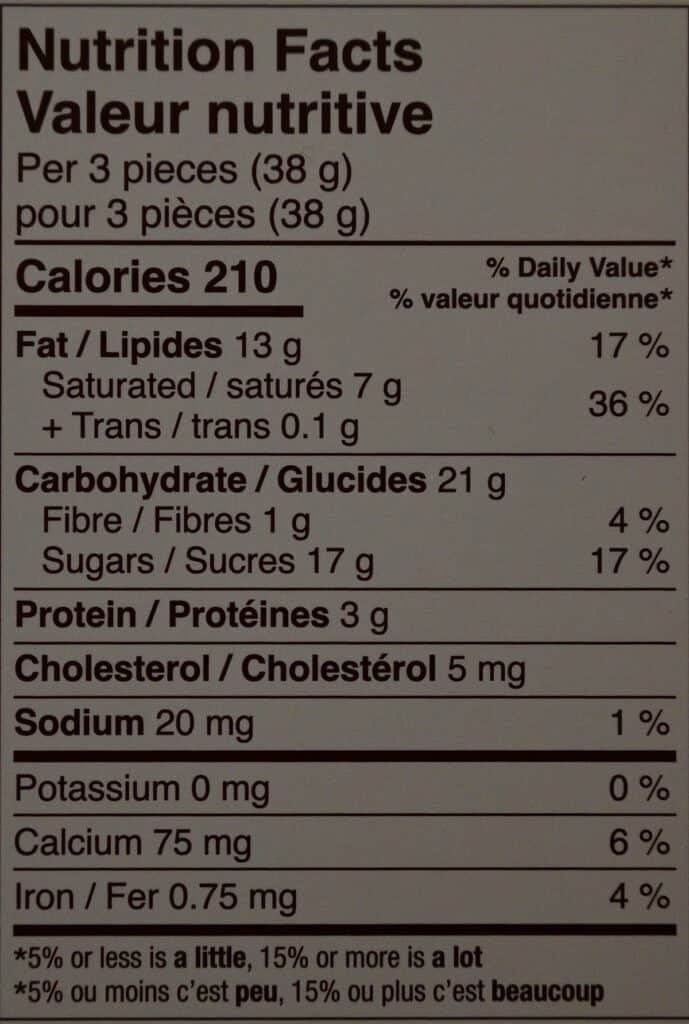 Nutrition
Calories
In three Merci chocolates, there are 210 calories, 13 grams of fat, 21 grams of carbohydrates, one gram of fibre, 17 grams of sugar, three grams of protein and 20 milligrams of sodium. I can easily eat three of these chocolates or more, so I have to kind of restrain myself!


Ingredients
Typical cheaper quality store-bought chocolate ingredients like sugars, fructose, glucose syrup and palm oil. Obviously, these aren't a healthy food choice. They contain wheat, milk, hazelnuts, almonds, soy and may contain peanuts, other trees nuts and eggs.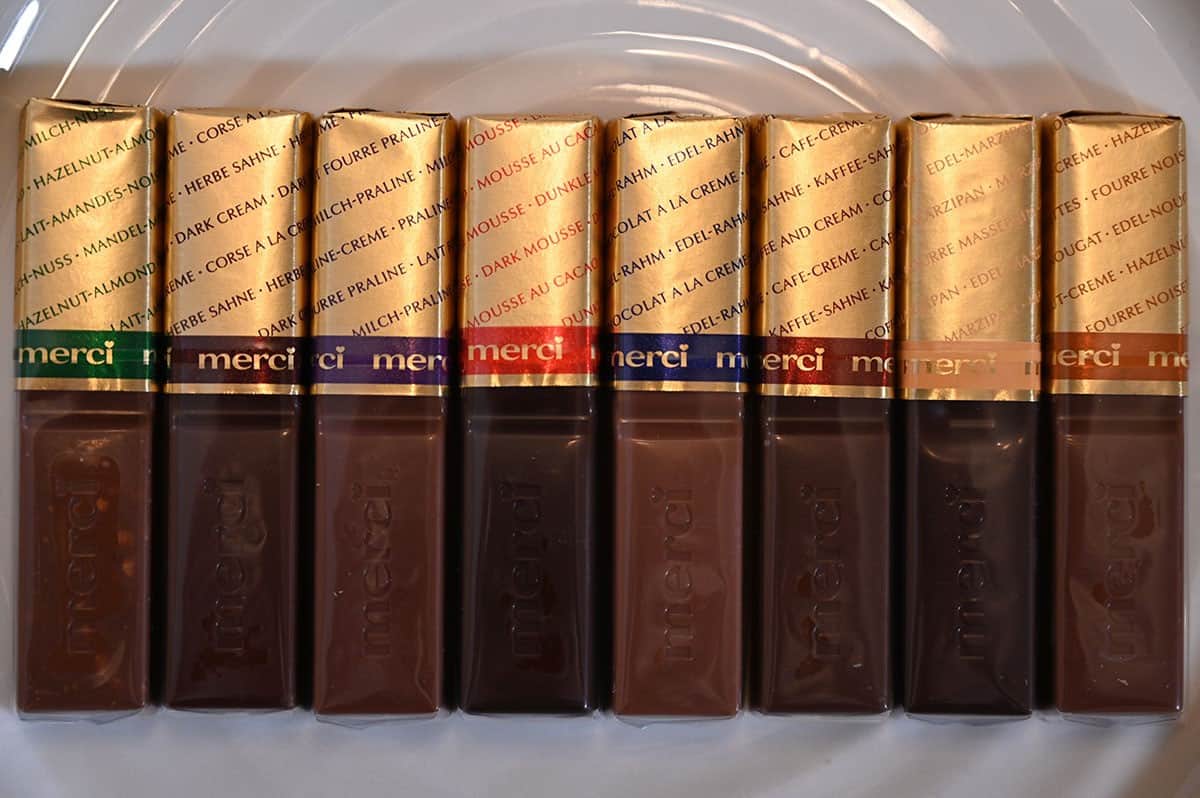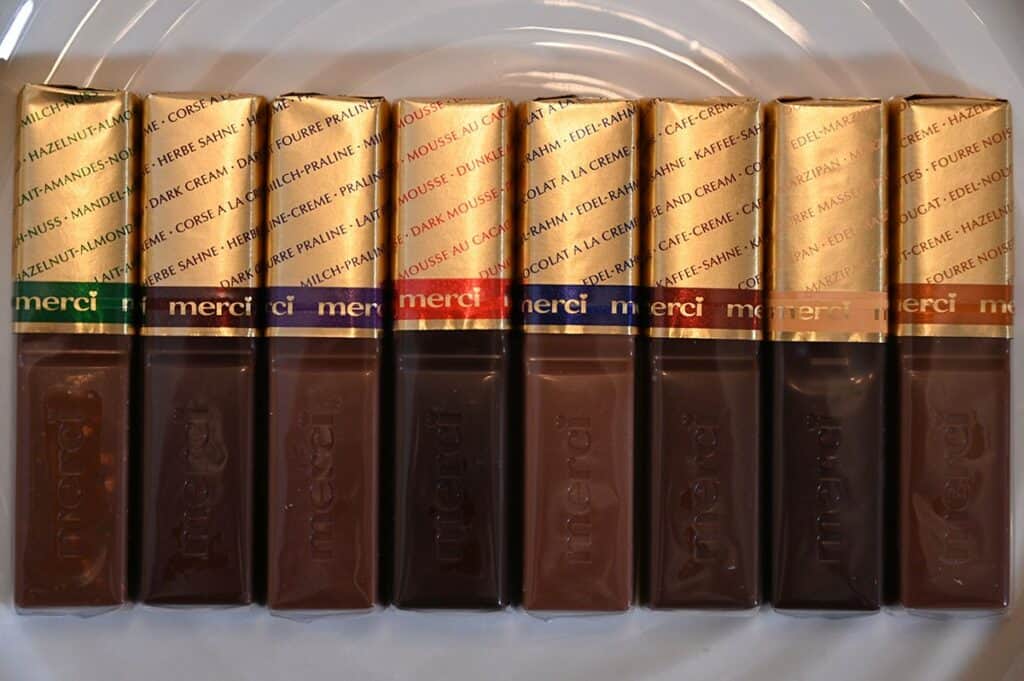 Scoring
Taste: 9/10
Cost: 9/10
Convenience: 10/10
Nutrition: 0/10
Overall
Give it a try!
I'd never had these chocolates before, but I really liked them! I really liked all of the flavors. Even the marzipan one wasn't bad.
Do you have Costco Christmas chocolate? If so, which kind is it?
---
Please note that this review was not paid for or sponsored by any third party. This product was purchased by Costcuisine for the purpose of producing this review. The opinions in this review are strictly those of Costcuisine. Costcuisine is not affiliated with Costco or any of its suppliers. In the event that Costcuisine receives compensation for a post from the manufacturer of a product or some other third party, the arrangement will be clearly disclosed (including where the manufacturer of a product provides Costcuisine with a free sample of the product).