I'm on a quest to find the tastiest granola Costco carries and have reviewed quite a few kinds. This Costco Kirkland Signature Granola looks perfect for breakfast or a snack. It's grain free, sweetened with honey and full of healthy fats. It also appears to be made fresh in the bakery section. Is this the best granola Costco carries?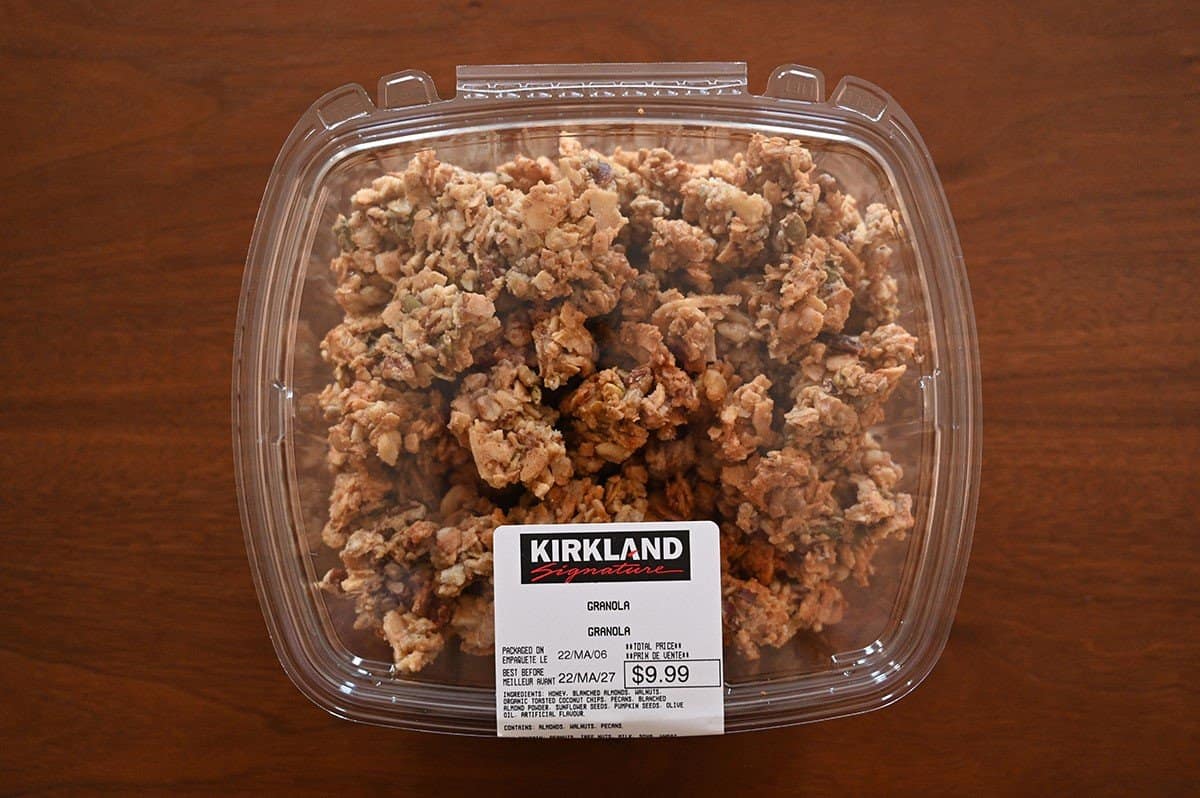 I'm a huge granola lover, I enjoy it for breakfast and eat it by the handful for quick snacks. I feel like I've tried a lot of granola from Costco and couldn't resist picking up the Costco Kirkland Signature Granola.
Other granola products from Costco are the MadeGood Chocolate Chip Granola Bars, Costco Prana Granolove Oatmeal Cookie Crunch Granola, Costco innofoods Keto Granola, Costco Nature's Path Organic Pumpkin Seed and Flax Granola, Costco Kirkland Signature Soft & Chewy Granola Bars, Costco Nature's Path Organic Coconut & Cashew Butter Granola and the Costco Kirkland Signature Nature's Path Ancient Grains Granola.
Location in Store
You can find this granola in the bakery section at Costco. The item number is 1637219.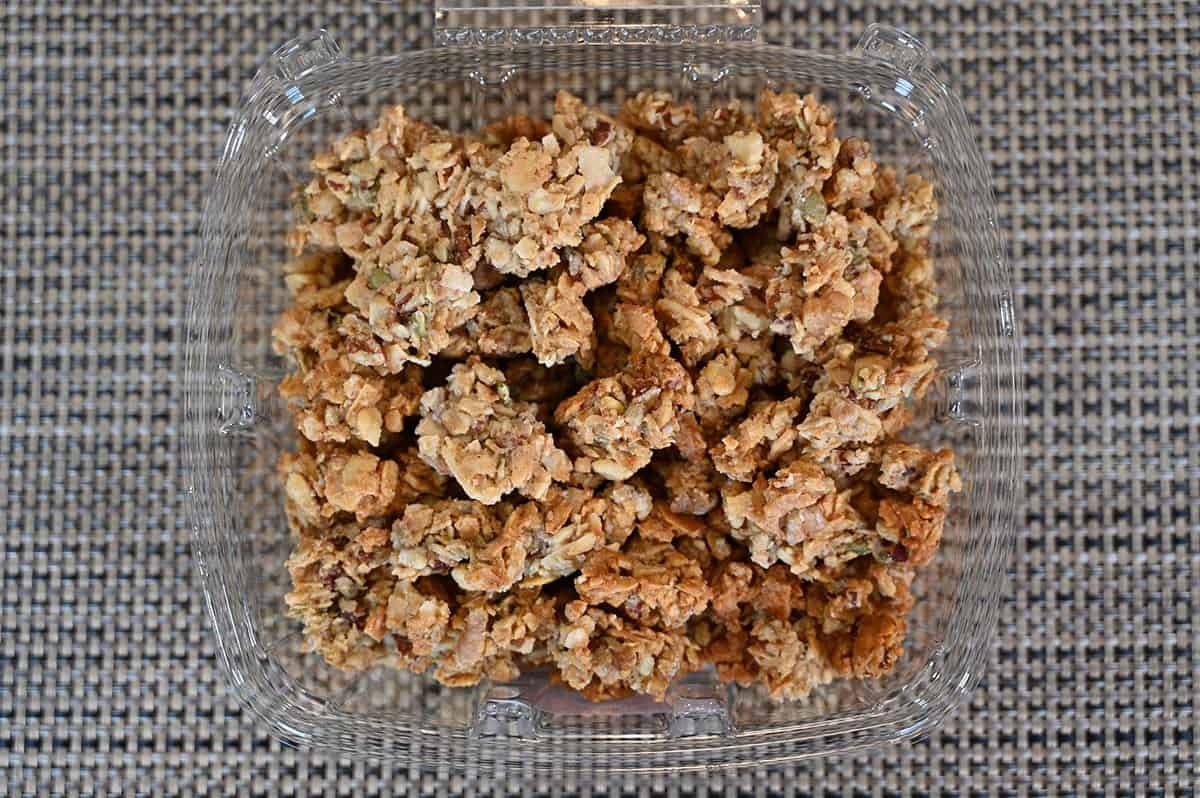 Taste
The granola is almost equally chewy and crunchy, which is a nice balance. It has a the right amount of sweetness and a pleasant but mild vanilla-like flavor (even though vanilla isn't listed as an ingredient). The nuts (almonds, walnuts and pecans) and lots of texture and flavor.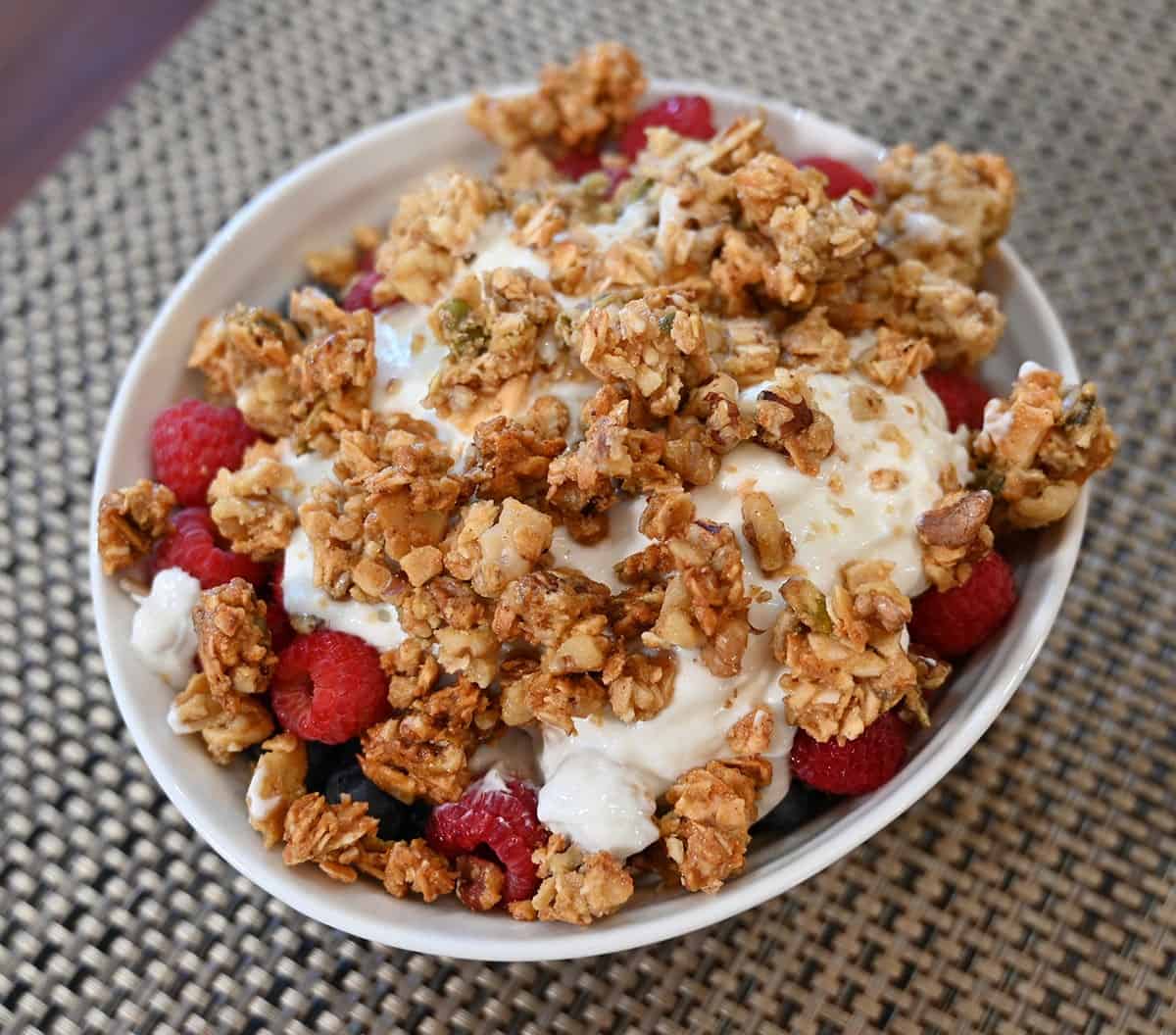 The flavor of the granola is mild, you mainly notice an artificial vanilla flavor, kind of like a marshmallow taste. There's both big and small clusters which I like, I snack on the big clusters alone and put the small clusters in other things.
I don't like this granola as much as local bakery granola in my fruit bowl with yogurt. I found the artificial vanilla flavor a little bit overpowering and I missed the cranberries and raisins my bakery puts in.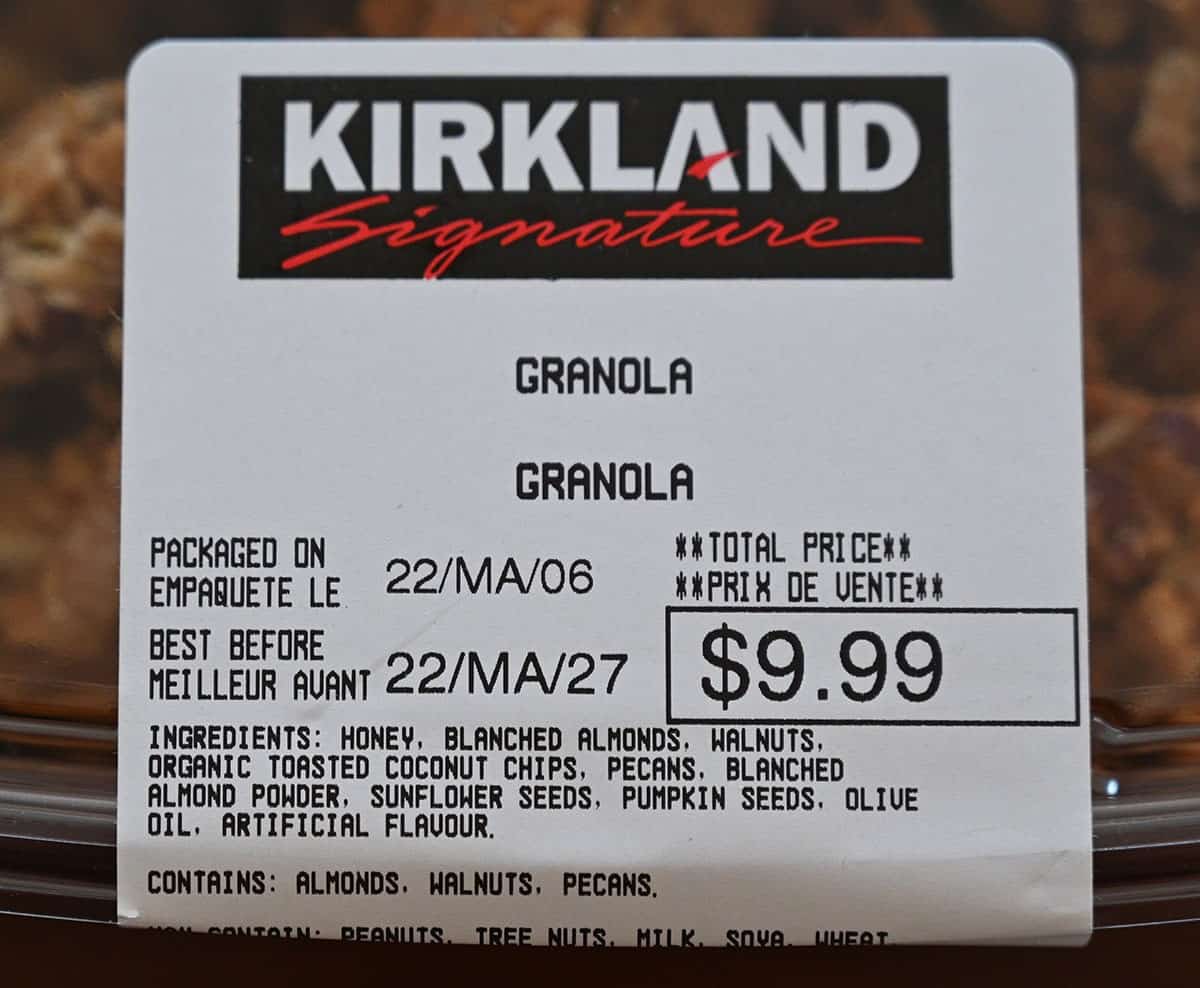 Cost
The big plastic container of granola costs $9.99 Canadian which isn't the cheapest granola nor the most expensive.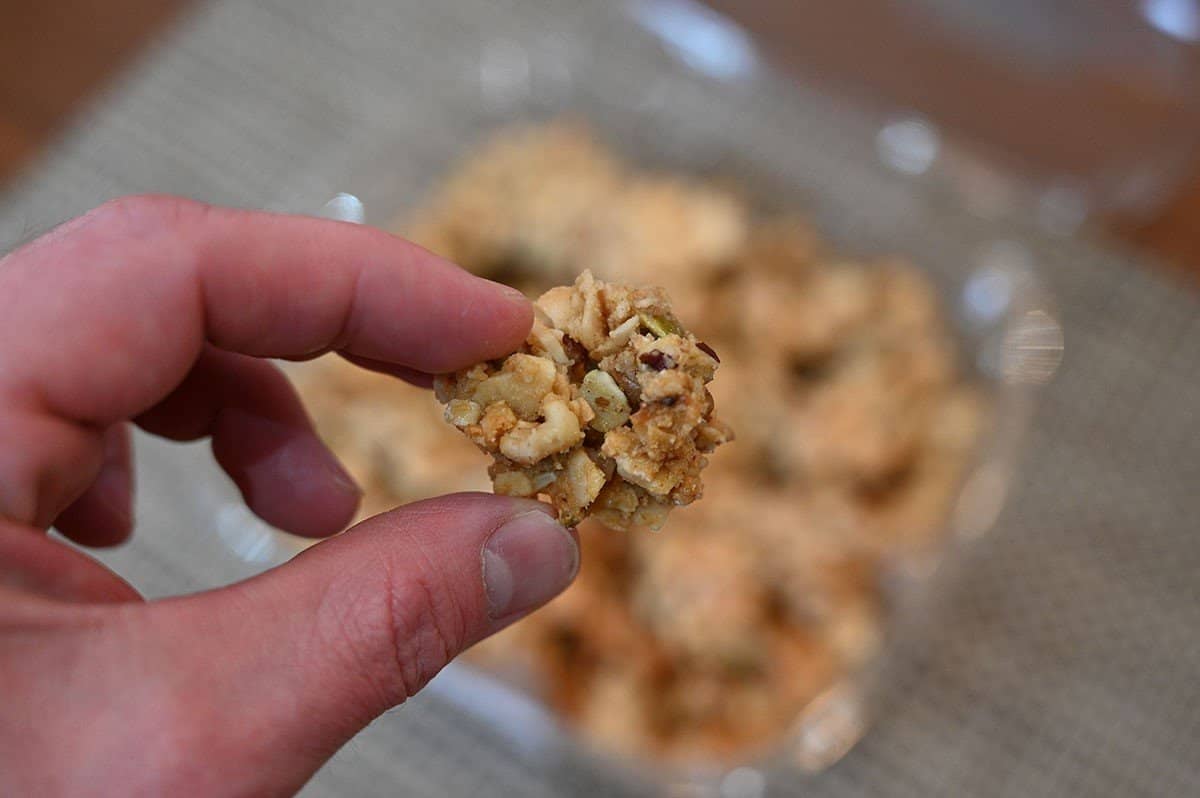 Convenience
The best before date is three weeks from the date we purchased the granola, despite it having such a long best before date we put ours in the freezer. It freezes really well! I find myself going down to the freezer to get other things and grabbing a handful of granola at the same time. The frozen granola actually is pretty tasty!
This is great as a snack by itself or can be used in yogurt or fruit bowls, you can also top a smoothie with it for a bit of extra crunchy texture! Sometimes I'll sprinkle a bit on oatmeal for a bit of extra crunchy texture.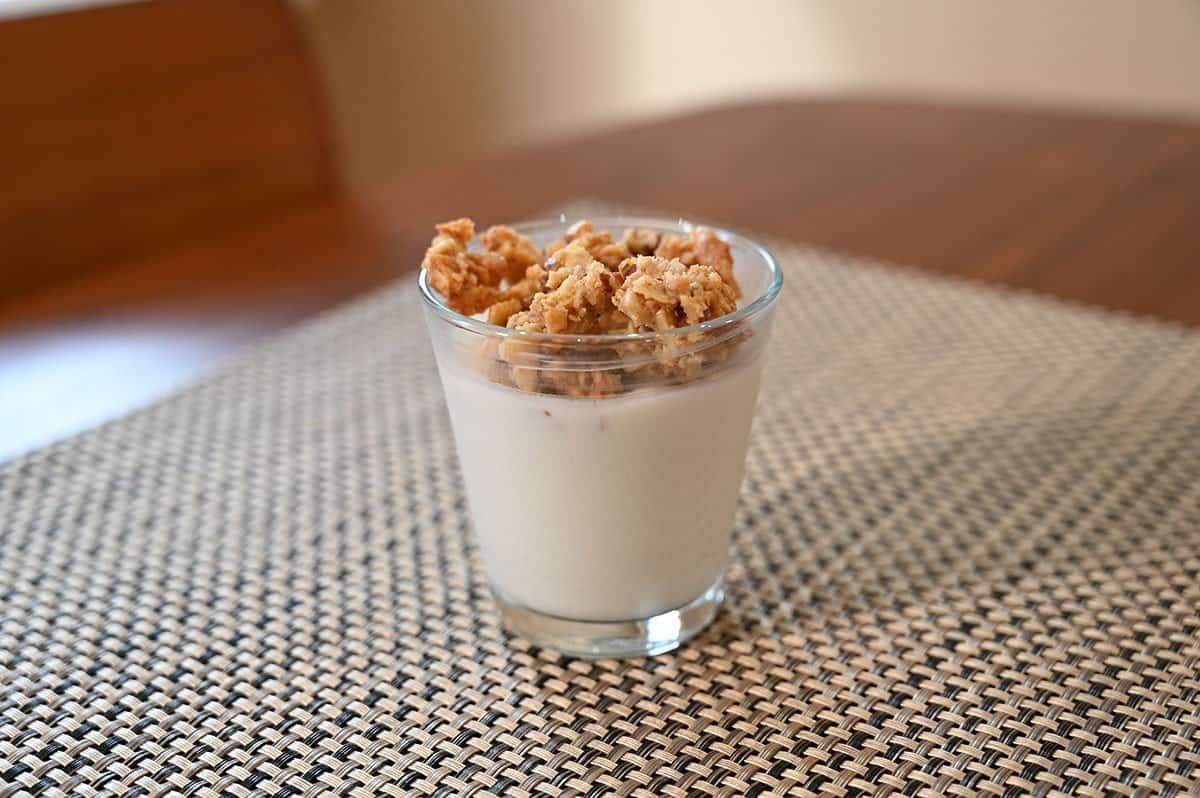 Nutrition
Calories
1/12th of the container is 330 calories, 26 grams of fat, four milligrams of sodium, 11 grams of sugar and seven grams of protein. That's not that much sugar and it's a decent amount of protein. The amount of sugar isn't that bad at all either, I was expecting 15 grams or more.
Ingredients
The ingredients are surprisingly impressive! Honey instead of sugar, lots of healthy nuts, pumpkin and sunflower seeds and most shockingly, olive oil! This is grain-free granola! Gluten-free, dairy-free folks, this granola is for you!

Scoring
Taste: 8/10
Cost: 8/10
Convenience: 10/10
Nutrition: 6.5/10
Overall
Give it a try!
We usually buy our granola from a local bakery and even though this granola isn't quite as good, it's a fair bit cheaper. I'll definitely finish my container and might buy it again. This also isn't the best Costco granola I've had. I prefer the Nature's Path Ancient Grains Granola.
Will you try this granola? Why or why not?
---
Please note that this review was not paid for or sponsored by any third party. This product was purchased by Costcuisine for the purpose of producing this review. The opinions in this review are strictly those of Costcuisine. Costcuisine is not affiliated with Costco or any of its suppliers. In the event that Costcuisine receives compensation for a post from the manufacturer of a product or some other third party, the arrangement will be clearly disclosed (including where the manufacturer of a product provides Costcuisine with a free sample of the product).