Gluten-free, dairy-free and pretty yummy!
Please note that this review was not paid for or sponsored by any third party. I purchased this product with my own money and the opinions in this review are strictly my own. I am not affiliated with Costco or any of its suppliers. I am just a fan of the company. I write these reviews to help my fellow shoppers.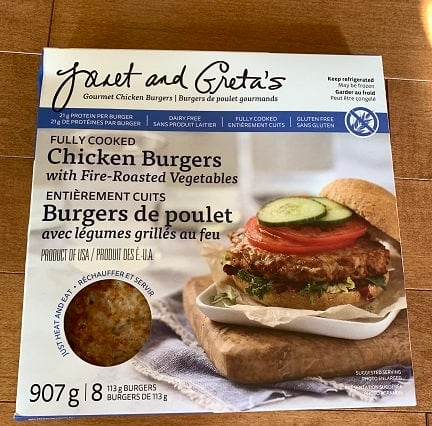 Last summer, I tried the Costco Sunrise Farms Chicken Burgers and that review has been one of my more popular ones on Costcuisine. When I saw the Janet & Greta's Gourmet Chicken Burgers at my local Costco, I thought it would be a good idea to see if they're a better alternative. It didn't hurt that they looked reasonably healthy and we're currently in the middle of barbecue season!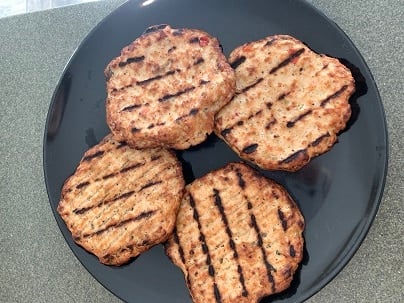 Taste
I thought that Janet & Greta's Gourmet Chicken Burgers might be like a chicken breast burger, but they're actually made out of ground chicken. To me, they seem like a flat chicken sausage patty. With that being said, they're seasoned quite well; there's no need for additional sauce or seasoning. The small pieces of fire roasted vegetables (red bell pepper, zucchini, onion and portobello mushrooms) help add to the flavor of the burgers. We grilled our burgers, and they came out very moist. They're super juicy! My only complaint was that I didn't totally love some of the spices used. I couldn't quite put my finger on it, but there was something that didn't thrill my taste buds. My husband liked the seasoning, so I think that's more my personal preferences talking. Even so, I would definitely eat these again.
Cost
These chicken burgers aren't cheap. Regular price for a package of eight burgers is $14.69 Canadian. They're fresh instead of frozen and seem to be of fairly high quality, so that probably contributes to the relatively high price and also helps justify it.
Convenience
You can cook Janet & Greta's Gourmet Chicken Burgers in the oven, on the barbecue or even in the microwave. Due to it being summer, we decided to fire up the grill and make them that way. You basically just sear them for two or three minutes per side as they're pre-cooked. The burgers come in a vacuum pack and the best before date is about a month after the purchase date (which seemed like a very long time for chicken!). The chicken burgers need to be kept refrigerated, but you can also freeze them.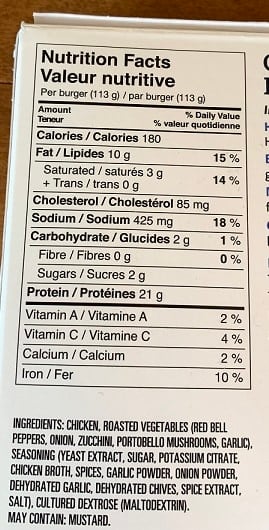 Nutrition
One chicken burger contains 180 calories, 10 grams of fat, 425 milligrams of sodium, two grams of sugar, two grams of carbohydrates and 21 grams of protein. Janet & Greta's Gourmet Chicken Burgers are healthier than beef burgers! The sodium content isn't actually that outrageous and the calories and fat are quite reasonable. For the most part, the ingredients list consisted of normal, non-chemical ingredients (the two exceptions were potassium citrate and cultured dextrose). Still, not too bad for pre-cooked chicken burgers that last a month in the fridge!
Janet & Greta's Gourmet Chicken Burgers were very convenient and my husband really enjoyed them. He preferred them over the Sunrise Farms Chicken Burgers whereas I preferred the Sunrise Farms Chicken Burgers to these ones. They're a little on the expensive side, but if you're looking for an alternative to beef burgers you might want to give them a try.
Taste: 7.5/10
Cost: 6/10
Convenience: 8/10
Nutrition: 7/10
Location in Costco: The refrigerated deli section by the cheeses.
Do you prefer chicken, beef or veggie burgers? What do you like to put on your burgers?