Everything you need to know about the Costco Chicken Pot Pie – including nutrition information!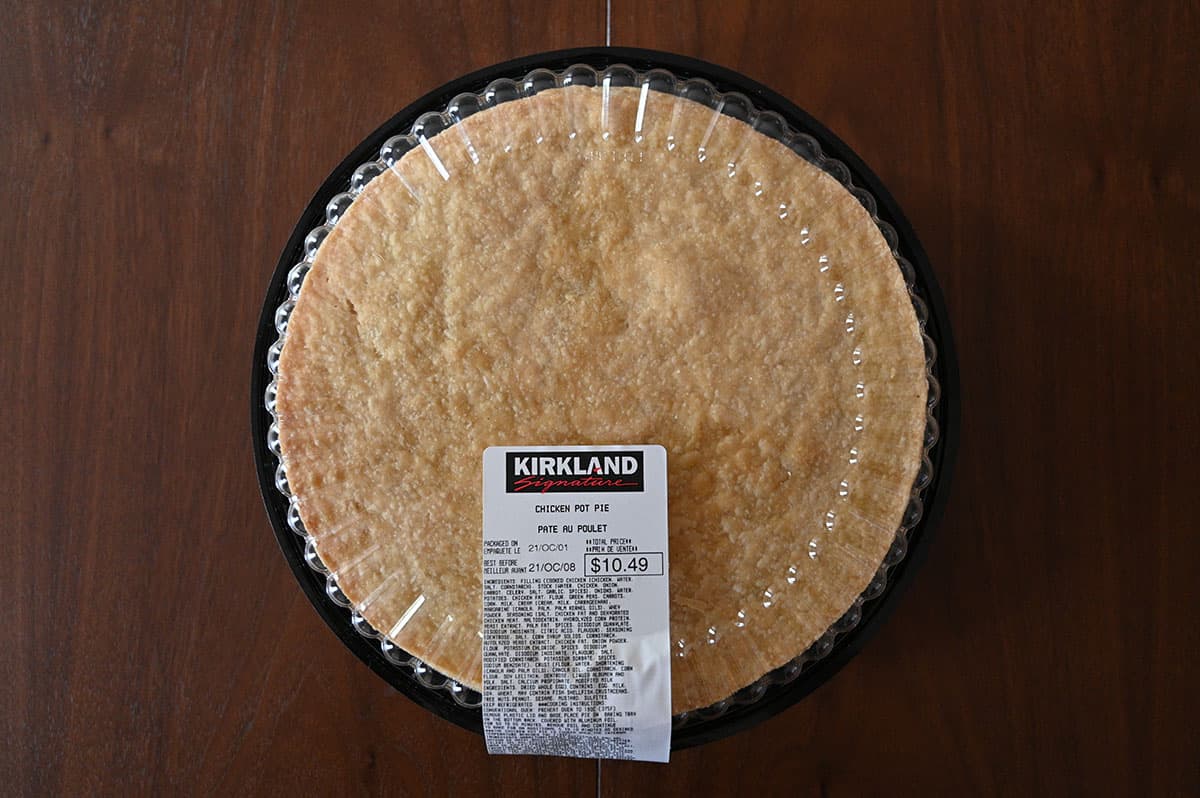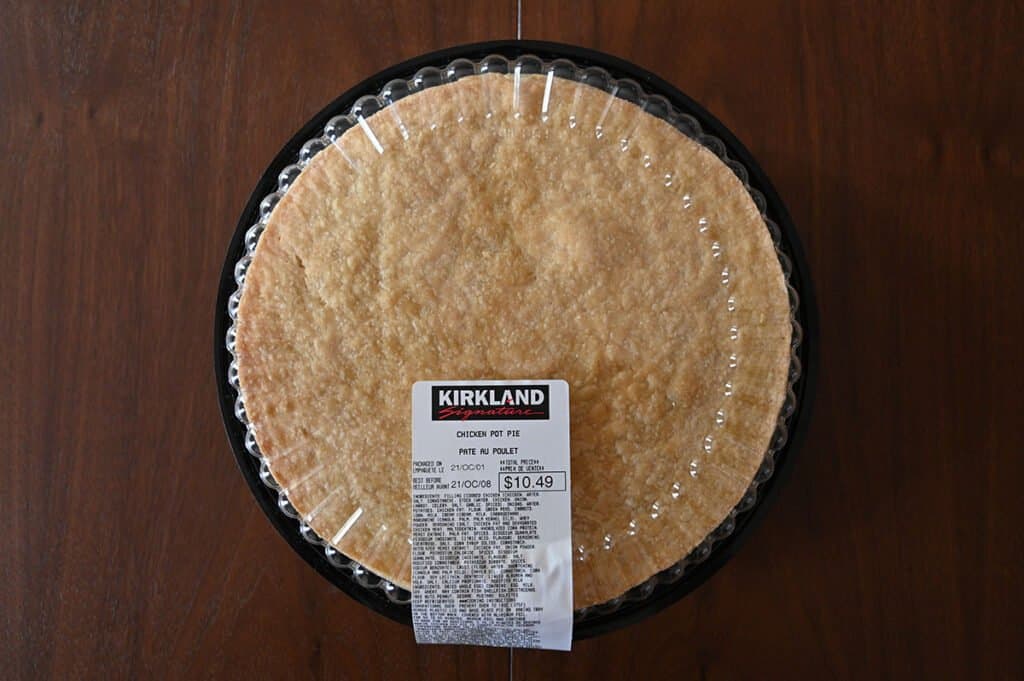 The Costco Kirkland Signature Chicken Pot Pie has been around for a long time. The current version has been around for a while now, but it used to be slightly different. You can see my review of the Costco Kirkland Signature Chicken Pot Pie from 2018 here.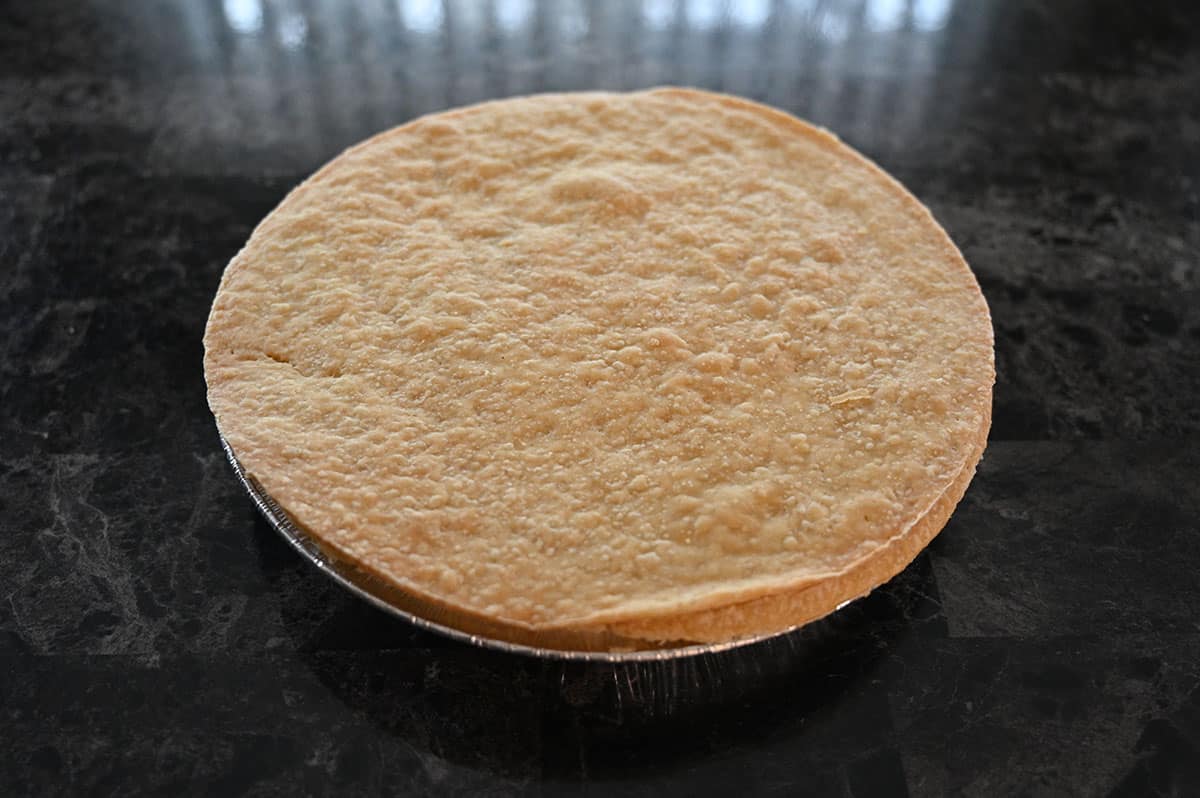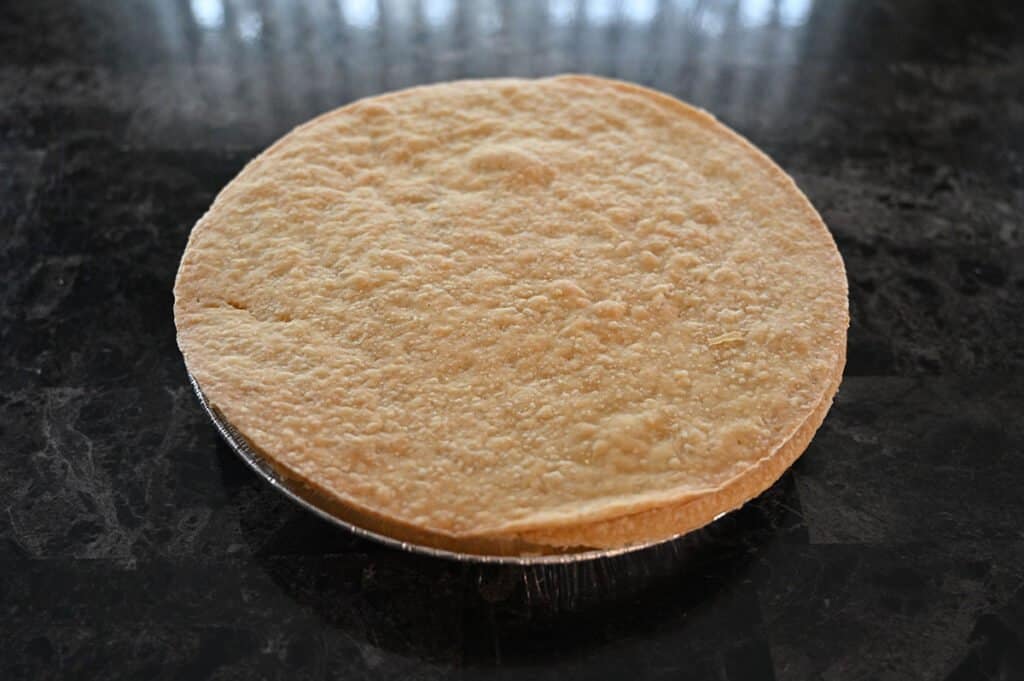 Location in Store
You can find the Chicken Pot Pie in the pre-made meal area of the deli section at Costco.
Taste
I absolutely love chicken pot pie. It's my idea of a perfect comfort food. I've had Costco's version many times now, and it's pretty tasty. It's a straightforward take on a simple dish. There's a bottom crust filled with a mixture of sauce/gravy, chicken, onions, potatoes and vegetables (carrots, peas and corn) and covered with a top crust.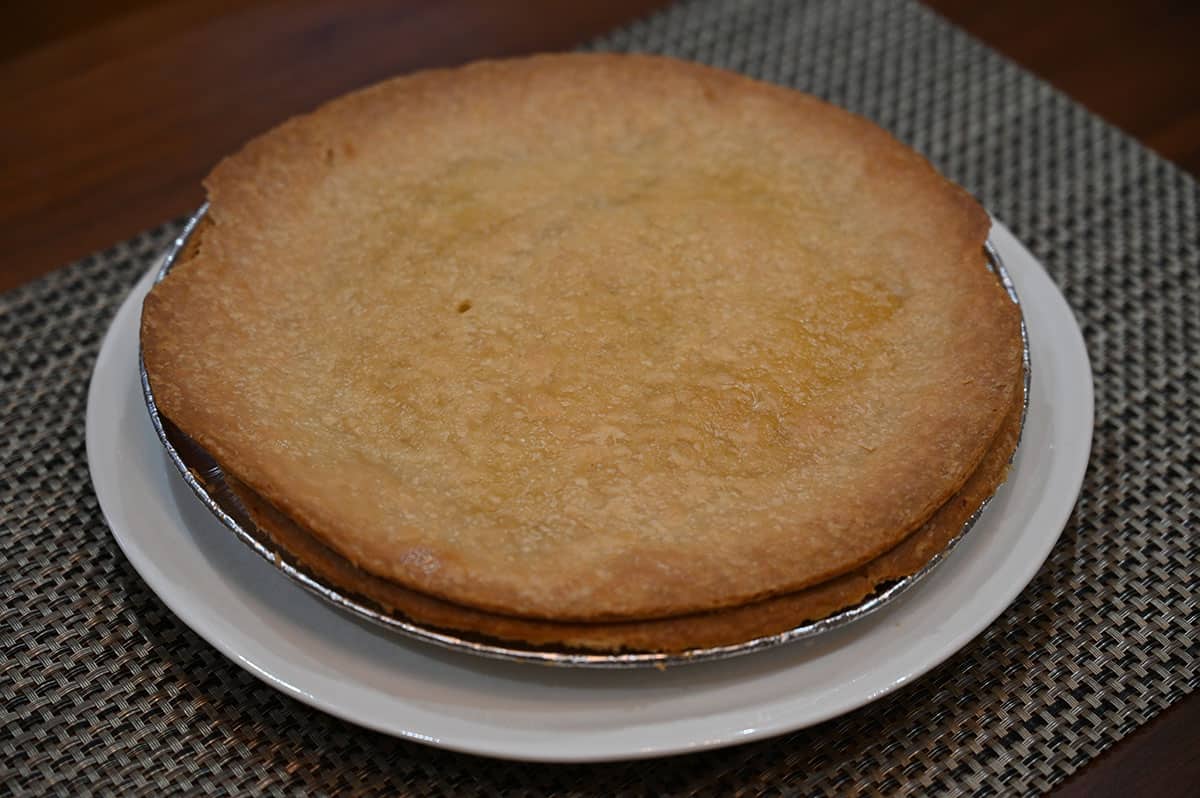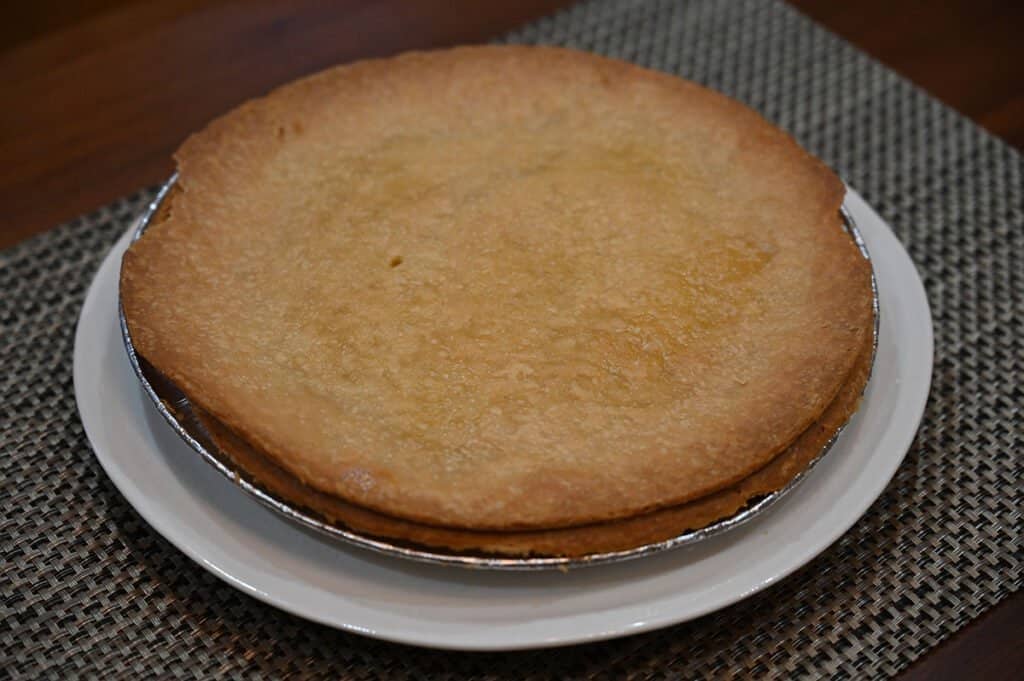 The crust on top of the pie always seems to come out golden, crispy, flaky and delicious. The bottom crust can be kind of inconsistent. I've had some Costco chicken pot pies where it seemed very thick and was slightly underbaked/soggy, but others where it's come out nice and crisp (like in my video review!).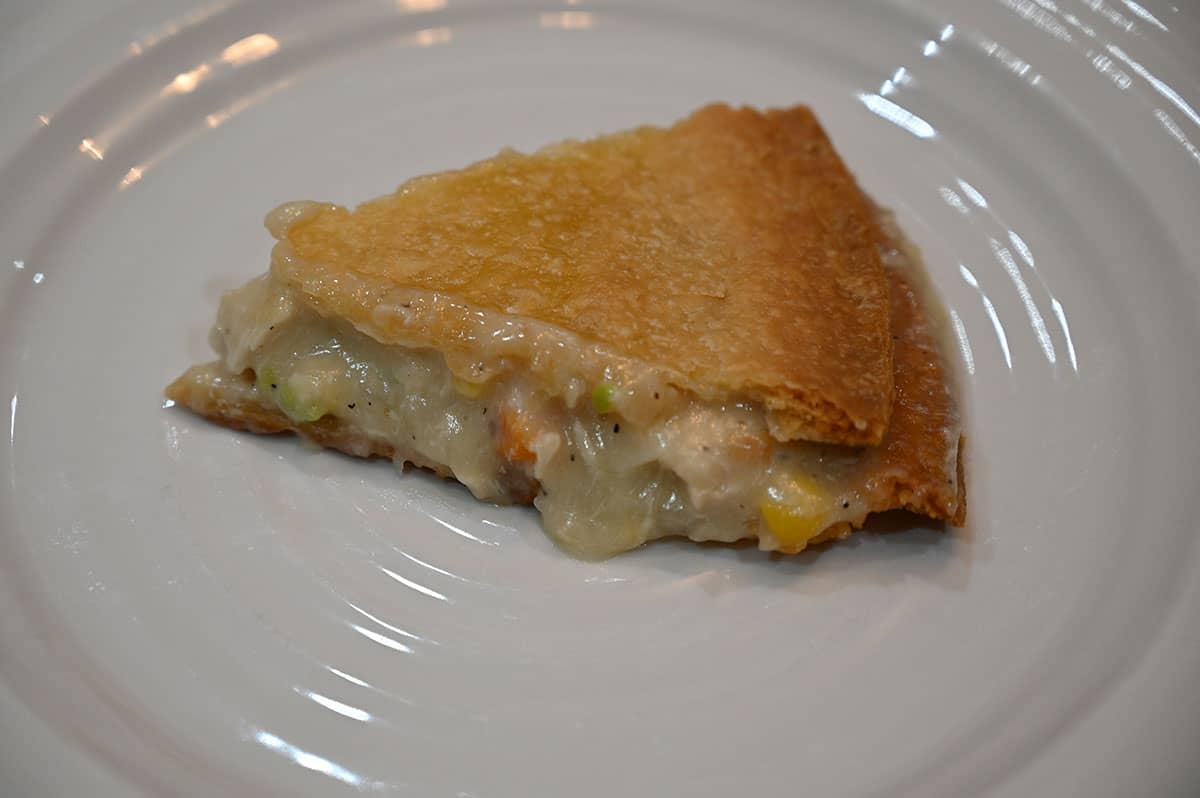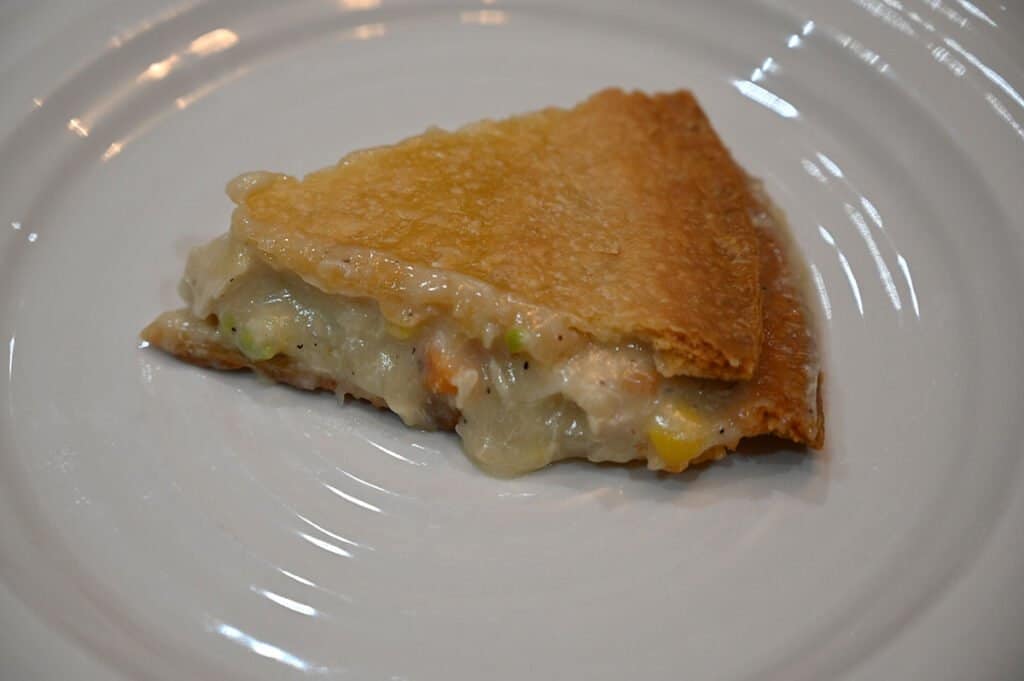 The gravy/sauce is a little on the salty side, but it's creamy and seasoned well. I really enjoy it, but people who don't like a lot of salt might be turned off. The chicken in the pot pies generally seems to be pretty good quality.
Basically it's large chunks of all-white chicken breast meat. I can't recall ever finding a gristly or gross piece. There's also a good amount of chicken in each pot pie.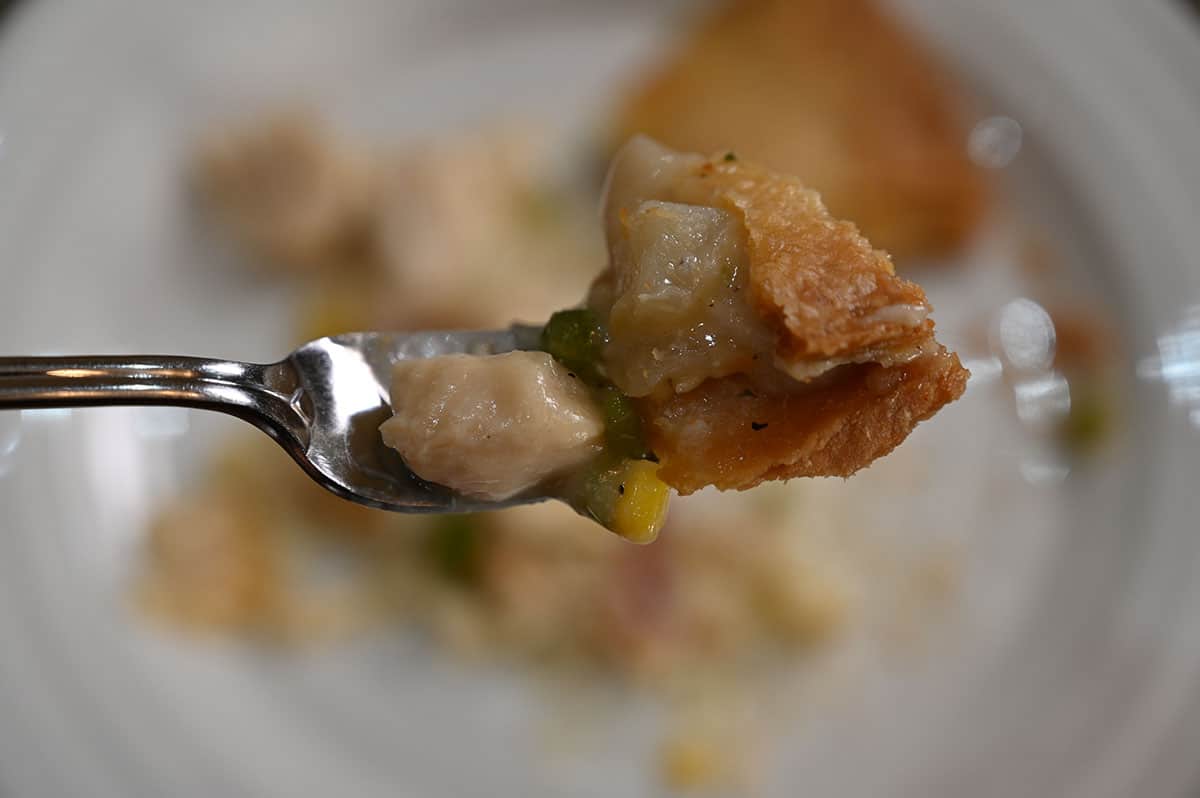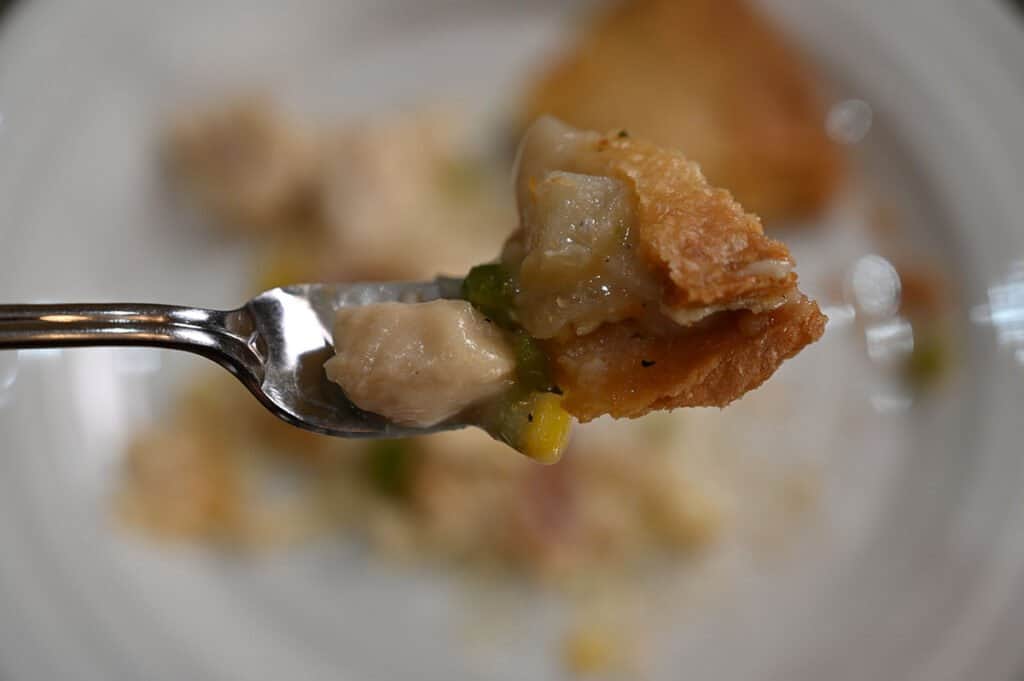 Is the Costco Chicken Pot Pie good?
Costco's Chicken Pot Pie is good, but there are a few things I'd tweak if it were up to me! Even though there's a good amount of chicken in the pie, I could always do with more! I also wish there were more vegetables (carrots, peas and corn) in the filling.
The filling is heavy on potatoes, but light on the actual vegetables. I only ever seem to find a few pieces of vegetables in my slice of the pot pie.
Finally, as I mentioned earlier, the bottom crust can be hit or miss. I don't know if this is because there's some variation in the individual pot pies and some are made with a thicker bottom, but it's much better when it turns out crisp rather than soft/soggy!
One final note – this is the Canadian version of the Costco Chicken Pot Pie. The U.S. version is a bit different – it's bigger and has a lattice top. I'm guessing the filling is similar, but I haven't tried the U.S. version, so I don't know for sure.
Cost
I paid $10.49 Canadian the last time I purchased the Costco Kirkland Signature Chicken Pot Pie (regular price). This seems really reasonable for a pie that could easily serve four to six adults!
The pie measures about nine and a half inches in diameter. You don't need to make a bunch of sides with it as it has all the food groups in one dish.
Convenience
The Kirkland Signature Chicken Pot Pie is very easy to cook. First, you preheat your oven to 375 degrees Fahrenheit, remove the plastic lid and base, put the pie on a baking tray, cover the pie in aluminum foil and place the baking tray with the covered pie on the bottom rack of your oven. You bake the pie for 50 to 55 minutes.
After baking the pie for 50 to 55 minutes, remove the aluminum foil and bake it for an additional 5 to 10 minutes (this is how the top crust gets nice and golden brown).
Finally, the package recommends using a thermometer to make sure the internal temperature of the pie is at least 165 degrees Fahrenheit.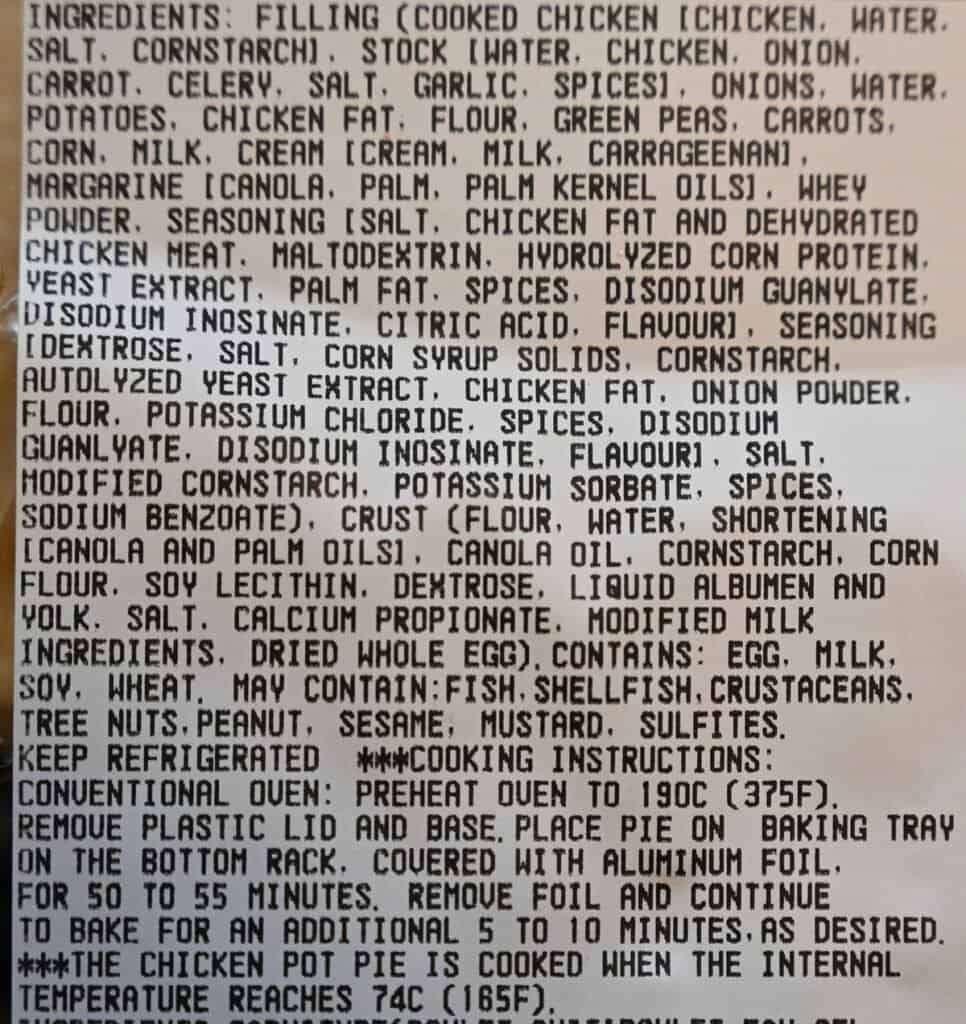 The best-before date on my Chicken Pot Pie was seven days from the date it was packaged on, so you can buy it a few days before you want to cook it. To keep the pie fresh for longer, you can also freeze it, then thaw it overnight in your refrigerator the night before you plan to bake it.
I've done this before, and it doesn't affect the taste or texture of the pie much. Another option is to freeze pieces of the pie after you've cooked it, but the crust will definitely be a little soft after you reheat your pieces.
Nutrition
Calories
One-eighth of the Kirkland Signature Chicken Pot Pie contains 390 calories, 23 grams of fat, 410 milligrams of sodium, 31 grams of carbohydrates, two grams of fibre, three grams of sugar and 15 grams of protein. The relatively high amount of protein is definitely the bright spot here. It's partly what makes this dish so filling.
Ingredients
I'm not a huge fan of this list of ingredients. There are a lot of unnatural-sounding ingredients in this chicken pot pie. I suppose that's to be expected in a convenience meal like this.
I always find it a bit offputting when I look at the "may contain" part of the list and see totally random things – fish, shellfish, crustaceans and peanut in this case. I know this is probably just related to the other types of foods made in the kitchen where the pie is packaged, but it still seems weird to me!
Scoring
Taste: 7.5/10
Cost: 10/10
Convenience: 10/10
Nutrition: 2/10
Overall
Give it a try.
The Costco Kirkland Signature Chicken Pot Pie is a very convenient comfort meal. Make a quick side salad or side vegetable and you've got an easy dinner. It's definitely not what I would call a healthy meal, but most of my favorite comfort foods aren't exactly healthy!
What's your favorite kind of savory pie? Chicken, beef or turkey?
Please note that this review was not paid for or sponsored by any third party. This product was purchased by Costcuisine for the purpose of producing this review. The opinions in this review are strictly those of Costcuisine. Costcuisine is not affiliated with Costco or any of its suppliers. In the event that Costcuisine receives compensation for a post from the manufacturer of a product or some other third party, the arrangement will be clearly disclosed (including where the manufacturer of a product provides Costcuisine with a free sample of the product).