The best flavor of Costco bagels!
Please note that this review was not paid for or sponsored by any third party. I purchased this product with my own money and the opinions in this review are strictly my own. I am not affiliated with Costco or any of its suppliers. I am just a fan of the company. I write these reviews to help my fellow shoppers.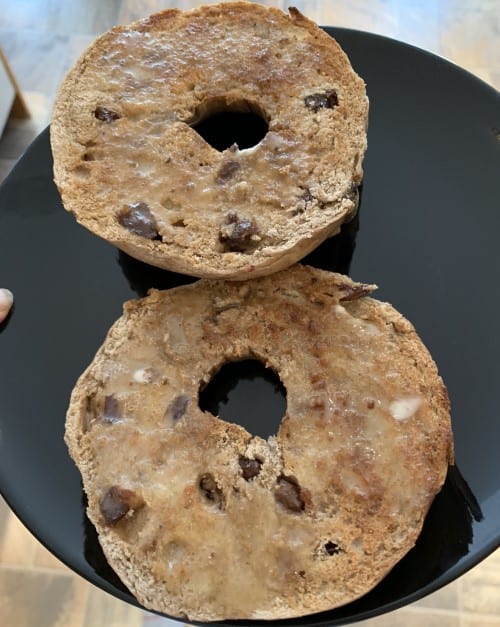 Okay so here we are, talking about bagels again. I recently reviewed the Costco Kirkland Signature Imitation Blueberry Bagels but these are definitely better in my opinion and have REAL raisins. My craving for bagels hasn't gone away and I'm learning that a lot of small family owned bakeries around here don't really sell bagels, it seems to be more of a grocery store item?
Taste
Taste wise, the bagels are great. I prefer them to the Costco Kirkland Signature Imitation Blueberry Bagels and so does Sean. They're thick and chewy. There's a generous amount of raisins in the bagel but I would prefer a tad more cinnamon. Despite wishing there was more cinnamon, every time I toast these up at work my coworkers comment on how good it smells. Cinnamon Raisin Bagels are best served with butter in my opinion and your options become limited if you're thinking about making sandwiches with these. There is a local sandwich shop that uses cinnamon raisin bread to make egg breakfast sandwiches here in Edmonton though!
Cost
I talked about the cost of the bagels on my last post – $6.99 Canadian for two packs of bagels with six bagels in each bag (12 bagels in total). What I didn't mention is how I attempted to buy one bag (six bagels) and was forced to go back and get another bag when I was trying to check out! Costco doesn't allow you to purchase just one bag of bagels. I'm not the biggest fan of that policy.
Convenience
Convenience wise, these are obviously much easier to buy than bake at home; I can't see myself baking my own bagels anytime soon. They freeze just fine – I recommend bringing them to work to keep in the lunchroom freezer to toast up any time during the work day.
Nutrition
These aren't as bad for you as I would have expected. One bagel contains 350 calories, 1 gram of fat, 14 grams of sugar and 12 grams of protein. Compared to the Costco Kirkland Signature Imitation Blueberry Bagels there's less fat and calories but more sugar. There's a good amount of fibre in the bagels and a moderate amount of protein. I'm still shocked at the large amount of sodium in bagels. I wish it weren't so.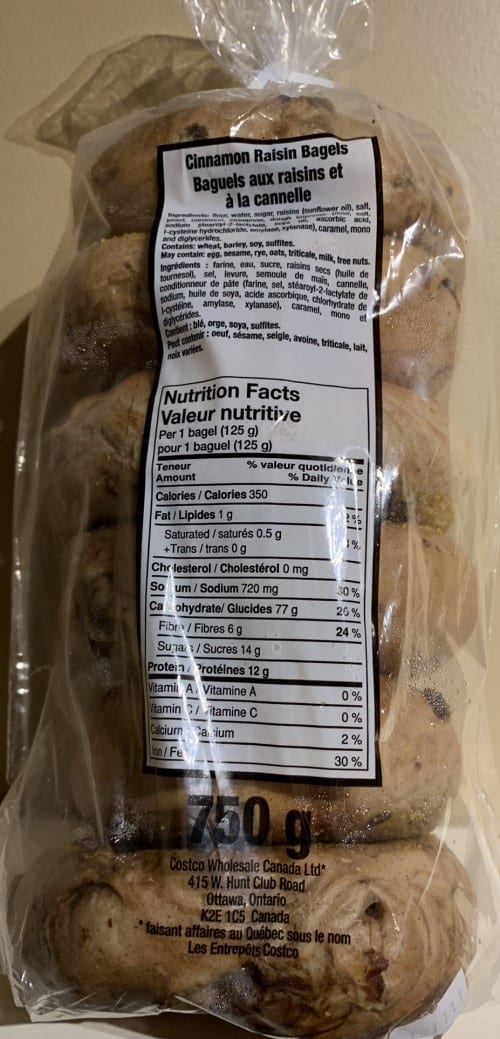 Overall I really enjoy these bagels. They're a semi-regular purchase in our house as a tasty breakfast treat.
Taste: 8/10
Cost: 8.5/10 (I don't like how you have to buy two bags though)
Convenience: 10/10
Nutrition: 6/10
Which flavor would you rather eat? Cinnamon raisin or (imitation) blueberry?