Costco shoppers are in love with the new cherry and almond danishes – now it's time to review the lemon!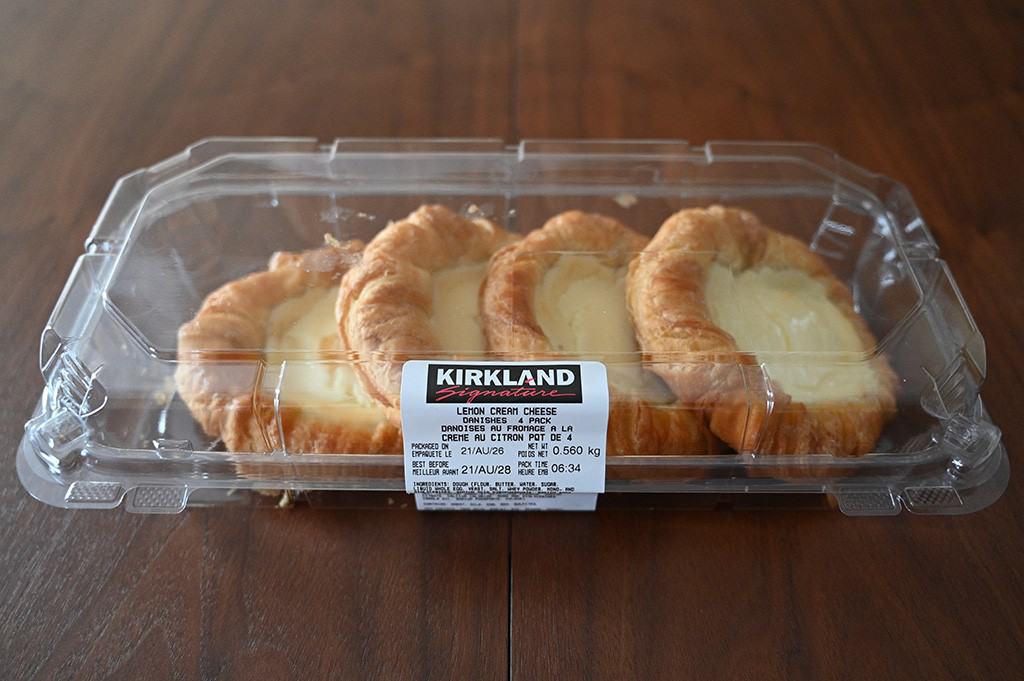 Today's review is for the Costco Kirkland Signature Lemon Cream Cheese Danishes! I love a fall-apart flaky, fruity danish and usually enjoy anything lemon flavored so I picked these up to review.
Costco carries two other flavors of danish, the cherry flavor which I've already reviewed and the almond flavor. I really enjoyed both those flavors and decided to pick up the lemon cream cheese danishes to also try.
You can find the lemon cream cheese danishes in the bakery section at Costco, the item number is 1559719.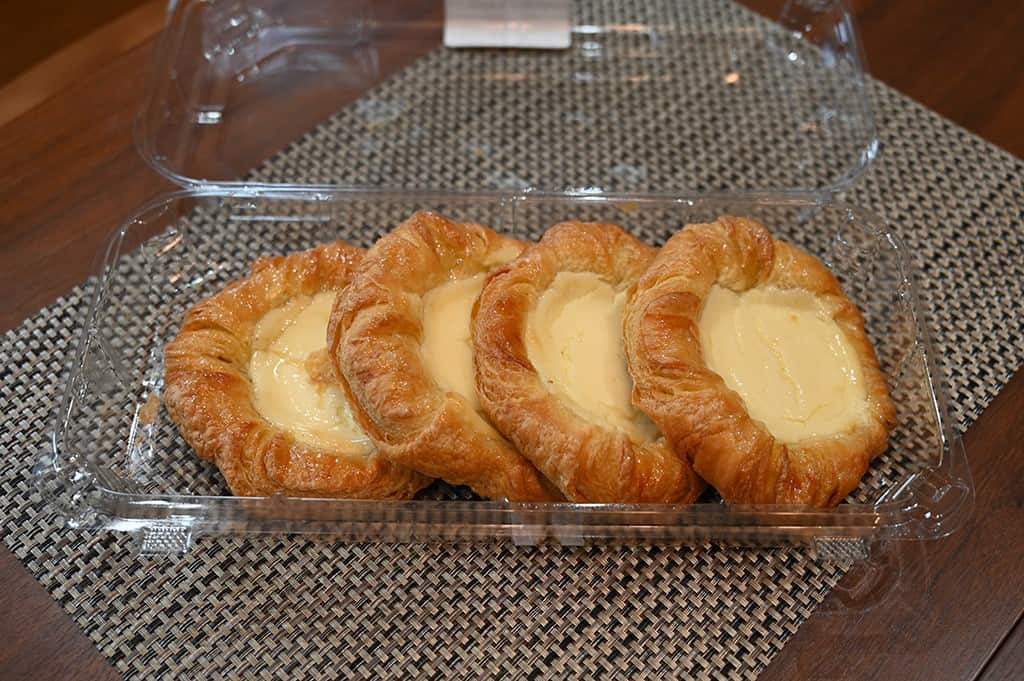 Taste
I can't say I totally love the Kirkland Signature Lemon Cream Cheese Danish. I much prefer the cherry and almond flavor. The lemon cream cheese danishes are way more cheesy than they are lemony which leads to a very heavy, rich tasting danish!
The lemon flavor is subtle, not too sweet and is pretty much overpowered by the cream cheese. The cream cheese is very cheesy and slightly sweet. The lemon and cream cheese combination is a bit strange tasting, in my opinion, the two flavors don't seem to totally mesh well together.
I think an apple cream cheese or strawberry cream cheese danish would taste much better.
The filling seems to seep out of the center onto the surrounding pastry making the danish quite soggy and not as flaky and crispy as I'd like. Secondly, the longer you leave the danishes sitting on the counter the soggier they become.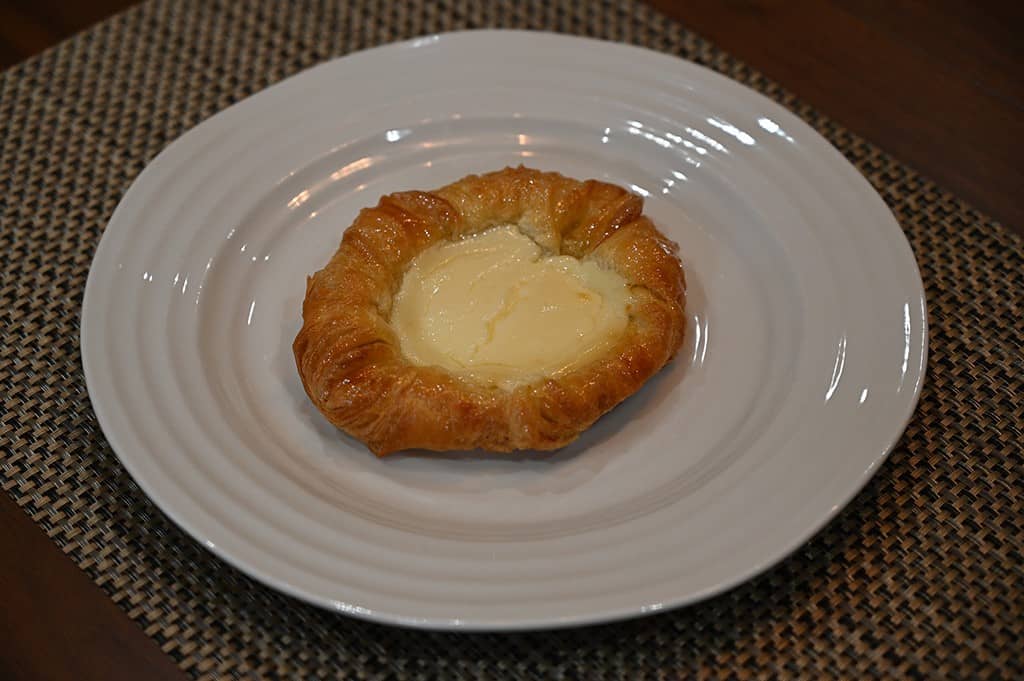 Cost
You have to buy two packs of danish at Costco, similar to the bagels and muffins, you can't buy just one pack. You can mix and match the flavors of danishes you buy so you don't have to buy two of the same flavor.
Each pack has four danishes and two packs costs $12.99 Canadian at Costco which is a little expensive for only eight danishes!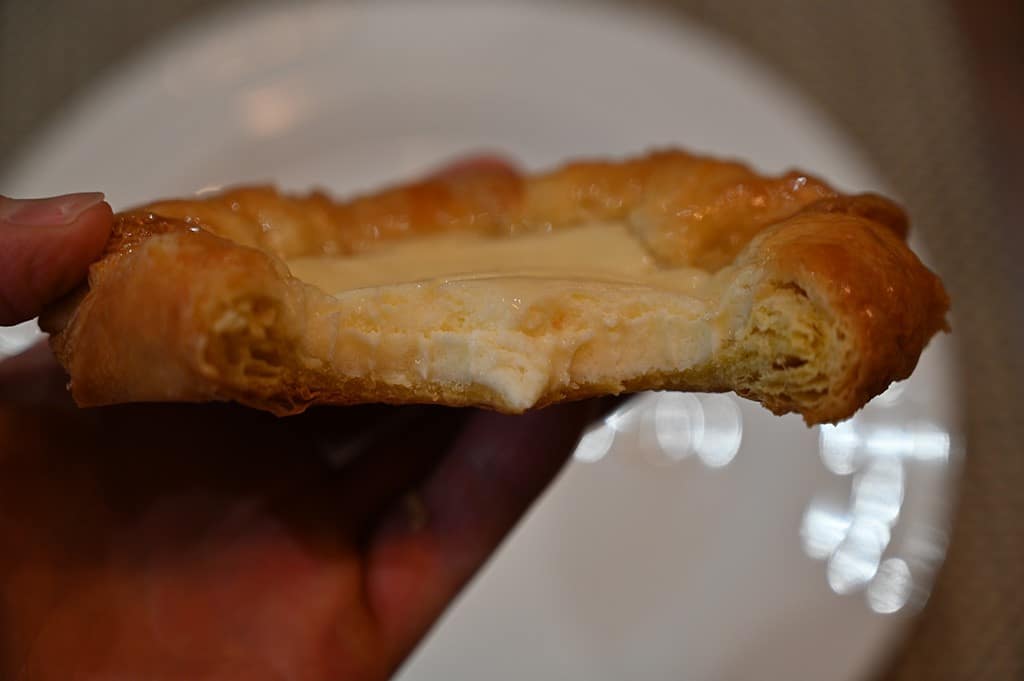 Convenience
The best before date on the Costco lemon danishes is three days from the date they were packaged on. I highly recommend consuming the danish on the day you buy them or freezing them right away as they become really soft and almost soggy if they sit out on the counter.
These are great as a snack, dessert or breakfast item! They come is a resealable plastic container and also freeze really well.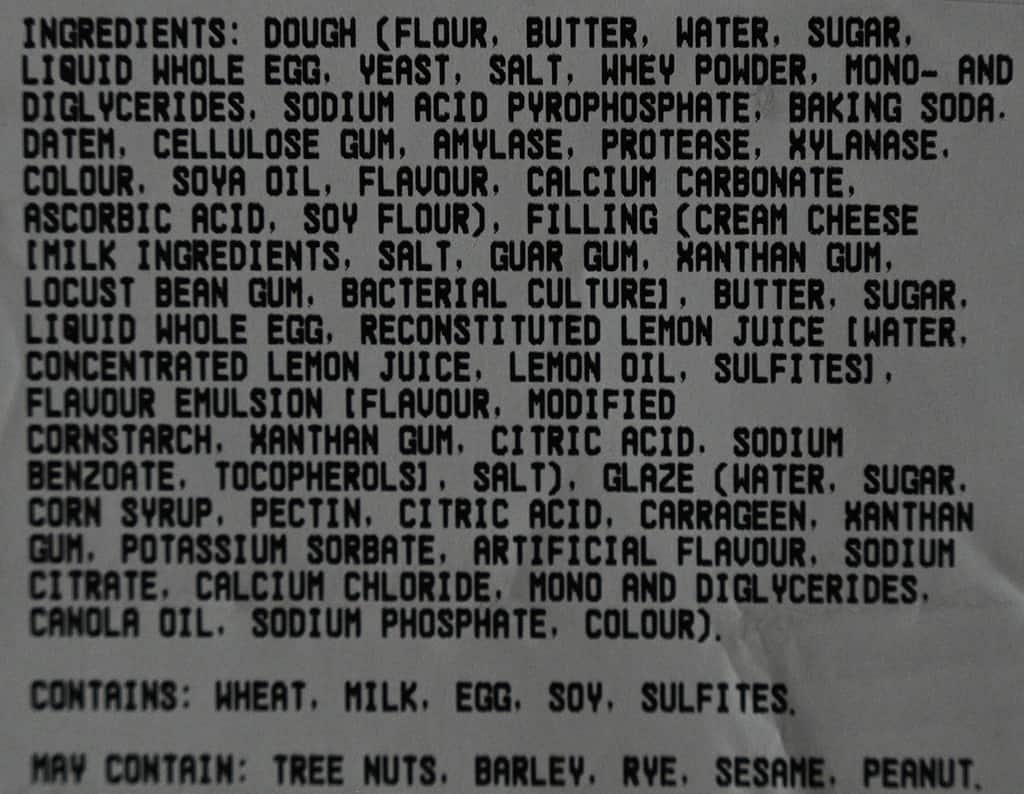 Nutrition Information
Calories
Hold on to your socks! One danish has 640 calories, 43 grams of fat, 500 mg of sodium, 54 grams of carbohydrates, 10 grams of protein, two grams of fibre and 21 grams of sugar. That's a ton of calories, fat, sodium and carbohydrates!
Ingredients
The Costco lemon danishes have a nice long list of unhealthy ingredients like soy oil, canola oil, sugar and sulfites. These are not gluten-free nor are they vegan and they're especially not healthy!
Scoring
Taste: 6/10
Cost: 5/10
Convenience: 10/10
Nutrition: 0/10
Overall
Walk on by!
Stick to the cherry and almond danishes from Costco and and pass on these unless you know you love lemon and cream cheese combined!
Have you tried these? What did you think of them?
---
Please note that this review was not paid for or sponsored by any third party. This product was purchased by Costcuisine for the purpose of producing this review. The opinions in this review are strictly those of Costcuisine. Costcuisine is not affiliated with Costco or any of its suppliers. In the event that Costcuisine receives compensation for a post from the manufacturer of a product or some other third party, the arrangement will be clearly disclosed (including where the manufacturer of a product provides Costcuisine with a free sample of the product).