It's back after being discontinued!
Please note that this review was not paid for or sponsored by any third party. I purchased this product with my own money and the opinions in this review are strictly my own. I am not affiliated with Costco or any of its suppliers. I am just a fan of the company. I write these reviews to help my fellow shoppers.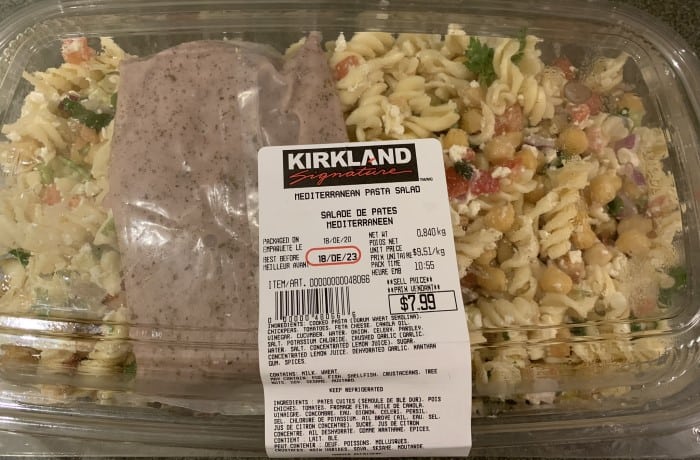 This is Sean's absolute favorite pre-made/deli item from Costco. We purchased it regularly a couple of years ago, but then it was discontinued and Sean was pretty sad about that. Since the pasta salad was discontinued I constantly checked my local Costco hoping that it would magically return. I'm so happy to see it is now back!
Taste
This is a simple but delicious pasta salad, it has cooked pasta, chickpeas, tomatoes, feta cucumber, onion, celery and a bit of parsley. The actual pasta salad doesn't have a lot of additional spices or flavoring, the flavoring comes mainly from the dressing. I'm a little surprised it has celery because I've never noticed or tasted it but the ingredients say it's in there. The vegetables are cut quite small and it's definitely not a veggie heavy salad. The pasta salad comes with a separate packet of creamy balsamic/Greek vinaigrette. This is by far my favorite Greek vinaigrette, it's creamy, tangy, slightly vinegary and has a tasty combination of spices. The fact that the dressing is in a separate packet because then I can control how much dressing I add to the pasta salad, I prefer less dressing because I don't find it needs a lot of additional dressing. Every time I get the Mediterranean Pasta Salad from Costco the pasta is cooked al-dente and is not at all mushy or under cooked. I like to increase the amount of veggies and decrease the amount of pasta I eat by adding my own chopped vegetables to the salad.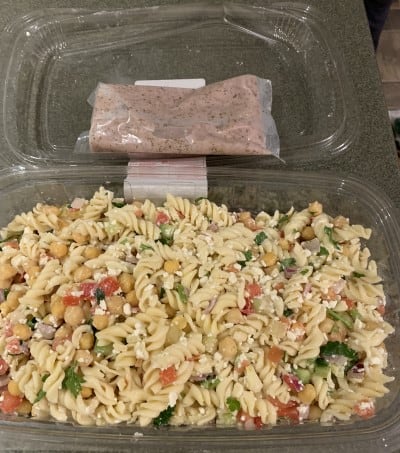 Cost
In my opinion, $7.99 Canadian is super reasonable for the Costco Kirkland Signature Mediterranean Pasta Salad. I actually know that it was $7.99 a couple of years ago when I was purchasing it so it's nice to see the price hasn't increased a ton. I know generally pasta and salad dressing with a few veggies is cheap but if you bought pasta, the dressing, the different veggies and feta seperately you'd be paying much more than $7.99 Canadian.
Convenience
One of the main reasons I purchase the Costco Kirkland Signature pre-made items is convenience, this makes such a convenient, easy, healthy dinner. I add my own chopped veggies and some chicken and have a complete meal together in no time. I also love how the best before date is 3 days after purchasing. This means I can go to Costco once in the week and be able to grab enough dinners like this to last me the weekend or week. This would make an awesome item to bring to a potluck or even has a side.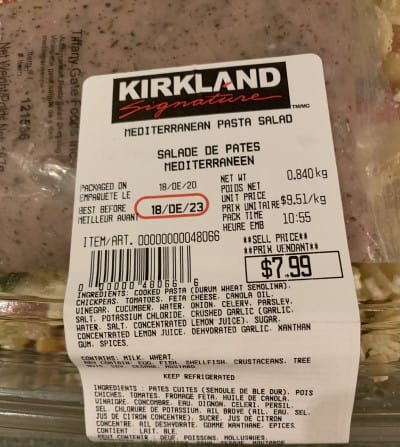 Nutrition
Nutritionally, not the healthiest option if you eat the entire tray but also not the worst. Carbs aren't evil despite what you hear and there's protein in the chickpeas. If you add volume to pasta salad by adding healthy vegetables and maybe some extra protein with chicken or even extra chickpeas if you're vegetarian then you have a pretty balanced meal.
I'll be buying this many, many more times and will probably cry the day I approach a Costco staff and find out once again it's been discontinued. I totally recommend you try it out! If you'd like to make it bigger or healthier, try adding your own veggies and choice of protein. I'll be posting my recipe for bulked up Costco Kirkland Mediterranean Pasta Salad on Friday!
Taste: 9.5/10
Cost: 9/10
Convenience: 10/10
Nutrition: 6/10
What would you add to this Mediterranean Pasta Salad to make it extra good!? Do you have a favorite Costco Kirkland Signature pre-made item that was discontinued?