The Costco pre-made meal section carries convenient mains, appetizers and salads. The Kirkland Signature Quinoa Salad has been a staple item in the ready-to-eat section for as long as I remember so that must mean it's good! Find out below how tasty this salad is for Costco to have kept it around for so long!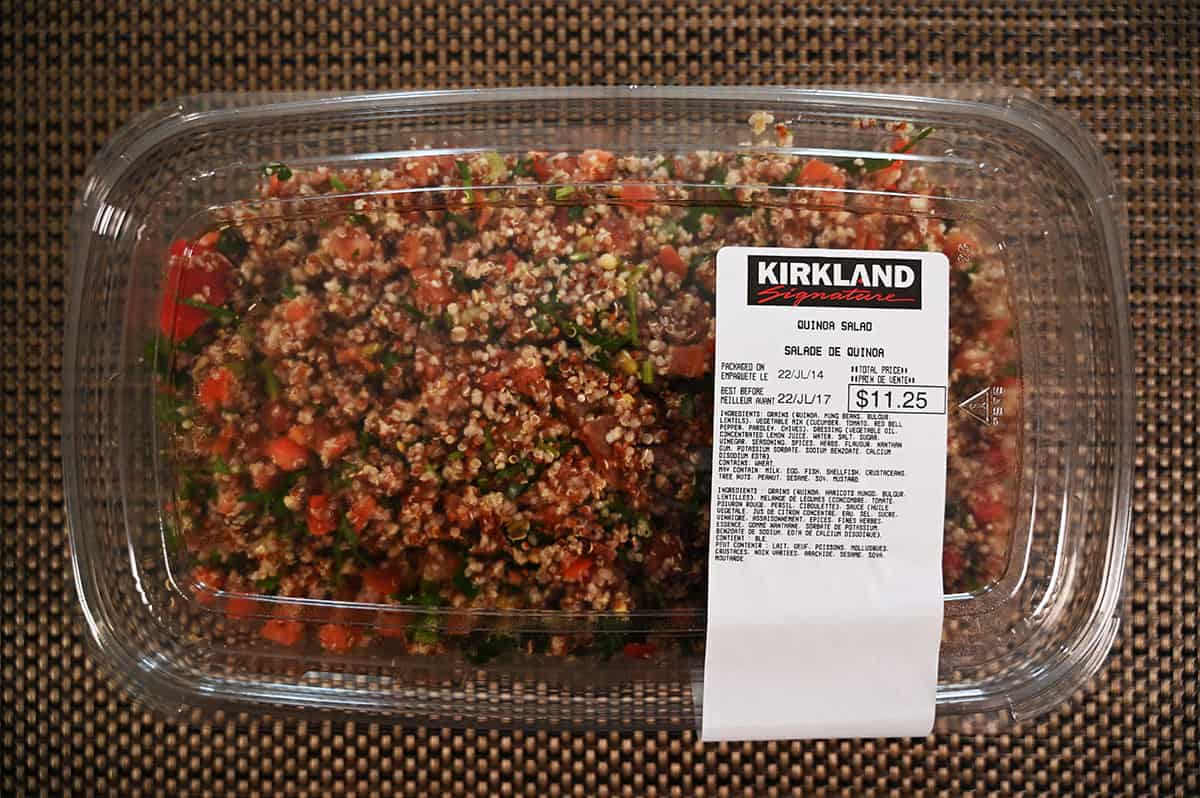 Costco is the place I like to go to when I need an appetizer, salad or main that requires very little to no time and effort to prepare. The pre-made meal section at Costco is always introducing new items and taking away others but one item has stood the test of time and that's the Costco Kirkland Signature Quinoa Salad.
Other ready-to-eat products from Costco are the Costco Kirkland Signature Seasoned Chicken Wings, Costco Kirkland Signature Four Cheese and Spinach Manicotti, Costco Kirkland Signature Chicken Burger Meal Kit, Costco Kirkland Signature Fish and Chips Meal Kit, Costco Kirkland Signature Stuffed Salmon and the Costco Kirkland Signature Chicken Tacos.
Taste
There are a lot of delicious ingredients in this salad, quinoa, mung beans, bulghur, cucumbers, tomatoes, lentils and bell pepper. The salad has a refreshing, light flavor and a lemon-vinegar dressing that's really quite mild.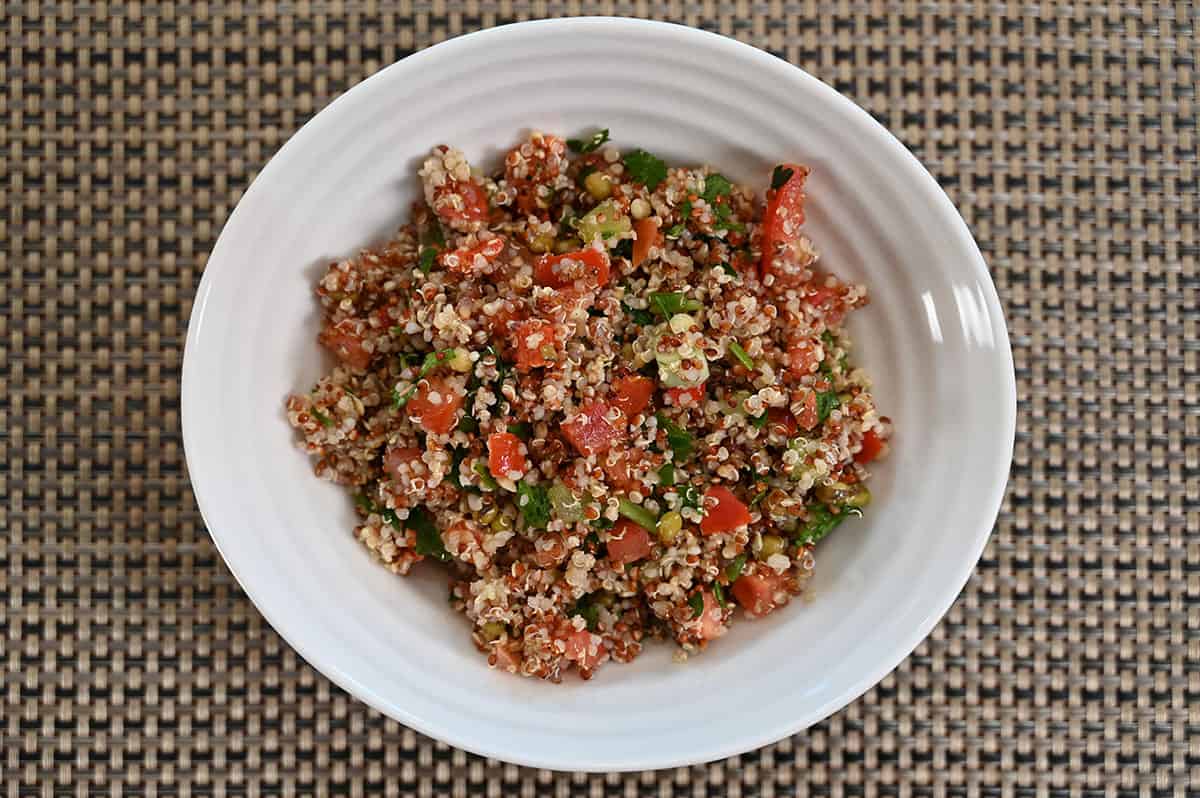 The parsley and chives add some flavor but the stars of the dish are the lemon-vinegar dressing and the vegetables. The tomato is most noticeable vegetable. I like to add a bit of feta to boost the flavor because I find the feta compliments the rest of the salad. The grains are very bland and pretty tasteless so the vegetables add a hint of flavor and additional texture. The main thing I taste eating this is the zesty and tart lemon, oil and vinegar dressing.
To be honest, this isn't really the most decadent or flavorful salad but the mild, soft flavor really lightens the salad and dare I say, makes it taste pretty healthy!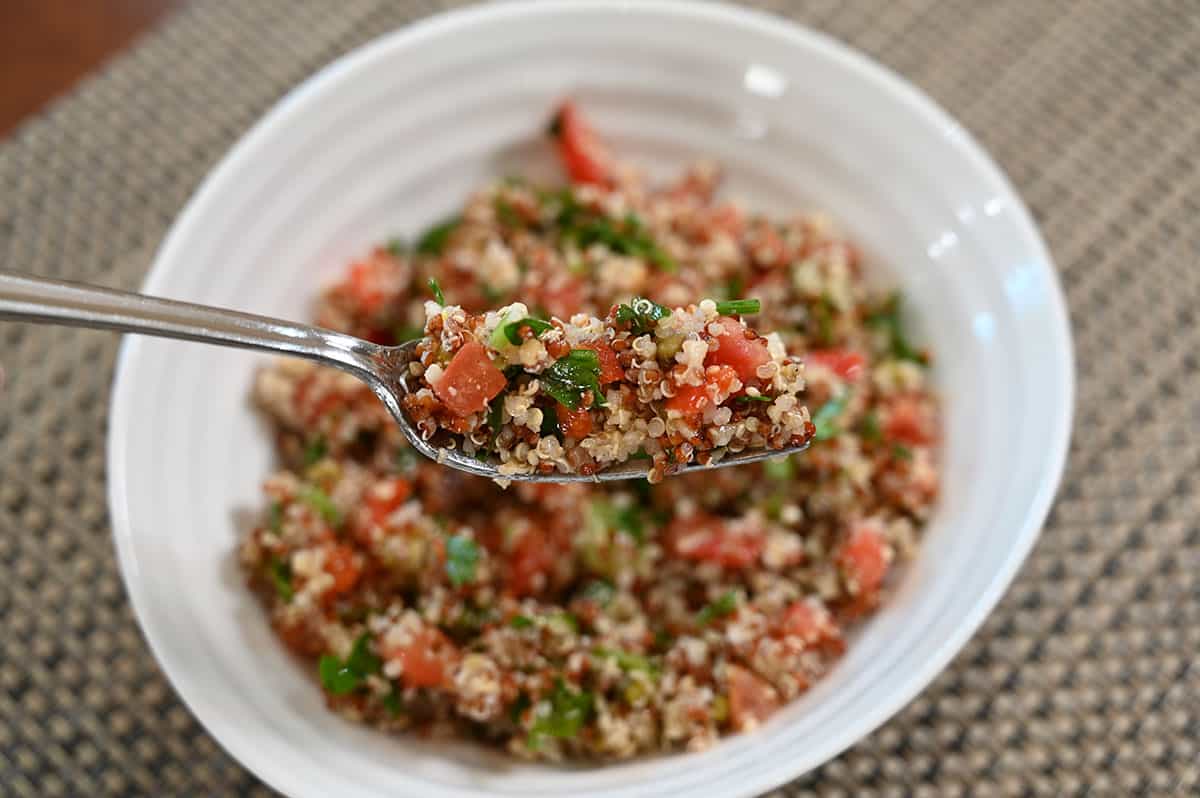 Cost
The salad price fluctuates depending on the weight of the tray. The salad I bought was $11.25 Canadian. It's quite a big tray that could easily feed a big group of adults so the price isn't that bad!
Convenience
When we stayed at an AirBnB in Hawaii Sean and I had this salad with just a rotisserie chicken and it made such a convenient meal! You can use the salad as a side or main and adding extra vegetables, protein and feta make it a bit heartier and filling.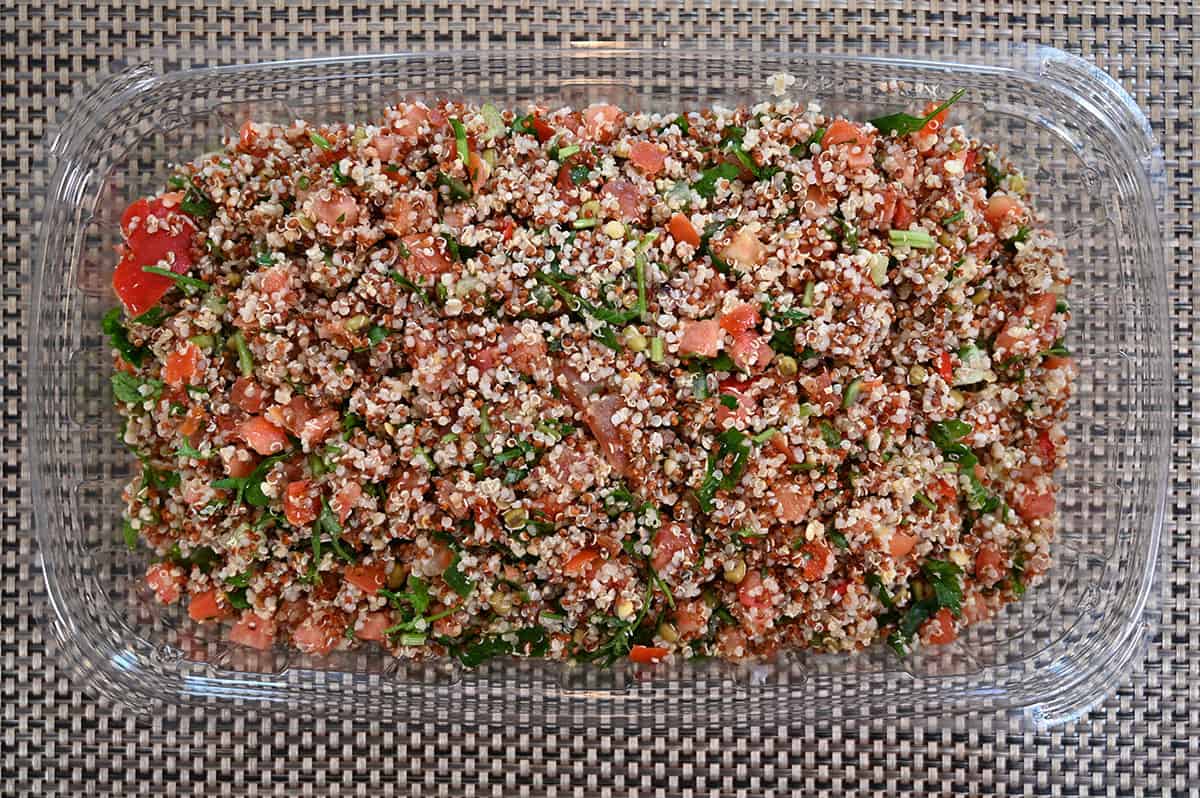 The Costco quinoa salad needs to be kept refrigerated and the best before date is three days from the day it was packaged. Although, I've eaten the salad a day after the best before date frequently before and have never become sick.
I think this is perfect to bring camping, to a potluck, summer barbecue or any kind of get-together. You can ever put your own creative touches into the salad with additional ingredients.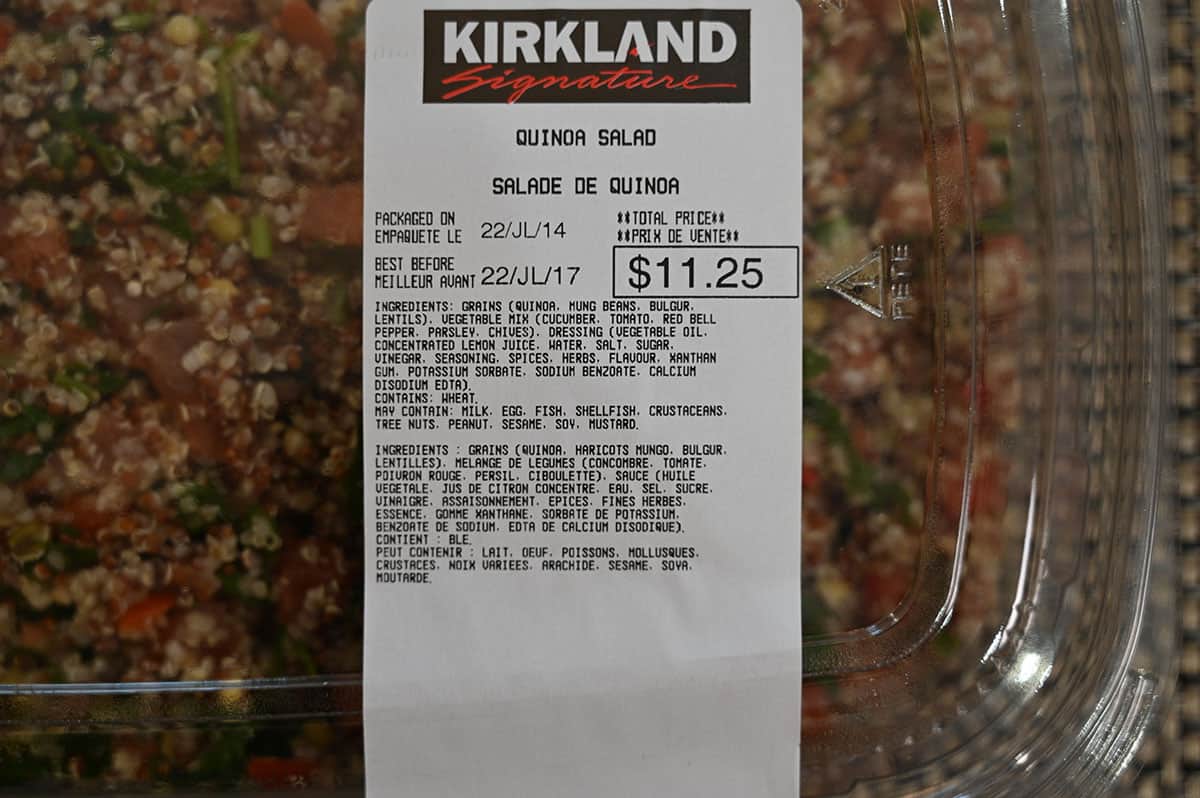 Nutrition
Calories
1/12th of the tray is 130 calories, eight grams of fat, 140 mg of sodium, 13 grams of carbohydrates, two grams of fibre, two grams of sugar and three grams of protein. If you're having the quinoa salad as your main you might end up eating more than 1/12th of the tray. The amount of calories aren't high and neither is the sodium or carbs. Only the fat is something to be aware of if you're on a low fat diet.
Ingredients
I'm disappointed that the Costco quinoa salad is not gluten-free due to it containing bulgur. The ingredients list otherwise is short and sweet with grains, vegetables, the dressing and preservatives. The grains and vegetables are all healthy ingredients. I think this salad can be easily replicated at home which would eliminate any food preservatives or additives.

Scoring
Taste: 8/10
Cost: 7.5/10
Convenience: 10/10
Nutrition: 8.5/10
Overall
Give it a try!
This isn't the most delicious grain salad I've had but it's versatile and tastes reasonably healthy!
What do you think of the Costco Kirkland Signature Quinoa Salad?
---
Please note that this review was not paid for or sponsored by any third party. This product was purchased by Costcuisine for the purpose of producing this review. The opinions in this review are strictly those of Costcuisine. Costcuisine is not affiliated with Costco or any of its suppliers. In the event that Costcuisine receives compensation for a post from the manufacturer of a product or some other third party, the arrangement will be clearly disclosed (including where the manufacturer of a product provides Costcuisine with a free sample of the product).