Everything you need to know about the Costco Stuffed Salmon – including nutrition information!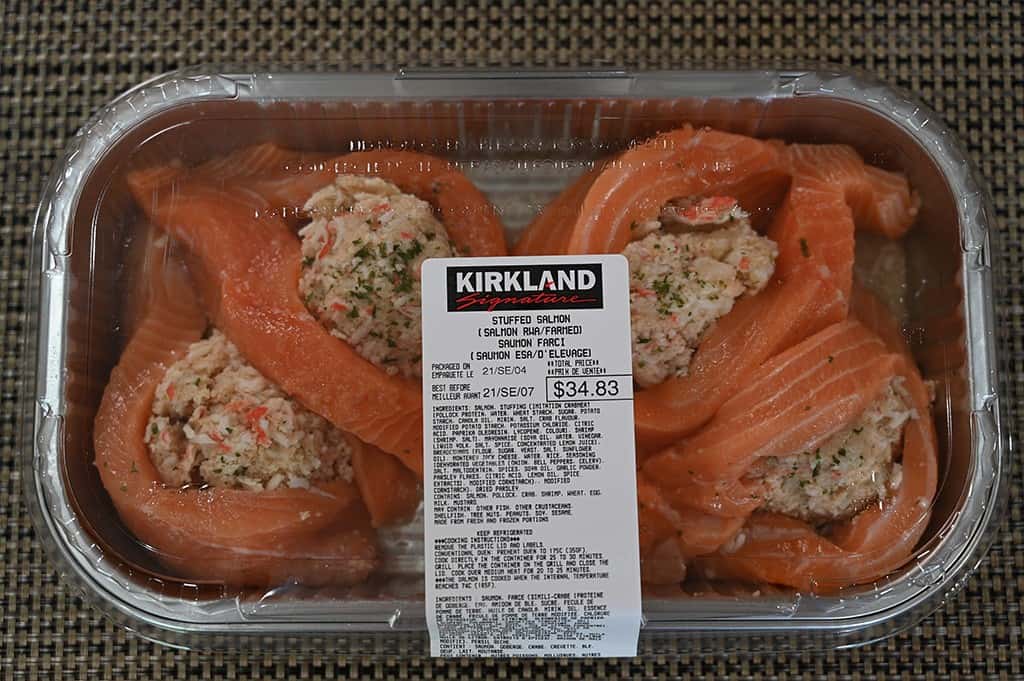 I'm really excited to be reviewing the Costco Kirkland Signature Stuffed Salmon today! This is a pre-made meal at Costco that I've seen around for a long time. Finally, I convinced my husband to let me buy and review it! He doesn't eat fish also can't stand any kind of fishy smell.
Some of the best Costco pre-made meals I've reviewed are the Costco Kirkland Signature Chicken Pot Pie, Costco Kirkland Signature Chicken Tacos, Costco Kirkland Signature Stuffed Peppers and the Costco Kirkland Signature Meat Lasagna.
Location in Store
The Kirkland Signature salmon can be found in the refrigerated pre-made meal section and the item number is 11037.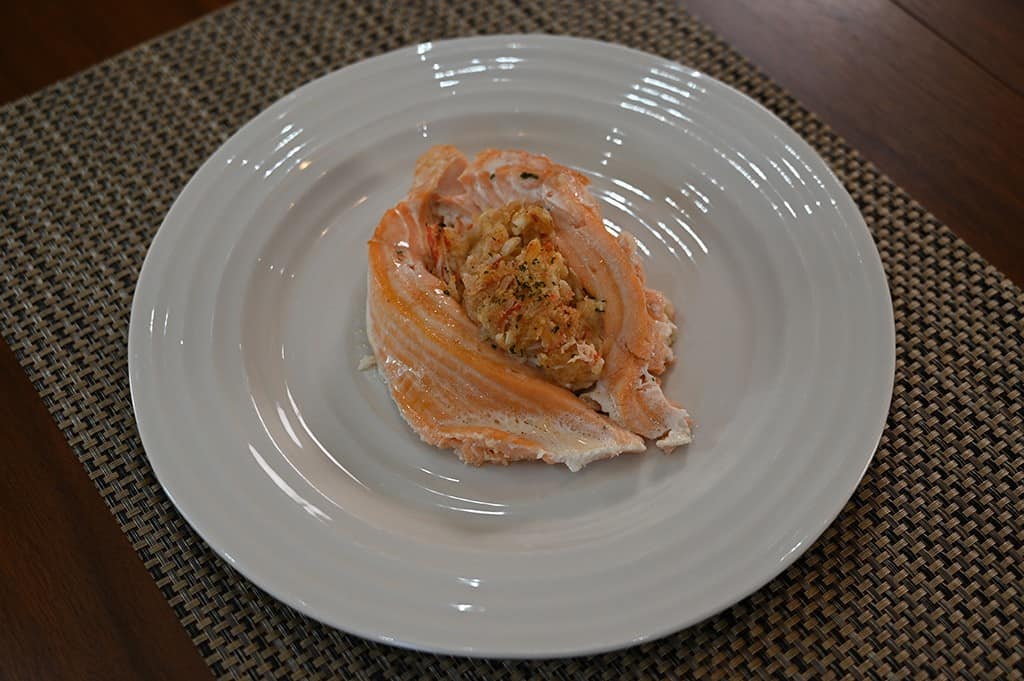 Taste
I'm already a salmon fan so I was happy to taste the stuffed salmon from Costco and I have to say, this is a pretty delicious salmon meal from Costco!
I baked the salmon in the oven following the directions and the salmon came out perfectly moist and fall-apart flaky. There is absolutely no fishy smell from the salmon either before baking it or while baking it. As well, there is zero fishy taste.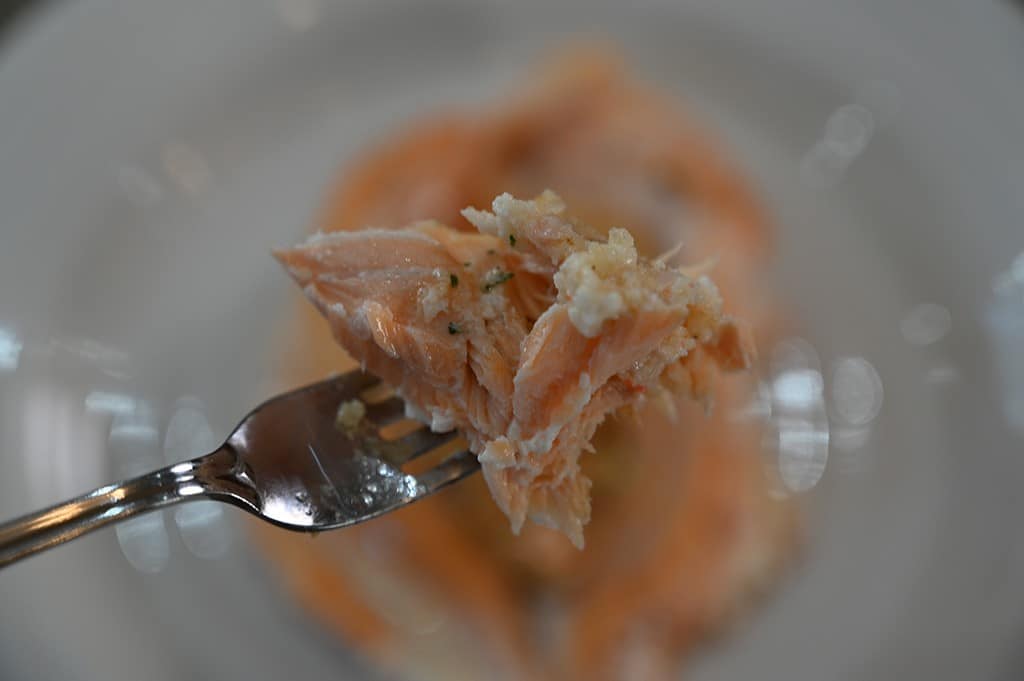 The salmon itself isn't extremely flavorful, just a slight earthiness. The stuffing however is very tasty and absolutely full of flavor! It has imitation crab (but you wouldn't know it's imitation crab), shrimp, pollock, rice, potato starch, mayo and cheese.
The filling tastes like a yummy crab cake with potato and rice stuffed inside a huge delicious moist, fresh piece of salmon.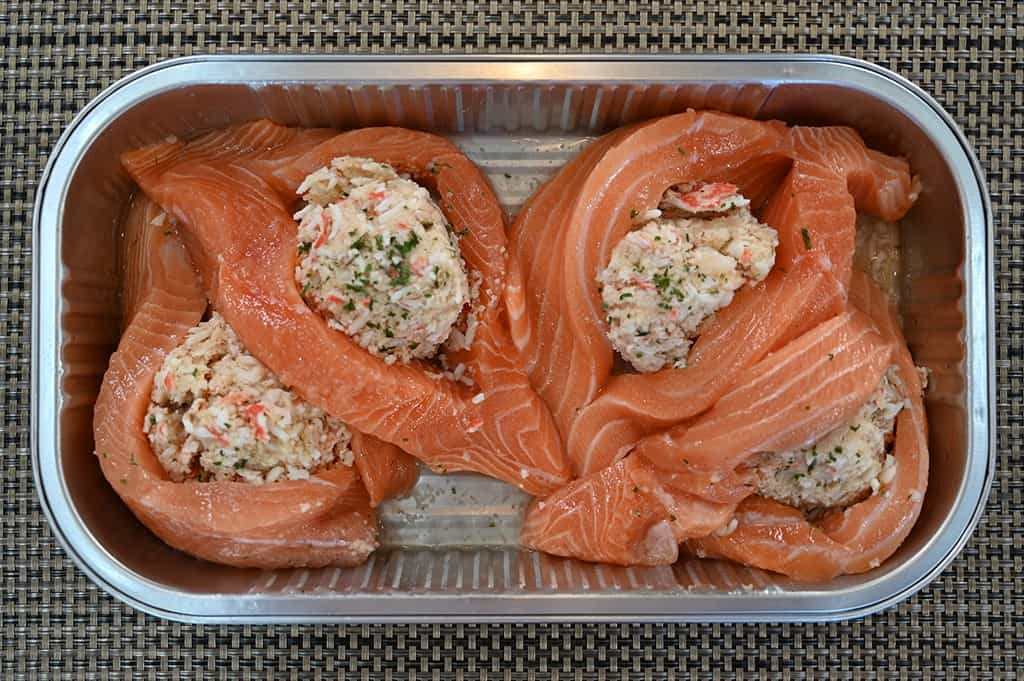 Cost
The price of the salmon from Costco depends on the weight. I paid $34.83 for four huge pieces of stuffed salmon. More than enough for four adults.
The stuffed salmon is one of the most expensive pre-made meals at Costco which I think might make some people a little apprehensive about purchasing it.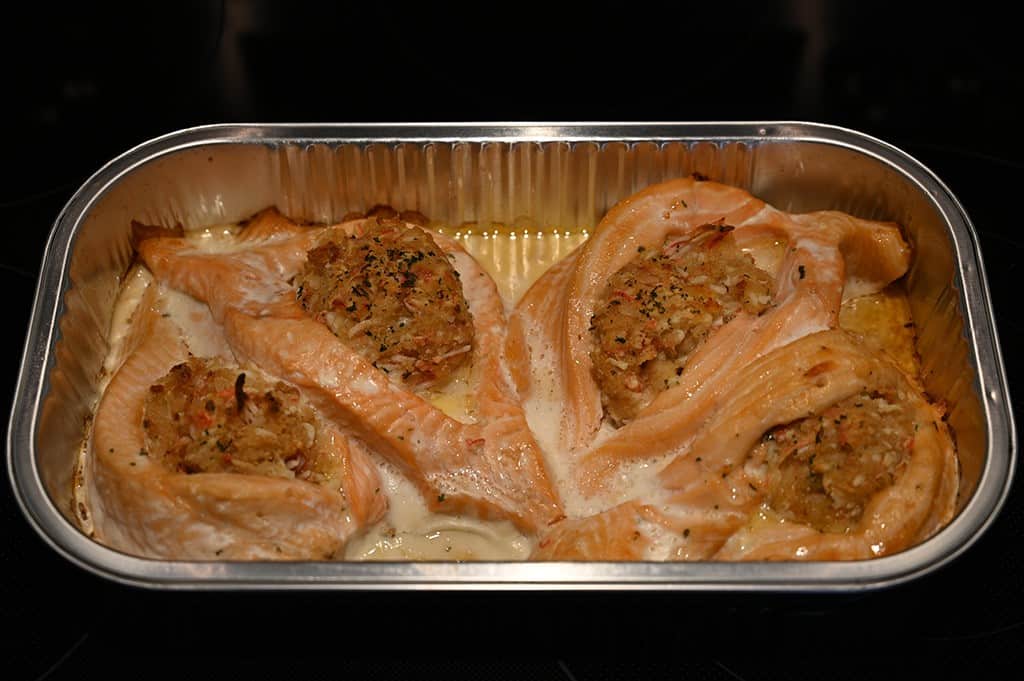 Convenience
Cooking the stuffed salmon from Costco is extremely simple. All you have to do is either bake it in the oven or bake it on the barbecue.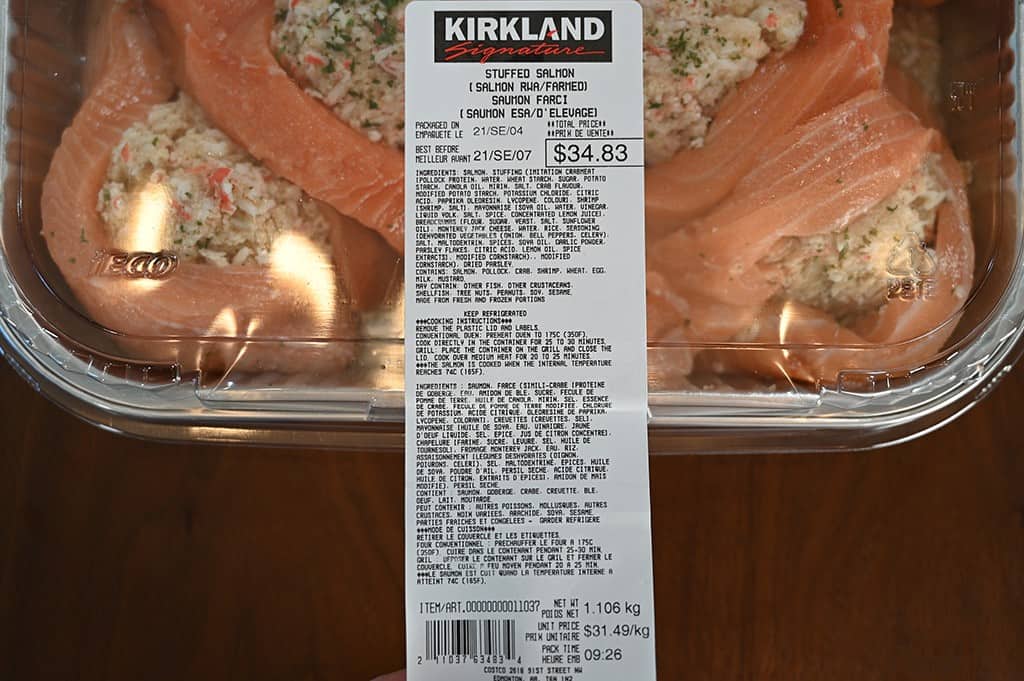 To bake it in the oven you preheat your oven to 350 degrees Fahrenheit, remove the plastic lid bake it for 25 to 30 minutes. I used a thermometer to check the internal temperature after 30 minutes in the oven and it wasn't cooked enough so I had to put it back in the oven for about eight additional minutes.
We didn't use the grill method but to grill it, you remove the plastic lid, place the tray with the salmon on the grill, close the lid and cook on medium heat for 20 to 25 minutes.
The salmon is cooked when it reaches an internal temperature of 165 degrees Fahrenheit.
The best before date on the salmon is three days from the date it's packed on. I didn't freeze mine as we ate it right away but I would recommend probably freezing leftovers after baking rather than freezing it raw.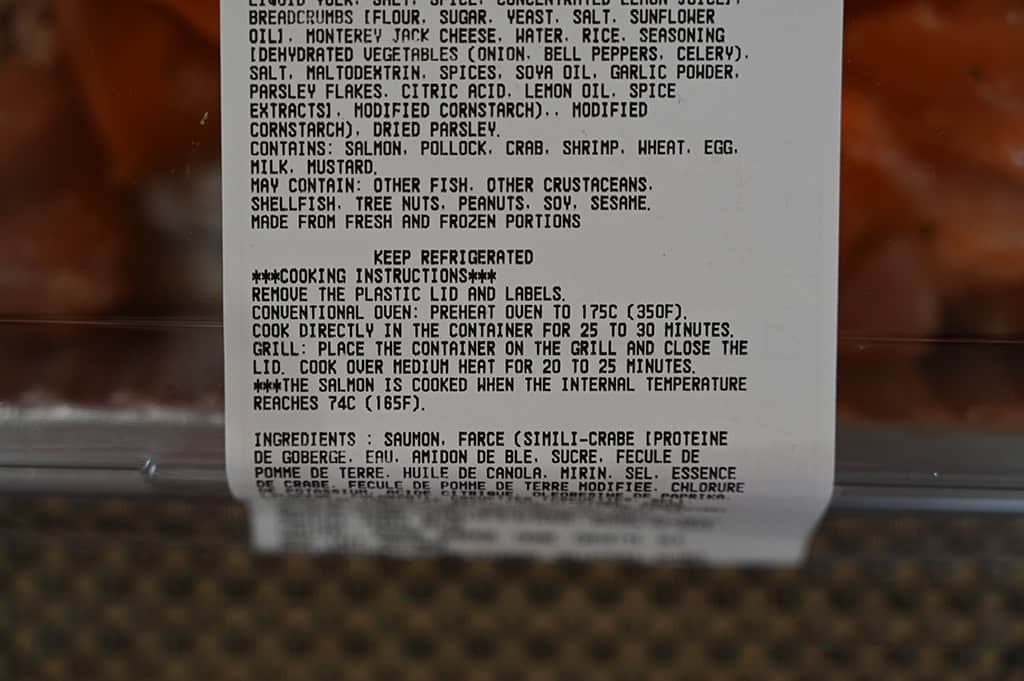 This stuffed salmon at Costco makes a super quick and easy meal. In my opinion, it's not necessary to make any rice or potatoes on the side because of the stuffing. I would just make a side vegetable or side salad to have with it.
It's a great meal idea if you're hosting a dinner and want something easy yet fancy!
Nutrition
Calories
Salmon is rich in omega-3, high in protein and is high in B vitamins, selenium and potassium, but that doesn't make this stuffed salmon from Costco the healthiest option. One piece of the Kirkland Stuffed Salmon contains 500 calories, 31 grams of fat, 37 grams of protein, three grams of sugar, 650 milligrams of sodium, 17 grams of carbohydrates and one gram of fiber.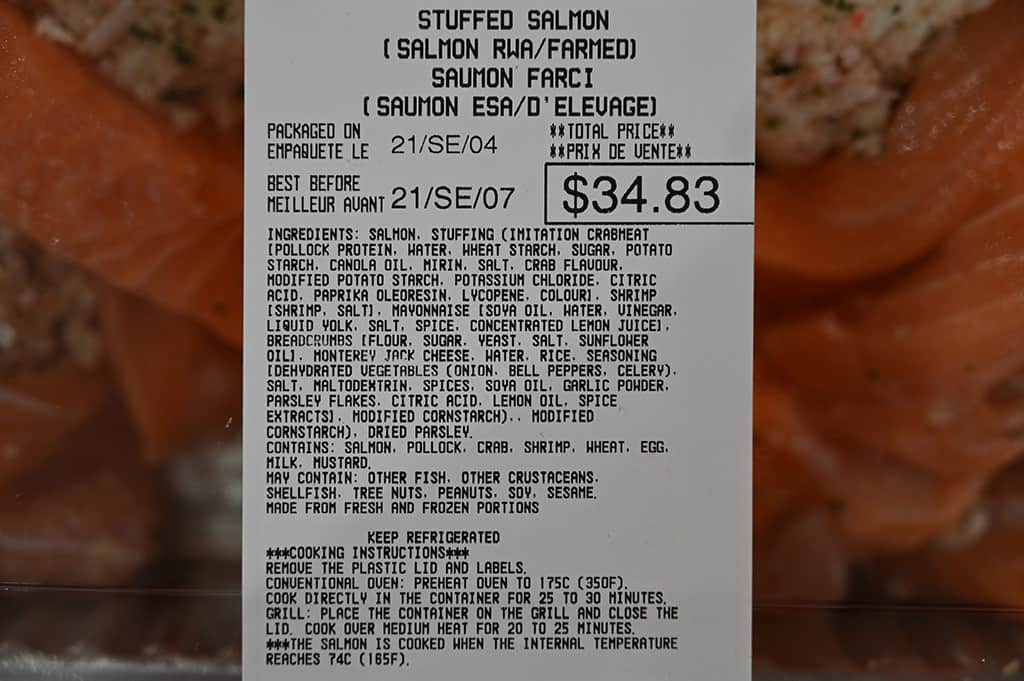 Ingredients
The Kirkland Signature Stuffed Salmon is farm-raised without the use of antibiotics. I know a lot of people prefer to not eat farm-raised salmon. This article from Costco Connection has some really good information about their farm-raised salmon and I suggest checking it out!
This is not gluten-free or dairy-free, and it's made from "fresh and frozen" portions. After doing some research, I discovered Costco appears to get their farm-raised salmon from Norway.
Scoring
Taste: 8/10
Cost: 6.5/10
Convenience: 9/10
Nutrition: 6.5/10
Overall
Give it a try!
If you're someone who enjoys salmon and want an easy to prepare, slightly fancy salmon dinner I recommend trying this!
Have you tried this? What did you think of it?
---
Please note that this review was not paid for or sponsored by any third party. This product was purchased by Costcuisine for the purpose of producing this review. The opinions in this review are strictly those of Costcuisine. Costcuisine is not affiliated with Costco or any of its suppliers. In the event that Costcuisine receives compensation for a post from the manufacturer of a product or some other third party, the arrangement will be clearly disclosed (including where the manufacturer of a product provides Costcuisine with a free sample of the product).