Costco offers a good selection of popular liquors under its famous Kirkland Signature brand. Some varieties like vodka and tequila have two options to choose from, but this pales in comparison to the selection of Kirkland-branded scotches and whiskeys that are available!
Which Costco Kirkland Signature whiskey (or whisky?) is the best one to buy and why? What's the difference between whiskey, whisky, bourbon, scotch and rye? Find out below as I review the various Costco Kirkland Signature Whiskies and provide all the must-know information about each one! I'll admit that I'm not really a whiskey/whisky drinker personally, but I had a few friends who are help me taste test for this review.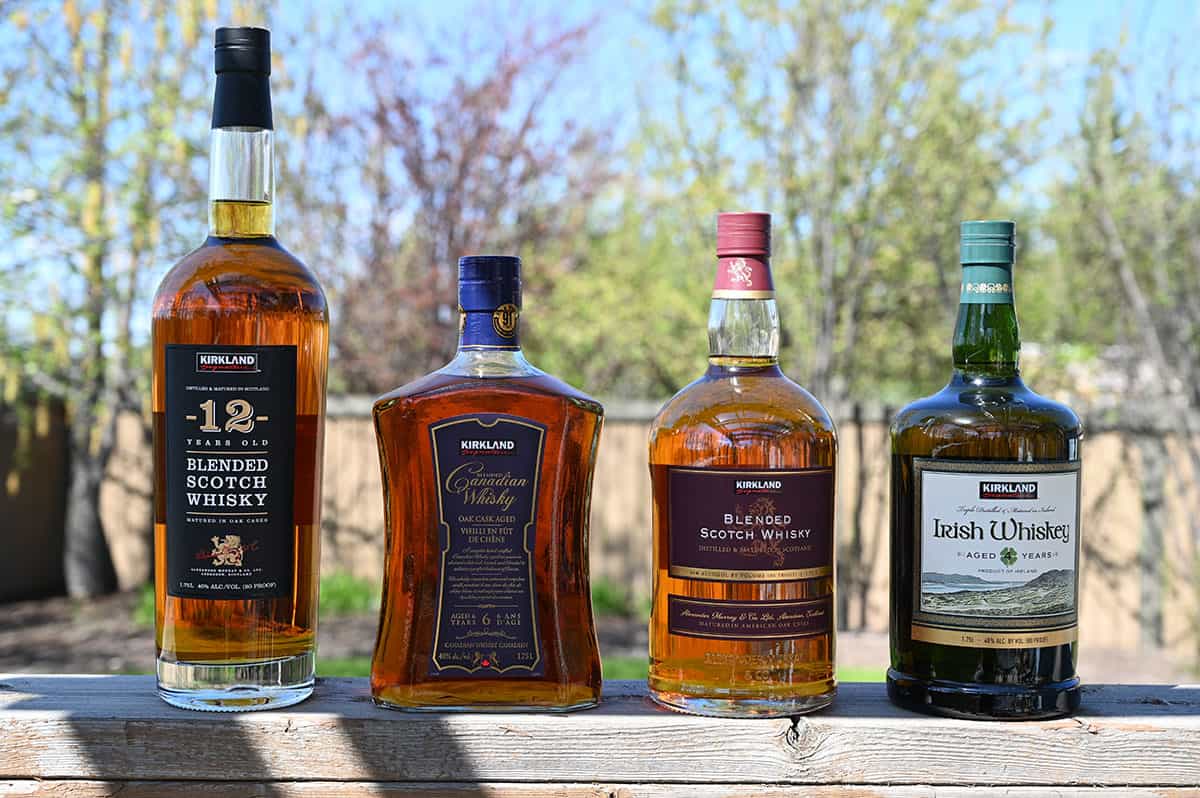 Whiskey, whisky, bourbon, Scotch and rye – what's the difference?
First off, let's talk about why there are two different spellings: whiskey and whisky (with and without an e). The spelling is actually dependent on where the liquor is produced. Whiskey (with an e) is produced in the United States and Ireland. Whisky (without an e) is made in Canada, Japan or Scotland.
Bourbon is made in the United States and is a barrel-aged distilled liquor that's made from corn. For a whiskey to be labeled as bourbon, it has to be made with a mash that's at least 51% corn and then stored and aged in new charred-oak barrels. Bourbons tend to be sweeter versus other whiskeys (like rye for example). All bourbons are whiskeys, but not all whiskeys are bourbons.
A mash refers to the mixture of grains, water and yeast that's fermented to produce the alchohol.
Scotch is a smoky-flavored whisky made exclusively in Scotland. In order to be called Scotch, whisky must be fully produced in Scotland. Scotch is usually made of malted barley but can also be made of malted wheat, rye or a blend of grains. All Scotches are whiskys, but not all whiskys are Scotches.
The terms rye and Canadian whisky are often used interchangeably. Technically rye is made from a mash that's at least 51% rye grain. Rye is known to have a bit more of a peppery, spicy flavor and a bit of a bite to it! Even though Canadian whiskys are often called rye, this can be because Canadian whiskys historically contained a significant amount of rye even though they're not technically required to by current regulations. At the risk of being repetitive, all ryes are whiskeys, but not all whiskeys are ryes.
In order for a whiskey to be labeled Irish Whiskey, it has to be produced and aged in Ireland.
Kirkland Signature 12 Years Old Blended Scotch Whisky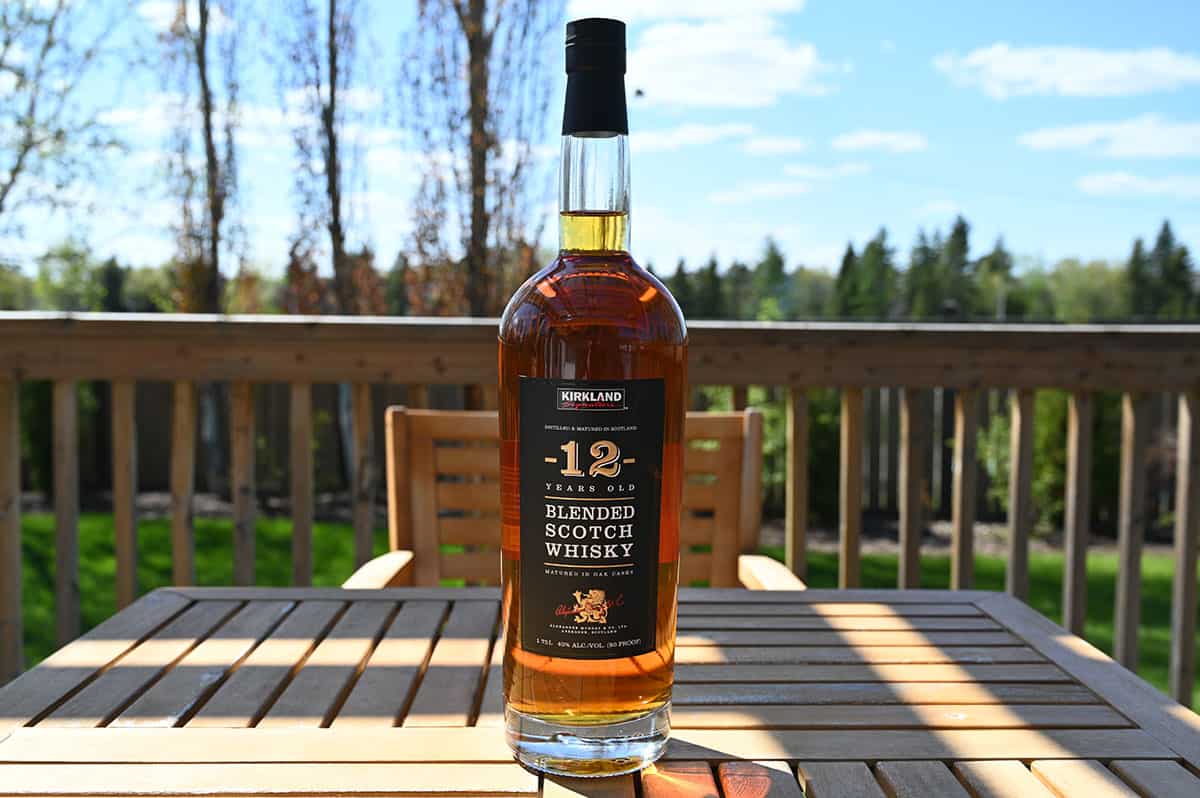 Taste
Our group felt that this Scotch was pretty decent for the price! It's quite smooth and slightly sweet; not very smoky. It's got some punch and has a bit of an oaky flavor as well as fruity notes like apples and apricots. There's a noticeable aroma of vanilla and caramel and smokiness.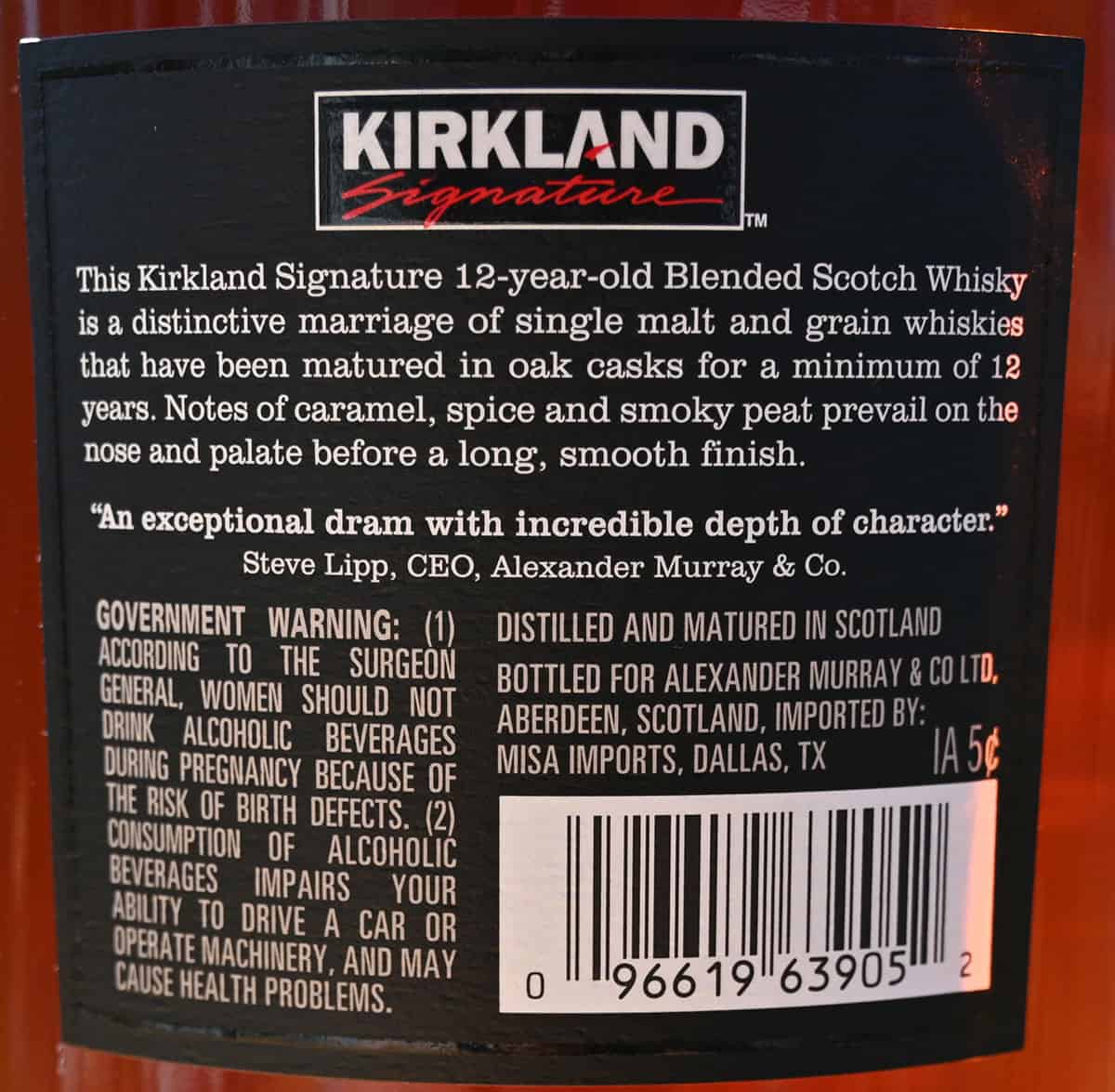 The whisky is distilled and matured in Scotland and bottled for Alexander Murray & Co.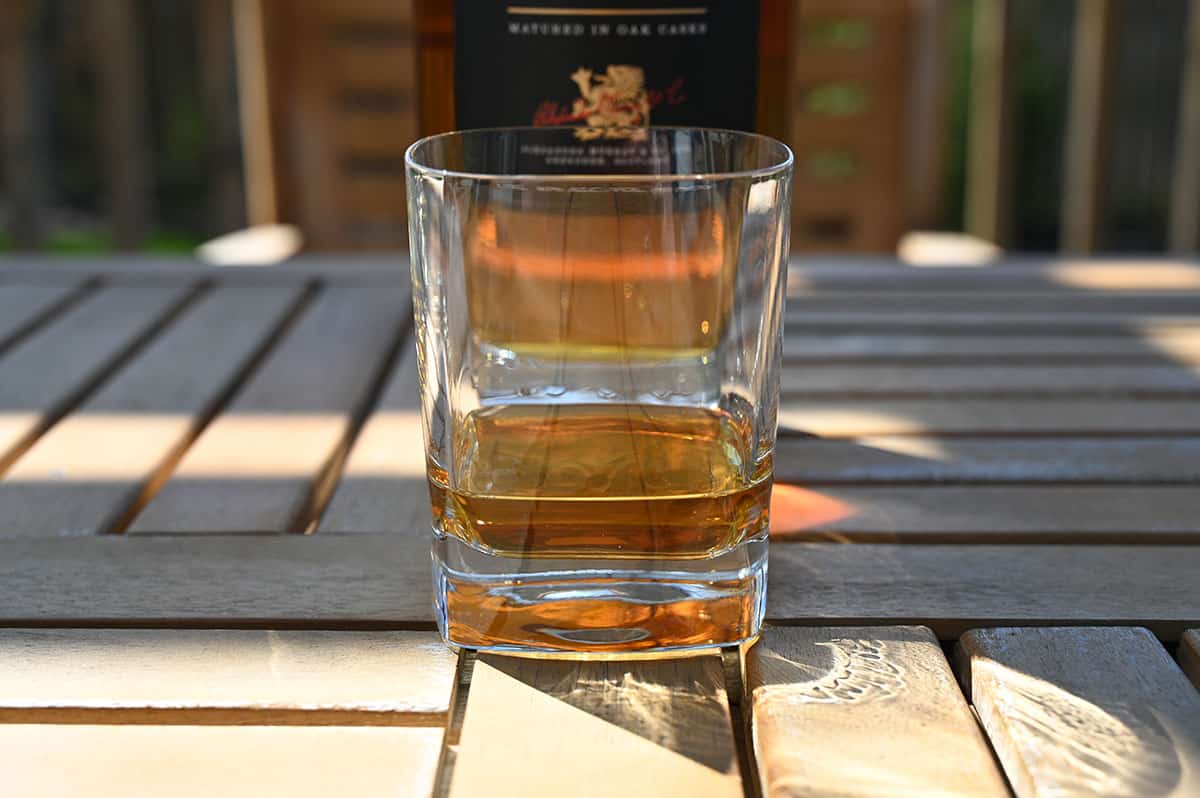 Cost
The 1.75-liter bottle costs $69.99 Canadian at the Costco liquor store. According to my research, the price is quite reasonable for such a large bottle. The 12 Years Old Blended Scotch Whisky is much cheaper in the United States (as is the case with all alcohol as the price in Canada includes higher taxes).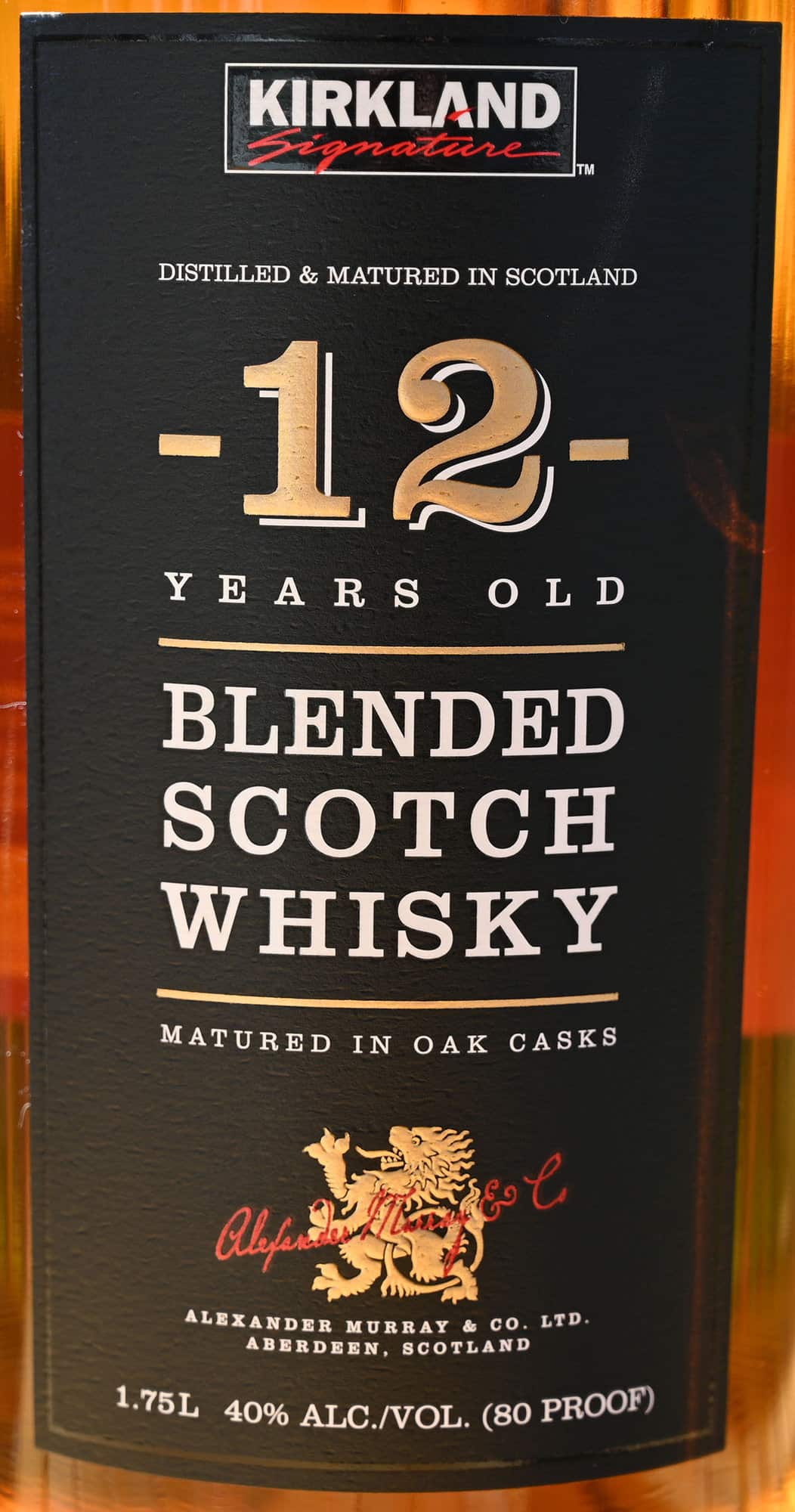 Scoring
Overall, it's pretty good. Nice and smooth with a bit of punch. The price is right for a 12-year-old aged whisky.
7/10
Kirkland Signature Blended Canadian Whisky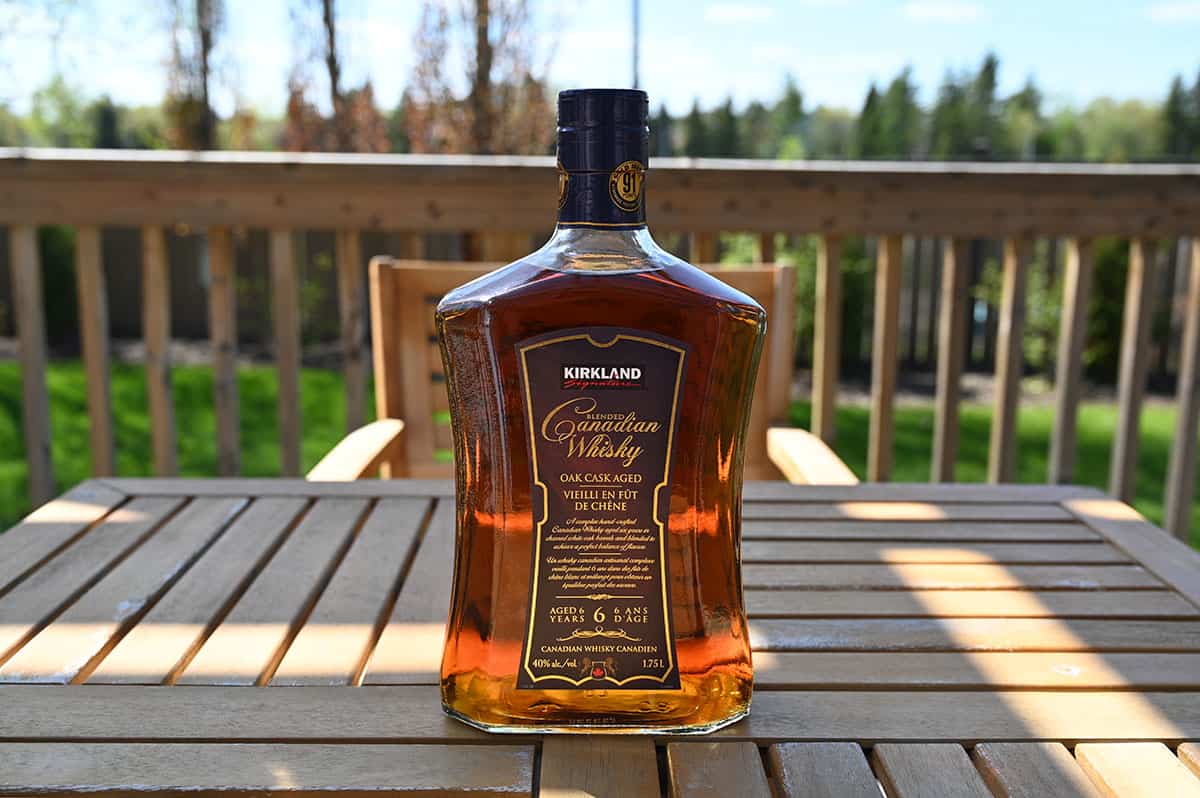 Taste
The Kirkland Signature Blended Canadian Whisky is sweet with notes of cinnamon, coffee and caramel. It's nice and smooth but has a slightly bitter taste at the end. It's aged six years in charred white oak barrels and (obviously) made in Canada.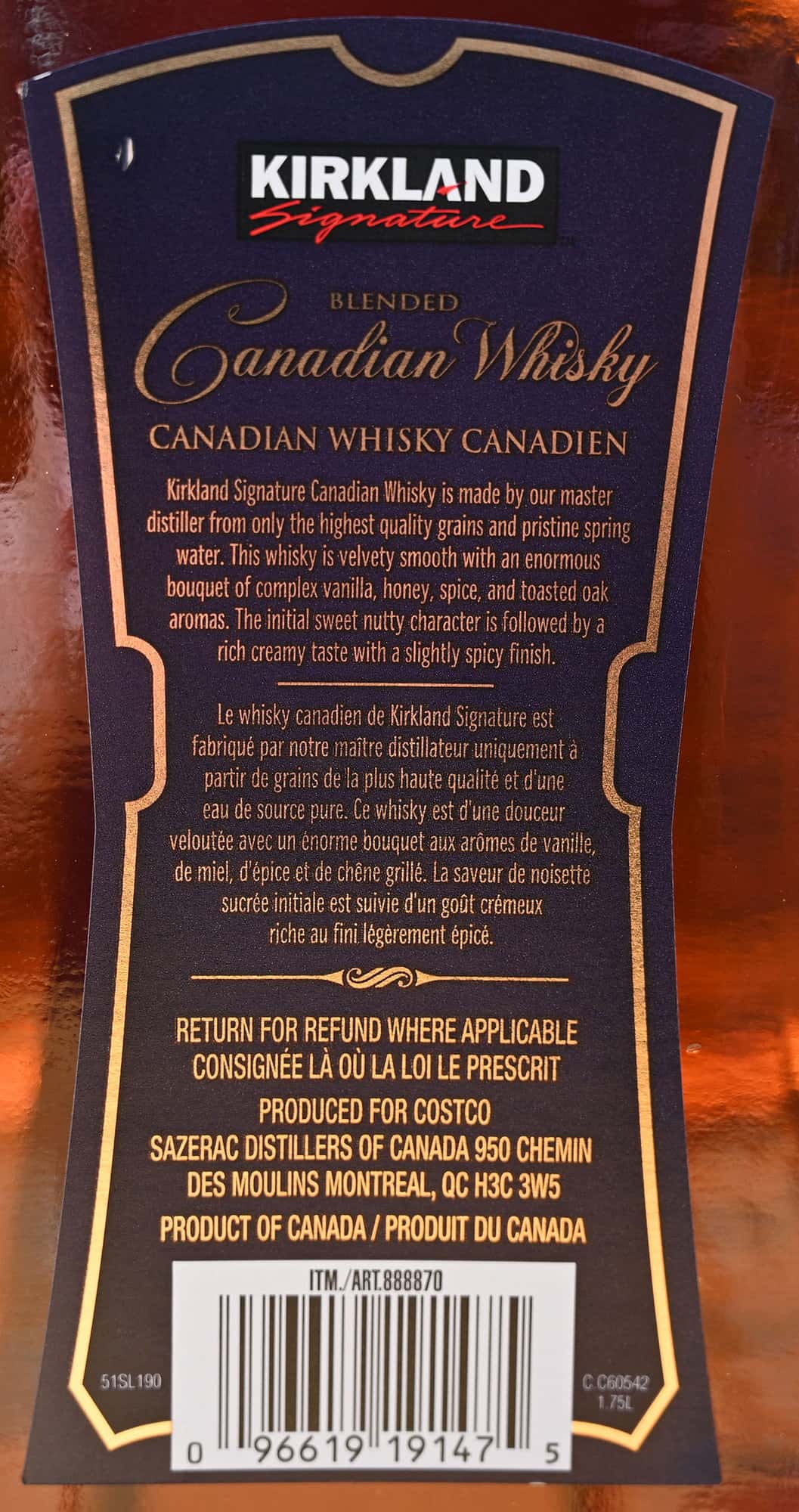 If you're a fan of Crown Royal, you'll love the Costco Canadian Whisky. My dad is a huge Crown Royal fan and he feels that this Costco version tastes very similar. He said that if he did a blind taste test, he probably wouldn't be able to tell the difference.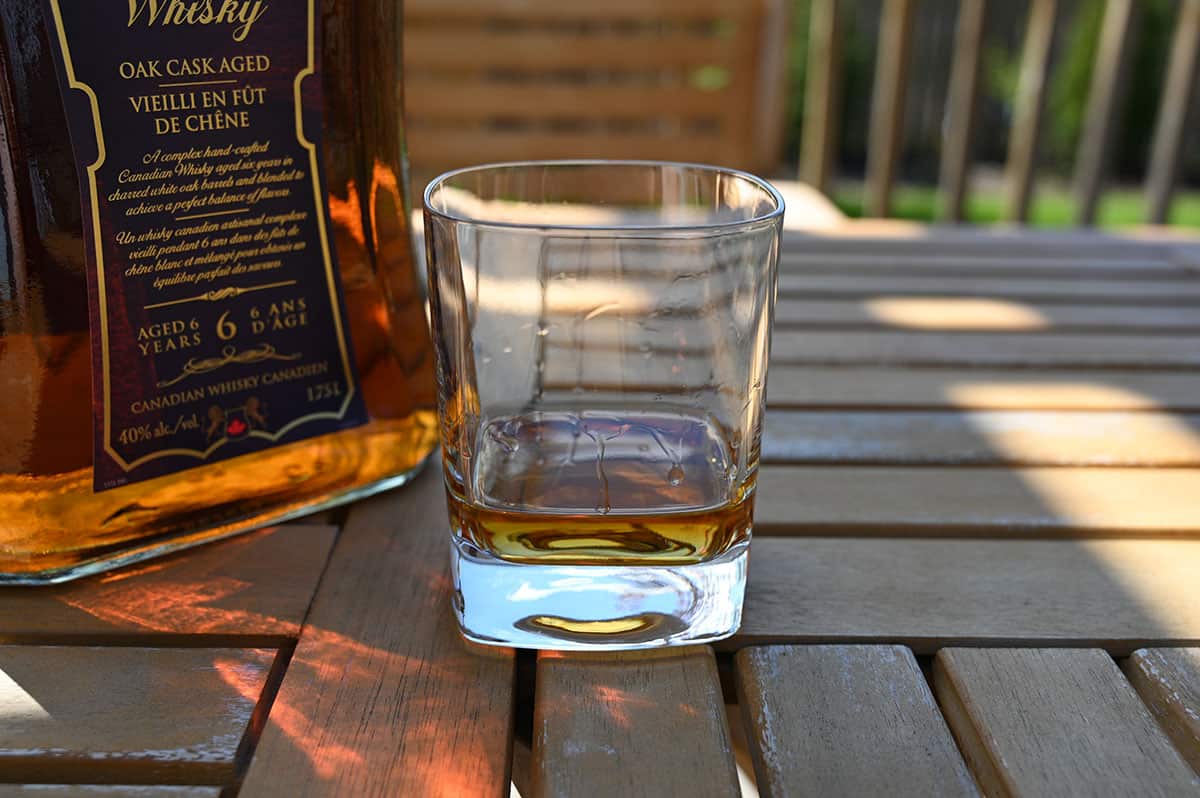 Cost
The 1.75-liter bottle of Kirkland Signature Canadian Whisky costs $49.99 Canadian. That's a bit cheaper than Crown Royal, making this a good discount alternative.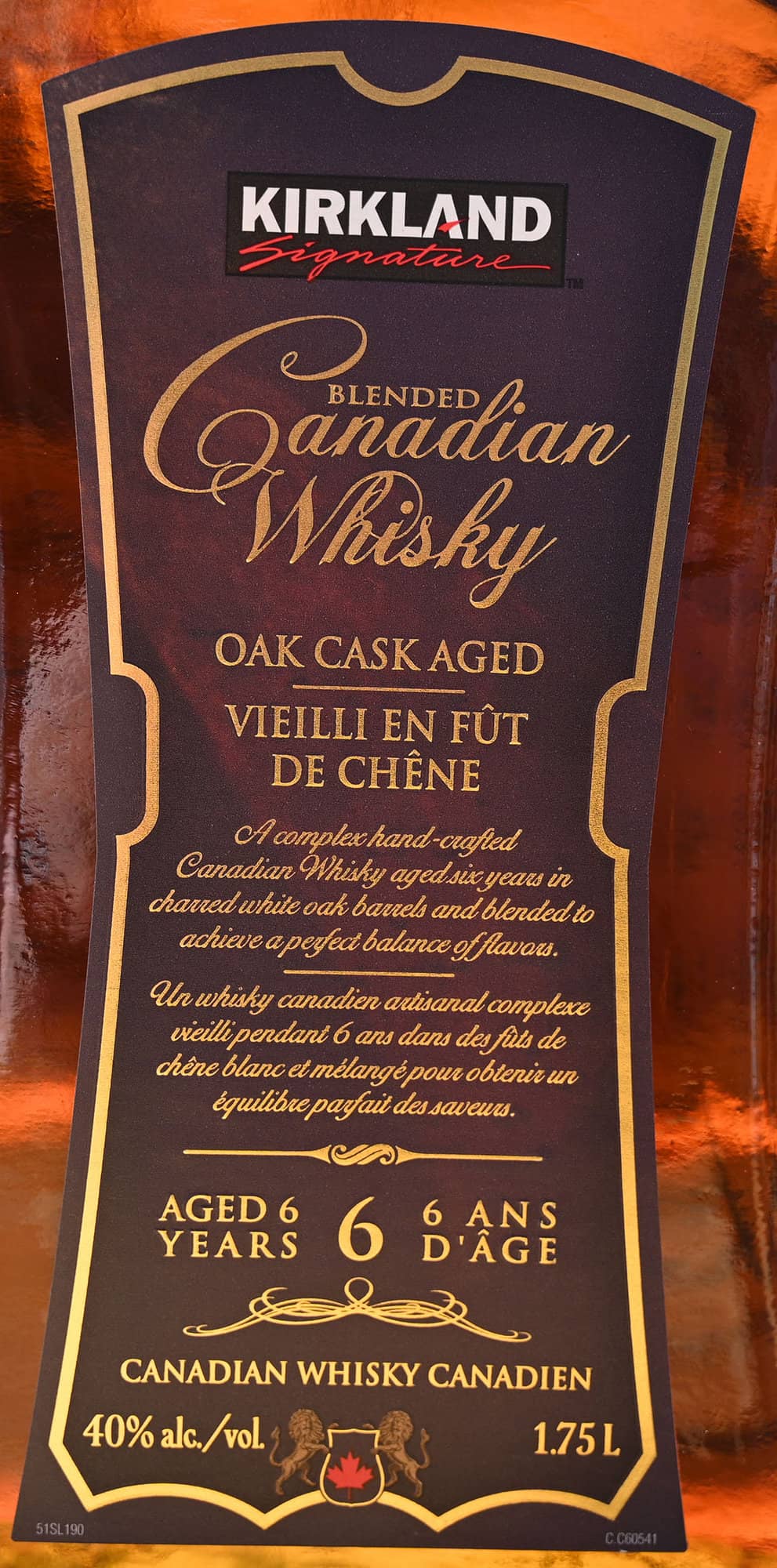 Scoring
Overall this is a great Canadian Whisky that tastes very close to the famous and popular Crown Royal.
8.5/10
Kirkland Signature Blended Scotch Whisky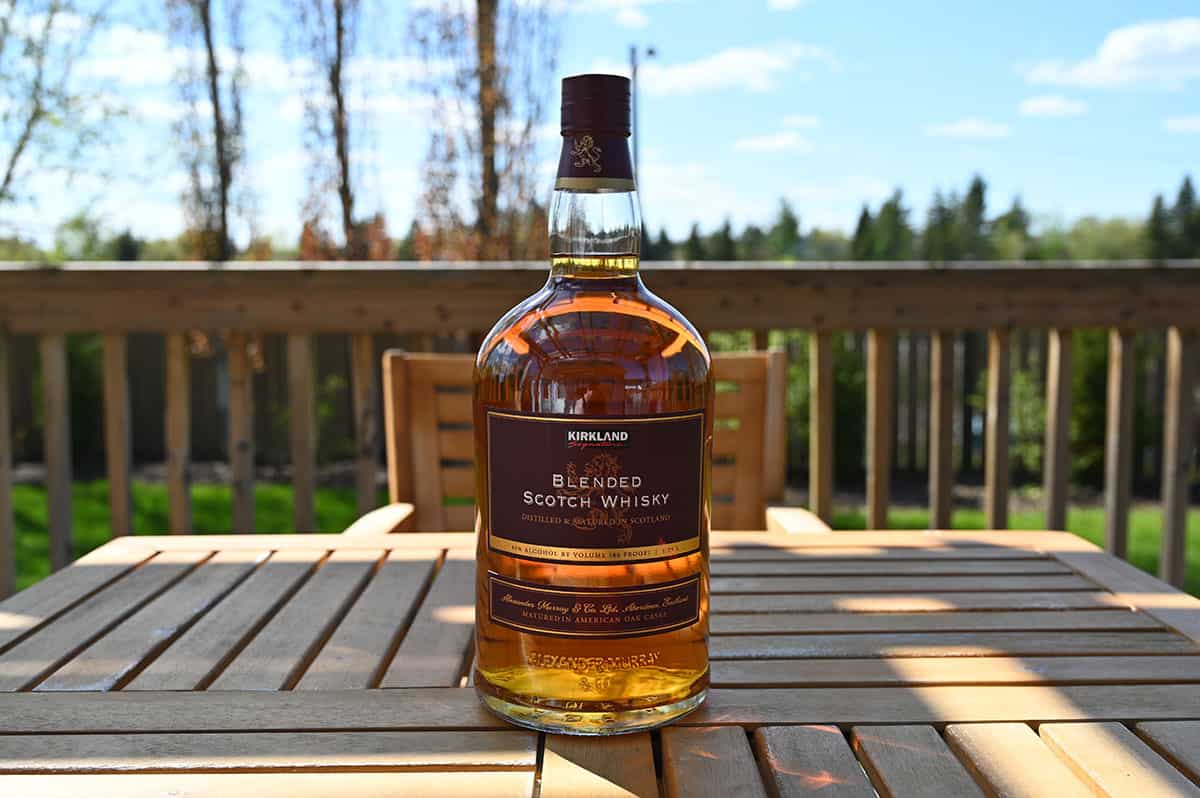 Taste
This one was not a hit with my taste testers. Some of the comments were that it's very harsh, very astringent and tasted like medicine. The winner for the most entertaining comment was that it "tastes like hairspray"! This whisky is only aged for three years, so I guess it's too surprising that it wasn't as good as the ones that were aged for much longer.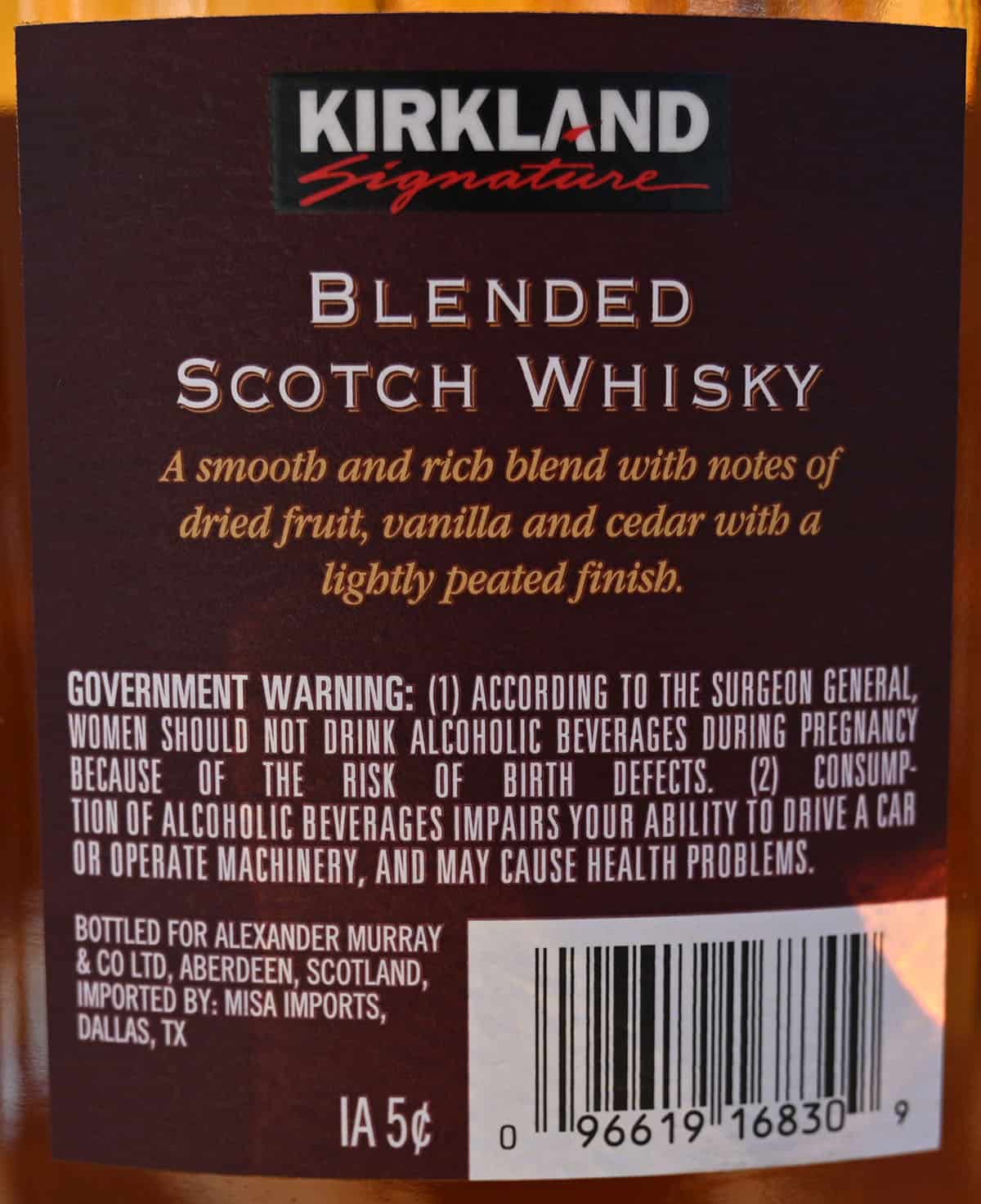 The whisky is distilled in Scotland and matured in American oak casks. If you do buy this Scotch, I recommend using it in mixed drinks rather than sipping it by itself, but I don't know why anyone would buy it in the first place given the other better options that are available.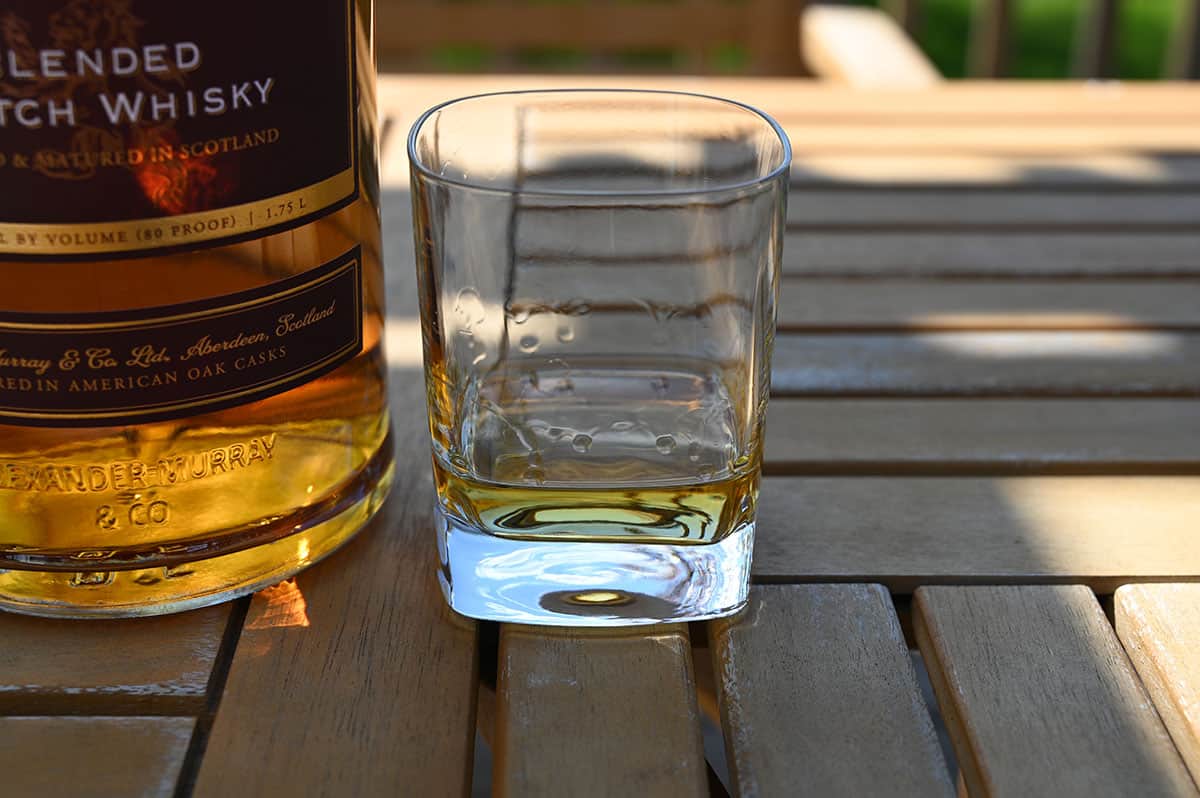 Cost
The 1.75-liter bottle costs $49.99 Canadian at Costco liquor stores. Even though this Scotch was rated the lowest by my taste testers, it costs the same amount as the Canadian Whisky and the Irish Whiskey!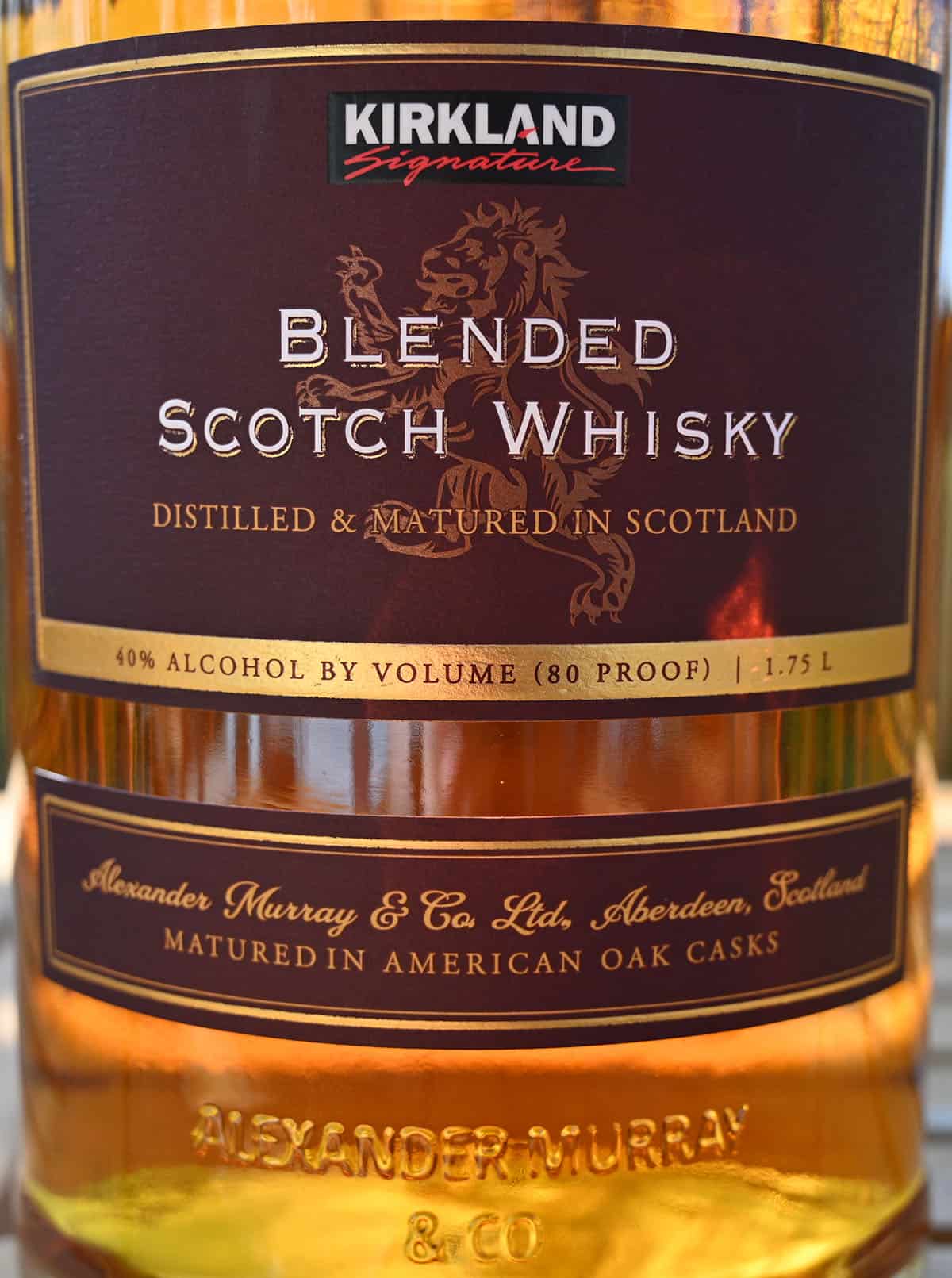 Scoring
The Blended Scotch Whisky is not good. It's very harsh and I can't recommend it. It might be okay in mixed drinks, but it's not any cheaper than most of the other options Costco offers, so why bother?
3/10
Kirkland Signature Irish Whiskey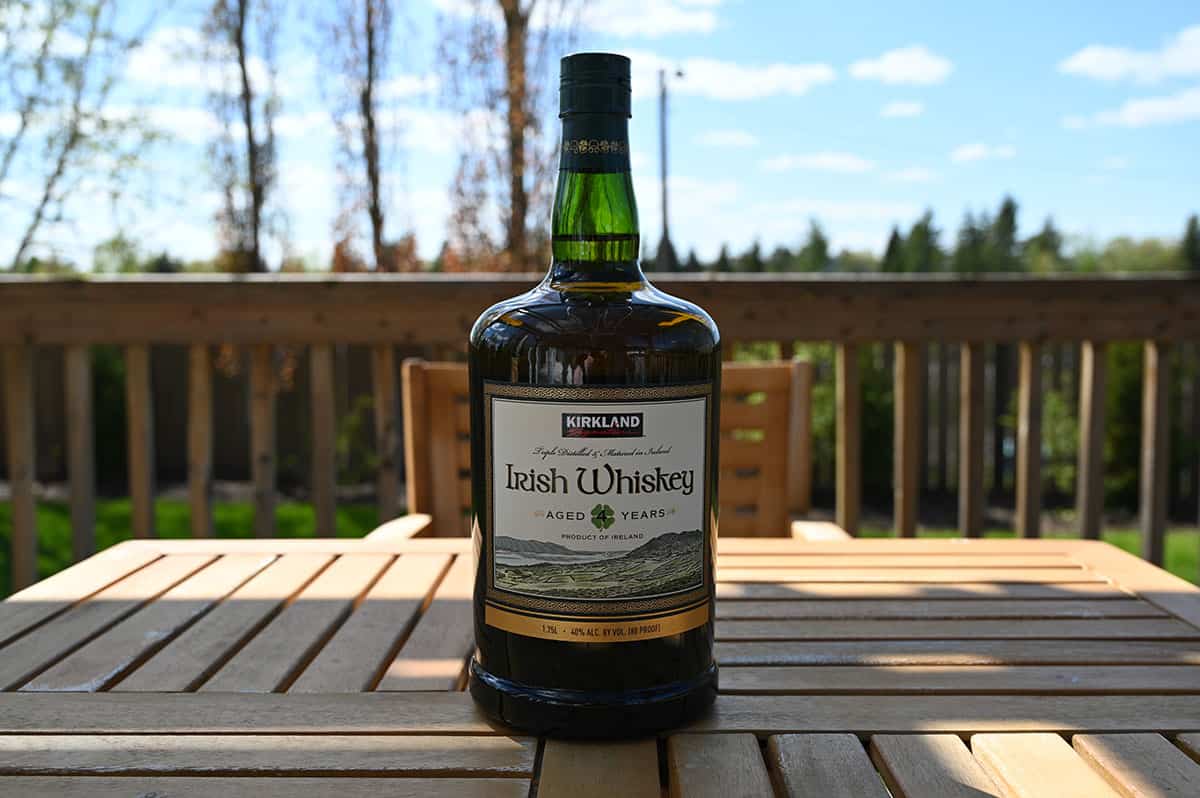 Taste
The standout comment on the Irish Whiskey is that it's fantastic for the price. My tasters found it smooth and easy to drink and thought it would be a great everyday whiskey (if you like whiskey that much!). It can be enjoyed on its own or mixed into cocktails. If you've had Jameson Whiskey before, the Costco Irish Whiskey tastes very similar (which is a good thing).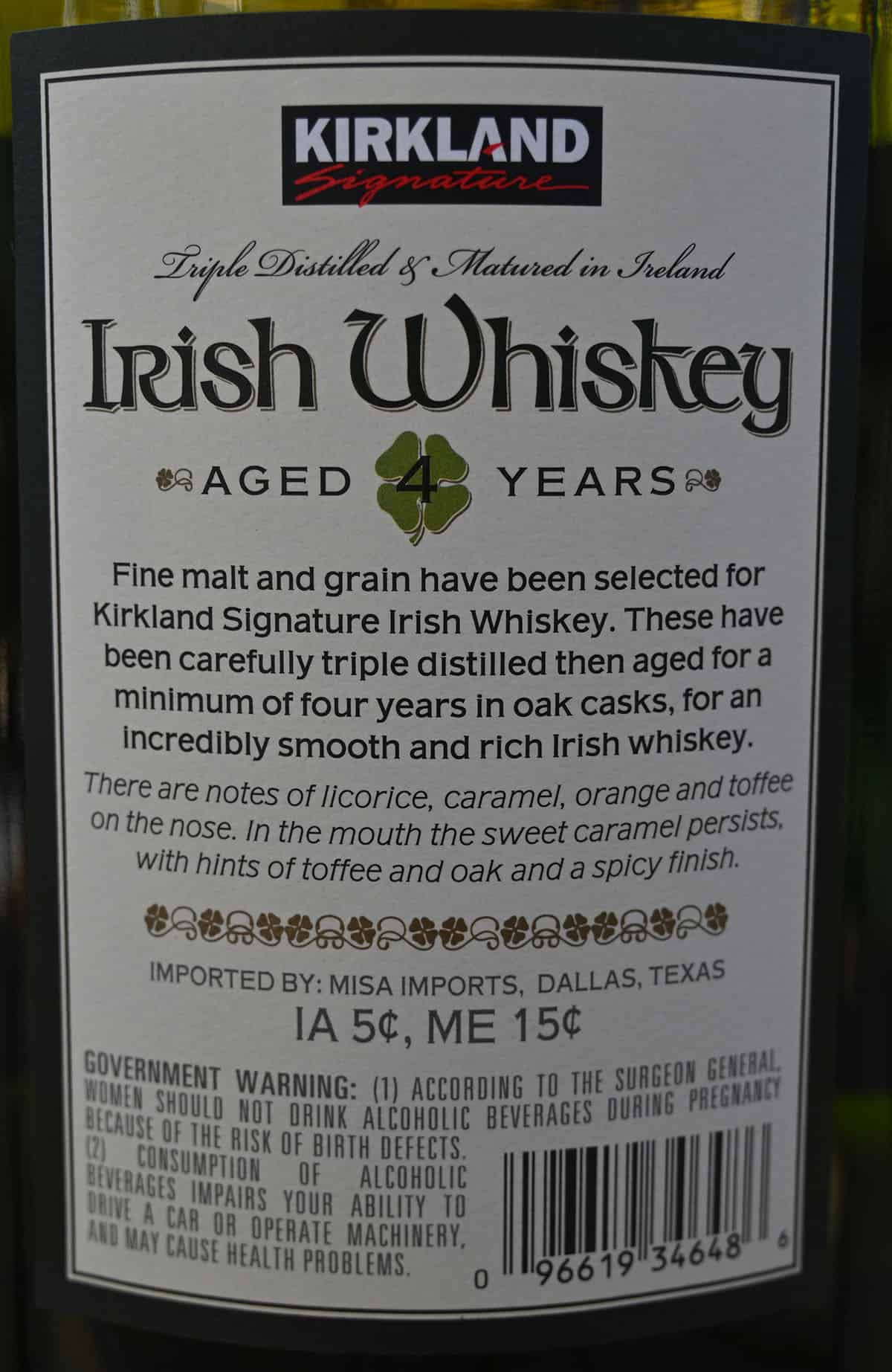 This whiskey would make a fantastic Irish coffee. The noticeable flavors are orange zest, cinnamon, caramel, pepper and vanilla. This is a very smooth and good-quality whiskey.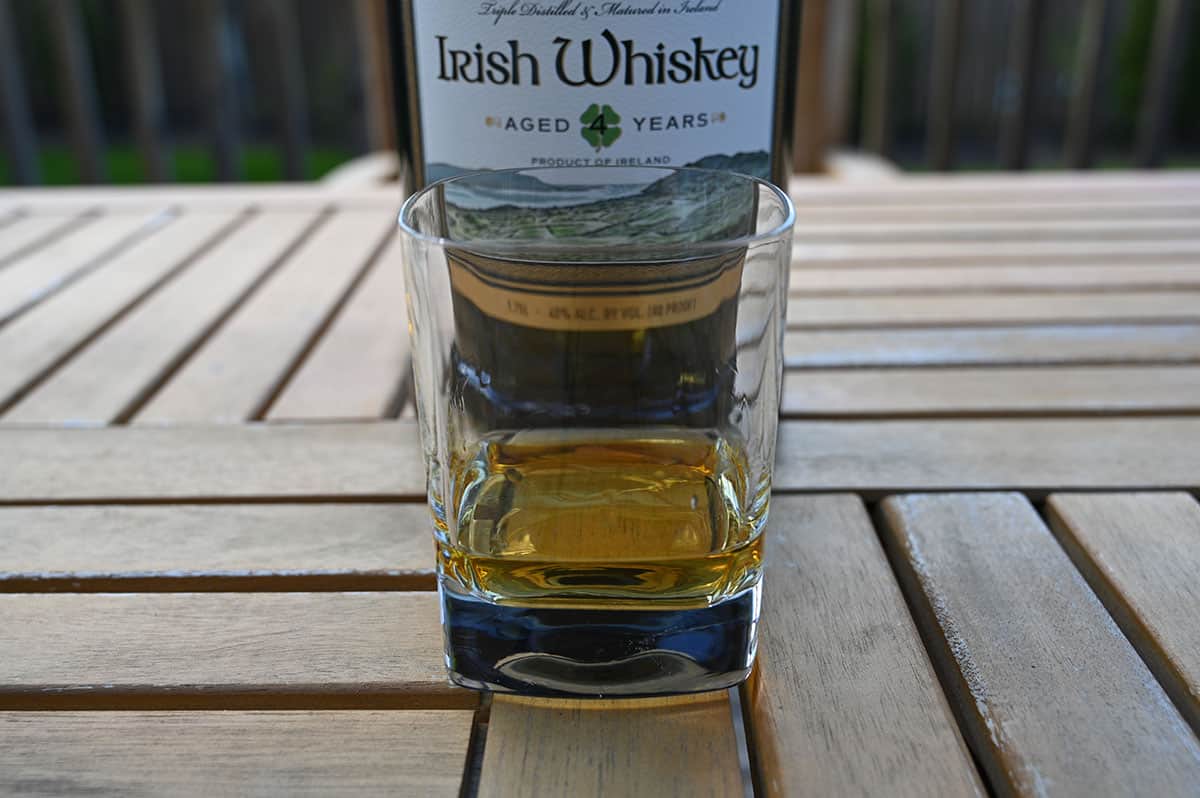 Cost
The Irish Whiskey costs $49.99 Canadian for the 1.75-liter bottle at Costco.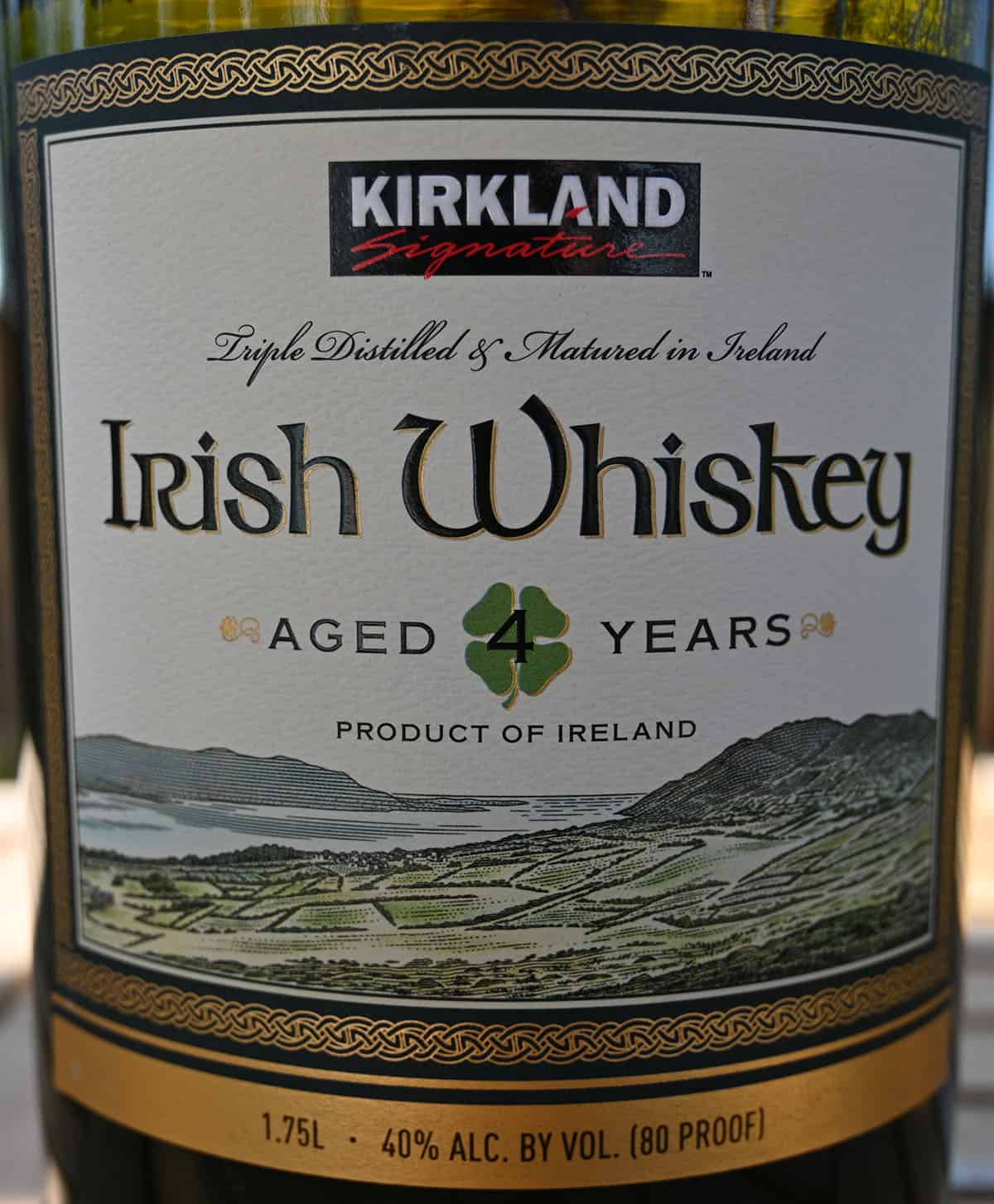 Scoring
This is how a blended whiskey should taste. If you like Jameson Irish Whiskey, you'll be a fan of this one.
8/10
Serving suggestions
A quick Google search shows that there are a ton of cocktail recipes out there that use all varieties of whiskey. If you want to keep things simple, a basic mixed drink like whiskey and Coke or rye and ginger ale is always an option. If you're a real purist, then you probably like your whiskey by itself!
Realistically I would imagine that most people will probably purchase these large, reasonably-priced bottles to use as an ingredient in cocktails or mixed drinks rather than as sipping whiskeys.
Which Costco whiskey/whisky is the best?
The Kirkland Signature Canadian Whisky and the Kirkland Signature Irish Whiskey were the favorites among my taste testers. They're both great options that I recommend. The Canadian whisky tastes just like the famous Crown Royal whisky and the Irish Whiskey tastes very similar to Jameson Irish Whiskey. Both Crown Royal and Jameson Whiskey are well-respected brands that are popular with their loyal customers.
If I had to pick one whisky from Costco as the winner, it would be the Canadian Whisky, but I do live in Canada, so take that with a grain of salt!
Overall
Give them a try!
If whiskey/whisky is your go-to liquor, I think the Irish Whiskey and Canadian Whisky from Costco are both great options to try.
Have you tried any of the Costco whiskeys/whiskys? If so, what do you think of them? Do you have a favorite?
---
Please note that this review was not paid for or sponsored by any third party. This product was purchased by Costcuisine for the purpose of producing this review. The opinions in this review are strictly those of Costcuisine. Costcuisine is not affiliated with Costco or any of its suppliers. In the event that Costcuisine receives compensation for a post from the manufacturer of a product or some other third party, the arrangement will be clearly disclosed (including where the manufacturer of a product provides Costcuisine with a free sample of the product).