Costco liquor stores carry two different kinds of Kirkland Signature vodka. Today I'm reviewing both of them – the more expensive French one and the cheaper American version. This was a tricky review for me as I'm not a big vodka drinker but I shared my vodka with a few friends to get different opinions. Kirkland Signature products are usually great value for the money, so I wanted to find out if that was true for their vodka as well.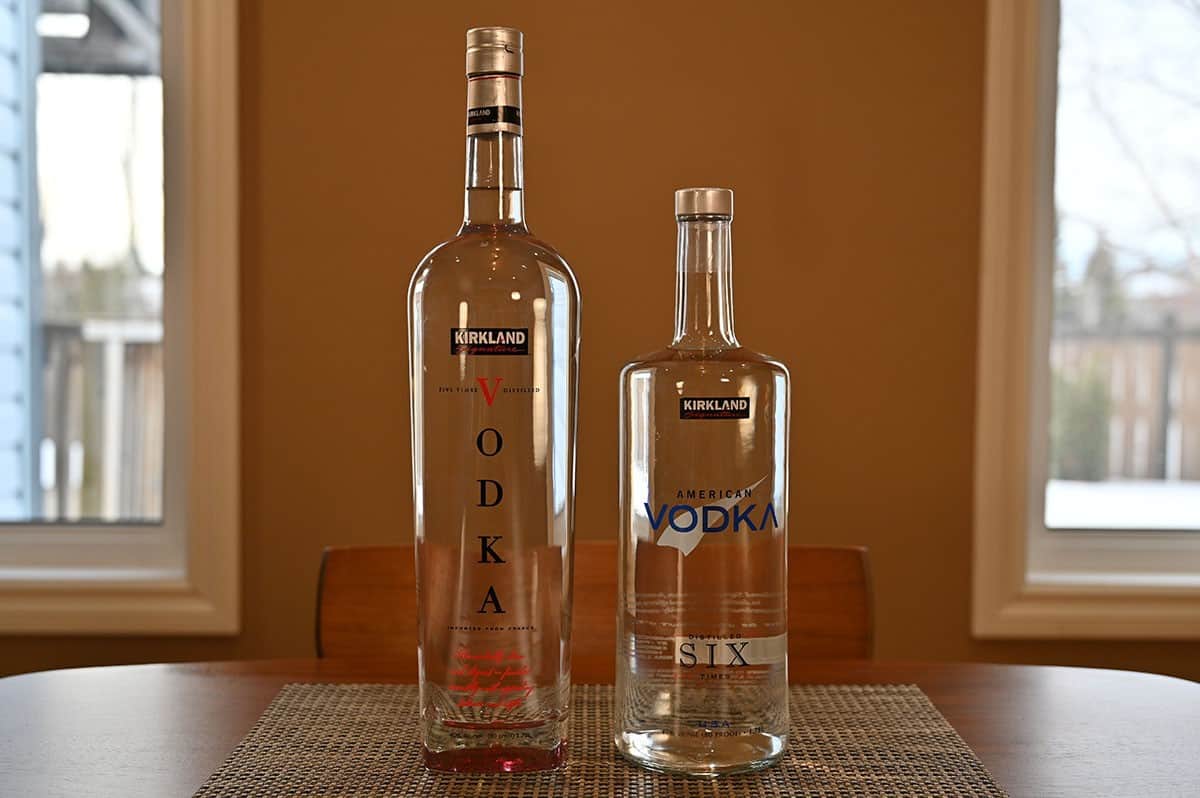 Other Kirkland Signature liquor products I've reviewed are the Costco Kirkland Signature Traditional Holiday Egg Nog, Costco Kirkland Signature Premium Golden Margarita, Costco Kirkland Signature Strawberry Margarita, Costco Kirkland Signature Silver Tequila, Costco Kirkland Signature Prosecco, Costco Kirkland Signature Sangria and the Costco Kirkland Signature Anejo Tequila.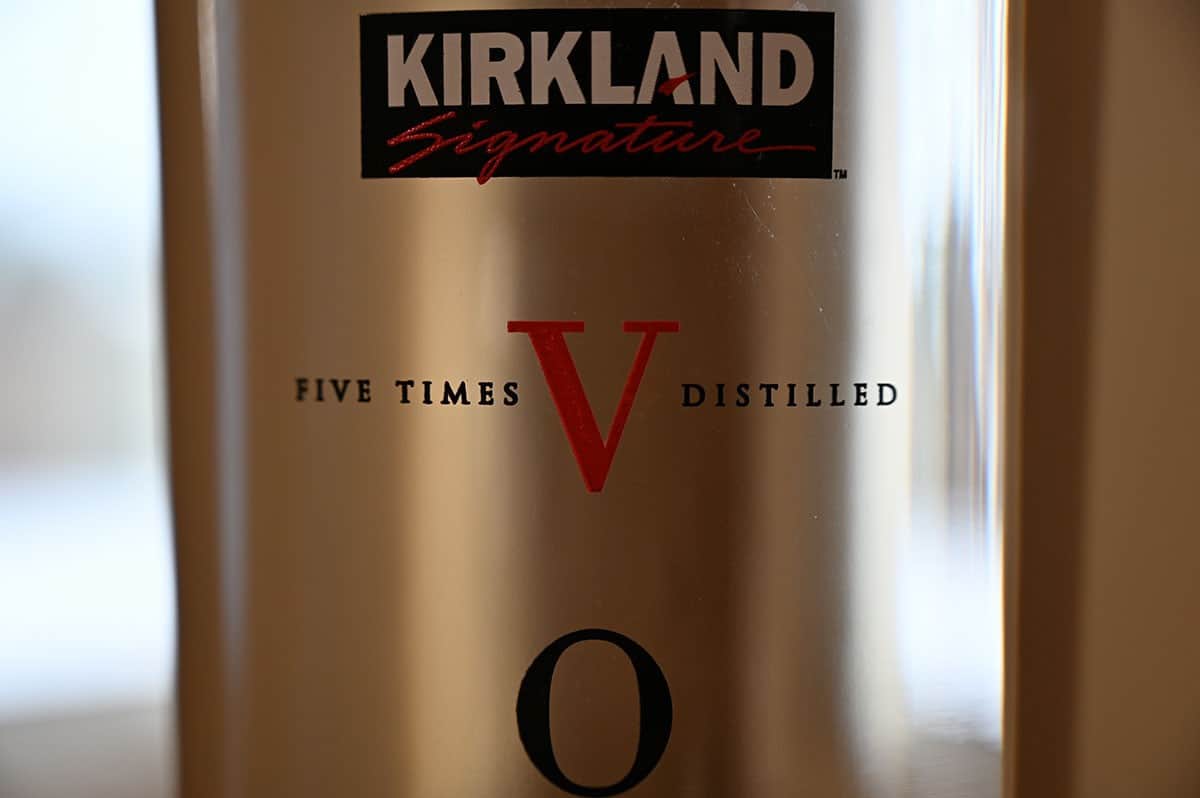 Location in Store
You can find both the French and American Kirkland Signature Vodka in the Costco liquor store. The item number for the French Kirkland Signature Vodka is the 999910 and the number for the American Kirkland Signature Vodka is 349025.
Taste
Is Costco French vodka Grey Goose in Disguise?
There's been major speculation the French Vodka at Costco is made from the same company that manufactures Grey Goose, however, this is not true. I found an article on Vice that points to the only similarity being that Grey Goose and the Kirkland French vodka are produced in France using the same water from a spring in the Cognac region.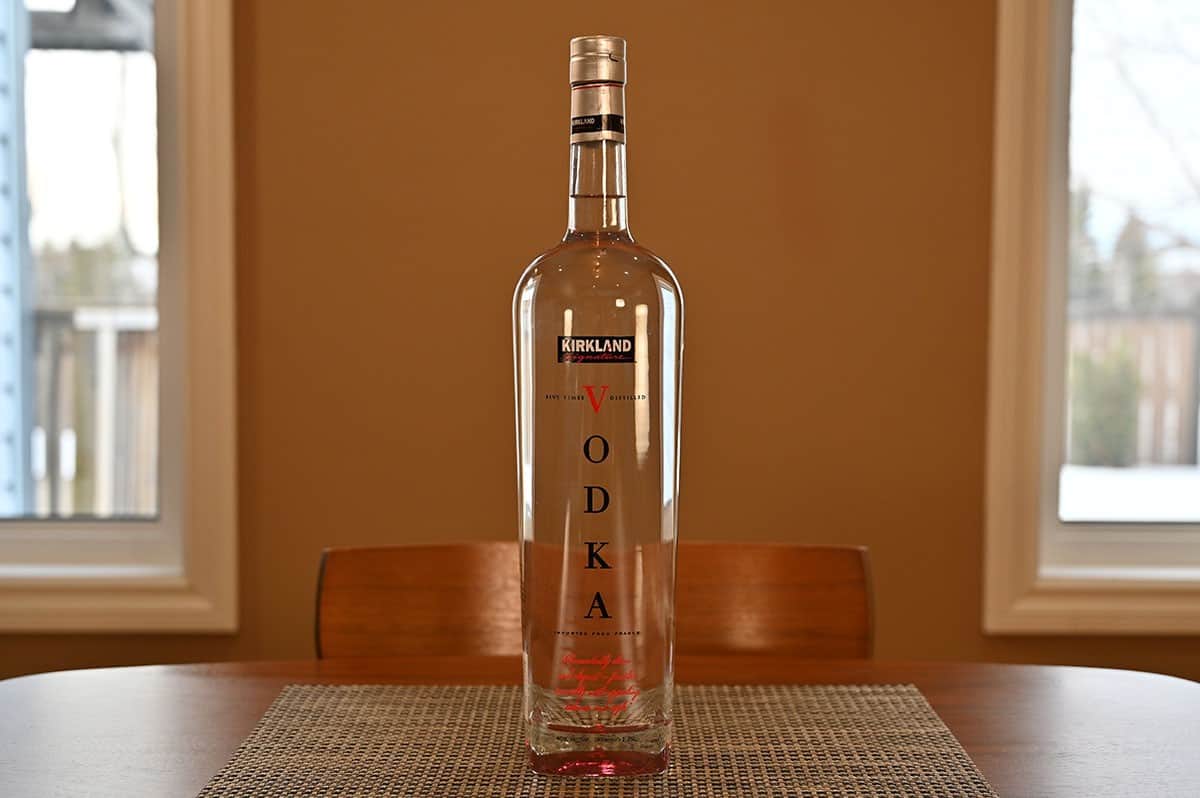 Costco Kirkland Signature French Vodka versus Costco Kirkland Signature American Vodka
We made Moscow Mules with both vodkas and also tried them straight.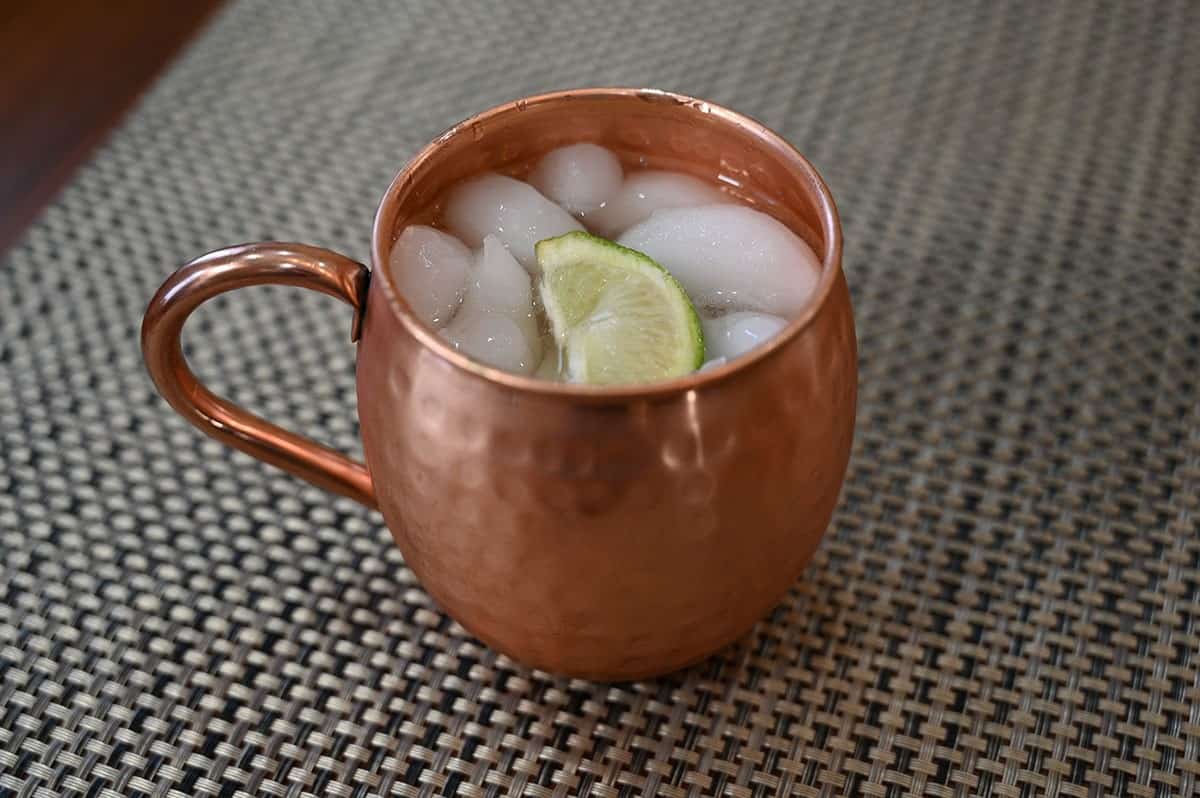 The French vodka from Costco tastes much more premium in flavor and viscosity. It's not watery like some vodkas. It has a richness that the American vodka doesn't, and is inoffensive and easy to drink. The vodka is smooth and doesn't have that sharp alcoholic bite that vodka usually does. Of course this is all relative – I'm sure many people won't find any vodka easy to drink, smooth and lacking a sharp bite when they drink it straight.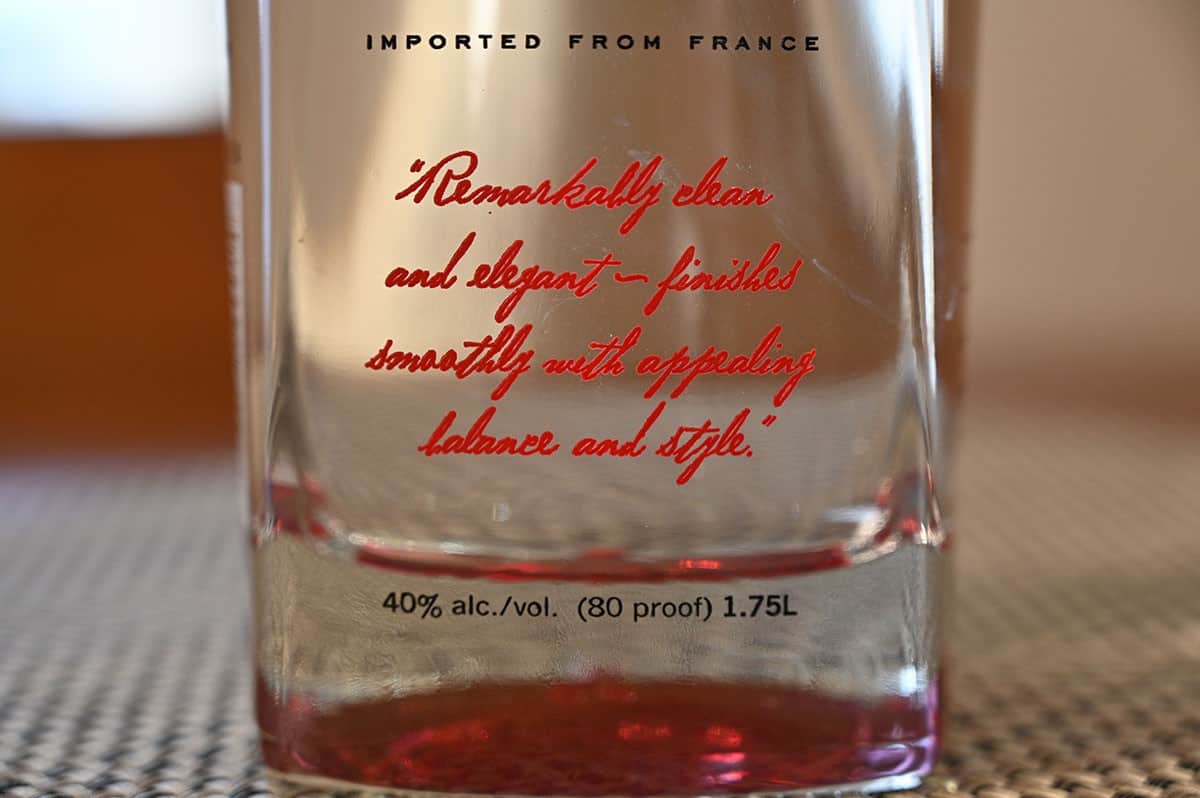 The American is six times distilled tastes more watery. It has a strong alcohol bite, and the alcohol flavor lingers in your mouth and chest. Our friend described it as, "tasting similar to the big bottle of $17 dollar vodka I've been buying".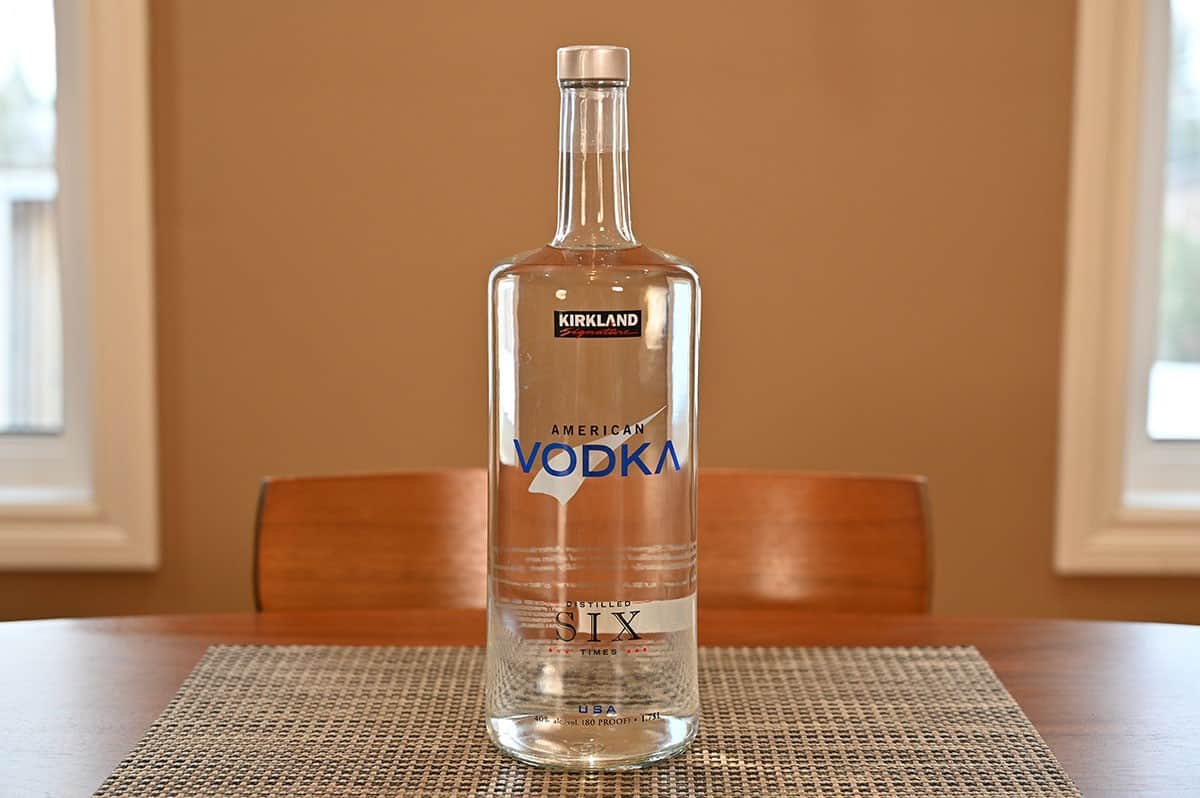 Hands down the Costco Kirkland Signature French Vodka beats the Costco Kirkland Signature American Vodka in a taste test, at least when you try them alone. Things are more competitive when you use them in cocktails/mixed drinks. We made Moscow Mules for our friends using both types of vodka and nobody could tell the difference in a blind taste test.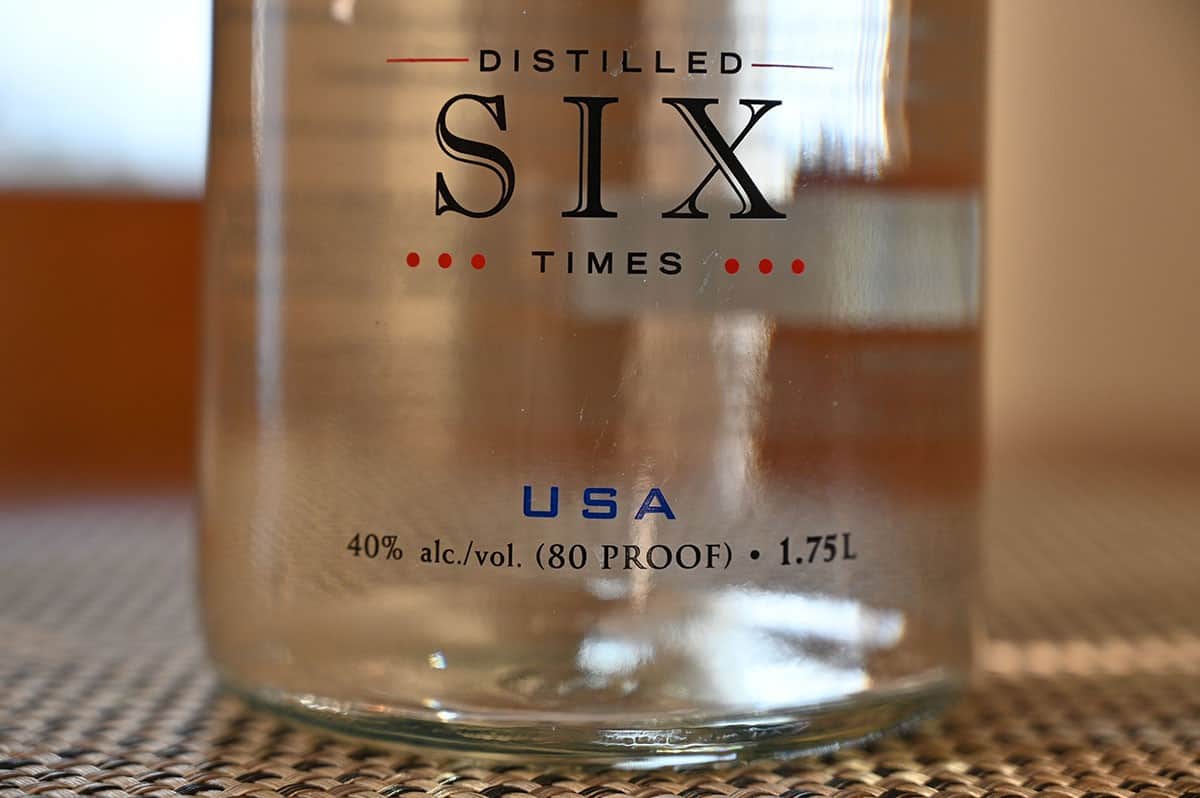 Cost
The price of the French vodka is $49.99 Canadian for the 1.75 liter bottle. The price of the American vodka is $44.99 Canadian for the 1.75 liter bottle. I think the French vodka is a really great deal, and for such a small difference in price, I recommend choosing it over the American one. If you're only going to use your vodka in mixed drinks, it might be harder to justify the extra $5. The premium French vodka is probably worth it for stronger cocktails, but you may not notice the difference in weaker mixed drinks (our Moscow Mules weren't exactly "weak", and we couldn't tell the difference).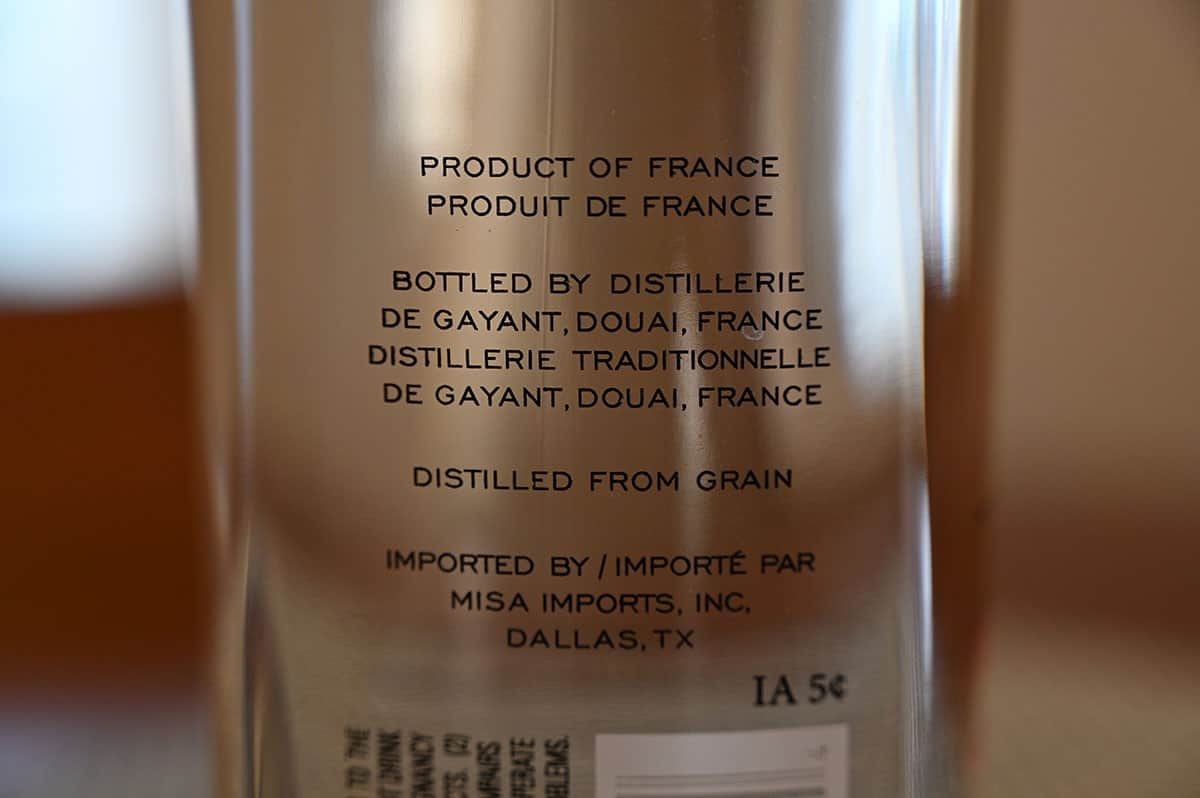 Serving Suggestions
Some people out there may enjoy straight vodka, but I'm definitely not one of them! For me, vodka needs to be mixed into some sort of cocktail or drink. We both of these vodkas in Moscow Mules using a recipe from Cookie and Kate. I enjoy vodka in cosmopolitans and various flavored martinis as well. Currently my favorite way to enjoy a bit of vodka is mixed into a hard seltzer like White Claw or Truly, it's easy and adds a little extra to a pretty mild hard seltzer.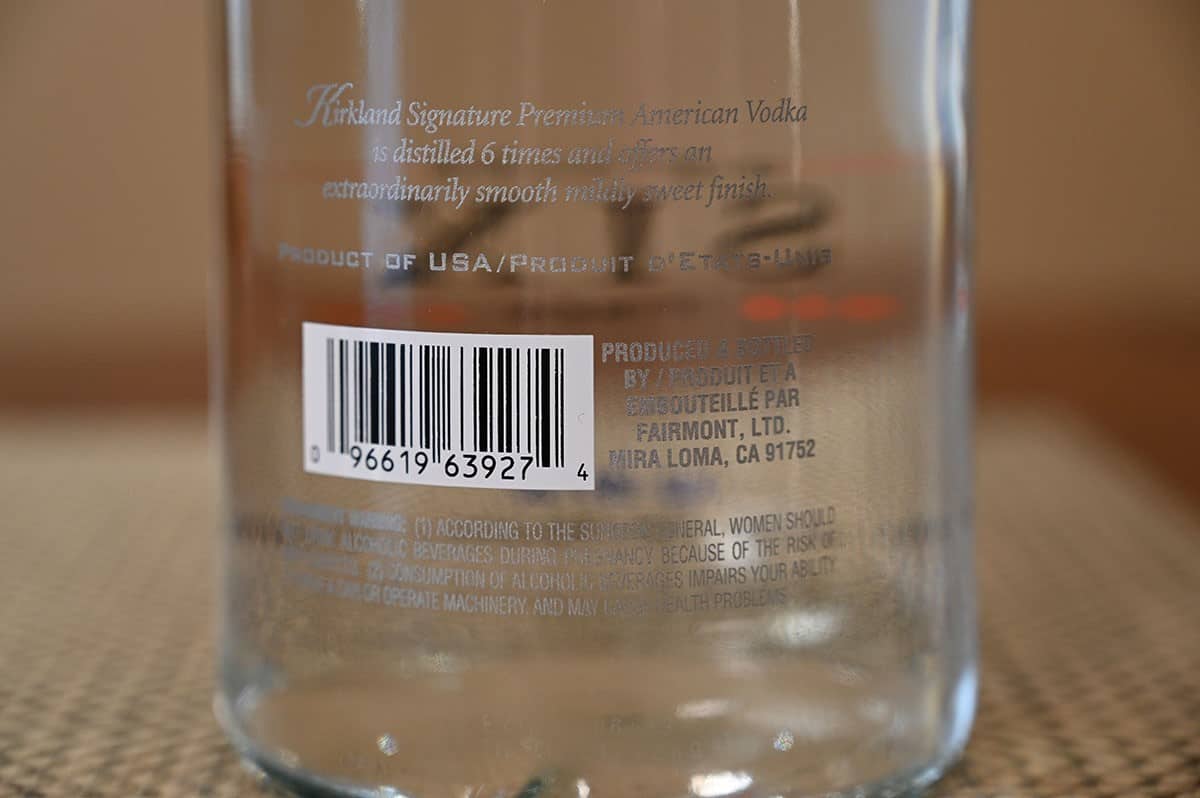 Scoring
Taste: French – 10/10 American – 7/10
Cost: 9/10
Overall
Must buy!
If you're looking for a premium vodka at a great price, you can't go wrong with the French vodka. The American vodka is even cheaper and still fine in cocktails and mixed drinks.
Have you tried either of these vodkas from Costco? What did you think of them?
---
Please note that this review was not paid for or sponsored by any third party. This product was purchased by Costcuisine for the purpose of producing this review. The opinions in this review are strictly those of Costcuisine. Costcuisine is not affiliated with Costco or any of its suppliers. In the event that Costcuisine receives compensation for a post from the manufacturer of a product or some other third party, the arrangement will be clearly disclosed (including where the manufacturer of a product provides Costcuisine with a free sample of the product).