Too sweet for me!
Please note that this review was not paid for or sponsored by any third party. However, I was given a free sample of this product to review. The opinions in this review are strictly my own. I am not affiliated with Costco or any of its suppliers. I am just a fan of the company. I write these reviews to help my fellow shoppers.

Last weekend Sean and I went to Costco to pick up some groceries on Friday night. Since it was Friday and the Costco had a liquor store we decided to check it out and ended up bringing home the Costco Kirkland Signature Premium Ready to Drink Strawberry Margarita.
Taste
The strawberry margarita has triple sec and gold tequila as well as lime juice. I've had the Costco Non-Alcoholic Lime Margarita mix before and I love it! I used it to make my Dad's famous margarita recipe. I was super excited to try to the strawberry margarita that's ready to drink with tequila and triple sec already in it but sadly found this a little too sweet and artificial tasting. I also think it needs a touch more tequila! Due to how sweet it is my husband and I added a ton of extra ice and lime juice from fresh squeezed limes as well as more tequila.
Cost
I paid $21.99 for the 1.75 L bottle of Kirkland Signature Premium Ready to Drink Strawberry Margarita. Definitely not cheap for a bottle of 12.5% alcohol but not but also not outrageously expensive compared to similar products.
Convenience
This is perfect for vacation or camping or if you're having people over and don't want to spend a bunch of time mixing drinks. You just pour it over some ice and drink it! I think you could also choose to blend it with ice to make a frozen margarita. If you're feeling creative you could use this as a base drink and add any extra liquor or mix to it.
Nutrition
I'm sure this is loaded with sugar and for sure has empty calories! Drinks like this are a treat though. If you're worried about sugar and calories I suggest making a skinny margarita with lime juice, tequila and just a splash of Kirkland Signature Non-Alcoholic Margarita Mix.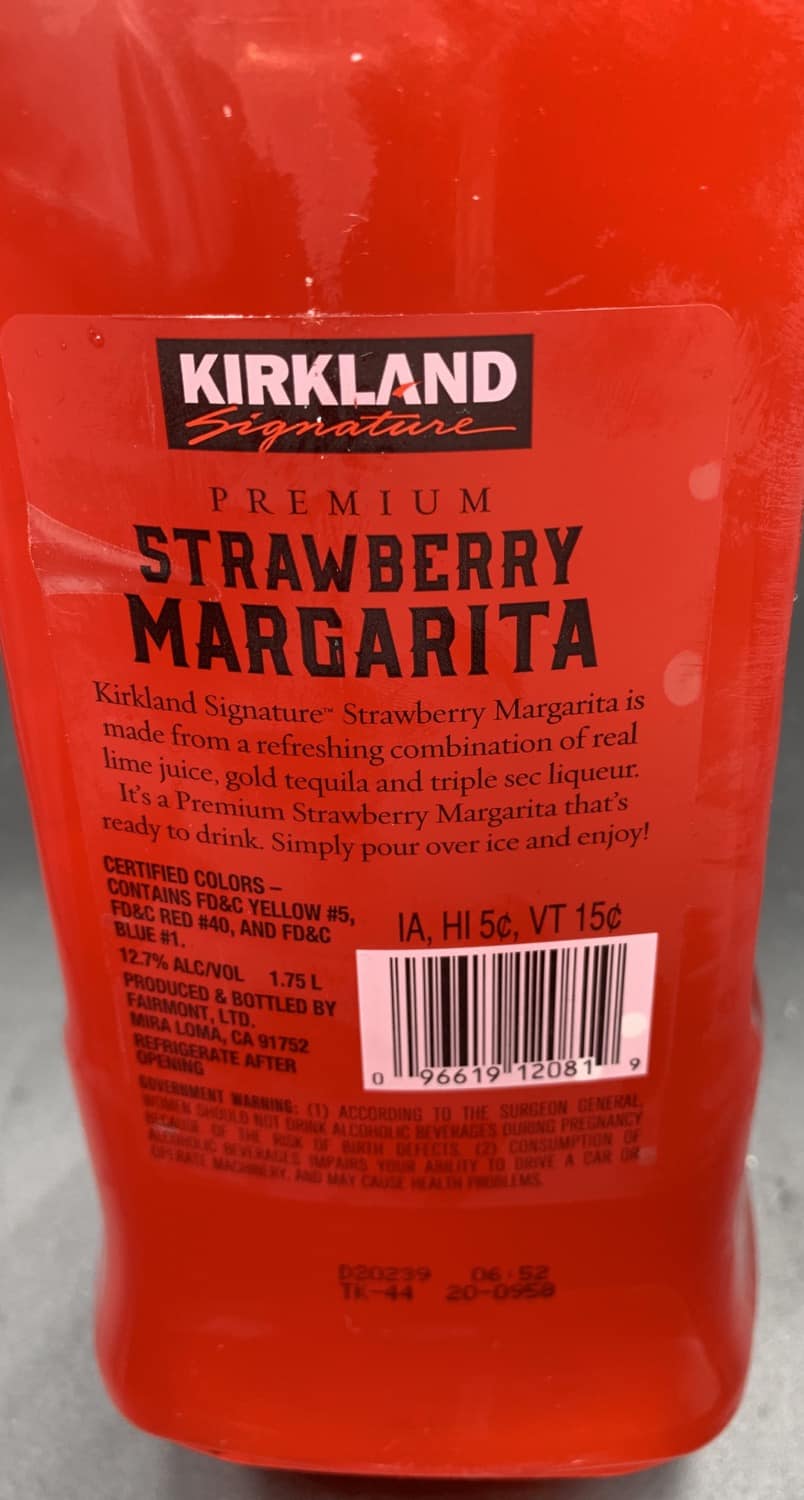 I probably won't buy this again, it was super exciting to try and wasn't at all awful! Just too sweet for my personal taste. If you're someone who loves super sweet strawberry margaritas/daiquiris you might really like this.
Taste: 7/10
Cost: 7/10
Convenience: 10/10
Nutrition: 0/10
What is your favorite flavor margarita? This restaurant here has coconut margaritas! So good.