Thumbs up for convenience whether you use this for a cocktail or mocktail!
Please note that this review was not paid for or sponsored by any third party. The opinions in this review are strictly my own. I am not affiliated with Costco or any of its suppliers. I am just a fan of the company. I write these honest reviews to help my fellow shoppers.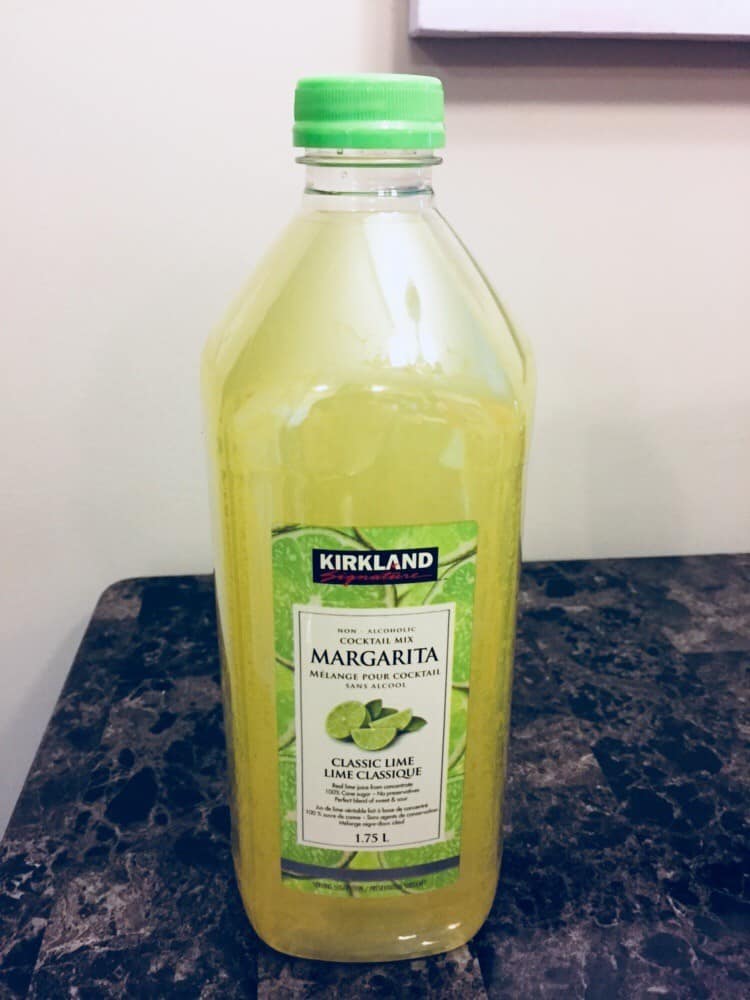 I never used to love margaritas until I went to a Mexican restaurant one night for a massive enchilada and decided it was necessary to order one. Since then, if I have a cocktail I usually pick a margarita. Nothing beats nacho chips, salsa and a good margarita. Am I right? However making a large batch of margaritas for guests can be time consuming and expensive. Who does not love convenience? In my opinion a margarita cannot be too sweet and it needs a strong, refreshing lime taste.
Kirkland Margarita Mix scores high on the convenience factor, basically all you do is pour over ice and add tequila (or not) and serve. You can even blend this with ice if you prefer a frozen drink. Think when you're camping or hosting a large party or even a picnic or outing to the lake. Do you really want to be cutting and squeezing fresh limes? Taste wise it's nice and lime-y, refreshing and does not taste like a cheap cooler. Honestly it's not too sweet but I do think it is an absolute must that this is served either on ice or blended with ice. This margarita has a good balance of sweet and refreshing citrus lime. I think it would be awesome if Costco sold different flavours such as blood orange and coconut. You cannot beat the cost of this, it's very reasonably priced, when I purchased these I got 2 of these 1.75 L bottles for $8.49 CAD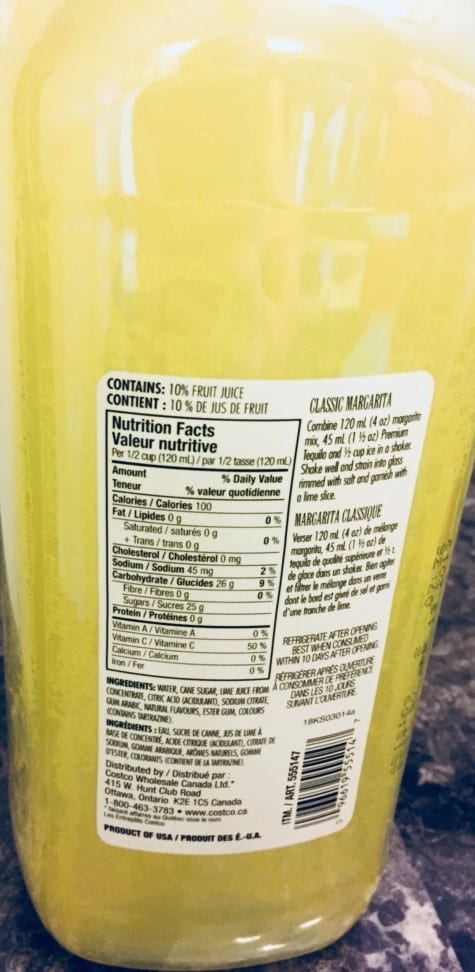 Nutritionally, this is not good for you in any way *25 grams of sugar in 1/2 cup)* but it is delicious. If you're choosing to have one beverage and you water it down with some ice it cuts the sugar. I would definitely consider purchasing this is if you are hosting a party or barbecue or going camping. It is always nice to have something on hand to offer guests even if margaritas are not your thing. Also if someone does not drink this makes an amazing mocktail to offer to guests. Although I do not consume this regularly, every time I have had it I enjoy it.
Nutrition: 1/10 (I think this is self explanatory, at least it uses cane sugar and real lime juice)
Taste: 9/10
Cost: 8.5/10
Convenience: 10/10
I also have a recipe coming on Friday on how to use this mix to turn it into "Ron's Cadillac margarita", basically an extra fancy suped-up really good tasting margarita that will impress your guests! Ron is my dad and he often makes margaritas for himself and my mom.
Margaritas, yay or nay? Most creative margarita flavour you have tried? Mine has been blood orange!