An important part of a great margarita is the mix that's used, it has to be the perfect blend of sweet and sour. The Costco Kirkland Signature Margarita Mix is a convenient way to make the classic cocktail loved by many. Find the best recipe for a lime margarita here using the Costco margarita mix!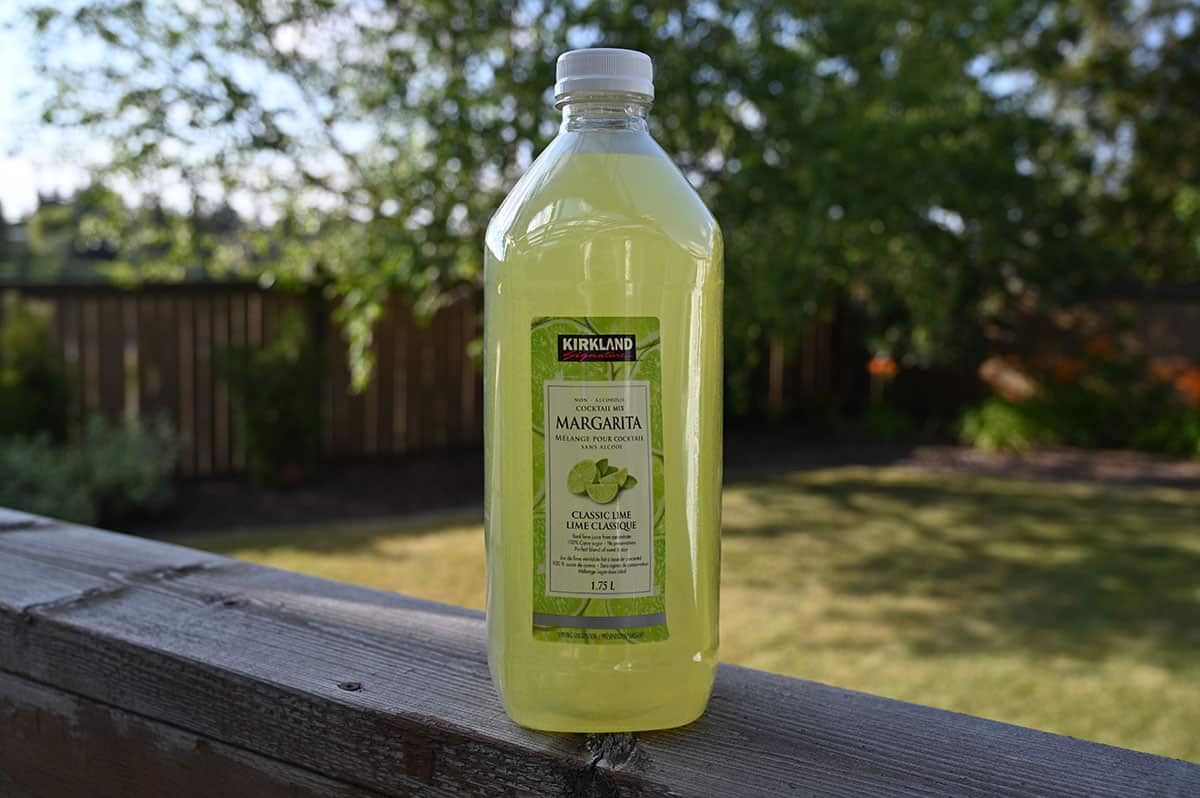 Margaritas are my absolute favorite cocktail! I don't drink often but when I do, it's usually a margarita. I never used to love margaritas until I was introduced to my Dad's margaritas using the Costco margarita mix. See the recipe for Ron's famous margarita below!
If you don't want to spend any time at all making a margarita you may like the ready-to-drink Costco Kirkland Signature Golden Margarita or the Costco Kirkland Signature Strawberry Margarita. If margaritas aren't your thing you may like the Costco Kirkland Signature Sangria, Costco Kirkland Signature Vodka or the Costco Kirkland Signature Frozen Cocktails.
Location in Store
You can find the margarita mix in the main Costco store (not in the liquor store) near all the other beverages on the side of the store. The item number is 555147.
Taste
In my opinion, a margarita cannot be too sweet and it needs a strong, refreshing lime taste. The mix has a strong lime flavor and is really refreshing. It's not overly sweet and doesn't taste cheap or artificial.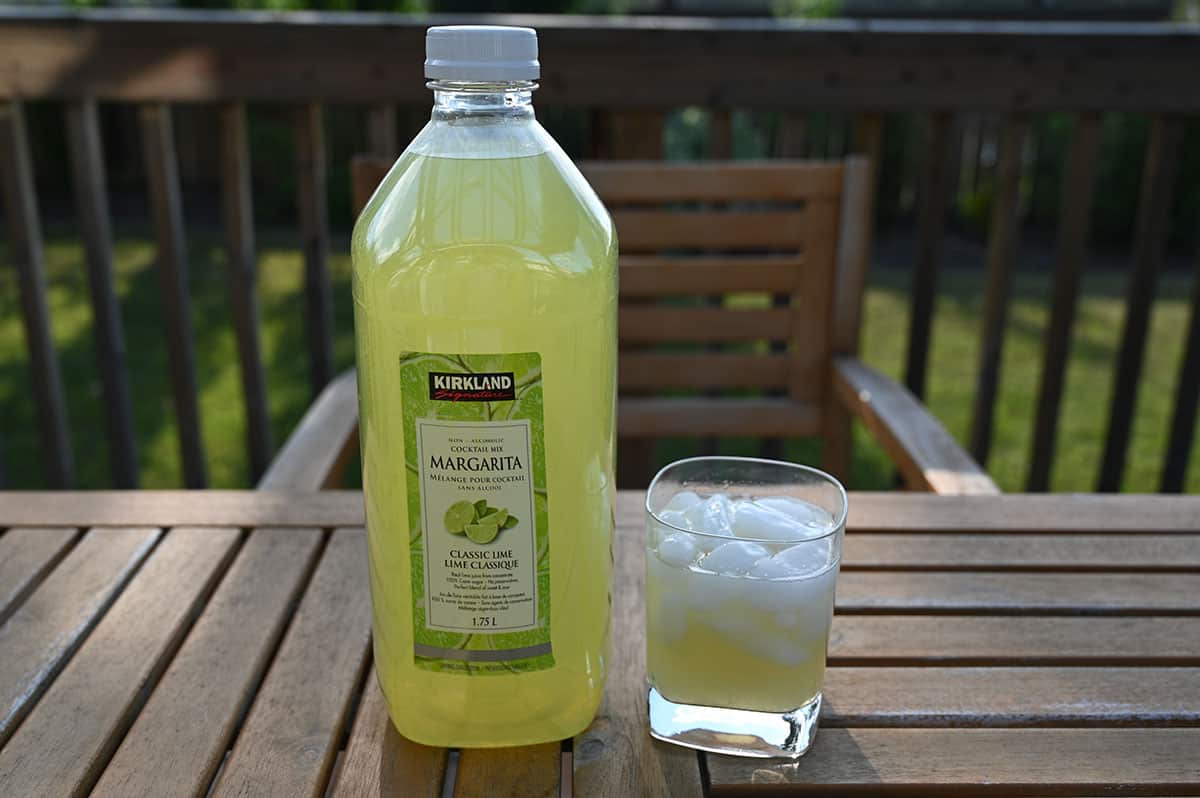 There's a good balance of sweet and refreshing citrus lime that pairs well with both gold and white tequila. If you're not a fan of tequila you can definitely pair this with gin, vodka or rum. I use this mix in my Dad's margarita recipe and I always get complimented on how good my margaritas are.
Cost
Two 1.75 liter bottles cost $9.99 Canadian, which isn't bad at all. This mix is totally worth it in my opinion.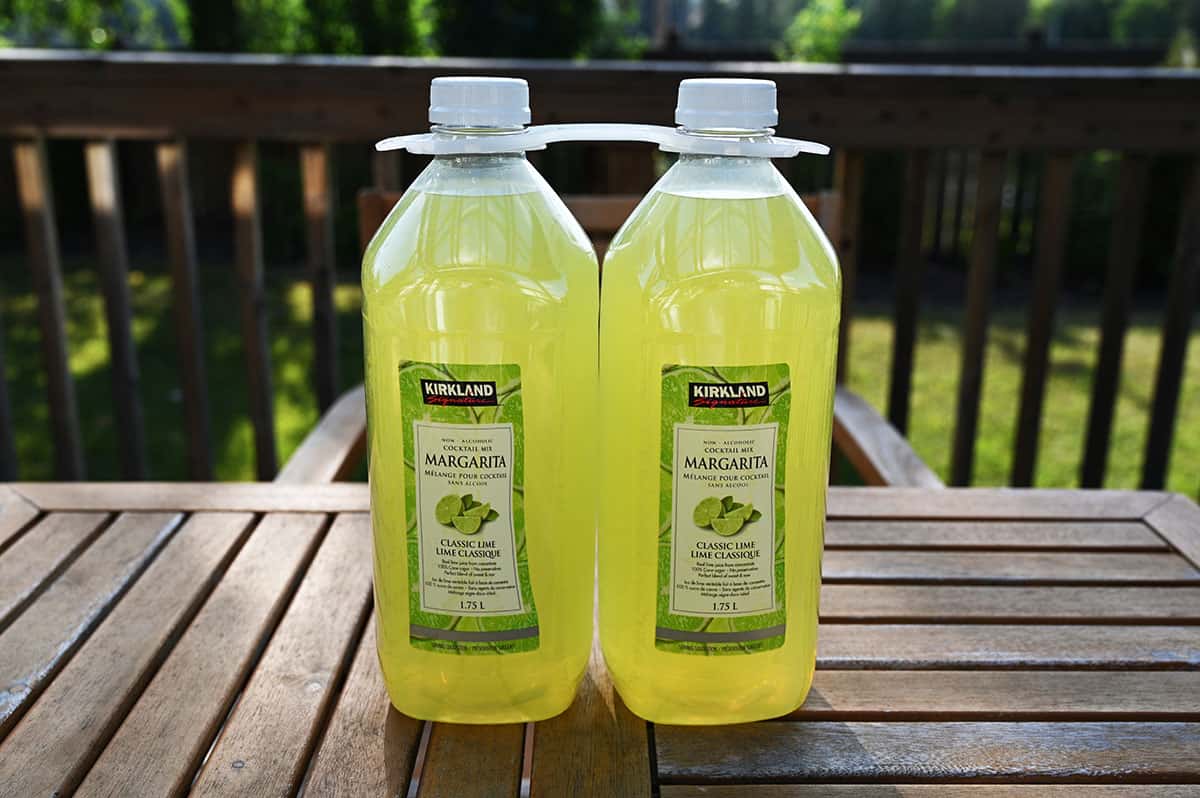 Convenience
Making a large batch of margaritas for guests can be time-consuming and expensive. This mix scores high on the convenience factor, basically all you do is pour over ice and add tequila (or not) and serve. You can even blend this with ice if you prefer a frozen drink.
When you're camping or hosting a large party or even a picnic or outing to the lake. Do you really want to be cutting and squeezing fresh limes? If you want a little bit of a more complex tasting margarita, you can use this mix in a recipe as I do.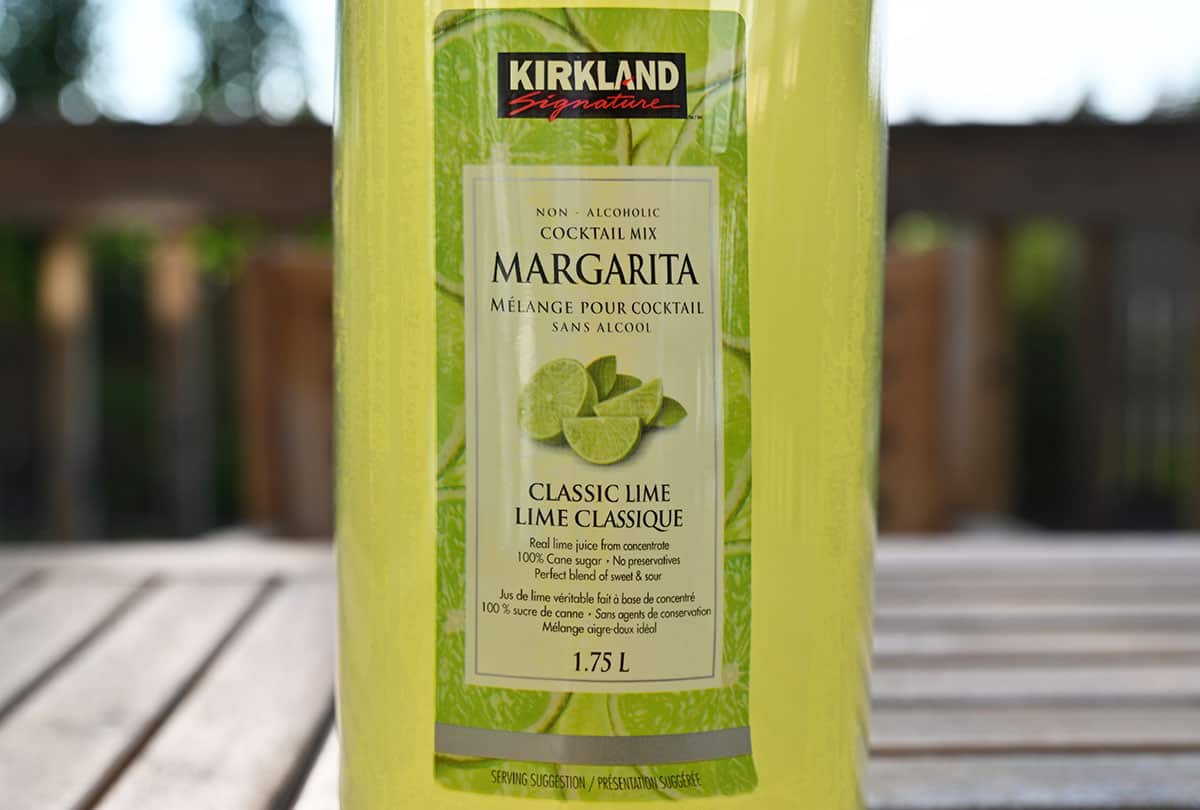 The best before date listed on the bottle is about a year from when I purchased the mix and it needs to be refrigerated after opening. The label suggests drinking the mix within 10 days of opening but my husband and I have used an open one for over a month and suffered no ill consequences.
Serving Suggestions
To make a margarita according to the label you combine 120 milliliters of margarita mix and 45 milliliters of tequila in a shaker with ice. Shake the mix and tequila and serve, very simple!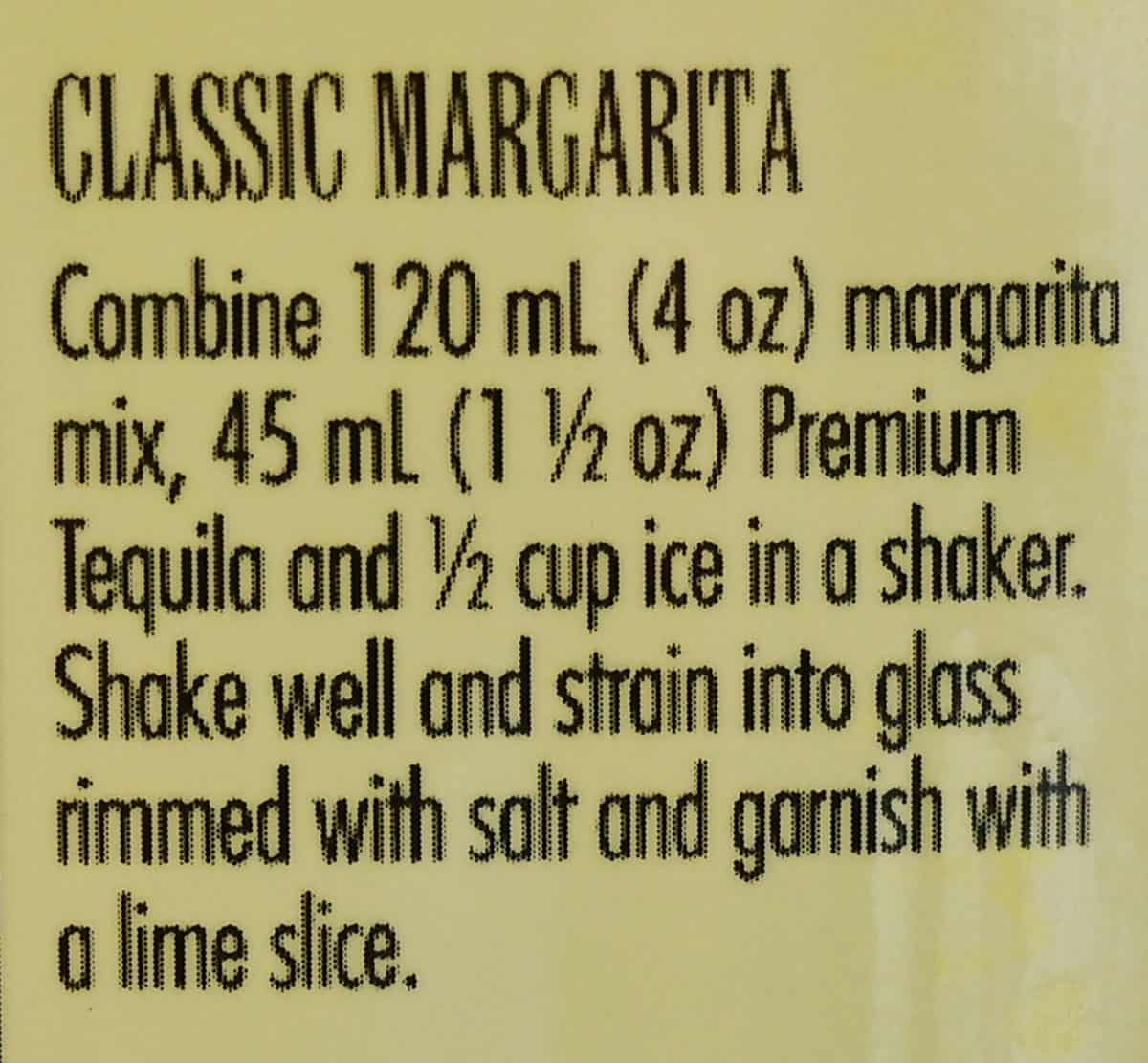 Just because it's called margarita mix does not mean you have to make margaritas with it. You can get creative and make various cocktails and mocktails using the mix. I only use the mix to make margaritas and I want to share my recipe.
Ingredients:
3 oz tequila (the Kirkland Signature Silver Tequila is my personal favorite, but the Kirkland Signature Anejo Tequila works too!)
2 oz Triple Sec or Cointreau
1 slice of lime placed in each glass
Half of a lime squeezed (so juice from half a lime)
1 and 1/4 cup Kirkland Signature Margarita Mix
1 splash of Grand Marnier on top of each drink (optional, my Dad wants you know this creates a "Cadillac" margarita!)
Directions:
In a cocktail shaker with a bit of ice combine 3 oz tequila, 2 oz Triple Sec or Cointreau, juice of half a lime and 1 1/4 cup Costco Kirkland non-alcoholic margarita mix.
Put a lime wedge and ice in each glass.
Serve contents of shaker over lime and ice. Put a splash of Grand Marnier on the top of each drink.
This recipe can make 2 large drinks or 4 small ones. Let me know if you have any questions or like this recipe!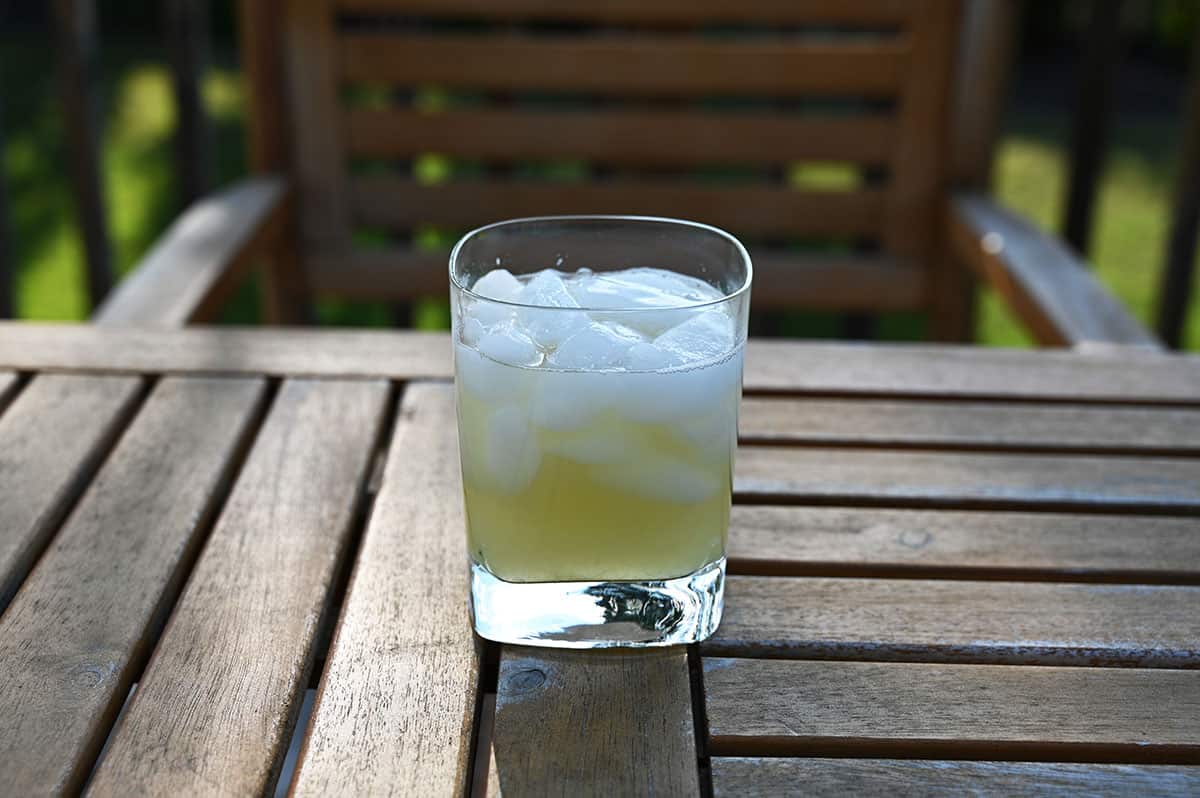 Nutrition
Calories
A 120 ml serving has 100 calories, zero grams of fat, fiber and protein, 26 grams of carbohydrates, 45 milligrams of sodium and 25 grams of sugar. That's a lot of sugar in only half a cup!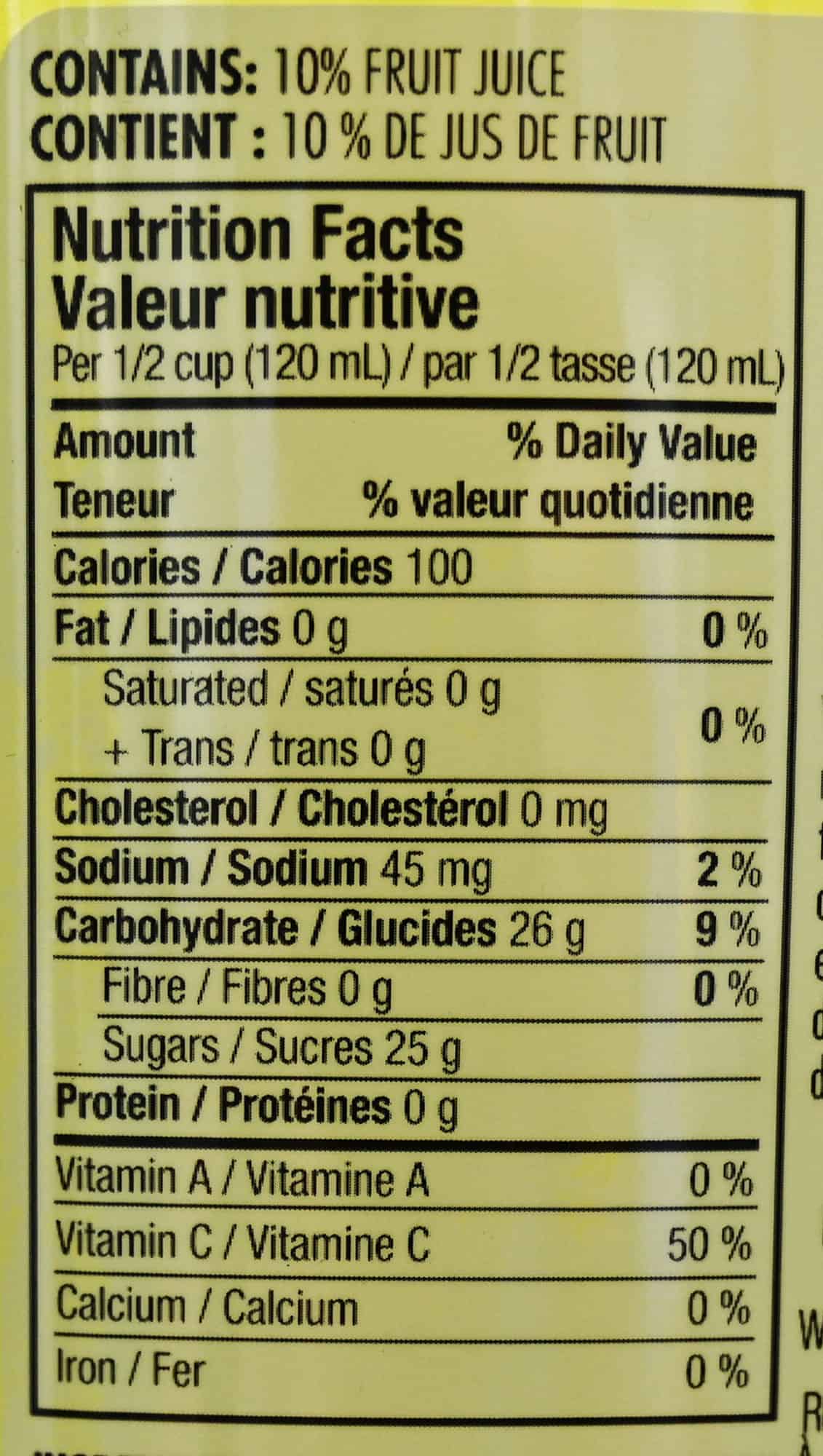 Ingredients
Lime juice is the third ingredient after water and sugar. If you're making your own margarita using just fresh limes, lime juice would be the only ingredient making it a healthier, lower sugar content beverage.

Scoring
Taste: 10/10
Cost: 9/10
Convenience: 10/10
Overall
Must buy!
This mix can be hard to find at Costco, so if you see it, grab it! If you love margaritas year-round as much as I do, you might want to stock up when the mix is in stock during the warmer months of the year.
Do you have a favorite cocktail or mocktail recipe that uses this mix?
---
Please note that this review was not paid for or sponsored by any third party. This product was purchased by Costcuisine for the purpose of producing this review. The opinions in this review are strictly those of Costcuisine. Costcuisine is not affiliated with Costco or any of its suppliers. In the event that Costcuisine receives compensation for a post from the manufacturer of a product or some other third party, the arrangement will be clearly disclosed (including where the manufacturer of a product provides Costcuisine with a free sample of the product).