Margaritas are the drink of choice in our house, and Costco's Kirkland Signature Margarita Cocktail Mix has been our margarita mix of choice for years! Earlier this year, we were surprised and a bit worried when we noticed that Costco had changed our favorite margarita mix. Apparently it's organic now as the name was changed to Kirkland Signature Organic Margarita Cocktail Mix. Is this new margarita mix as good as the old one? What's the best recipe to get the perfect margarita out of it? Read on to find out!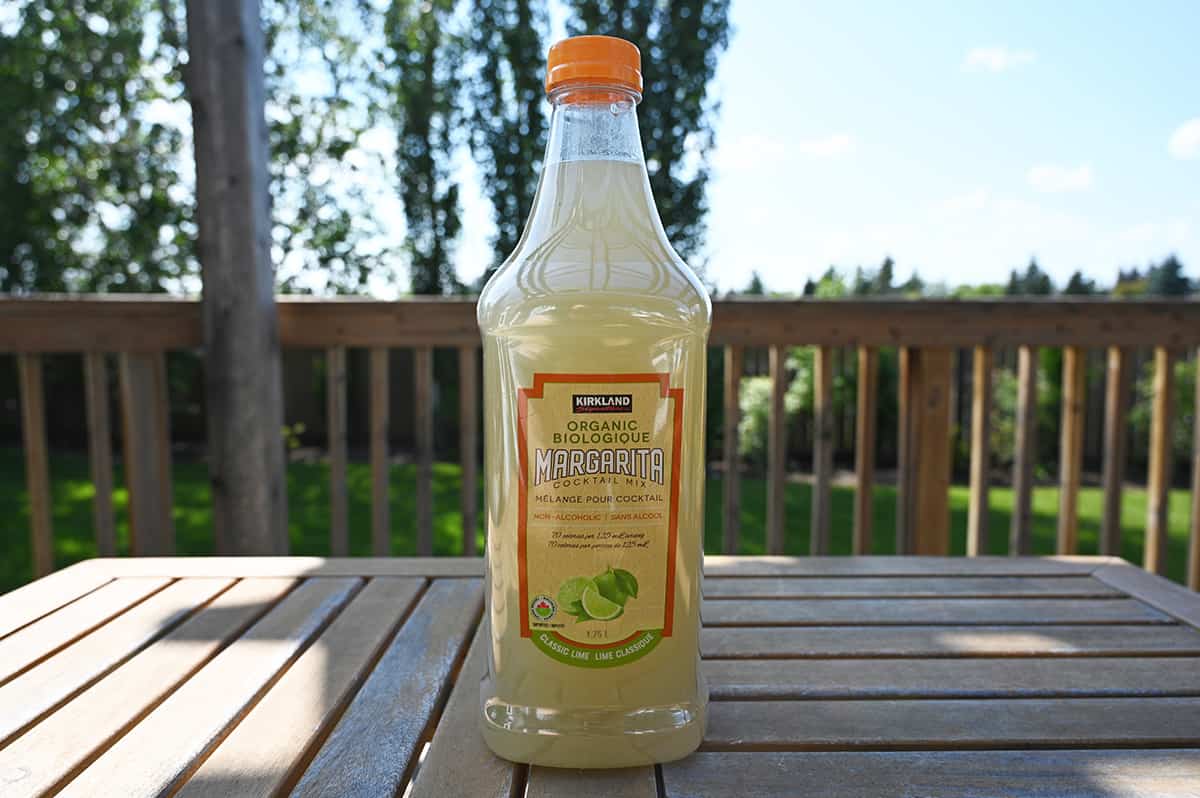 If you don't want to spend any time at all making your margaritas, you might prefer Costco's ready-to-drink options like the Kirkland Signature Golden Margarita or the Kirkland Signature Strawberry Margarita. If margaritas aren't your thing, you might want to check out the Kirkland Signature Sangria, Kirkland Signature Vodka, Kirkland Signature London Dry Gin, Kirkland Signature Irish Cream, Mamamango Moscato, Kirkland Signature Spiced Rum or the Costco Kirkland Signature Frozen Cocktails.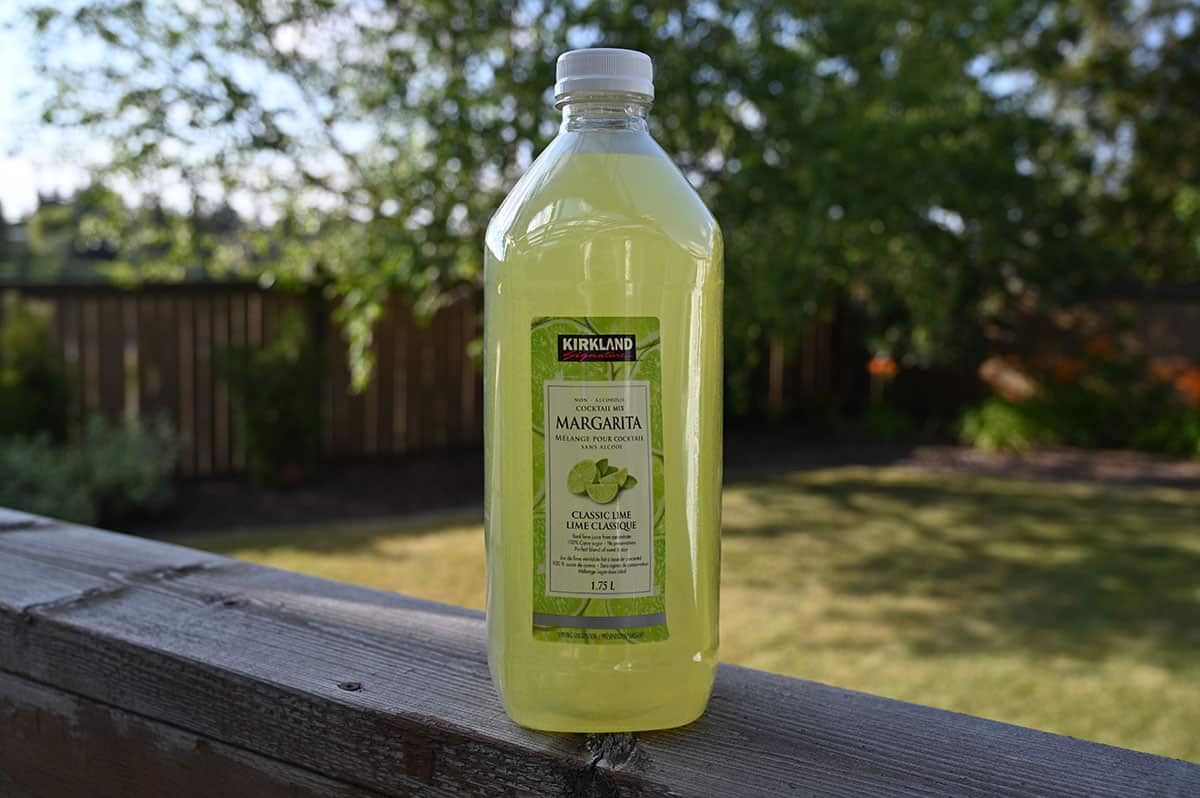 Location in Store
You can find the margarita mix in the main Costco store (not in the liquor store), near all the other beverages on the side of the store. The item number is 5555147.
Taste
I'll get this out of the way right now. In my opinion, this new Organic Margarita Mix isn't as good as the old Margarita Mix. It's not bad, but it's less sweet, more tart and tastes more like limeade than margarita mix. A good margarita can't be too sweet and it needs a strong, refreshing lime taste, which this mix has, but it's just not quite hitting all the right notes like the old one did.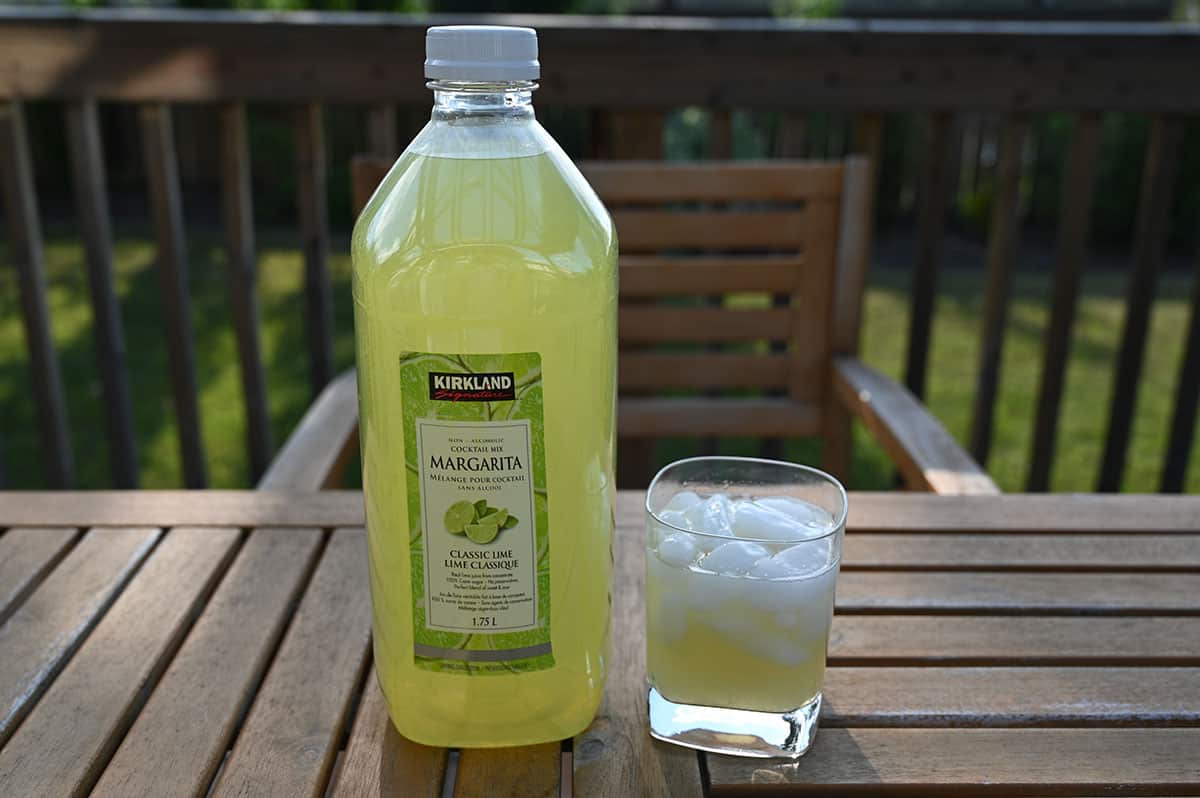 The Organic Margarita Mix definitely doesn't taste artificial or too sweet, and it is refreshing. The strong citrus lime flavor pairs well with either gold or silver tequila. If you're not a fan of tequila, you can also pair this mix with gin, vodka or rum cocktails or even dilute it and drink it as a limeade.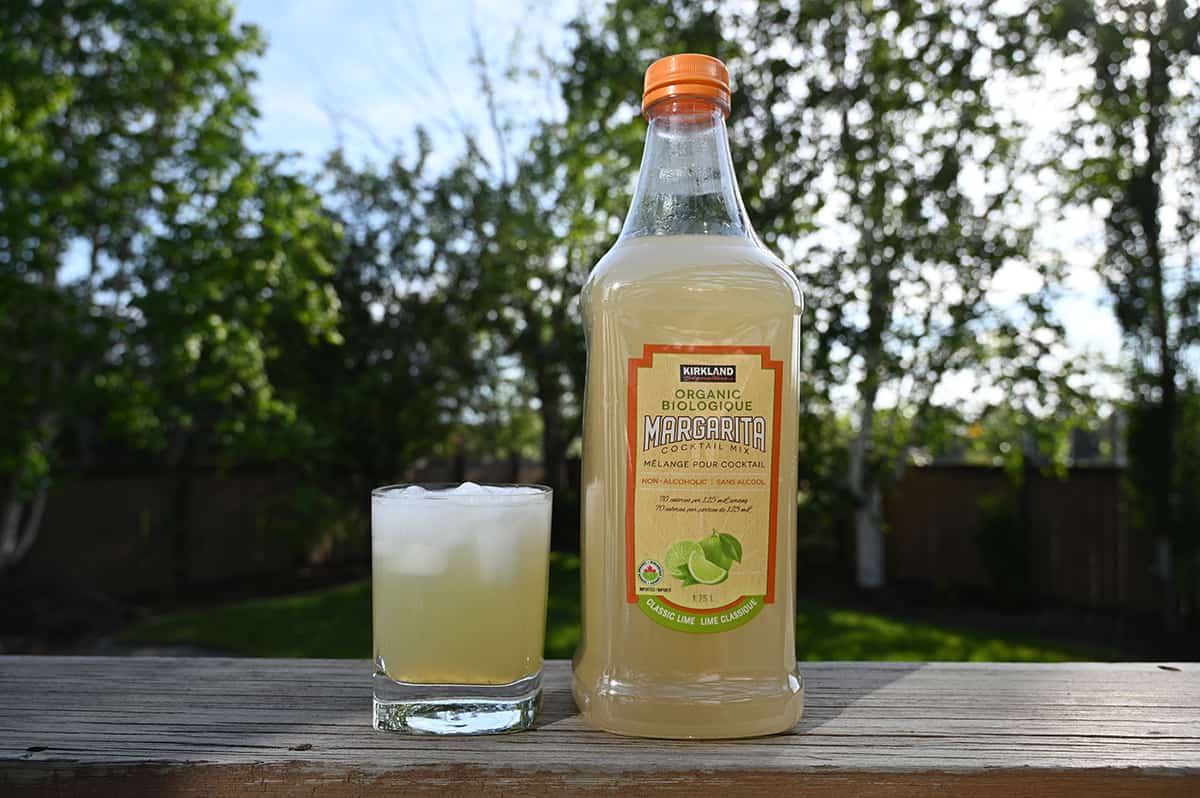 I've always used the original non-organic Kirkland Margarita Mix in my Dad's famous margarita recipe (which I've included below) and I always get complimented on how good my margaritas are. I'm hopeful I'll still get compliments on the ones I make with the new Organic Margarita Mix, but I'm not feeling as confident in them.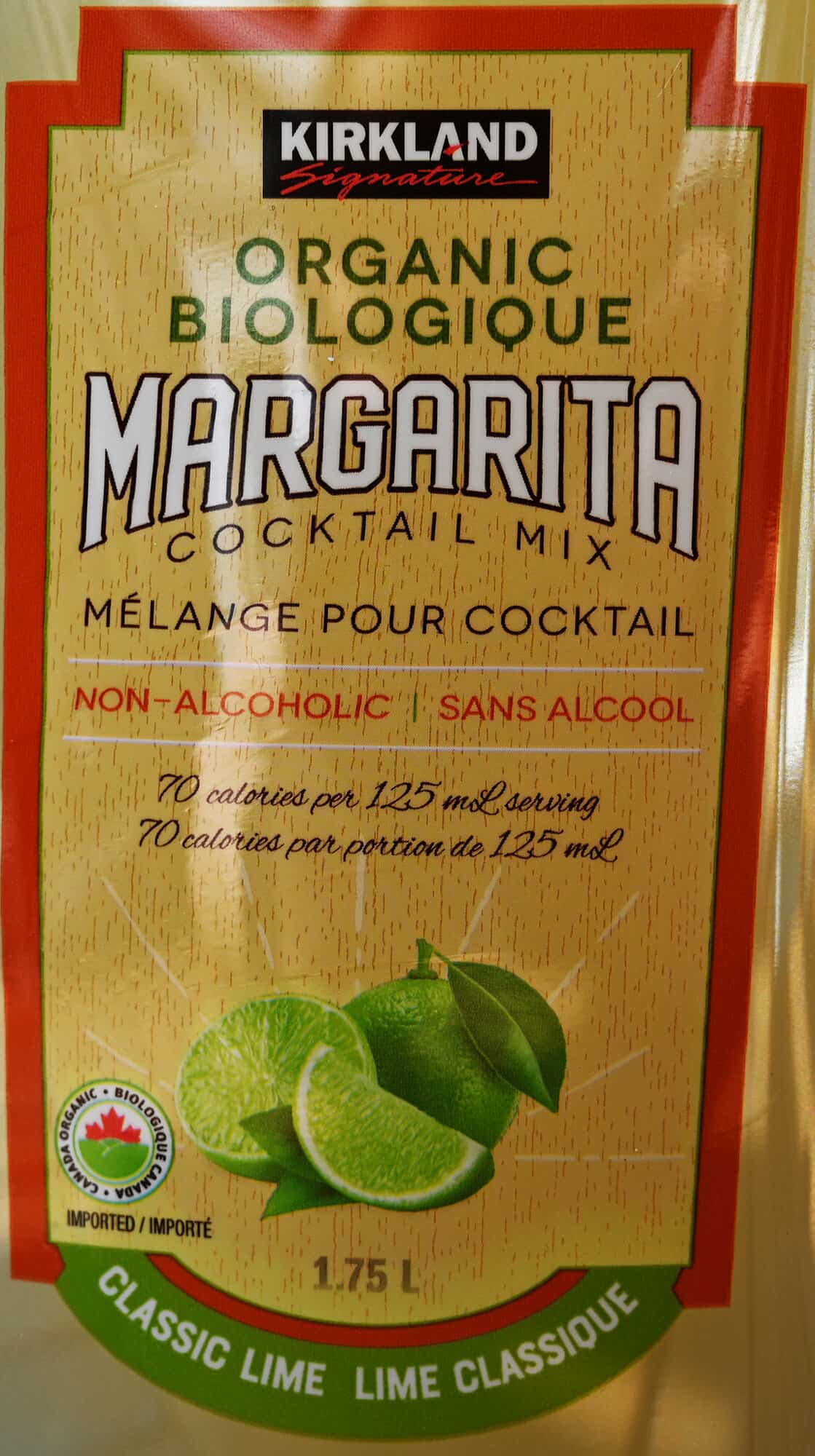 Cost
The price for the Organic Mix is $11.99 Canadian for a pack of two 1.75-liter bottles. That's pretty cheap considering the number of margaritas you can get out of these two big bottles, but not as cheap as before! Organic foods always cost more, so I'm not too surprised by this.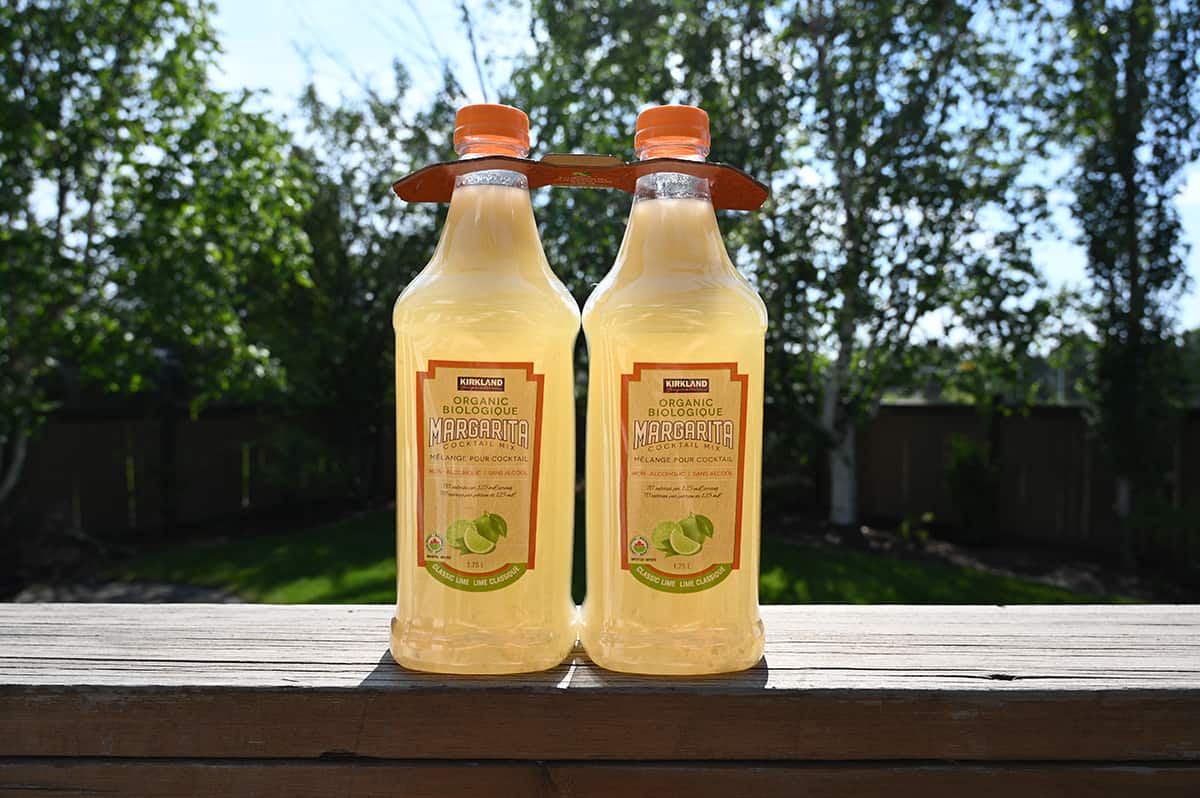 Back in 2022, a pack of two 1.75 liter bottles of the original Costco Margarita Mix cost $9.99 Canadian. At least Costco hasn't made the bottles any smaller!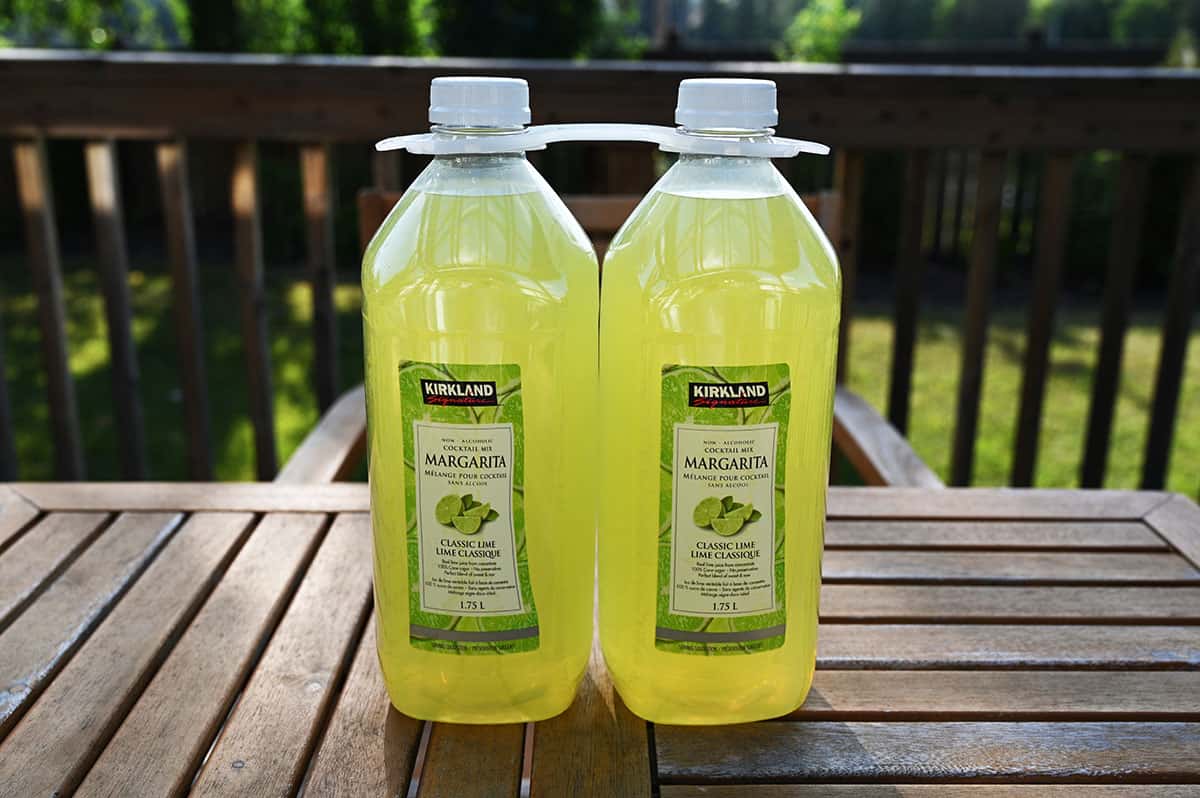 Convenience
Making a large batch of margaritas for guests can be time-consuming and expensive. Heck, even a single margarita is a lot of work if you make it from scratch! For that reason, this mix scores high on the convenience factor. Basically all you need to do is pour it over ice, add tequila (or not) and serve. You can blend the mix with ice if you prefer a frozen drink. You can also use the mix as the base for a more premium margarita, which is how I use it.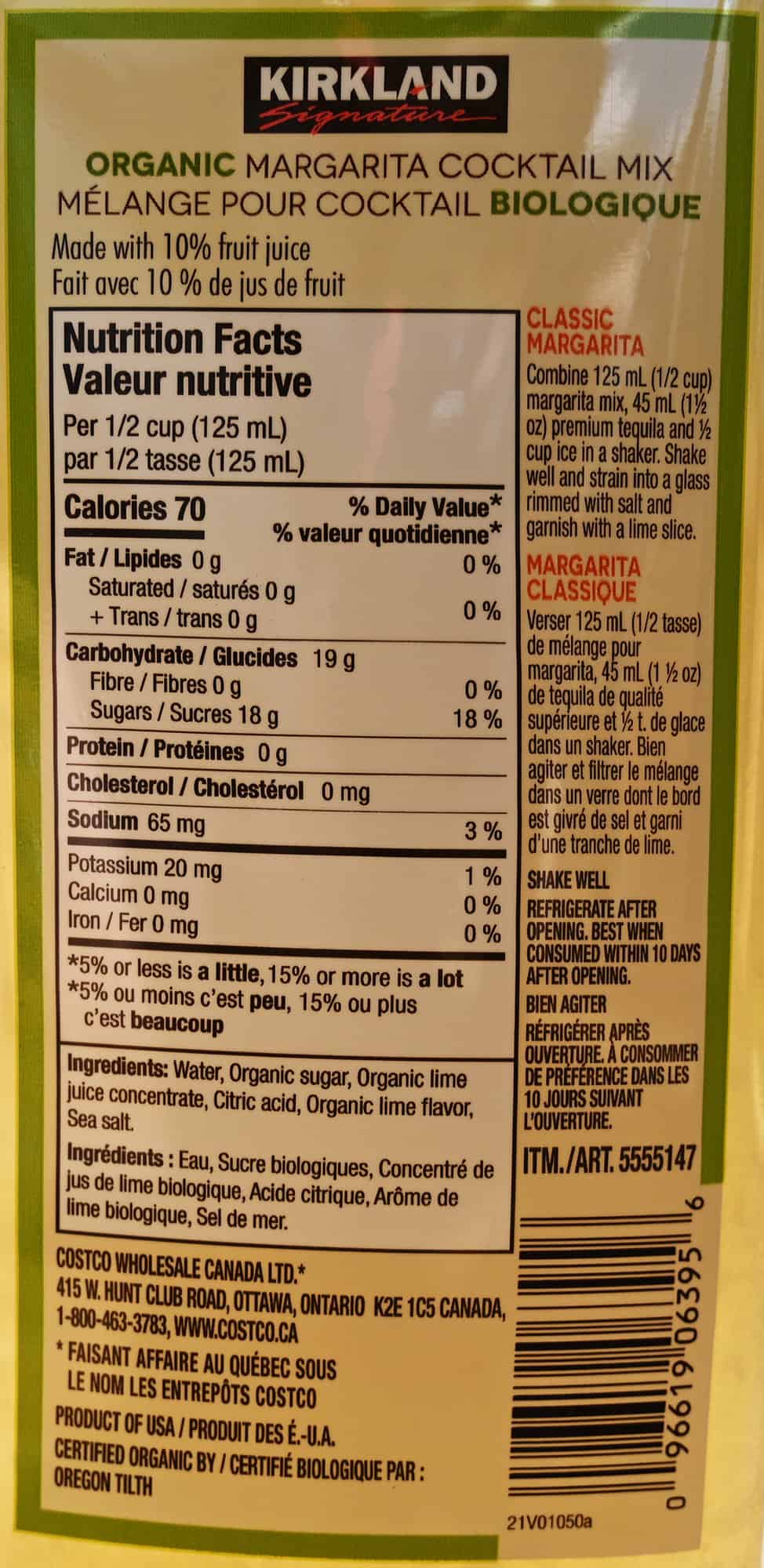 The best-before date listed on the bottle is about a year from when I purchased the mix and it needs to be refrigerated after you open the bottle. This hasn't changed from the old non-organic mix. The label suggests drinking the mix within 10 days of opening, but my husband and I have used an open one far beyond that and haven't suffered any ill consequences. To be clear, I'm talking far, far beyond 10 days. Like months. But you didn't hear that from me!
Serving Suggestions
There's a simple margarita recipe on the bottle of Organic Margarita Mix. According to the label, you combine 125 milliliters of margarita mix and 45 milliliters of tequila in a shaker with ice, shake the mix and tequila and serve – very quick and easy!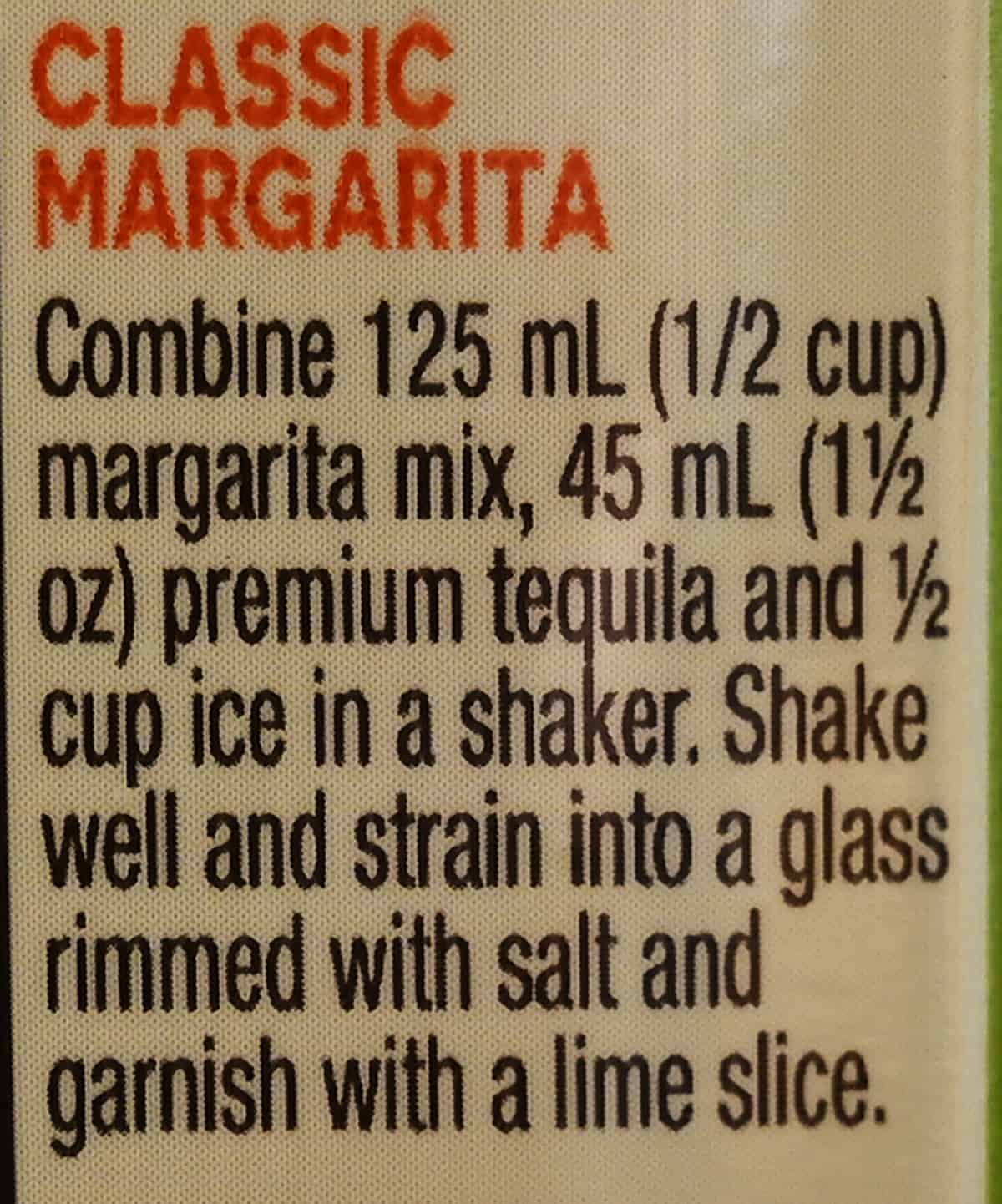 Of course, just because it's called margarita mix doesn't mean that you have to make margaritas with it. I'm sure you can get creative and make all sorts of lime-based cocktails and mocktails using the mix.
Personally, my favorite way to use the old mix and the new one is as the base for a fancier margarita. Basically I use the mix to cut down on the number of fresh limes I need and avoid having to worry about using sugar or syrup. Here's my favorite receipe, which is actually my Dad's recipe!
Ingredients:
3 oz. tequila (the Kirkland Signature Silver Tequila is my personal favorite, but the Kirkland Signature Anejo Tequila works too!)
2 oz. Triple Sec or Cointreau
1 slice of lime placed in each glass
Half of a lime squeezed (so juice from half a lime)
1 and 1/4 cup Kirkland Signature Organic Margarita Cocktail Mix
1 splash of Grand Marnier on top of each drink (optional, but my Dad wants you know this creates a "Cadillac" margarita!)
Directions:
In a cocktail shaker, combine 3 oz. of tequila, 2 oz. of Triple Sec or Cointreau, the juice from half a lime and 1 1/4 cups of Costco Kirkland Signature Organic Margarita Cocktail Mix. You can add a bit of ice if you like, but it's not necessary.
Put ice in each glass and add a lime wedge.
Pour the contents of the cocktail shaker over the lime and ice. Add a splash of Grand Marnier on the top of each drink.
This recipe can make two large drinks or four small ones. Please let me know if you have any questions and give me your feedback on the recipe!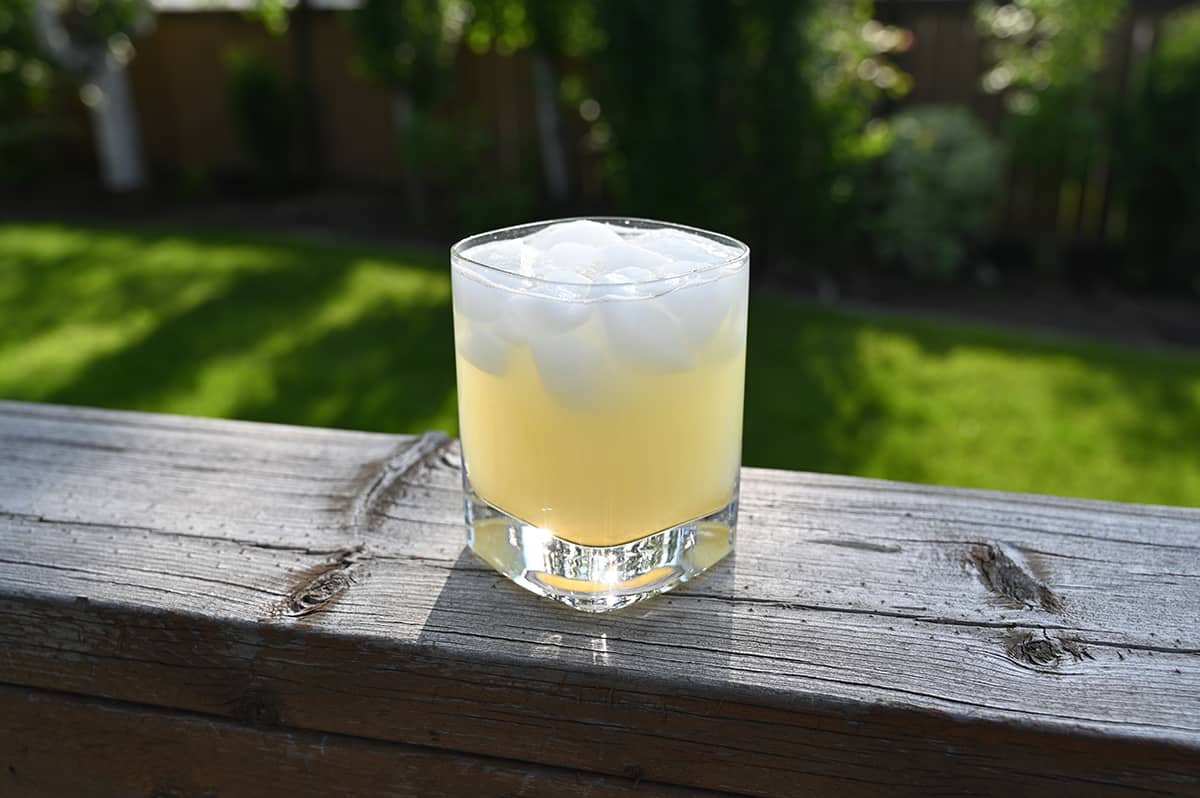 Nutrition
Calories
The new Organic Margarita Mix has fewer calories and carbohydrates and less sugar than the old mix. A 125-milliliter serving contains 70 calories, zero grams of fat, zero grams of fibre, 19 grams of carbohydrates, 18 grams of sugar, zero grams of protein and 65 milligrams of sodium. No wonder it tastes less sweet and more tart!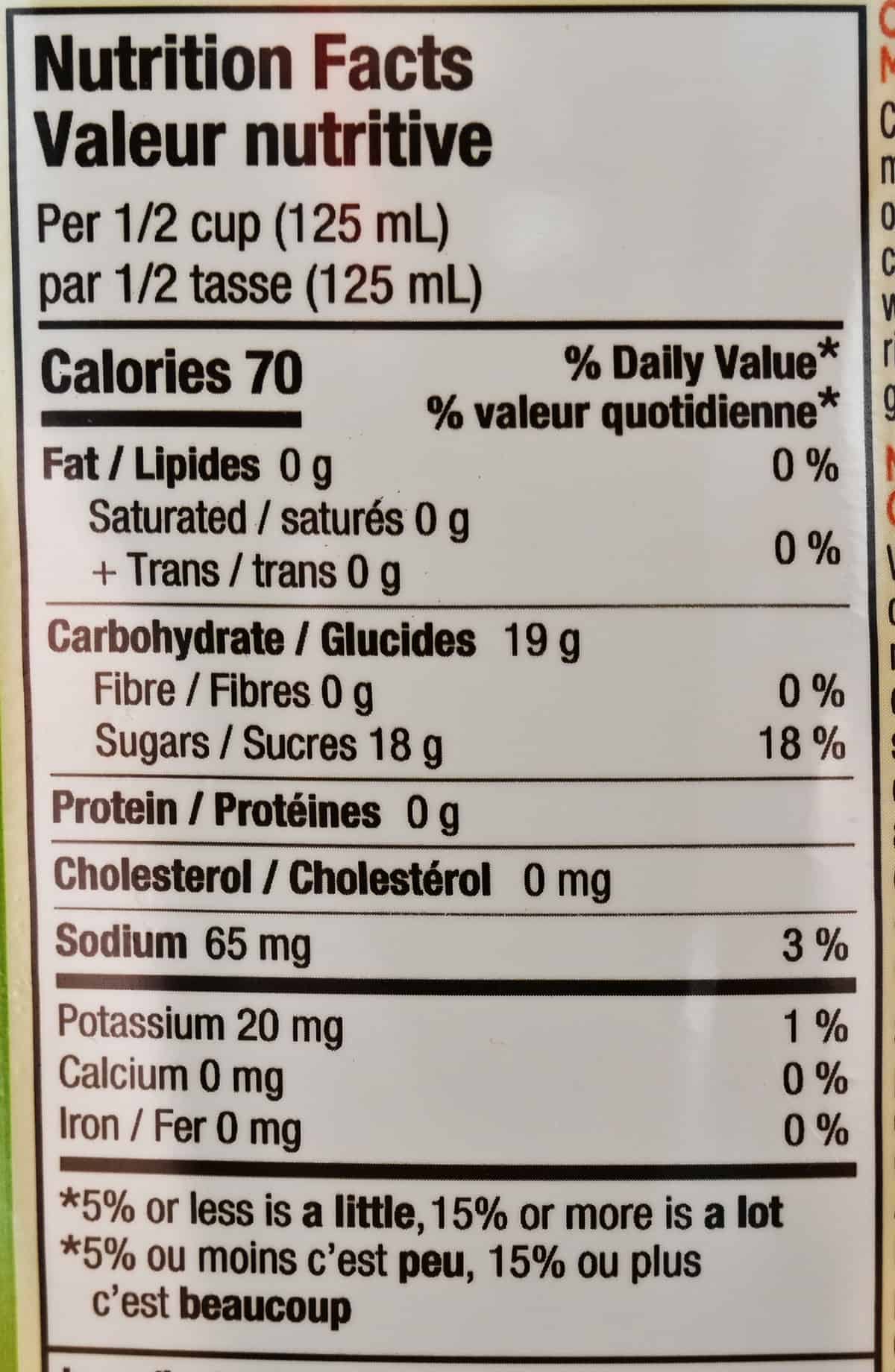 A 120 ml serving of the old mix contains 100 calories, zero grams of fat, fiber and protein, 26 grams of carbohydrates, 45 milligrams of sodium and 25 grams of sugar. That's a lot of sugar in only half a cup!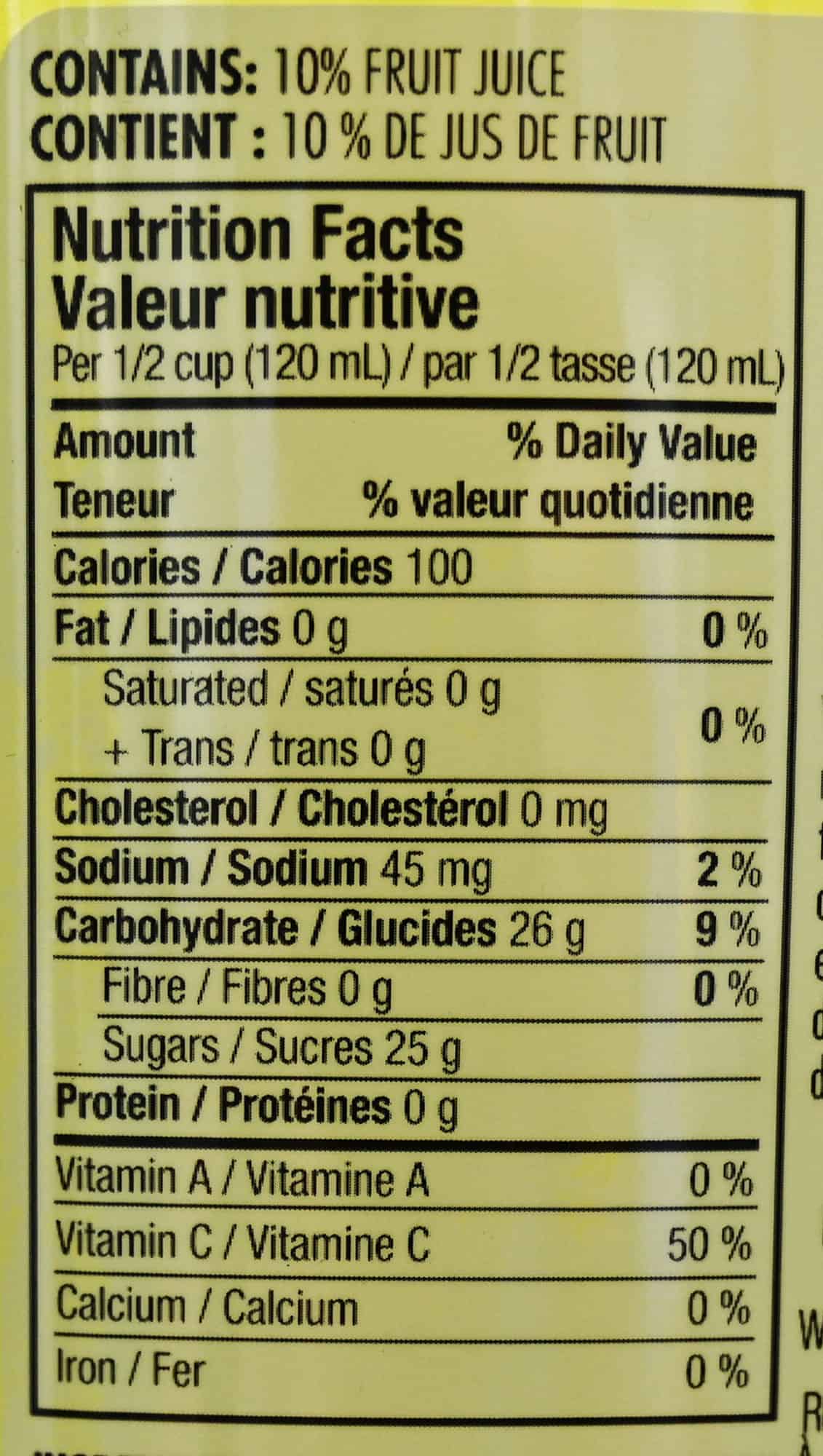 Ingredients
The old mix has a few more ingredients than the new organic mix. The organic mix is definitely a bit more natural, which I like. I'm torn. I appreciate that Costco is trying to introduce natural and organic products, but I miss the flavor of the old mix!


Scoring
Taste:  7.5/10
Cost: 8/10
Convenience: 10/10
Overall
Give it a try!
This new Costco Organic Margarita Mix isn't bad. I'm still using it to make my margaritas and I'm still enjoying them, just not as much as I did with the old mix! Part of me wants to like the new mix better because it's less artificial with less sugar, but I don't drink margaritas for my health!
What do you think of the new Costco margarita mix?
---
Please note that this review was not paid for or sponsored by any third party. This product was purchased by Costcuisine for the purpose of producing this review. The opinions in this review are strictly those of Costcuisine. Costcuisine is not affiliated with Costco or any of its suppliers. In the event that Costcuisine receives compensation for a post from the manufacturer of a product or some other third party, the arrangement will be clearly disclosed (including where the manufacturer of a product provides Costcuisine with a free sample of the product).