Have you ever had a cocktail in the form of a freezie? The Costco Kirkland Signature Frozen Cocktails are a fun way for adults to cool down during the hot summer months! Are these ready-to-freeze alcoholic beverages worth grabbing to stock in your freezer for the hot days to come? Find out below!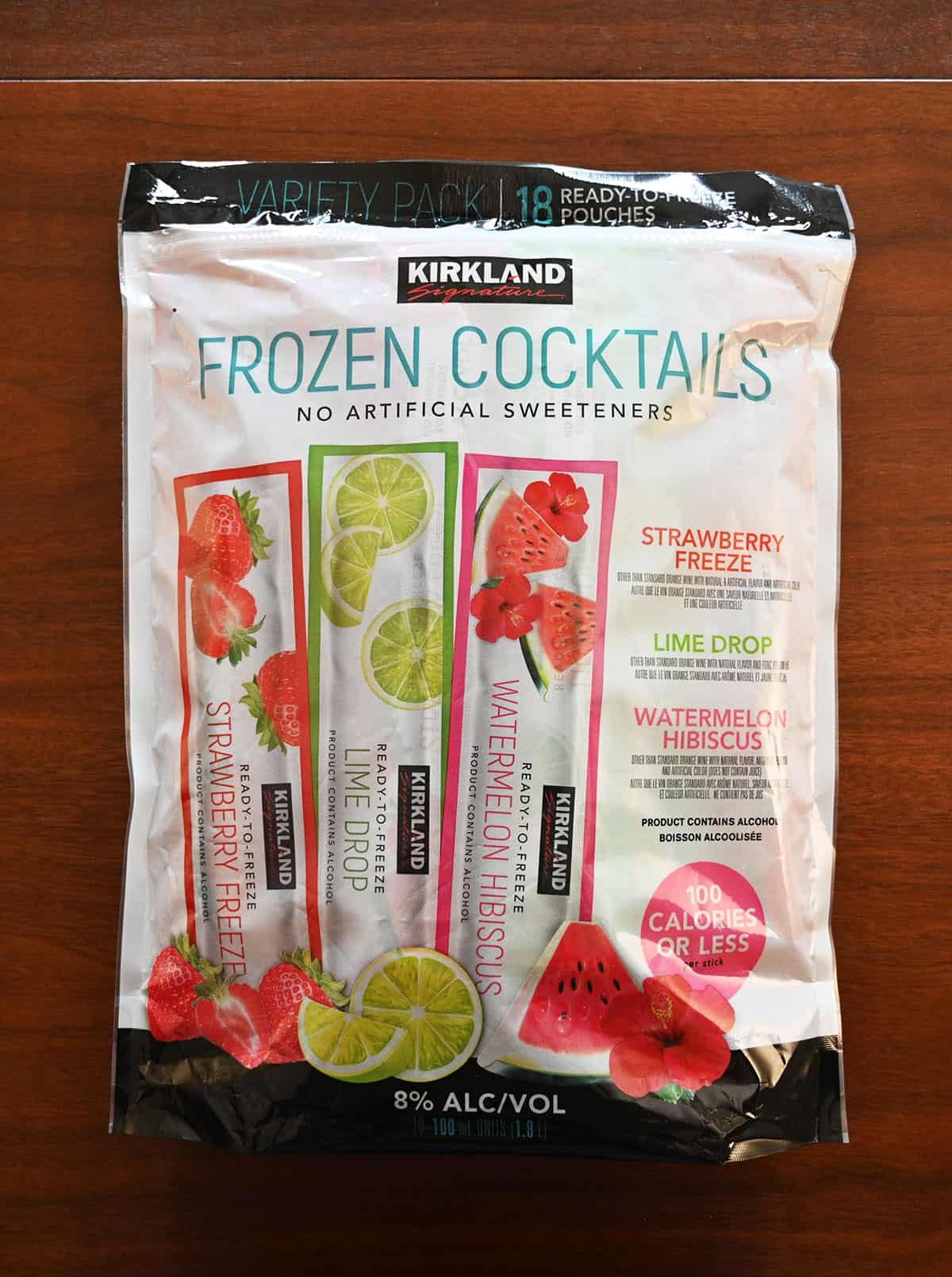 Today I'm reviewing the Costco Kirkland Signature Frozen Cocktails! These are new to my Costco liquor store and as soon as I saw them I had to try them!
Other cocktail-like products from Costco are the Costco Mama Peach Moscato, Costco Mama Mango Moscato, Costco Kirkland Signature Vodka, Costco Kirkland Signature Anejo Tequila, Costco Kirkland Signature Premium Golden Margarita, Costco Kirkland Signature Strawberry Margarita and the Costco Kirkland Signature Silver Tequila.
Location in Store
This is located in the Costco liquor store. The item number is 1431840.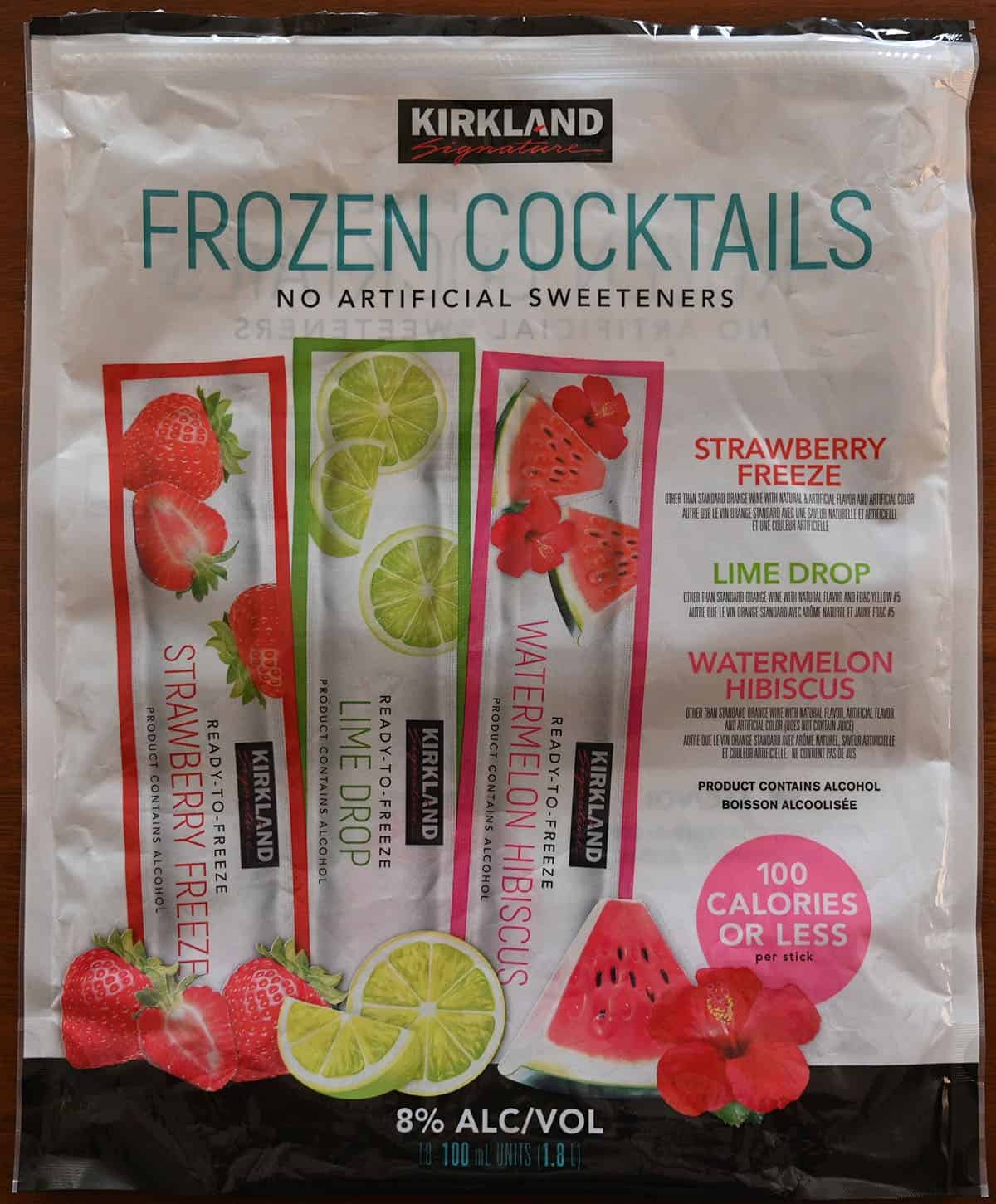 Taste
These are like a fruity freezie with a bite of alcohol! The alcohol used in these frozen cocktails is orange wine. You can read more about orange wine by visiting The Wine Folly. There are three flavors: lime, strawberry and watermelon hibiscus.
My husband tried all three flavors and gave me thorough descriptions of what each one tastes like! The watermelon hibiscus has a strong but sweet artificial watermelon flavor and it's tasty. The bite of the alcohol is really noticeable, but it doesn't taste like wine.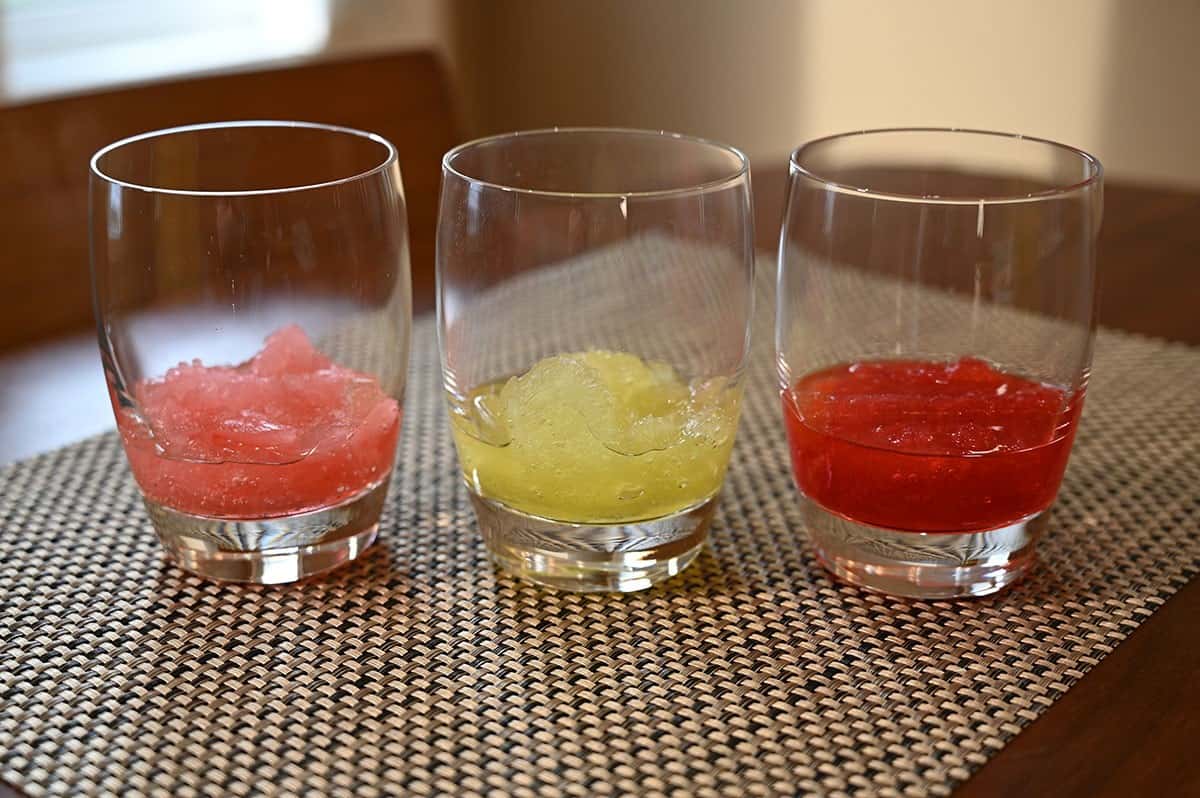 The lime is sweet with a strong artificial lime flavor. The scent of the lime is noticeable too. The alcohol is less noticeable in this one compared to the watermelon. It's similar to a blended margarita without the tequila flavor. It's refreshing, not too sweet – just right!
The strawberry has a strong, sweet, artificial strawberry flavor. It's also very refreshing. You might be noticing a theme here! As with the watermelon freezie, you notice the bite of the alcohol more. Strawberry is my husband's favorite of the three, but he likes strawberry anything.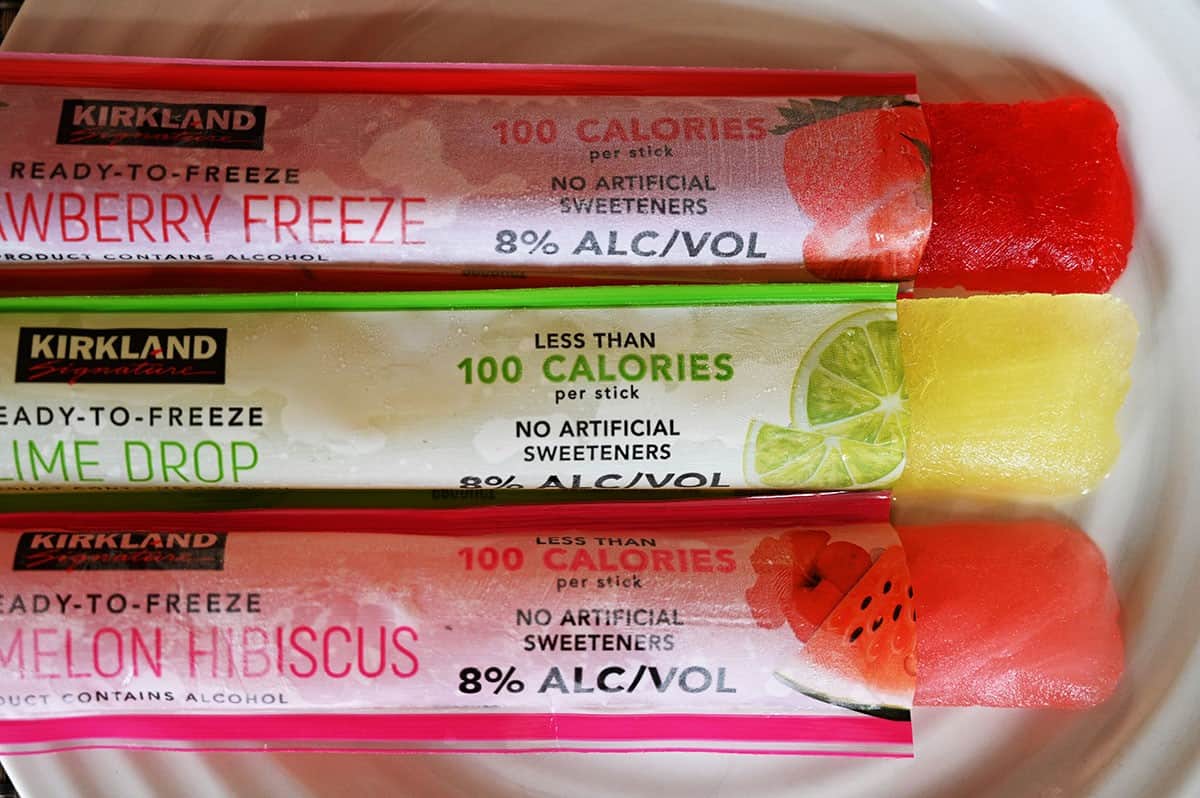 Cost
There are 18 100 milliliter frozen cocktail pouches in the bag for the price of $28.99 Canadian. That isn't cheap! I think you're definitely paying for the novelty of this item.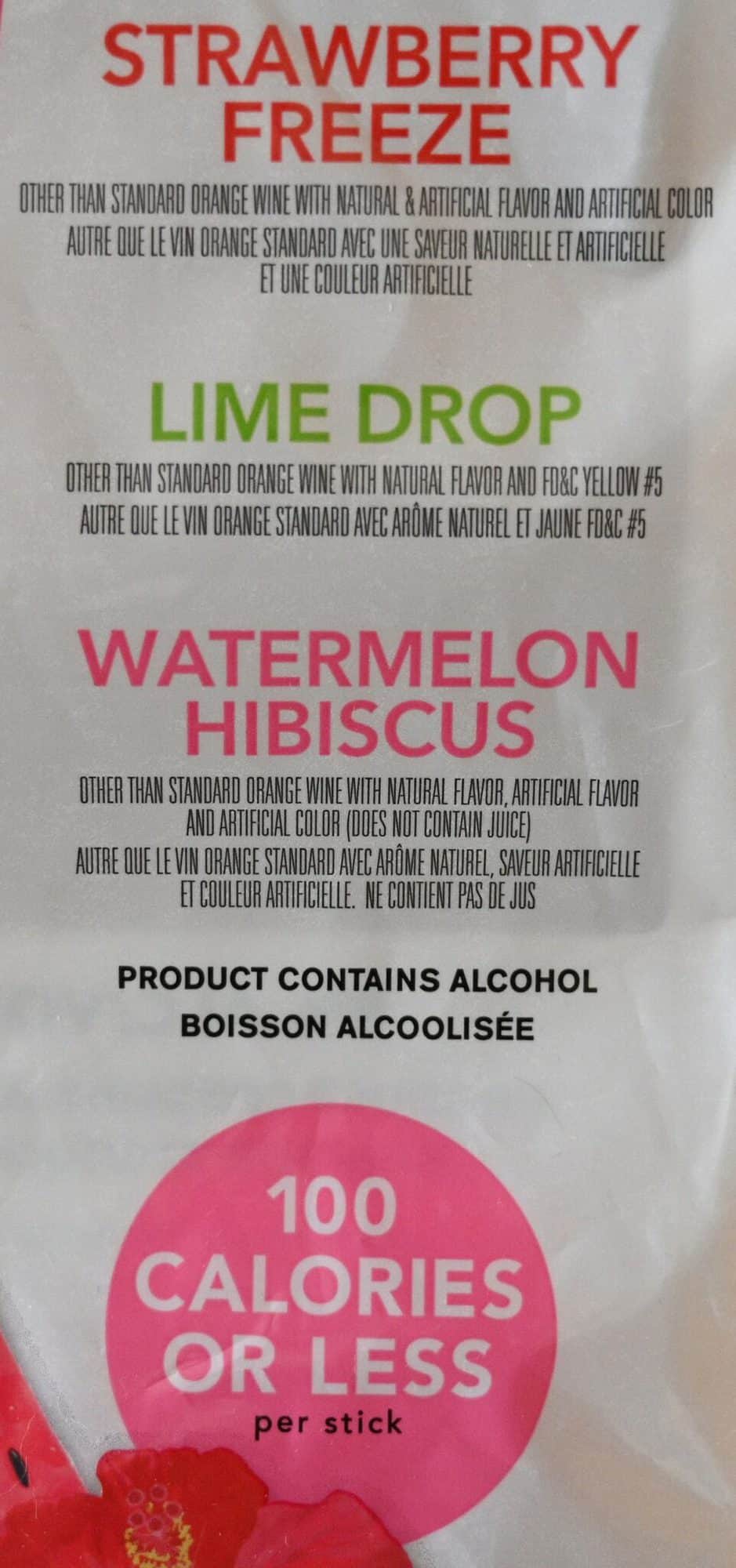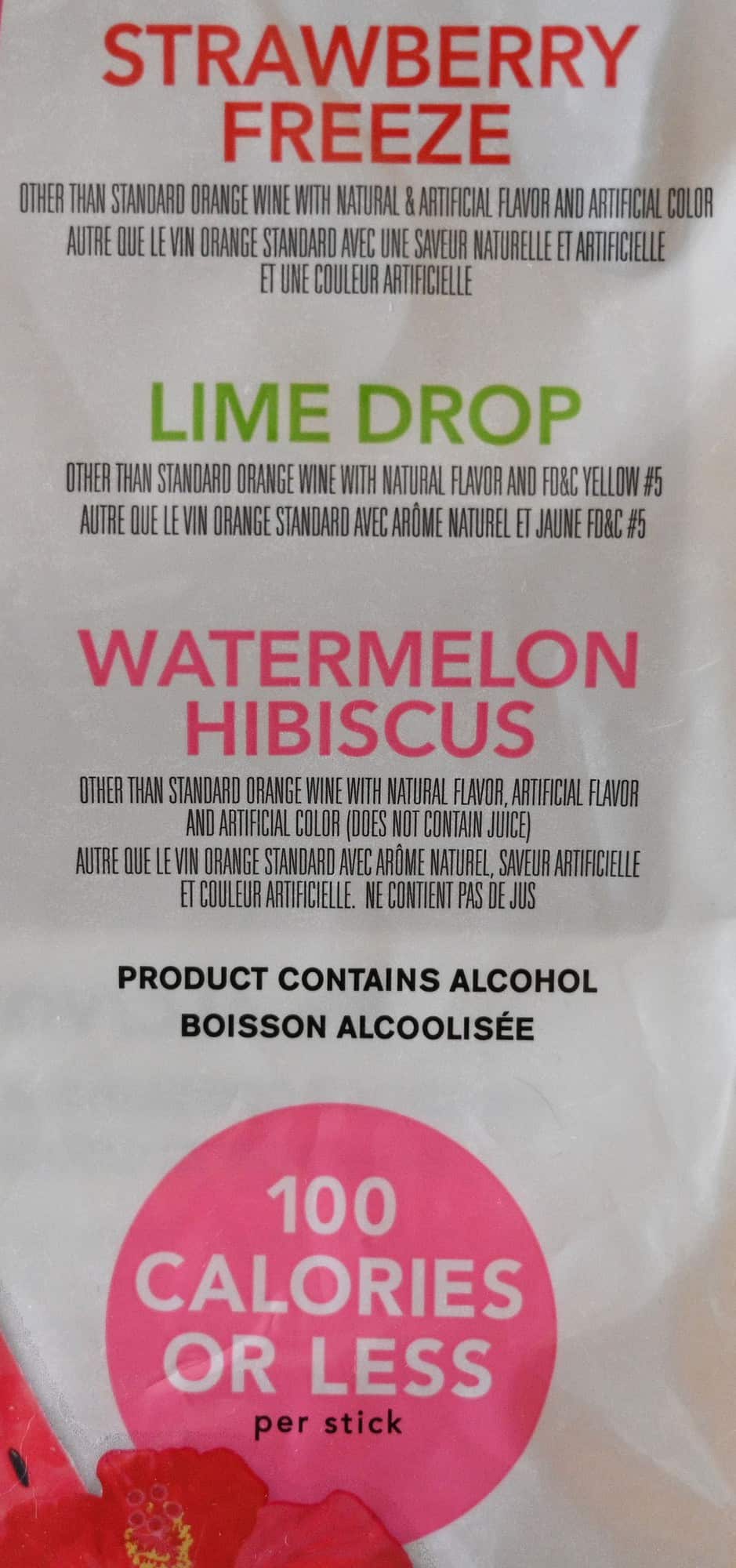 Convenience
The edges of the Kirkland Signature Frozen Cocktails are kind of sharp in your mouth after you cut the top off, so you need to be careful not to cut the sides of your mouth. That's not ideal! Honestly, my biggest complaint is the sharp edges. One way to avoid this problem is to pour your frozen cocktail into a glass. My husband found that more enjoyable than trying to eat it out of the tube.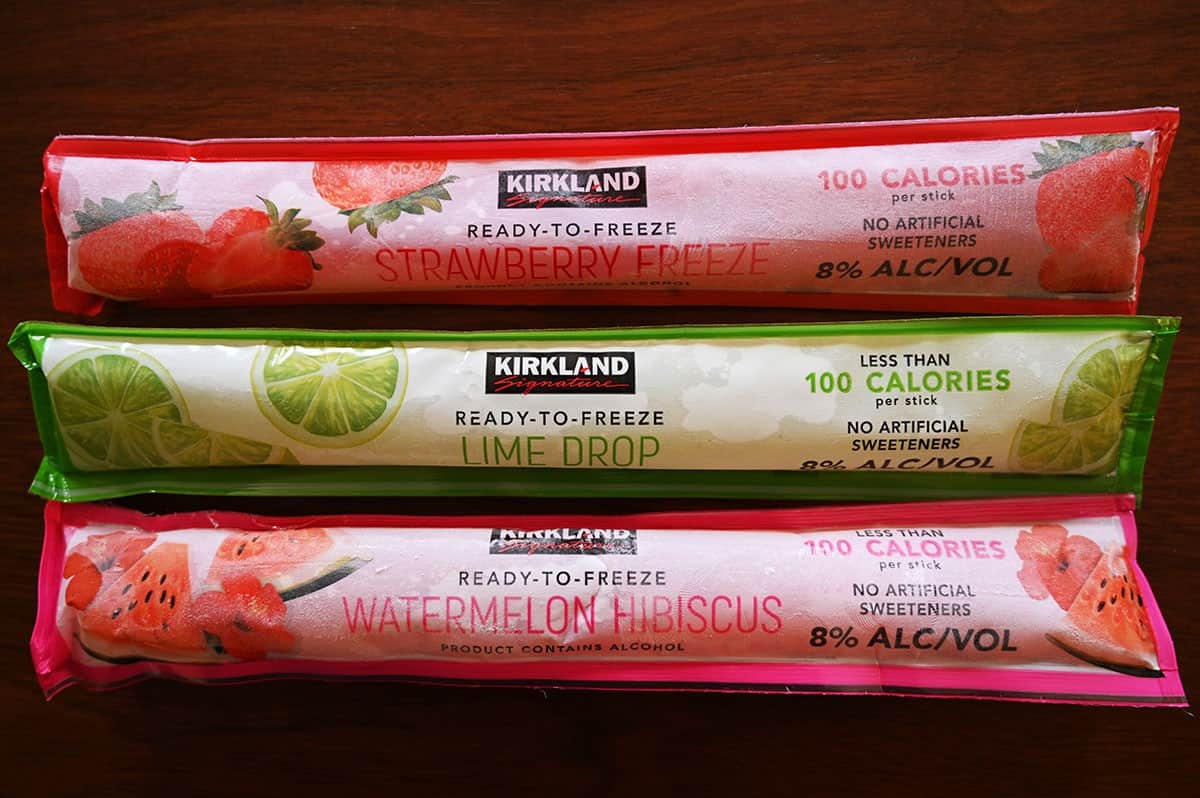 The frozen cocktails don't come frozen, so don't look for them in the freezer aisle! You have to put them in the freezer when you get home. The packaging states to lay the tubes flat to freeze for the best results. We found they take about four hours to freeze completely, and they might still be slightly slushy if your freezer isn't super cold. They would only freeze solid in our deep freeze and they get slushy fairly soon after you take them out.
Nutrition
Calories
All three flavors of the Costco Kirkland Signature Frozen Cocktails contain 100 calories are less. Depending on which cocktail you're enjoying, they have zero grams of fat, 12 to 14 grams of carbohydrates, zero grams of protein or fibre and 12 to 14 grams of sugar per frozen cocktail.


Ingredients
These aren't at all healthy. The ingredients list is what I expected to see!


The first three ingredients listed are water, wine and sugar! Each Costco Kirkland Signature Frozen Cocktail contains 8% alcohol.


Scoring
Taste: Watermelon hibiscus: 8/10. Lime: 8/10. Strawberry 8.5/10.
Cost: 6/10
Convenience: 9/10 (be careful not to cut your lips if you're eating them out of the tubes!).
Nutrition: 0/10
Overall
Give it a try!
Although I think I'd prefer a traditional cocktail or blended drink to these frozen cocktails if I were given the choice, they're a fun item to try this summer. If you offer them to friends at a barbecue or some other gathering this summer, I bet they'll be a hit!
Have you tried the Kirkland Signature Frozen Cocktails? What did you think?
---
Please note that this review was not paid for or sponsored by any third party. This product was purchased by Costcuisine for the purpose of producing this review. The opinions in this review are strictly those of Costcuisine. Costcuisine is not affiliated with Costco or any of its suppliers. In the event that Costcuisine receives compensation for a post from the manufacturer of a product or some other third party, the arrangement will be clearly disclosed (including where the manufacturer of a product provides Costcuisine with a free sample of the product).