If you aren't a fan of gingerbread, but still want to build something like a gingerbread house, the Costco Kit Kat Cabin & Hut Building Kit is a fun and chocolaty option! Would I suggest picking one up for your kids? I'm sharing my thoughts, and spoiler alert – they're not so positive!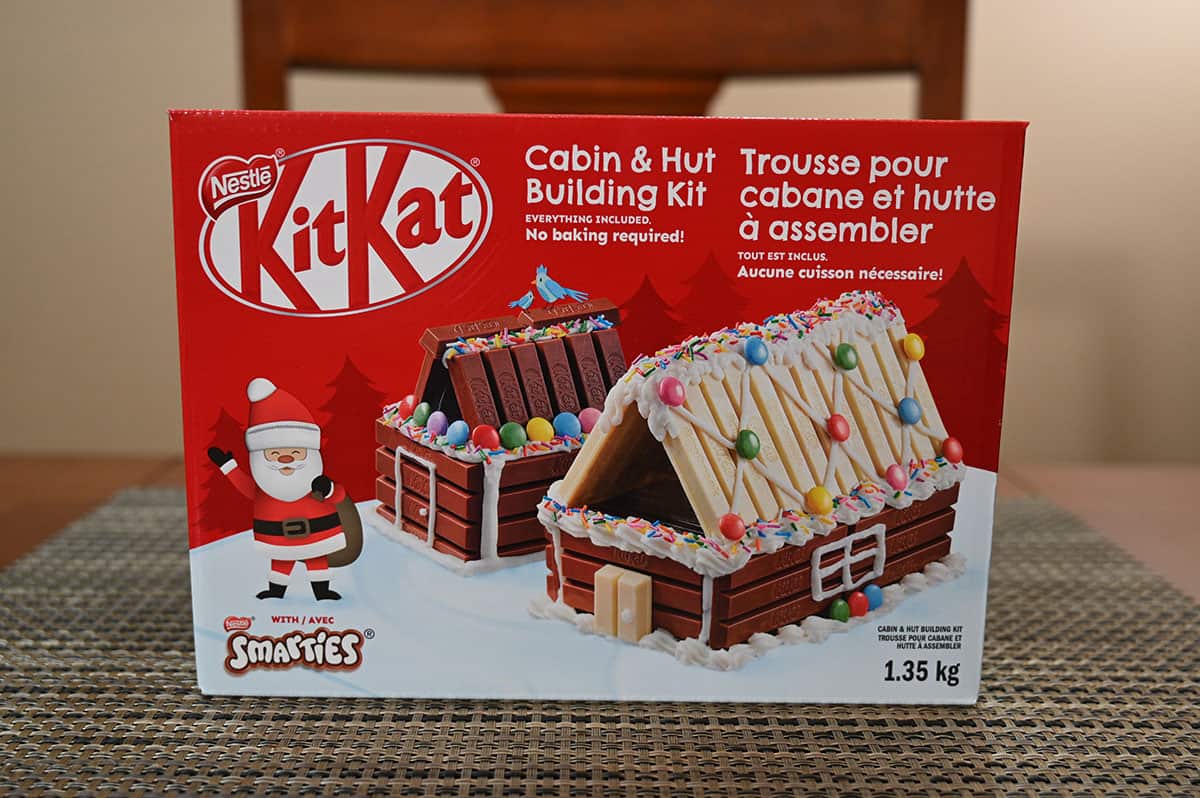 Sean and I have built a few gingerbread houses in the time that we've been together but never a Kit Kat house! I find I never want to actually eat the store-bought cheap gingerbread house kits so when I saw this Kit Kat Easy Build Kit at Costco I wanted to pick it up because Kit Kat is one of my favorite chocolate bars.
I've previously reviewed the Create A Treat Pre-Built Gingerbread House Kit which is the other option at Costco if you're interested in building a holiday house with your kids.
Location in Store
This is located in the seasonal Christmas section at Costco near all the holiday treats. The item number is 1550131.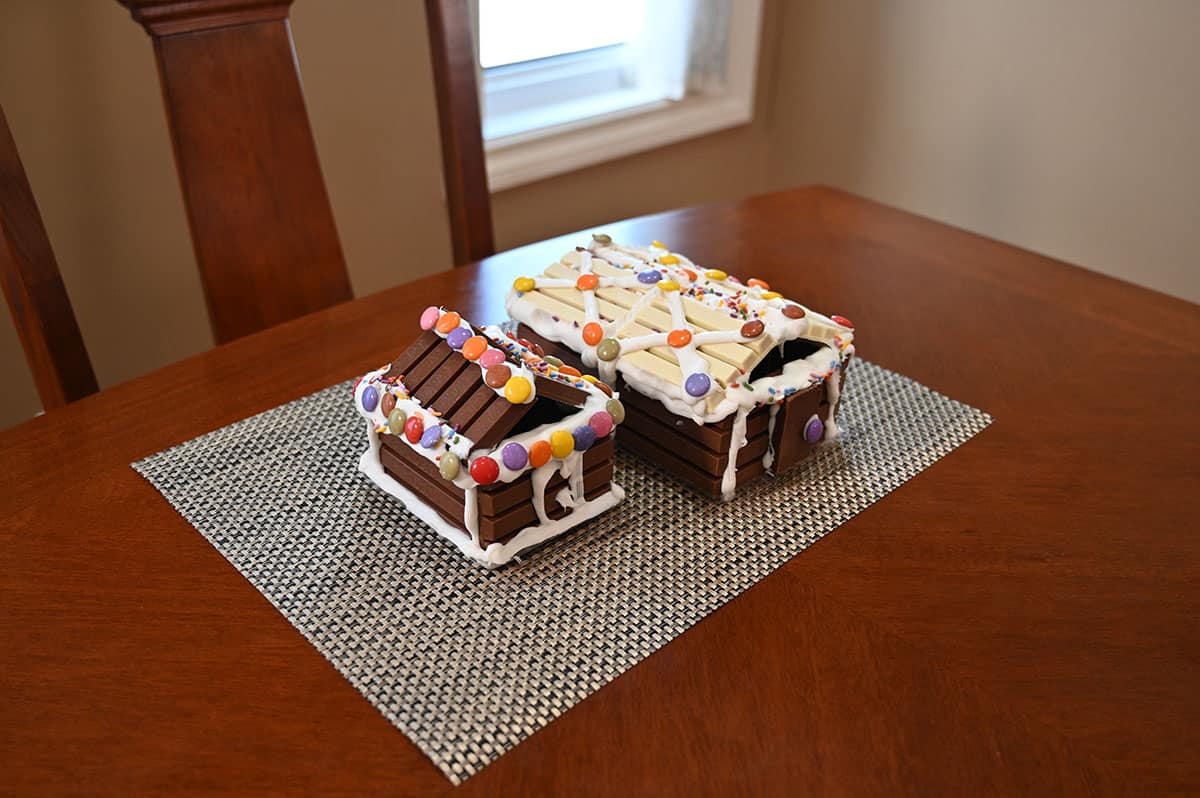 Taste
I have zero complaints about the taste! I love Kit Kat and enjoy the white chocolate Kit Kat as something a bit different although I prefer the milk chocolate Kit Kat.
Smarties are okay. They're not my favorite but I like them better than some of the really cheap, inedible candy in gingerbread house kits. The icing is fine, nothing special. I thought it would be sickly sweet and ruin the flavor of the Kit Kat, but I had a piece of Kit Kat with icing on it and I couldn't really taste the icing that much.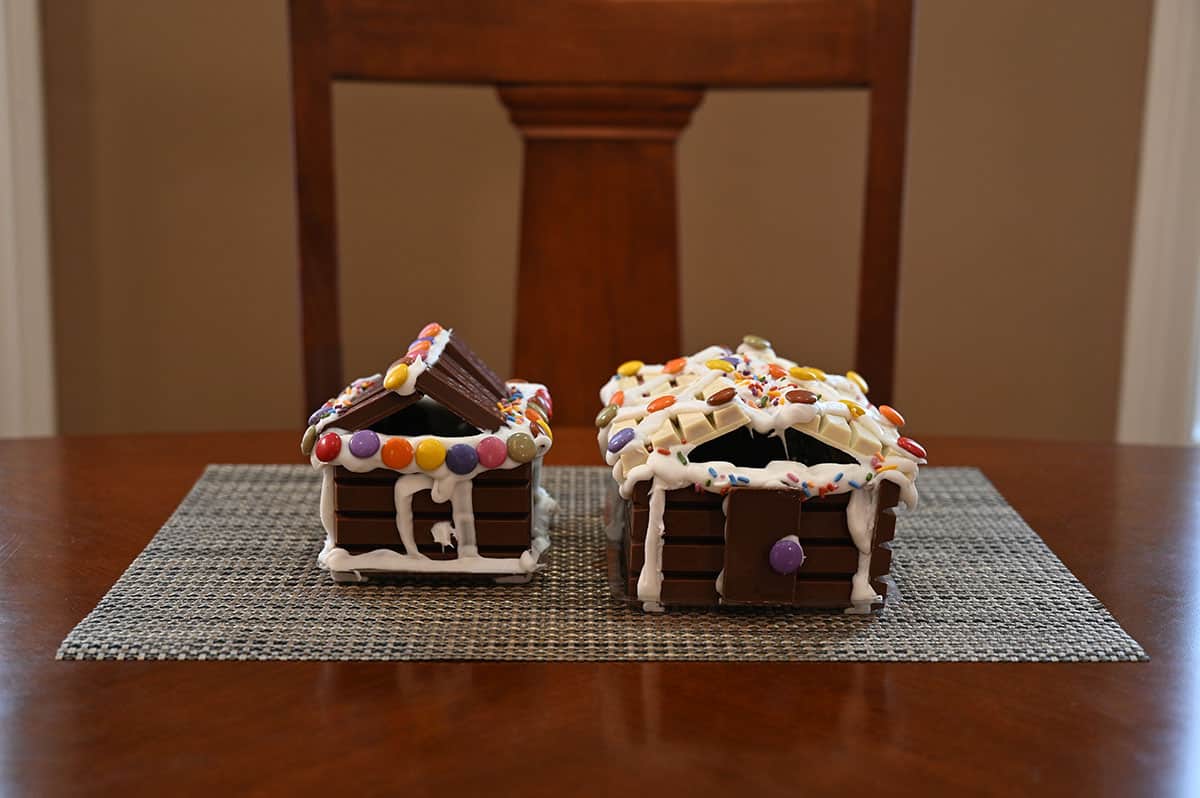 The sprinkles just taste like candy sprinkles. They're pretty tasteless and what flavor they have is just sugary.
Cost
The 1.35-kilogram kit costs $19.99 Canadian at Costco which doesn't seem too overpriced considering how many full-size chocolate bars are in the box. However, I can see a lot of kits being built but not consumed! I ended up with two extra full-size white chocolate Kit Kats and a full-size box of Smarties after finishing my cabin and hut, so you get a bit of extra chocolate.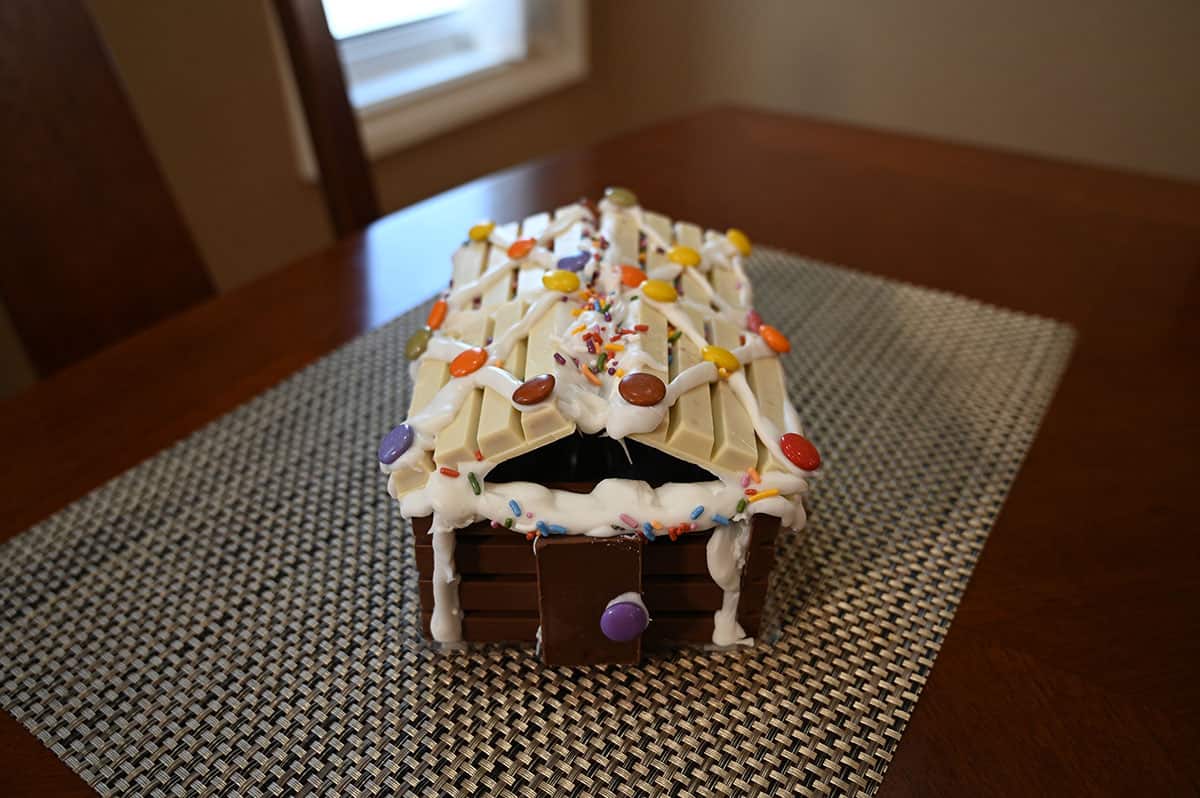 Convenience
The 1.35 kilogram kit contains seven mini Kit Kar bars, six full-size white chocolate Kit Kat bars, 10 full-size regular Kit Kat bars, two bags of sprinkles, two full-size boxes of Smarties, two bags of icing and it's supposed to contain three plastic roof supports and one base piece. This is to build one large cabin and a smaller hut.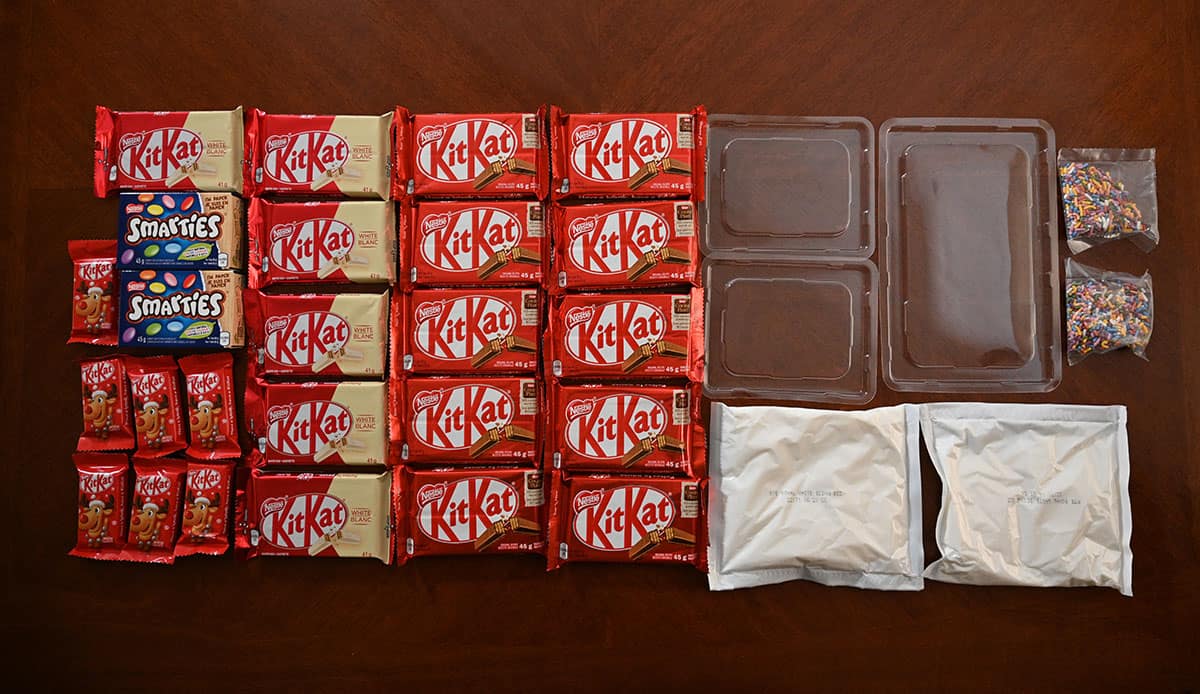 In our box, we received an extra small plastic base (for the hut), but no roof supports! There are supposed to be three plastic roof supports in the box – two for the cabin and one for the hut. It ruined our house. We had to use a drinking glass to try and support the roof and it didn't work very well (not to mention we had a drinking glass stuck inside our house when it was finished). The hut was a little easier to build without the roof support, but it still didn't turn out as well as it should have.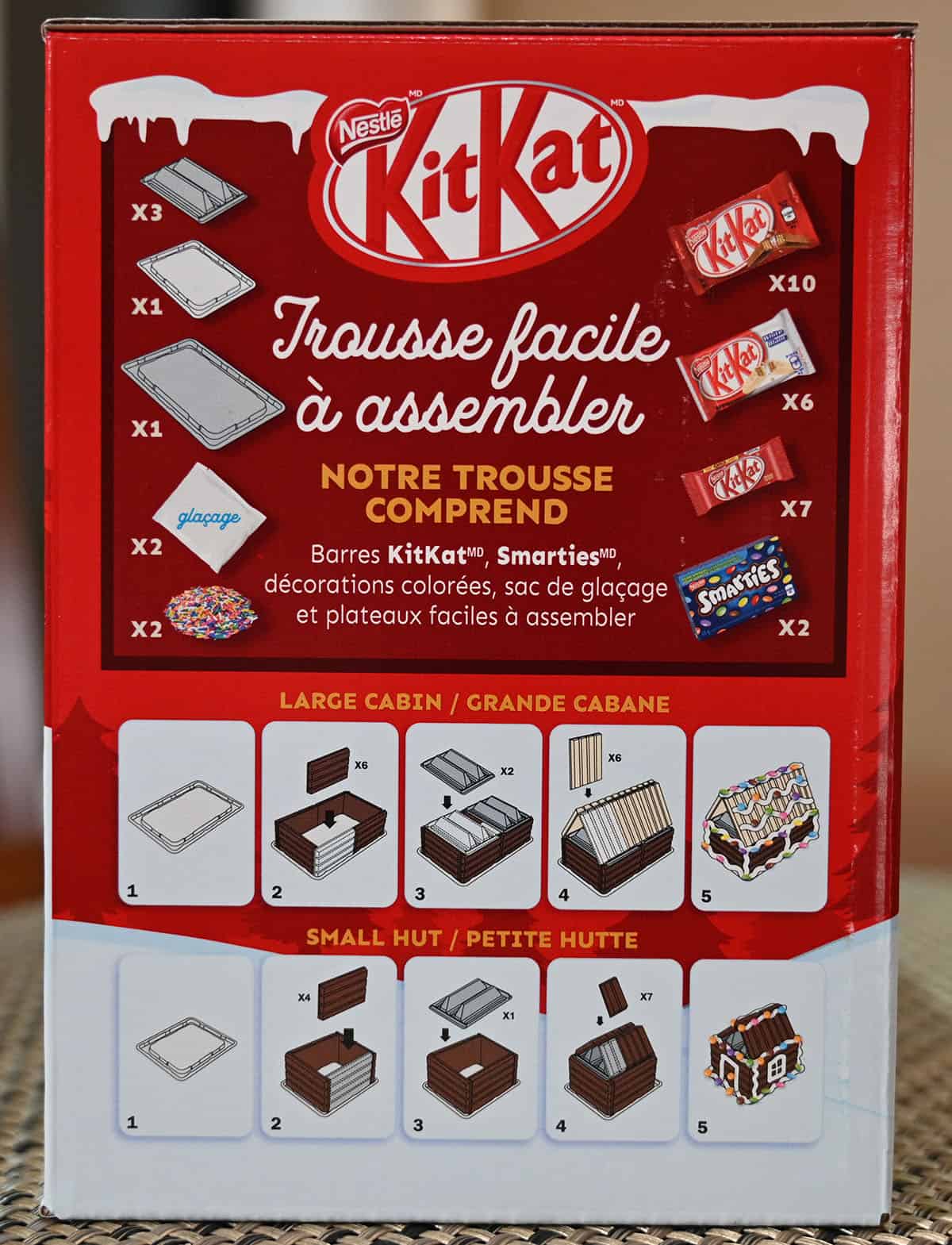 Missing key pieces turns what should be a fairly easy and fun project into a frustrating, messy and disappointing one. If you were planning this as a big activity with your kids and they were looking forward to it, it would be very frustrating to not have the pieces needed. Luckily we were mostly building ours just to review, so it didn't ruin our day!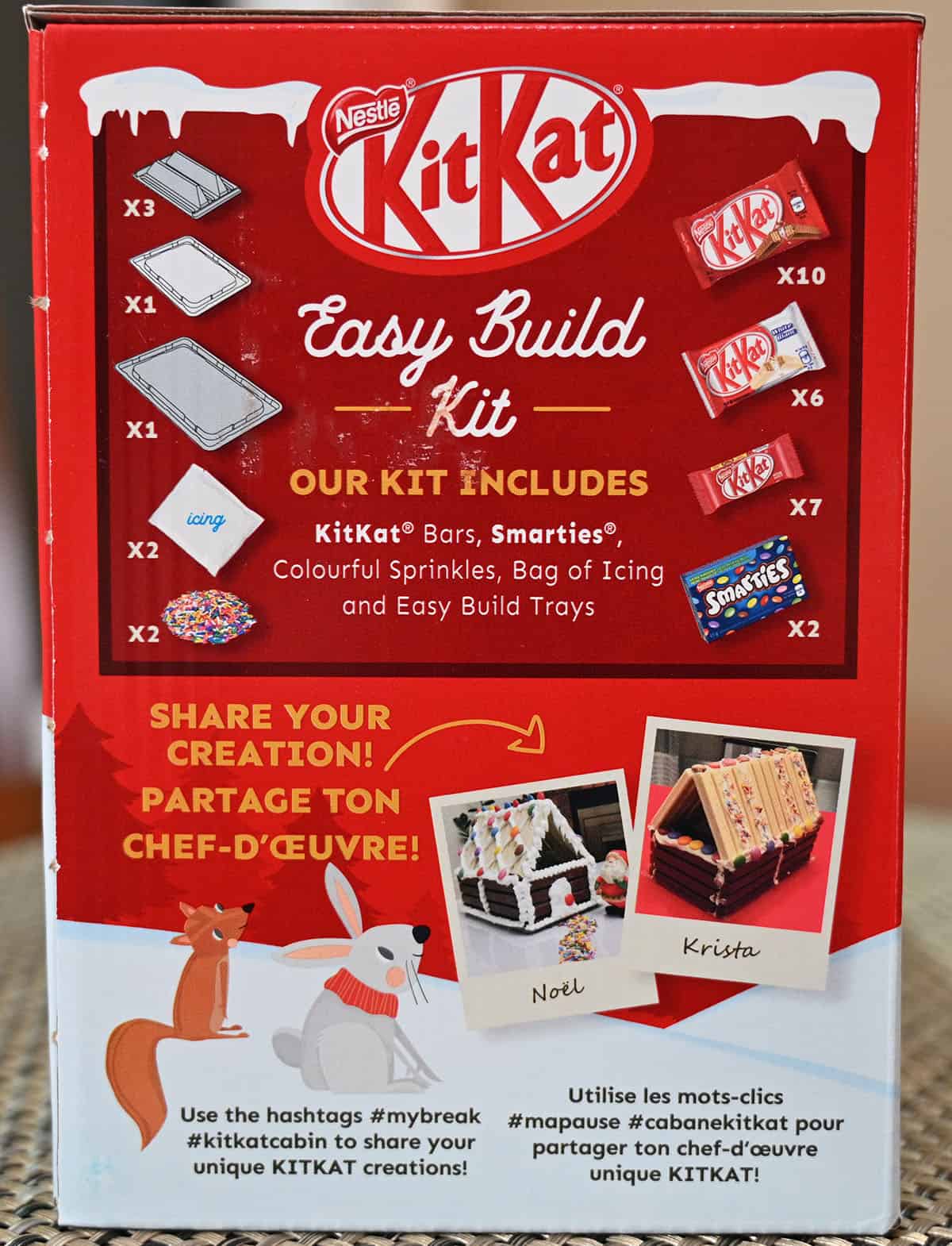 The icing bags work well for piping the icing on if you cut a small corner off. However, there aren't instructions to tell you to cut off a corner, so some people might miss this! There's a fairly good amount of icing, but not enough that you can afford to waste a bunch.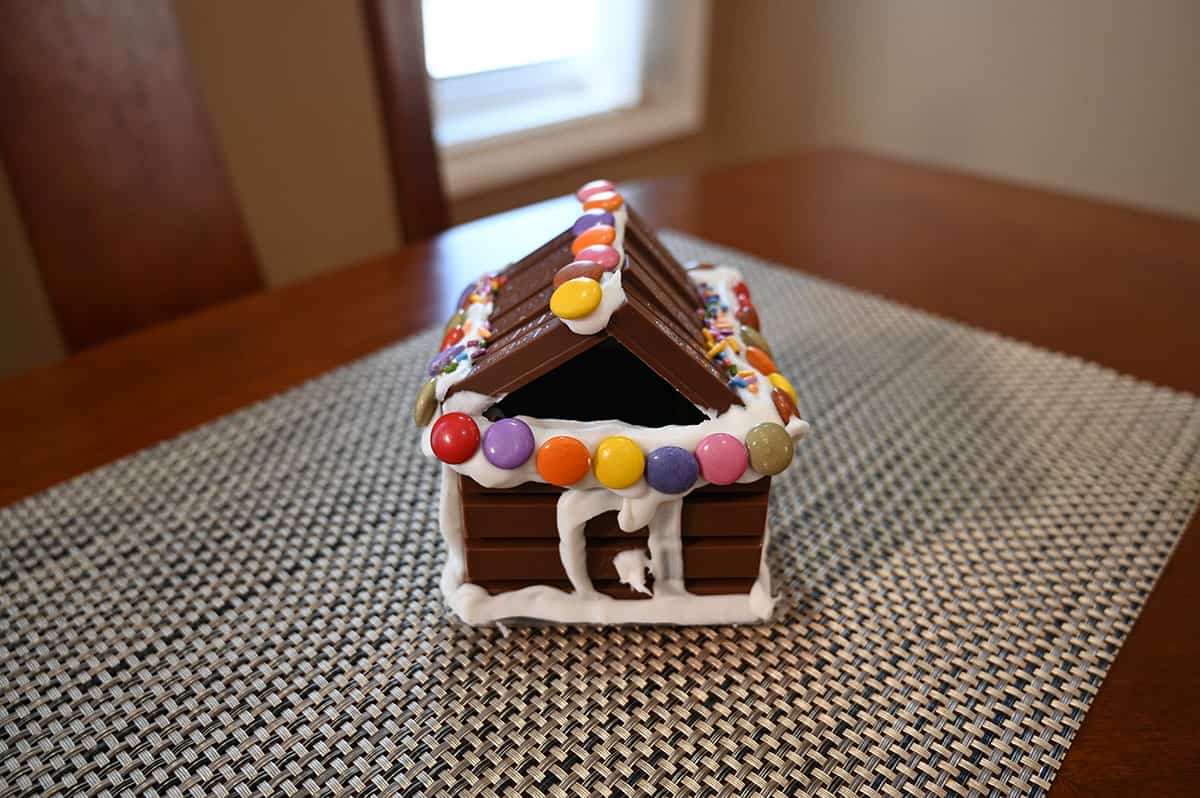 The sprinkles didn't stick to the icing that well unless the icing had just come out of the bag. If the icing was dried at all, the sprinkles didn't stick. This was a minor annoyance and made decorating the houses extra messy as we had sprinkles everywhere.
The best-before date listed on the kit is six months from the date that we purchased it on.
Nutrition
Calories
One serving size is 1/34th of the kit and there are 190 calories, eight grams of fat, 28 grams of carbohydrates, zero grams of fibre, 24 grams of sugar, two grams of protein and 40 milligrams of sodium.
It's really hard to gauge how much 1/34th of the kit or a 40-gram serving looks like. What if the 1/34th is loaded with Smarties and icing? I'm sure that changes the number of calories, fat and sugar.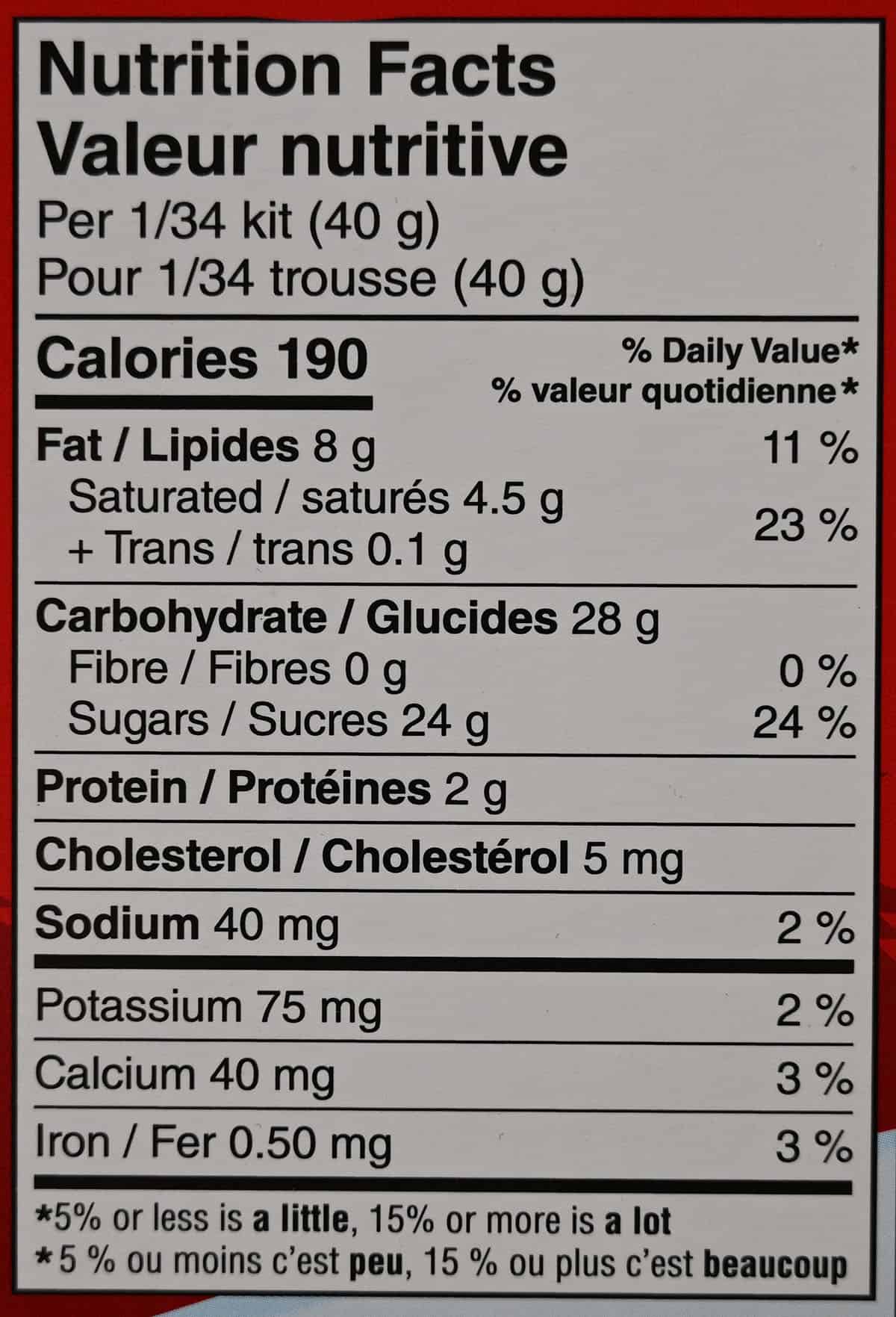 Ingredients
There isn't really a single thing healthy about the kit, I think a lot of people will end up building their house but not eating the entire thing. There's lots of sugar and unhealthy oil like palm oil in the ingredients list. The kit contains soy, wheat and milk.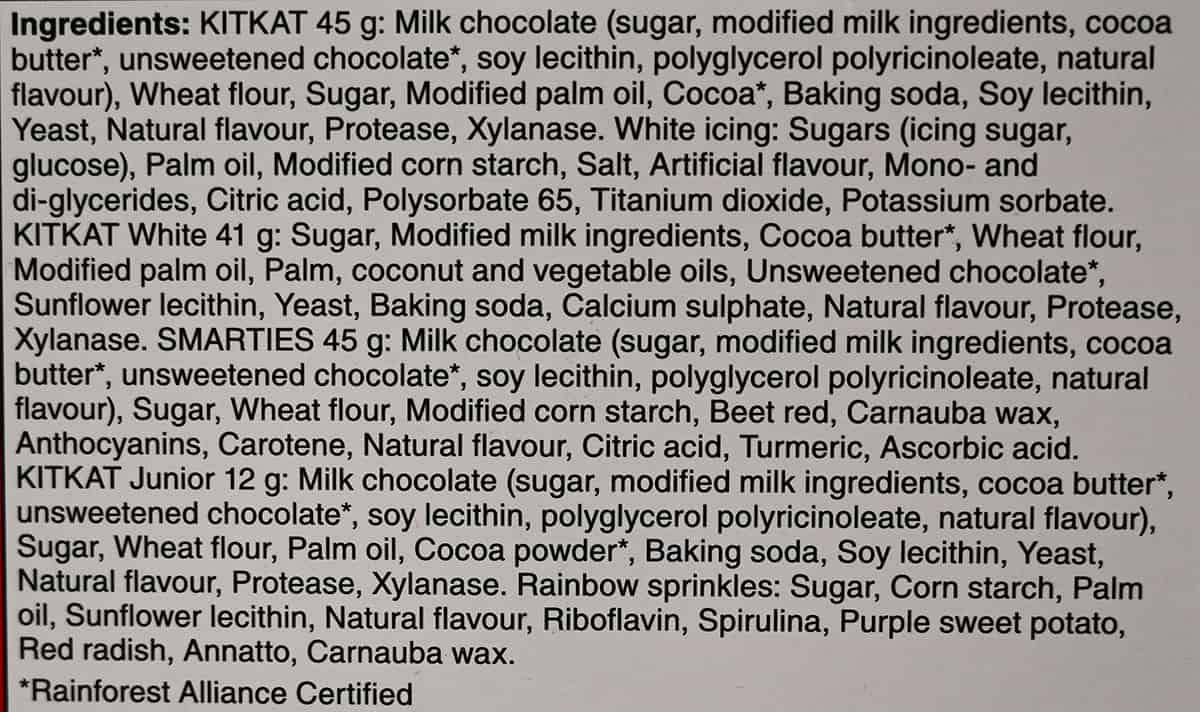 Scoring
Taste: 8/10
Cost: 7/10
Convenience: 5/10 – it would have been very convenient if our kit had the right parts!
Nutrition: 0/10
Overall
Give it a try if it has the right parts – check your box before you leave the store!
Overall it was really disappointing that our was missing pieces. It's not like it was missing one piece either. It was missing all three roof supports! It could have been a lot of fun to build. I don't know if we were super unlucky or if a lot of the boxes will have this problem. 
Would you buy this for your kids or yourself to build? How frustrated would you be if your box was missing pieces?
---
Please note that this review was not paid for or sponsored by any third party. This product was purchased by Costcuisine for the purpose of producing this review. The opinions in this review are strictly those of Costcuisine. Costcuisine is not affiliated with Costco or any of its suppliers. In the event that Costcuisine receives compensation for a post from the manufacturer of a product or some other third party, the arrangement will be clearly disclosed (including where the manufacturer of a product provides Costcuisine with a free sample of the product).