If you wonder what you can do with such a large container of Milk Chocolate Covered Raisins from Costco, use them for high quality homemade cookies!
Please note that this review/recipe was not paid for or sponsored by any third party. The opinions in this review are strictly my own. I am not affiliated with Costco or any of its suppliers. I am just a fan of the company. I write these honest reviews to help my fellow shoppers.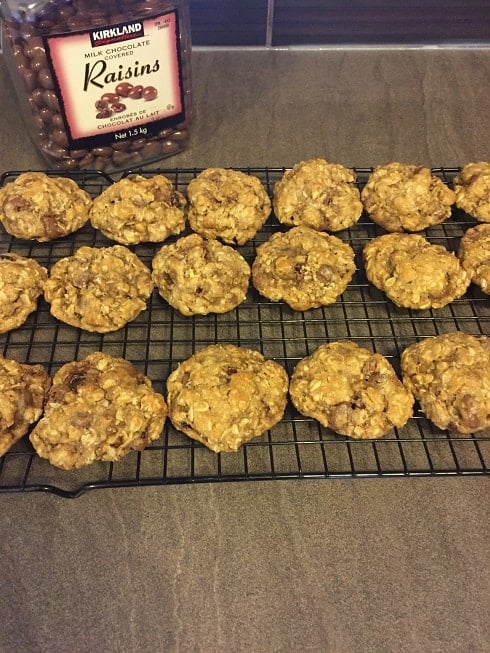 I love baking, I love oatmeal cookies and I love chocolate covered raisins. So when we bought this large container of Milk Chocolate Covered Raisins from Costco I decided I needed to use this in some delicious home made oatmeal cookies. I adore oatmeal raisin and go crazy over oatmeal chocolate chip so this seemed like the perfect hybrid.
Ingredients:
1/2 cup (114 g) unsalted butter at about room temperature
1 large egg
1 1/2 cup (150 g) old fashion rolled oats, the ones that say "large oats"
3/4 cup (150 g) *plus a few more* Costco Kirkland Milk Chocolate Covered Raisins
1 tsp vanilla
1 pinch nutmeg (optional)
1/2 cup (110 g) packed brown sugar
1/2 cup (100 g) granulated sugar
1/4 tsp salt
1/2 tsp baking soda
3/4 tsp ground cinnamon
1/2 tsp fancy molasses (optional, it enhances the flavour)
3/4 cup (125 g) all purpose flour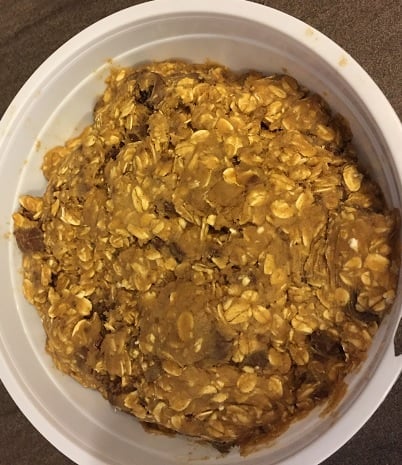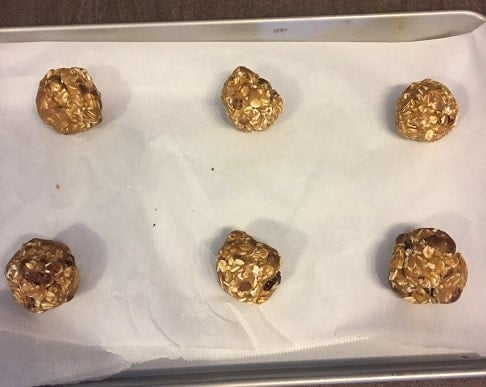 Directions:
Cream the butter until it is light and fluffy, if you're using a mixer like a Kitchenaid, mix on medium speed for about a minute and a half.
Scrape bowl, add vanilla, brown sugar, granulated sugar and molasses (if using) and mix for about another minute until creamed. Scrape sides of bowl as needed.
Add egg and mix just until incorporated.
If using mixer turn mixer to low, add flour, cinnamon, salt, baking soda and pinch of nutmeg and mix until combined.
With mixer on low add milk chocolate covered raisins and oats and mix just until it's all pulled together. I prefer to mix this by myself with a spatula. Feel free to do what works for you.
Cover dough with saran wrap, either in the same bowl or transfer to a different bowl, put dough in fridge to chill for about an hour before making.
Preheat over to 350. Make 2 inch balls using your hands or a cookie scoop, place on parchment paper on a baking sheet. (I do not flatten my balls because I like thick, soft cookies).
Bake for about 11-12 minutes, until edges are slightly brown.
* I like to put the 3/4 cup of Costco Milk Chocolate Covered Raisins in the fridge so if my apartment is hot they do not melt when I incorporate them*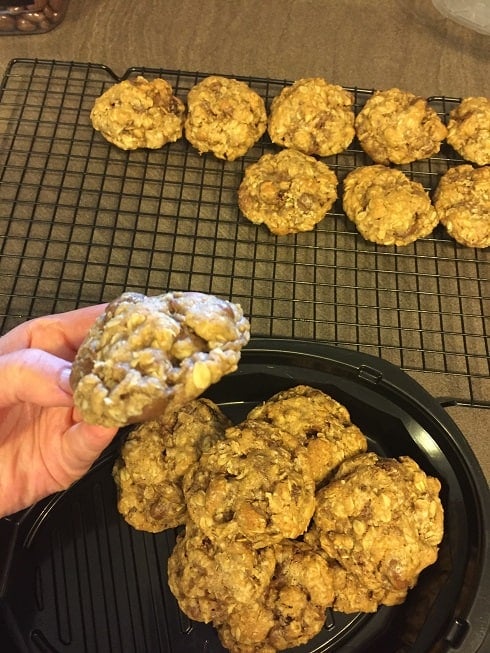 Any questions? Let me know!